Cardinal Peter Turkson: Conservatism's Cape crusader
The Ghanaian could become the first black pope – but his ideology is all too familiar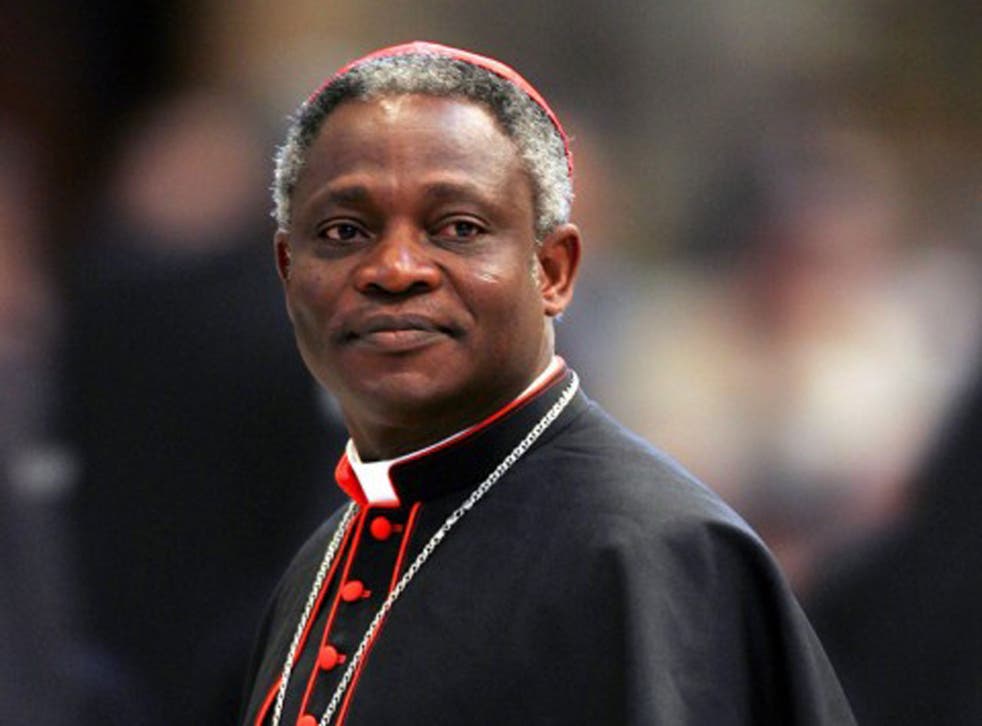 Is the world ready for a black Pope? Many would say it has been ready for so long that it is growing a little impatient. Cardinal Peter Turkson, of Ghana, is in no doubt. "Why not? We've had Kofi Annan as Secretary General of the United Nations... he had his problems, but he did it. Now we have Obama in the United States. So if, by divine providence, God would wish to have a black man as pope, I say thanks be to God!"
That was Turkson back in 2009, during a Vatican press conference. And now, after the resignation of Benedict XVI, he has no trouble seeing himself in the frame. Shows of diffidence and modesty are the standard reactions to questions of this sort (though, with hindsight, Benedict's disclaimers back in 2005 seem to have been only too sincere), but that is not the Ghanaian's style. "It would certainly mean a lot if I had to be pope," he mused this week. "If I was elected pope it would signal a lot of [personal] change, very big change in a lot of regards... It is going to be a life-changing experience, and I think that is what it has been for Benedict and those who have gone before us. The challenge will also be with the individual to want to make his mark, not trying to fit into anybody's shoes but finding his own shoes to wear."
Remarks like this may give an impression of arrogance, but Turkson has plenty of reason to consider himself a plausible candidate. Created a cardinal by Pope John Paul II in 2003, he was promoted by Benedict to one of the Roman Curia's top jobs, president of the pontifical council for justice and peace, in 2009, a sure sign of preference, and he has a finger in any number of other Vatican pies. Before that he was named relator, or general secretary, of the Church's second Synod for Africa.
However, a howler the Cardinal committed last year may have damaged his chances: at a meeting of senior Vatican figures last October, he showed a video on the subject of Muslim demographics, predicting that the far higher Muslim birthrate would soon lead to large parts of Europe, including France, being taken over by Islam. The video sparked an uproar which got worse when it emerged that it had been lifted from YouTube and was larded with dodgy statistics.
He did not take long to admit that he had made a mistake. "I understand that I chose the wrong video to stress the point of my concern," he said soon afterwards. And he claimed that his reason for showing the video was completely misunderstood. "For me to attack Islam would be to attack my own family," he maintained. "My paternal uncle was a Muslim and he took care of me when I was a boy, and when he grew old I took care of him until he died. The point was not to be anti-Islam. Absolutely not! The point was to highlight the demographic situation as a result of the anti-life tendency and culture in the Western world where, as I see it, there is a great need to apply the values of the kingdom of God to the social order." In fact, Turkson has urged Catholics to study the Koran, as an aid to better understanding.
Born in the village of Nsuta-Wassaw in western Ghana in 1948, he was christened Peter Kodwo Appiah Turkson and brought up speaking Fante, one of seven languages he went on to master. His roots were humble, his mother selling vegetables in the local market while his father – with symbolism as obvious as the boy's given name – was a carpenter.
His prospects were transformed by his schooling at St Teresa's Seminary in the village of Amisano, which describes itself as "the cradle and nerve centre of priestly formation in Ghana... forming future shepherds after the Lord's own heart". He went on to study Theology at a seminary in New York, where he moonlighted as a cleaner in a bank, leading to a ludicrous brush with the law. A friend of his in the city, Dr Joseph Marrota, an orthopaedic surgeon, recalled that a passer-by had spotted him roaming through the closed bank and called the cops. "It was 8 or 9 o'clock and they wanted to know what he was doing there," Marrota told the New York Daily News. "He told them the truth, that he was cleaning the bank. They were going to arrest him and he had to call the cleaning service. He almost got taken away."
Dr Marrota compared him to the last pope-but-one. "Like John Paul II, he's an outdoorsman, an athlete, a physically powerful man," he said. "He has that unbelievable combination of intellect, character and charisma." He said that Turkson requires only four hours of sleep a night and, unlike many other Princes of the Church, is thoroughly at home with his iPod and iPad.
After New York, he returned to St Teresa's Seminary with his Master's degree and taught there for a spell, following in the footsteps of the future Ghanaian president, Kwame Nkrumah. The effect of the place on the two men seems to have been similar: Nkrumah recalled in his autobiography: "As a teacher of these young novices, I, too, had to observe the strict rules of the seminary and my life at Amisano was quiet and lonely... but it was certainly during this period that I regained the religious fervour to such an extent that I formed the idea of taking the vocation to the priesthood myself." In 1975, Turkson was duly ordained, then pursued his studies further at the Pontifical Biblical Institute in Rome.
Since then, his ascent of the clerical ladder has been sure, and his promotion to cardinal by John Paul II was proof that Francis Arinze, the Nigerian cardinal who for many years was spoken of as being of papal material, now had a serious African rival. This week, Turkson suggested that Arinze, despite sharing top billing with him in one or two bookmakers' lists, was no longer in the running. "Before I got here [to Rome], there was a young African cardinal called Arinze from Nigeria," he told the Daily Telegraph, "and at every conclave everybody was talking about him as an emerging candidate. Arinze is now 80 and actually there is no way he can participate in the conclave..."
There are plenty of other papabile cardinals beside the Ghanaian, and Vatican watchers are all too familiar with the Roman proverb, "He who goes into the conclave a Pope comes out a cardinal." But supposing Turkson were to make the grade, what sort of a pope would he be?
Liberal Catholics hanker for a pontiff who would relax the Church's policy on issues such as gay marriage and abortion, but Turkson, like practically all the front-runners, is not going to be that man: the majority of the 118 voting cardinals were appointed by John Paul II and Benedict, both stalwart conservatives who had no wish to encourage more permissive attitudes. Like most African Catholics, Turkson is hostile to a liberal approach to these questions, describing Europe's falling birthrate as a product of its "anti-life culture". His ambition to, as he puts it, "apply the values of the kingdom of God and the gospel to the social order" places him directly in the line of the present Pope and his predecessor. Referring to the video that got him into trouble, he said that he showed it "to illustrate this reality in the Western world and to emphasise that if we do not evangelise the social order, it is capable of giving rise to all kinds of problems for society".
Within the rather narrow spectrum of views found in the Vatican, however, he is seen as a moderate. "A smart, hard-working and charming prelate... he's destined to be an ecclesiastical star even if he never takes over the Church's top job," Vatican watcher John Allen wrote in America's National Catholic Reporter in 2009. "Theologically, he's seen as a moderate: for example, Turkson has signalled openness to the argument that condoms might be appropriate for couples where one partner is HIV-positive and the other isn't, on the logic that the intent in that case is not to prevent pregnancy but to prevent disease."
Many outside the church would see that as a tragically myopic understanding of the argument for condom use in Africa. But it may be the best that the Catholic Church, in its present form, can come up with.
A Life In Brief
Born: Peter Kodwo Appiah Turkson, 11 October 1948, Nsuta-Wassaw, Ghana
Family: His mother sold vegetables at a market while his father worked as a carpenter. He is the fourth of ten children.
Education: Studied at St Teresa's Seminary in Amisano, Ghana, before attending St Anthony-on-Hudson Seminary in Rensselaer, New York where he graduated as a Master of Theology.
Career: He was ordained to the priesthood in 1975. After working as a professor and vice-rector at various seminaries, in 1987 he attended the Pontifical Biblical Institute in Rome and received a doctorate in Sacred Scripture. In 1992 he was appointed archbishop of Cape Coast in Ghana and in 2003 John Paul II made Turkson a Cardinal. He is the frontrunner to succeed Benedict XVI as the next Pope.
He says: "If God would wish to see a black man also as pope, thanks be to God."
They say: "He is a wonderful person, very down to earth and humble. He has that human touch." (The Rev Stephen Domelevo, the Ghana Catholic communication office)
Join our new commenting forum
Join thought-provoking conversations, follow other Independent readers and see their replies