Channel 4 newsreader Cathy Newman doesn't just read the news - she makes it
The newsreader has never been afraid to stick her nose where it isn't wanted, especially when she is investigating the worst of Westminster – and any amount of intimidation isn't about to stop her, as she tells Ian Burrell
Ian Burrell Comments
Channel 4 newsreader Cathy Newman doesn't just read the news - she makes it

Show all 2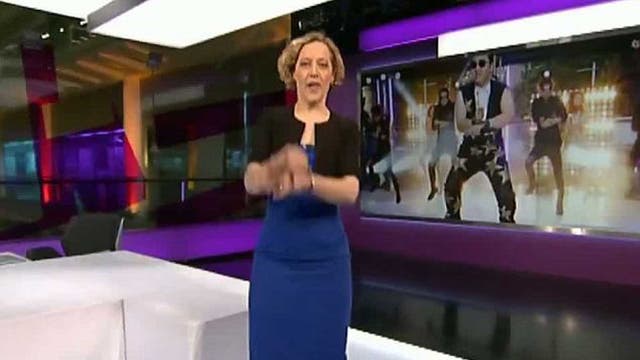 Early last year, Cathy Newman was standing at the bar of a London club popular with media people when she felt a man's hand resting on top of her own. To her dismay, the unwanted hand then began moving up her arm. She was being stroked by a total stranger.
"Someone groped me," says the Channel 4 News presenter. It was all the more unsettling because it came only days after she had caused uproar in Westminster by exposing claims that Lord Rennard sexually harassed women within his Liberal Democrats party. The peer was suspended by the Lib Dems in January.
When Newman objected to the hand on her arm, the stranger protested: "Is that a crime?" Her mind immediately turned to her work. "I thought maybe it was a pointed reference to the stories I had been doing on Rennard." She complained to the bar staff, who promised to have the man removed from the premises.
Any journalist who takes on the political establishment is aware that the backlash could come in many forms. For a woman, there are additional fears. Newman, 39, says she doesn't want to present herself "as a victim" but is "merely making the point that this is the kind of everyday sexism that women up and down the country have to put up with".
It's not unreasonable to think that she might have become a target for some men following her determined and measured pursuit of the Rennard case. Inside the House of Commons, certain MPs questioned her motives. "There were a few people who said this is a ridiculous, prurient crusade you are on against men and innocent flirtation."
When Newman and her Channel 4 News colleagues reignited the issue last month with a "Sexminster" exposé of the culture and mores of parliamentarians – including revelations that young gay political researchers were being harassed by male MPs – she received further complaints from those who accused her of seeking to portray their workplace as a "den of iniquity".
But she was also heartened by supportive comments – "particularly from women MPs" – that suggested the culture inside Westminster "has been rotten for decades".
What does Newman feel she's achieved by all this? She mentions that various promises have been made by the political parties and the House of Commons speaker John Bercow to make it easier for harassment victims to make complaints. But Newman knows that it is the wider debate that will bring a lasting improvement to the internal culture at Westminster. "Issues that we have known have been a problem for decades are now being talked about, and I am confident that the culture is beginning to change," she says. "Far more than any tweaking of procedures that may or may not make any difference, the important thing now is that harassment won't be tolerated."
Cathy Newman has become known as the news presenter who breaks her own stories. In this, she is following in the tradition of her colleague, Jon Snow. "The idea that any of us [on Channel 4 News] are 'autocuties' is for the birds," she says. Newman carries out her own investigations and pursues her targets in a way that would be unimaginable from most of the big beasts of the big bulletins. And, alongside Laura Kuenssberg (BBC2's Newsnight) and Mishal Husain (Radio 4's Today), she is part of a wave of female news presenters coming to the forefront of serious broadcast journalism.

Newman doesn't work from Westminster. When she recently relinquished her pass for the Parliamentary press "lobby" to a full-time political colleague, it was "a bit of a wrench", she admits. But she still relentlessly works her connections. "I do loads of lunches with contacts," she says. "You really have to work for your scoops."
Talking in the office of her editor in the Channel 4 News newsroom at ITN in Gray's Inn Road, central London, she is friendly and candid. As a journalist herself, she tries to be helpful rather than guarded. There is no sense of the steely humourless Puritan that her Westminster critics would like to portray (if anyone doubts she has a sense of humour, search online for the moment she mimed along to "Gangnam Style" on Channel 4 News).
It's not hard to see where her drive comes from. She grew up in Guildford as the daughter of two chemistry teachers in a home where reading was so important that, for many years, there was no family television. Newman has always been a high-flyer. She won a place at Lady Margaret Hall at the University of Oxford, graduating with a first in English. A talented violinist, she also initially considered a career in law.
Watching All the President's Men , Hollywood's depiction of the Watergate scandal, whetted her appetite for journalism. Then she saw BBC foreign correspondent Kate Adie reporting from the frontline. "It's funny that I don't remember seeing any of the men," she says. "I just spotted the one woman and thought, what an exciting and important job."
Her career moved at warp speed, via the specialist magazine Media Week and The Independent to The Financial Times by the age of 23. She landed a fellowship to The Washington Post (achieving part of that Watergate ambition) and spent the 2000 US presidential election following Green candidate Ralph Nader on the campaign trail.
She would have liked to have followed Adie into more foreign reporting, but "the family has had to come first, really". Newman is a working mother with two daughters, aged nine and five. The work-life balance is an issue that rarely comes up in interviews with men in high- powered positions, but Newman returns to the subject on numerous occasions. "Harriet Harman said once that to be a working mum is to have a life of guilt, and that's right – you always feel that you are not doing enough as a mum or not doing enough in your job," she says.
Her own circumstances benefit from the fact that her husband, John O'Connell, an author and arts journalist whom she met at Oxford, works from home – and is something of a domestic god. "It's a mad rush," she says of the family's typical start to the day. "I only see the kids for that half-an-hour over breakfast before heading off to work. I'm really fortunate that my husband is a freelance writer and does the cooking, the shopping, takes the kids to school and picks them up. I couldn't do what I do without him. He'll be wincing as I say that."
Between Monday and Thursday, she must be in the office by 9.30am, more than nine hours before going on air. Before she arrives, she has listened to the Today programme, combed the morning papers and scrambled with south London commuters for a seat on the train. "My head is spinning by the time I reach that newsroom."
But she claims that she is able to divide her work and home lives. "The moment I walk into the office, I'm a different person from the person I am at home," she says. "I think working women – working dads are the same – compartmentalise it because it's the only way you can handle it."

She describes herself as "your average mum getting things wrong" and says that, "The minute I step through the door after work I forget about anything I've done in the office." But later she admits that on working days she is "still, rightly or wrongly, tweeting to people who watch the programme, quite often until I go to bed at 11pm or later". It's hard to switch off when social media is always on air. "That's where that compartmentalisation between work and home does fall apart." She has a house rule – "that's sometimes broken" – forbidding her from bringing her phone to the family meal table.
It's easy to imagine that she might have Alpha-female ambitions at home. "My determination and perfectionism is something that [also] governs me at home," she is honest enough to say. When she returns from work to typical scenes of family life, she goes into an obsessive routine. "There will be shoes strewn over the hall and it's almost a ritual for me to tidy them all up and put them in a line by the door before I can begin the evening." In an interview with Red magazine, she "fessed up" that "I had never used the cooker", prompting one mother on a play date to ask what the children were having for tea, "given you don't know how to use the cooker".
But clearly Cathy and John ("my husband, as opposed to Jon without an h, my on-screen 'husband'") are a good team.
Newman has found her "spiritual home" at Channel 4 News, having determined to move away from business reporting at the FT as she became convinced that, "there was more skulduggery to be unearthed; there were bigger personalities and probably more corruption to be exposed in Westminster than anywhere else". This instinct, ahead of the MPs' expenses scandal, served her well.
Before leaving the FT for Channel 4, she was courted by The Sun, whose then editor, David Yelland, offered her a slot called Better Than Lex, a reference to the FT's business, finance and opinion column. Although she came close to joining the paper, she wasn't convinced, but the offer gave her a lever to move into political journalism, where she found her gender to be an advantage. "They didn't expect a woman to take them out to lunch and ask searching questions; they almost didn't expect you to have the same kind of brain as a man. So I felt that they let their guard down."
When she moved to television in 2000, she thought she was going to be "an attack dog", but her interrogation style has evolved into something more subtle. "More often than not, the way you get the best out of your interviewee is from more of a softly, softly approach. There's the dichotomy of the Rottweiler or the poodle, and I guess I'm a crossbreed." Her arithmetical grounding in business journalism helped her to challenge the claims of politicians in Channel 4 News's award-winning FactCheck blog, which in 2010 disproved Gordon Brown's claims of increased defence spending.
She continues to get scoops – interviewing Angelina Jolie in Democratic Republic of Congo about war-zone rape and recently highlighting a ban on British cruise ships flying the red ensign in Argentinian ports (a story delivered by Admiral Lord West, an old Newman contact).In pursuing the Lib Dems over the Rennard affair, she posed as "Cathy from Dulwich" to corner Nick Clegg on his LBC radio show after he had been avoiding her questions. Months later, she is still doggedly tracking him for an interview on the matter.
Newman might be regarded as a scourge of politicians, but her greatest motivation, she says, is to speak up for those who might otherwise go unheard. More than meeting presidents and prime ministers, it was her "greatest privilege" to speak to the late right-to-die campaigner Tony Nicklinson, who conducted an interview with Channel 4 News in which he blinked each letter and his wife translated.
"Having been a journalist for 20 years, that's what sticks in your mind, speaking to extraordinary people in ordinary situations who have had the most appalling tragedies and terrible struggles. That's what drives me on, breaking stories about them, using their tales to hold governments to account and getting justice for them – there can be no more noble calling as a journalist."
She is currently working on an investigation into abused children.
As for the politicians, she thinks they have had a bad press because "a minority of MPs are corrupt". She expresses admiration particularly for a right-wing Tory, Charles Walker, and his campaigns against discrimination towards people with Obsessive Compulsive Disorder and on reducing the number of deaths in custody of black males. "He has achieved more than many ministers," she says.
In fact, she thinks MPs as a class deserve better. If Westminster is to attract the "most talented young people", and particularly women who might be raising children, it needs to offer greater rewards.
"No MP could ever argue this," says Newman, "but I think the argument can be made that in order to get the very best MPs, you probably need to pay them more. That's controversial."
Newman's network: Her heroes and mentors
Kate Adie
Former chief news correspondent for 'BBC News'
"For many years I grew up without a telly, which I suppose is ironic," says Newman. "My mum thought it was better to read a book. When we did get a telly, I remember seeing Kate Adie. It's funny that I don't remember seeing any of the men. It was a subconscious thing that I just spotted the one woman and thought, 'How amazing! What an exciting and important job – I would love to do that.'"
Alice Rawsthorn
Design writer for the 'International New York Times' and former journalist at 'The Financial Times'
"Alice got loads of scoops and was really glamorous and composed. She was inspiring and a little terrifying, which I think is quite a good combination for a mentor. She was always decked out in Prada and Miu Miu, and once, when I bought some new shoes, which were very high street, I asked her, 'What do you think?' She replied, 'They're kind of Minnie Mouse.' I was so crushed."
Jon Snow
Lead presenter, 'Channel 4 News'
"Jon is absolutely in his prime. He has more energy than me, which I feel slightly resentful about, actually. It sounds cheesy but I learn so much from him. I've never been one of these people like Michael Heseltine, with a [career] route map to Prime Minister. Maybe it's because I'm trying to be a good presenter, a good mum and a blogger, but I just feel that I have to take every day as it comes. So I'm not plotting to elbow Jon out!"
Register for free to continue reading
Registration is a free and easy way to support our truly independent journalism
By registering, you will also enjoy limited access to Premium articles, exclusive newsletters, commenting, and virtual events with our leading journalists
Already have an account? sign in
Join our new commenting forum
Join thought-provoking conversations, follow other Independent readers and see their replies