Christian Louboutin: 'I don't think comfort equals happiness'
With four new men's stores opening, his work with Disney on Cinderella's glass slipper, and his battle with Yves Saint Laurent, the 'red soles' designer shows no sign of putting his feet up. Genevieve Roberts meets Christian Louboutin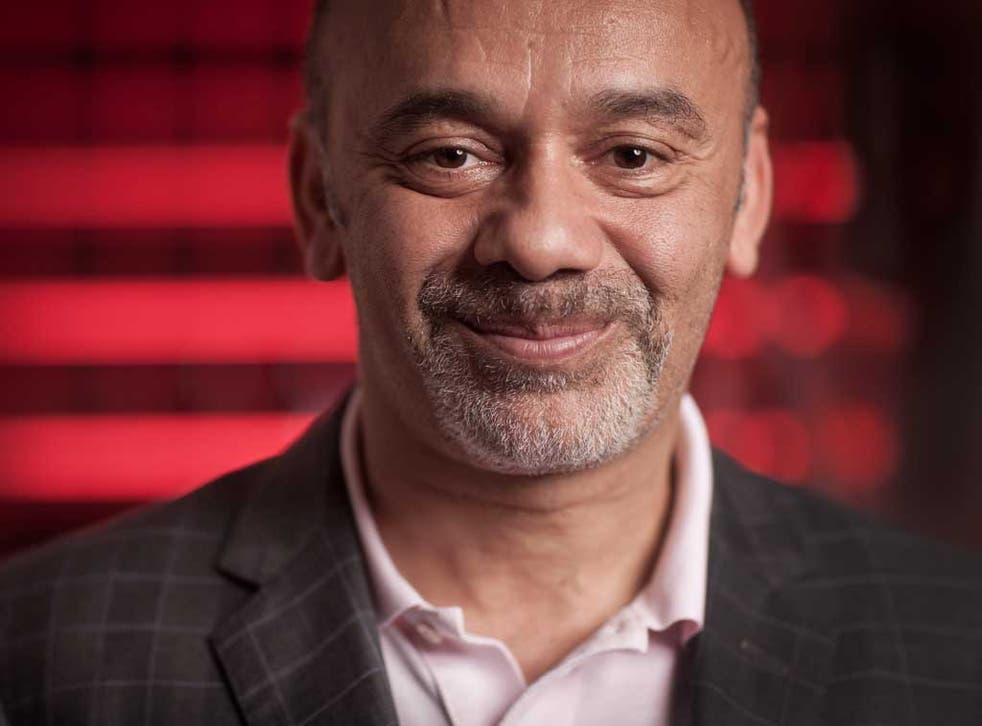 Christian Louboutin is committing sacrilege. "I really wish I had invented the flip-flop," he says, deadpan. This from the man who has inspired legions of women to fetishise footwear; whose devotees, from Michelle Obama and Carla Bruni to Angelina Jolie, Lady Gaga and Madonna, love to slip on his scarlet-soled, 6in heels; from the auteur who pretty much single-handedly brought the stiletto back into fashion. "I love flip-flops. It's the one style of shoe I would be so proud of inventing: the Havaiana."
Famously never compromising design for comfort, the master of shoe couture seems surprisingly taken by my flats. "I'm really not a fascist," he murmurs. "Everyone wears what they feel great in, or comfortable with. It's a beautiful day, you have an armless shirt: it goes with flip-flops."
I was expecting Louboutin in person to be as intimidating as his shoes, but he's playful, chatty and as expressive as any self-respecting Frenchman, frantically conducting the air for emphasis. "I don't hate the idea of comfort," he says. "I just don't think it's important for me as a designer, it's not in my creative process. Some people say, for instance, they're in a comfortable relationship. I favour someone who would tell me: 'I am in a very passionate relationship'. It's the same thing for shoes. I would rather someone say, 'Your shoes look passionate and sexy', than 'Your shoes look so comfortable'." He says this applies equally to his own relationships. "I'm really not a comfortable person," he adds. "I don't think comfort equals happiness."
His vertiginous, red-soled shoes stand accused of anti-feminism. This he dismisses, leaping into dangerous territory with both well-shod feet. "Madonna is a feminist and has been doing more for the cause than all the grumpy feminists, who are giving nothing back by being grumpy," he says. He believes suggesting women should not wear heels is actually anti-feminist. "It's saying women are not smart enough to make their own choices."
We meet at Claridge's, the day after Louboutin, 49, launched Martini's quest to find the new face of the drinks brand. He will be one of the judges. "Their philosophy of 'luck is an attitude' is similar to my own motto: 'Why not?'."
I'd caught a glimpse of him at the Design Museum the night before, at the current exhibition celebrating two decades of the spikes, studs, sequins, curves, arches and toe cleavage that make his designs so sexy, if unashamedly impractical. To say he'd given a short speech would be an oversell, but he believes speeches are very Anglo-Saxon. "It's not in the French habit," he says. "Even for weddings, here you have the best man doing their fun speeches. I've been best man for weddings and would never even think to do that."
He may have been 20 years in the business, but shows no signs of resting. He's opening four new men's stores worldwide, and is working with Disney to design Cinderella's glass slipper for the animation. This month, he announced he would be launching a beauty range – so fans can presumably match their nail varnish and lipstick to their scarlet soles. He says the venture, a collaboration with Batallure Beauty, is a "natural progression", but won't reveal more until the official launch.
He's also expecting the verdict of his appeal against a judge's ruling that Yves Saint Laurent's use of red soles in their designs in July did not infringe his red sole trademark. Despite his protests to the contrary, his anger over the battle is clear. Especially because PPR Group, owner of both YSL and Gucci, was last week awarded £3m in a trademark infringement case against Guess (clothing).
"In my opinion, they understand a signature when it's about them, but don't see when it's about somebody else," he spits. "There is something incredibly hypocritical in PPR trying to break what I consider is my trademark. It's incredibly rude and double standards," he says, gesticulating with frustration. "I'm like a mouse with this elephant that can crush me. They have spent so much money on lawyers. But I have to stand up for who I am, and for everyone who believes there is still the possibility to start your own thing, instead of having to be paid and employed by just one or two possible groups."
Before setting up his own company, Louboutin designed shoes for YSL, among others. But he believes the current company has no relationship with the late designer. "As far as I'm concerned, it is driven by marketing people who don't know what they're talking about, and is totally apart from its fabulous and wonderful creator. He would never have done such a thing like that, for sure."
Louboutin grew up in the 12th arrondissement of Paris, unaware of his parents' poverty until a classmate offered his mother a maid's job. An only son, with four older sisters, he was doted on. "She [mother] was a free spirit, never judging, the best support. When you have this education, driven by love, it keeps you straight for a long time – and when you have a solid character, you can do anything."
His father, a cabinet maker, taught him to follow the grain. "He showed me a piece of wood and said, 'You see, there is a line. If you go in the direction of the grain, you can do beautiful sculptures. If you go against, it never works: you end up having splinters.' I took it literally, but also as a metaphor – go in the direction of the grain of life and good things happen to you; go against it, and you end up breaking yourself and everything around you."
He left home aged 12, and acts as if this is unremarkable. "I never had a conflict; I was just quite mature. I left, but came back for lunch; left, came back another day to sleep in my old bedroom. When I was 15, I came back for a few months, and then left. It never was a break. It was much more natural; the progression of it."
He went to live with a photographer 10 years his senior, and spent his teenage years at Folies-Bergères, one of Paris's oldest music halls, where he wanted to design shoes for the dancers – an ambition he never fulfilled. He was also a regular at the theatre, watching only the second half of plays, as he could slip in during the interval for free. He spent time in Egypt, a year in India, and returned to Paris in the 1980s, where he worked with the shoe designers Charles Jourdan and Roger Vivier, credited with inventing the stiletto. His first store in Paris opened in 1991.
While Louboutin remains close to two of his four sisters, who both wear his designs, "two don't live in France, so I barely see them," he explains. "And I never was that close. I have 23 years difference with my oldest sister, and I'm 16 years younger than my second sister."
He splits his time between four houses: in France, Portugal and Egypt, and a 13th-century castle in the Vendée, western France. He has been in a non-comfortable relationship with his partner, the landscape architect Louis Benech, for the past 15 years. "I could not live with someone 24/7. I just never did, and I could never do. But, yes; it's very nice to go by yourself to do your thing, and then you meet. It's very much a reflection of where I've been with my family. I never remember any conflict in my family, people shouting or anything," he says. Having shod anyone who's anyone, he might be forgiven for having few ambitions left. In fact, he has much he still wants to achieve, including designing a pair of shoes for the Pope. "It would be exciting – a fun collaboration. He's very much a designer, you know." Perhaps. But I can't help wondering how Benedict XVI would fare in a pair of flip-flops.
Curriculum vitae
1963 Born in the 12th arrondissement of Paris, the son of a cabinet maker and a homemaker.
1975 After being expelled from school three times, he runs away from home aged 12 to live with a friend.
1979 Appears in several films, including the cult classic Race d'ep released in English as The Homosexual Century.
1981 Returns to Paris after time spent travelling in Egypt and India, with ambitions of being a shoe designer. Works at Charles Jourdan.
1991 After several years working as a freelance designer for such companies as Chanel and Yves Saint Laurent, Louboutin forms his own company and opens his first shop in Paris with Princess Catherine of Monaco as his first customer.
1997 Meets long-term partner, landscape architect Louis Benech.
2007-09 Tops the Luxury Institute's Luxury Brand Status Index for three consecutive years. Customers include Gwyneth Paltrow, Lady Gaga and Kim Kardashian.
2011 Files an unsuccessful $1m trademark infringement suit against YSL, with the judge saying: "Louboutin's claim would cast a red cloud over the whole industry, cramping what other designers do, while allowing Louboutin to paint with a full palette."
2012 Opens 1,000sqft boutique in New York, a location in Turkey and the first Louboutin Men's Boutique on Rue Jean-Jacques Rousseau, Paris. In May, announces launch of own beauty range.
Join our new commenting forum
Join thought-provoking conversations, follow other Independent readers and see their replies