Claire Danes: Actress has finally found her true home
Homeland has proved gripping Sunday-night TV. And it's been the making of an actress who has finally found a role worthy of her talents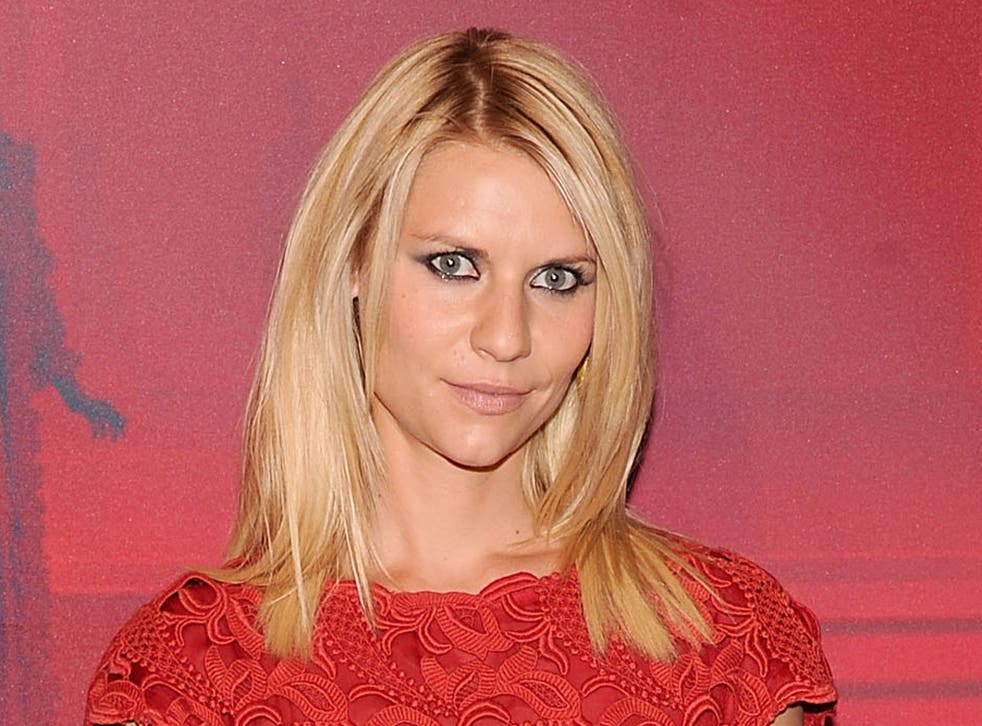 Claire Danes's chin does something remarkable when her face shows emotion. It simultaneously trembles and crumples, drawing her bottom lip and then her whole jaw into ugly yet irresistible contortions. Her eyes bulge and dart, as if they too are equipped with extra muscles. The movement then extends below the neck until she is almost dancing and you worry her energy might blow a fuse in the camera.
We saw it happen in last Sunday's penultimate episode of Homeland, the gripping US drama series which concludes tomorrow night on Channel 4. Many more of us will remember it in 1996, when Danes woke up to find Leo DiCaprio's Romeo dying in Baz Luhrmann's hit adaptation of Romeo and Juliet. She was 16 and won acclaim for her first big film role. But you could be excused if you struggled to recall much of her work between then and now. While her face has quietly beamed and gurned with a range and sophistication few starlets achieve as they mature, it has struggled to find a natural home. Or, as Dana Stevens, the film critic at Slate.com, suggests, "Perhaps Hollywood hasn't found a role that's right for her."
Now the face finally fits. In Homeland, we have witnessed, through increasingly gnawed fingernails, an actress hitting her stride – 16 years after her breakthrough. Danes, 33, plays Carrie Mathison, a brilliant CIA analyst secretly suffering from bipolar disorder. She is convinced that an al-Qa'ida terrorist lurks under the uniform of an all-American war hero (Damian Lewis) returning from captivity in Iraq.
Her obsessive march towards the truth is shadowed by the seemingly imminent collapse of her mental health. These parallel tensions, which collided terrifyingly last Sunday (there will be no spoilers here), has turned Homeland into essential viewing. Mad Men was supposed to be the hit US drama of the year but Homeland's flawed hero has trounced Don Draper in the ratings, drawing much of the same audience with its smart thrills and plot twists. President Barack Obama has said he is a fan. It's worth recalling that his predecessor, George Bush, was reportedly fond of 24, that other post-9/11 terrorism thriller. If Homeland is 24 with brains, it's Danes who makes it smart.
The daughter of a photographer and a painter who met at design school in Rhode Island, Danes enjoyed a privileged, bohemian upbringing in New York City. She took modern dance classes from the age of four and enrolled at the renowned Lee Strasberg Theatre and Film Institute. Appearances in avant-garde dance and theatre followed, but her route to fame began, aged 14, with the short-lived but long-admired teen drama My So-Called Life.
As Angela Chase, the insecure high-school heroine, she won a Golden Globe and showed herself to be a dedicated perfectionist of singular maturity. In 1994, The Washington Post described her as "deep and mercurial and strikingly complex". In the same year, Danes told People magazine: "It's really hard being a kid doing a grown-up job... I'm so lonely that I just will sit on a sidewalk and look at the teenagers. But then I stop and think: I made this decision, and look what I have instead – a TV series."
Movies, beginning with Romeo + Juliet, meant a move to Los Angeles, but Danes avoided the pitfalls of child stardom by remaining grounded in New York. In 1998, she began a degree in English and psychology at Yale, where her grandfather had been dean of the art and architecture school. Her father is an alumnus, too, and Danes had said, aged 16: "The one thing I really have to do – or I will be rejected by my family entirely – is go to college."
Perhaps they didn't say anything about finishing; Danes dropped out after two years to return to acting. She co-starred as Meryl Streep's daughter in The Hours – the film of the Michael Cunningham book about three women all connected by a Virginia Woolf novel. The following year, Danes flirted briefly with blockbuster-starlet territory in Terminator 3: Rise of the Machines.
Danes appears as comfortable on the chat-show sofa as the red carpet but eschews celebrity when she can. She moved back east to New York as soon as she could, and her only brush with the Hollywood gossip mill came in 2004 when Billy Crudup delighted the red-tops by ditching his pregnant girlfriend, the actress Mary-Louise Parker, to move in with Danes.
At the same time, she struggled to find the right roles. A break that gave some sign of what was to come arrived in 2005, with Shopgirl, in which she starred alongside Steve Martin as the titular love interest. USA Today said of her performance: "A luminescence surrounds Claire Danes who, reduced of late to action drivel (Terminator 3) or bit roles (The Hours), finally fulfills the potent promise of... My So-Called Life."
Dana Stevens interviewed Danes for The New York Times not long after Shopgirl's release. She remembers the actress as "poised and very smart, if not warm". She, too, is struck by her face, which she has compared to "that of an eager, curious animal". She adds: "Danes is very unselfconscious and not motivated by vanity in a way that is unusual in a beautiful actress."
That humility is evident in Danes's work off screen. She remains true to her dancing roots by supporting Performance Space 122, a not-for-profit arts centre in Manhattan, where she performed as a child. She returned in 2006 for a solo piece in which she portrayed a character with partial paralysis.
Lucy Sexton, the former chairman of Performance Space, remembers it well. "It was an utterly risky thing to do," says the artist, who is married to Stephen Daldry, the British director of Billy Elliot and The Hours. "She was a big movie star taking on a wacky, difficult modern dance solo, but she was absolutely captivating – the way her face integrated with her body was riveting."
Danes's talents were evident back on screen in 2010, in Temple Grandin, an HBO biopic about the eponymous animal behaviour expert and autistic savant. She won an Emmy, Golden Globe and Screen Actors Guild award for her performance. She was also praised by Grandin, whom the actress interviewed several times as part of her characteristically meticulous research.
Perhaps realising a niche – brilliant women with complex brains who struggle to fit in – Danes turned down most of the offers that followed her awards sweep. "I just didn't have much patience for roles that were silly, or light, or inconsequential," she told The Daily Telegraph in February. "I felt the bar had been set so high. It wasn't until I came across Carrie [in Homeland] that I got really excited again."
Danes's portrayal of a CIA analyst whose bipolar disorder inspires and dogs her in turns has impressed more than critics and fans. Last month, Time magazine named Danes as one of its 100 most influential people in the world. Valerie Plame Wilson, a former CIA covert-operations officer, wrote: "Danes breathes life and realism into a character who, for once, goes against the clichés of what a female CIA officer is supposed to do and look like."
Siobhan O'Neill is a British former BBC producer who is bipolar. She has worked as a script adviser on mental health for EastEnders. As bewitched as anyone by Danes, she says her performance "educates those that don't understand the condition as well as authenticating the experience of those with it".
Homeland, which has gained almost three million viewers in Britain, returns to American screens for a second series in September. (A cliffhanger at the end of tomorrow's finale seems likely.) In the meantime, Danes is still living in New York, where she is now married to the British actor Hugh Dancy, 36.
Asked by Dana Stevens in 2006 what she looked for in a performance, Danes said she wanted to "do something that feels genuine and kinetic and spontaneous", adding: "Actors want to surprise themselves. When it's really good, you kind of transcend yourself, and that happens infrequently. Very, very rarely." Now she and her remarkably expressive chin have found their places, we can only hope it happens more often.
A Life In Brief
Born: Claire Catherine Danes, 12 April 1979 in New York City.
Family: Mother Carla is a daycare provider and artist, father Christopher a computer consultant and photographer. Married Hugh Dancy in 2009.
Education: Dalton School in New York, New York City Lab School for Collaborative Studies, Professional Performing Arts School and Lycée Français de Los Angeles. Dropped out of Yale University to act.
Career: Shot to fame as the lead in My So-Called Life before breaking into film. Her credits include Romeo + Juliet, The Hours and Stardust.
She says: "People confuse fame with validation or love. But fame is not the reward. The reward is getting fulfilment out of doing the thing you love."
They say: "Danesy is whip-smart, extremely committed and focused." Homeland co-star Damian Lewis.
Join our new commenting forum
Join thought-provoking conversations, follow other Independent readers and see their replies