Clara Paget & Georgia LA: 'She's made me realise that not everyone in fashion is anorexic'
The actress and the presenter met when their parents collaborated on a book on alternative London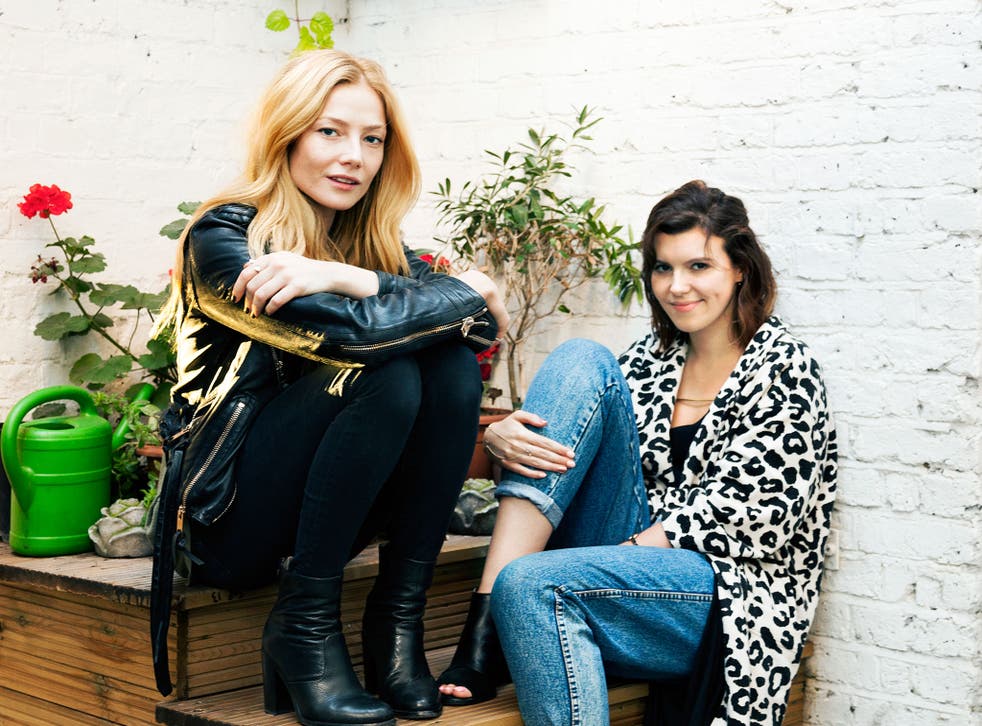 Clara Paget, 27
An actress who has appeared in films such as 'St Trinian's 2: The Legend of Fritton's Gold' and 'Fast & Furious 6', Paget (left in picture) is also a model who has worked for brands including Burberry and Gucci. She currently appears in US historical adventure TV series 'Black Sails'. She lives in London and South Africa
Our parents came from different social backgrounds [Clara's father is the Marquess of Anglesey, while Georgia grew up on a council estate], but they came together to write a book on alternative London when I was six. Georgia was only a year older than me, but that feels like the biggest gap [at that age].
I always wanted to impress her; she was a role model for me. So when she said that she was over Barbies, I told her I was over them too. Then she stayed over one night and found my Barbies under my bed. I said they were all in a box waiting to be thrown away, so she said, "OK, well if you don't care, let's cut their hair," which was traumatic for me: she was ripping my childhood apart in front of my eyes.
We went from a rocky start to ganging up together on the adults. Each of our parents separated when we were little, so we both dealt with a lot of step-parents. We made a little double-act, being mean to our parents' boyfriends and girlfriends: putting nail varnish on toast, or trying to cut off her mum's boyfriend's ponytail.
The biggest fight we had was over a Frisbee: I lost my shit over the scoring system. It's the first time I realised how stubborn I was. We had a full-on screaming match. She was supposed to stay over at mine that night, but we had to cancel it. I was crying until 10pm.
We were both born and bred in London, and it was only when we started secondary school that we became more aware of our different backgrounds. I think Georgia brought it up more than me. But although she grew up in a council flat, we both went to a private school.
We went our separate ways for a while as teenagers: I went to Manchester while she stayed in London, and we found new groups of friends. But in the past three years we've switched back to being tight again. She's a real giggle instigator and has a cackle that builds infectiously.
We still get up to nonsensical stuff together: when we went to the Secret Garden Party festival, we snuck into a life-drawing class. We spent hours trying to draw naked punks.
I love Georgia's confidence in what she does [as a presenter]. She has this gentle cheekiness that brings people out of themselves. I love seeing the person she's become: the kindest, most upbeat woman, with a smile like a baby cherub! We saw each other recently when I was feeling the post-summer blues; she turned up with a journal and showed me how she wrote in it what she had to be grateful for every day. She puts me in a good mood whenever I'm having a grey day.
Culture news in pictures

Show all 33
Georgia LA, 28
After starting her career as a presenter on YouTube music channel SB:TV, LA created and hosted the successful web-based TV show 'The Fox Problem'. She has presented documentaries for Radio 1 and 1xtra and is a DJ on Apple Music's Beats 1. She lives in London
Both our parents are pretty hippied out. They were working on a book together, and one day my dad said, "My friend has a daughter…" and sent me on a friend date with her.
As I was older, at seven, I was mean to her at first, but once we started getting up to mischief, we became inseparable. When my mum would meditate at home, we would rearrange the furniture and put knickers on her head.
I grew up at Clara's house, which was bigger than mine, and I became part of the extended family. With the class thing, I never felt embarrassed with Clara, although I might have with some of her friends. But those were my issues rather than anything to do with her.
I've known her through every stage of our lives, and there are so many memories we have – from our first underage clubbing to the first time I kissed a boy – that in some ways everything that I find funny goes back to her.
She is the closet thing I have to a sister, while her older brother was a brother figure to me, too: he showed us things for the first time, from drum'n' bass to other recreational activities. His friends all had girlfriends, and as two younger girls, we pretended we weren't shocked when they were talking about sex!
Clara has always been there in my life, and when the brother of one of my best mates died, she gave me a bit of a reflection on grief, as she had been through something similar. And though I'm doing well now career-wise, there have been times when I'd go round to hers to tell her, "I'm sad, I've not had any good work for ages."
People don't expect us to know each other, as we inhabit such different realms: I started my career interviewing grime rappers in a small flat while she was going to Fashion Week parties, so we have different social skills. But we both love having a good time, and going to festivals with her friends Cara [Delevingne] and Suki [Waterhouse].
I feel proud of her, as she is smart and has a good perspective on the fashion industry. When she first got into it, I said: "Watch it, everyone is so skinny!" But she's made me realise that not everyone in fashion is anorexic.
We went out the other night to a film premiere and the paparazzi response to her was ridiculous. I was like, OK, Clara, you're smashing it right now: she's achieved a good level, while not falling out of taxis. And I think she's awesome in her TV show [Black Sails]. She's smashed that, too, and her character [a pirate] is so cool.
Georgia LA presents 'The Surgery' on BBC Radio 1 on Wednesday 2 December at 9pm
Shot on location at New London Cafe, London N1 (newlondoncafe.co.uk)
Register for free to continue reading
Registration is a free and easy way to support our truly independent journalism
By registering, you will also enjoy limited access to Premium articles, exclusive newsletters, commenting, and virtual events with our leading journalists
Already have an account? sign in
Register for free to continue reading
Registration is a free and easy way to support our truly independent journalism
By registering, you will also enjoy limited access to Premium articles, exclusive newsletters, commenting, and virtual events with our leading journalists
Already have an account? sign in
Join our new commenting forum
Join thought-provoking conversations, follow other Independent readers and see their replies