Clare Balding: 'National treasure? That's not me'
She's hardly been off our TV screens since April, but the popular presenter is still uncomfortable with the idea of public exposure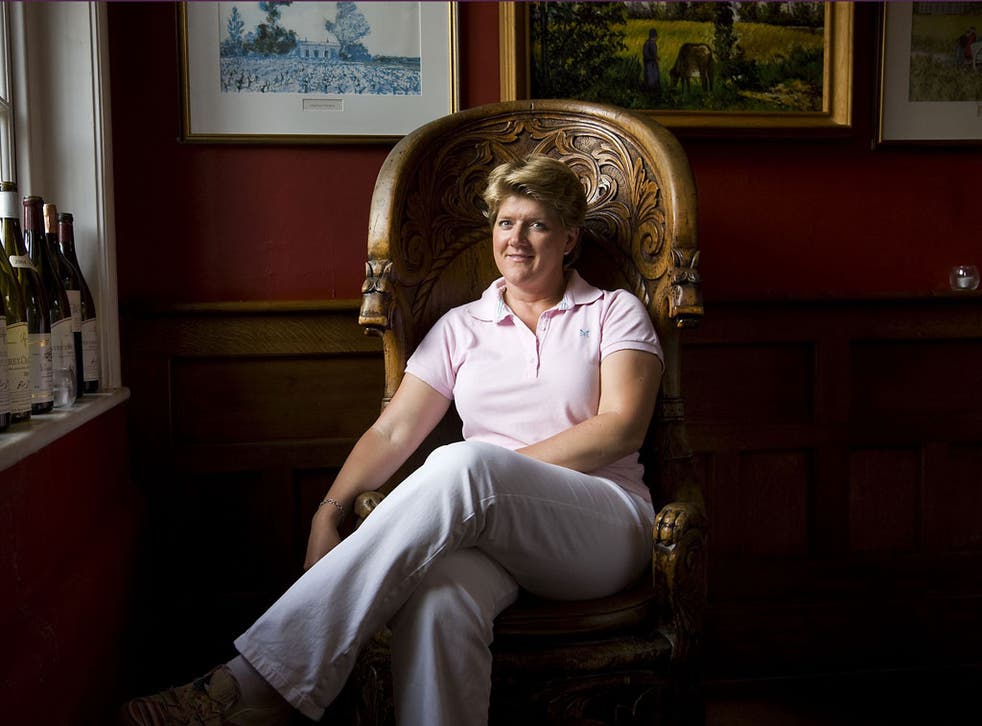 Clare Balding and I meet on an auspicious date.
It's her anniversary – six years ago she entered a civil partnership with Alice Arnold, the Radio 4 announcer, and, while she generously overruns our allotted time, says she doesn't want to be late. "I promised Alice I would get home on time because we're going to a very special restaurant tonight."
The dinner date is a rare chance for the couple to be together in what has been a non-stop summer for Balding, during which, among other things, she was part of the BBC's Olympics presentation team (at the Aquatics Centre) and then was studio co-host (with Ade Adepitan) of Channel 4's Paralympics coverage. For many, one of the lasting images from the TV coverage of the Olympics will be Balding's ever-present highlighter pen. Then there was her consummately professional but genuinely enthusiastic fronting of the Paralympics. And while she has always had a dedicated following among sports fans – and Balding and Arnold's combined 308,000 Twitter followers enjoy their affectionate ribbing of each other about domestic chores or their beloved dog Archie on the social network – she has gone almost overnight from "that women off the telly" to achieving national treasure status.
Balding, quick to laugh, particularly at herself, hoots at the idea. "Does it mean I can graze some goats on the Backs at Cambridge or that I get lifelong membership of the National Trust or something? Then I could be a National Trust treasure. No, I don't think that's me at all.
"Actually, it probably annoys a lot of people that I haven't been off their screens since April because I cover a lot [of sports and national events]. It started with the Boat Race, then there was the Queen's Jubilee [during which she was one of the few BBC presenters to emerge with her reputation intact] and then it was the Olympics and Paralympics. I was the only presenter who worked at both, so it's easy to pick out one individual and say that's our glory person and forget about other people who've put in far longer hours."
A BBC colleague suggests that her appeal lies beyond her obvious professionalism. "She's hardworking, but makes it look so easy," he says, "because she's an utter pro who really does her homework. But apart from her enthusiasm for sport – and viewers know that's genuine – what they responded to, I think, was her ease with everyone she spoke to. She's such an intuitive interviewer and I think they saw that, particularly with Bert Le Clos [whose son, Chad, beat Michael Phelps in the 200m butterfly final and whose emotional interview afterwards has become a YouTube hit]."
It has been a glorious few months for British sport, and Balding has been a large part of that. "Yes, this has been an amazing summer for this country, " she says, "and I feel incredibly proud to have been associated with it. But I really don't want people to remember anything other than that it's about the Olympians and Paralympians who have trained so hard to be where they are. I've never done a day's training in my life.
"Even if people have enjoyed what I've done – and I had huge fun doing it – they should know that it's because I'm part of a large team of very hardworking people. I mean, swimming isn't my sport but anything I wanted to know I would ask my researcher, Jonathan Murt, and he would come up with the most amazing statistics on something. It's people like him that make me look good."
But she must have noticed that she is held in great affection – and, unlike the Chancellor, George Osborne, who was roundly booed at a Paralympics medal ceremony, she was loudly cheered by 80,000 people in the Olympic Stadium when she presented flowers to the women's javelin medallists. "That was very special and I was quite teary."
So she'll allow that she's quite popular, at least? "I do get recognised in Sainsbury's but that's as far as it goes. I was doing a book signing and Waterstones gave me two lovely heavies to look after me – I really don't know why – and I had to politely say to them, 'I'm going to M&S to buy a salad and it would be ridiculous for you to come along. I'm not Justin Bieber.'"
Ah, Justin Bieber, Balding's best new buddy after their joint appearance last night on ITV's Jonathan Ross Show, where, she jokes, they swapped notes about their distinctive hairstyles. "I'm told I have iconic hair," she notes drily. "But I've had it for the last 20 years and I just do this with it," she says, running a hand through her locks.
Appearing on Jonathan Ross could be a worrying sign that celebrity has gone to Balding's head, but in fact she was there to promote the launch of her first book, My Animals and Other Family, a funny and affectionate memoir about her horse-mad family. (Her father, Ian Balding, was formerly the Queen's racing trainer, and she grew up at Park House Stables at Kingsclere, next to Highclere Castle, where Downton Abbey is filmed.)
The book covers her childhood up to the age of 19, when she went to Cambridge University, and ostensibly focuses on the various pets she has had. But it is very revealing about a certain kind of upper-class country life, where children are sent to prep school at nine and animals figure more prominently in adults' affections than their offspring ever will. In the hierarchy of her family, horses and dogs were much more important than Balding and her younger brother, Andrew, and boys were infinitely more important than girls. When her grandmother – eccentric is perhaps not a strong enough description of how she comes across in the book – was told of Clare's birth, she said: "Oh, it's a girl. Never mind – you'll just have to keep trying."
Posh people really are different from the rest of us, I say. "My childhood was normal for me. That was my reality," Balding replies with a laugh. But having the Queen around to breakfast? "Lots of people in our circle had contact with the Queen." Although a few royals are mentioned in the book (and there's a very funny chapter about Balding's bruising encounter with Princess Anne when they were both amateur jockeys), she's unwilling to trade on the association – even if she does admit it won't harm sales.
Balding is reluctant to do interviews beyond those about work – and I'll wager she will never do an "at home with Hello!" – so I ask if she was worried about revealing too much in the book. "The animals thing has allowed me to shield myself to some degree, but I think I've given a lot away.
"I've been very honest about some things [including the fact that she was suspended from school for shoplifting when she was 11, and an early relationship with a man who asked her to marry him], and three chapters are essentially about my parents. I let Mum read it early on and said if she wasn't comfortable I would change it, but she didn't ask for anything to come out."
Although Balding has never spoken about her politics, she acknowledges that her views are more liberal than her parents'. "I think Alice has a lot to do with that, because she's much more left-wing than anybody I grew up with. I read differently now and I'm exposed to different things; I lead a very different life to the one I grew up in. I like clever people and people who have a breadth of experience."
Many who know her, then, were surprised that she allowed the first serialisation of the book to be in the Daily Mail, not known for its love of lesbians, even if they have members of the Royal Family on their phones. "I was delighted when I heard they'd asked," Balding says. "It made me roar with laughter. I went for it because the best way of countering prejudice is by allowing your sensible voice to be heard. I thought, this is a real moment and I'd be a fool to let it pass."
My Animals and Other Family is published by Viking (£20)
Curriculum Vitae
29 January 1971: Born at Park House Stables, Kingsclere, Berkshire, to Emma and Ian, a racehorse trainer. (He trained the Derby winner Mill Reef.) Brother Andrew took over the stables in 2003.
Education: Attends Downe House School (contemporary of comic Miranda Hart); becomes head girl. At Newnham, Cambridge she is president of the union and gains a 2:1 in English.
1988-90: Amateur flat jockey; champion lady rider in 1990.
1994: BBC radio trainee.
1995: Television debut at Royal Ascot. Later works on Olympic and Paralympics Games, Wimbledon, rugby league, Lord Mayor's Show, Trooping the Colour, Cruft's, as well as Ramblings on Radio 4.
2006: Civil partnership with Radio 4 announcer Alice Arnold, now 49.
April 2009: Jokily remarks on live TV about Grand National-winning jockey Liam Treadwell's bad teeth, leading to 1,477 complaints. She apologises; he's offered thousands of pounds' worth of free dental treatment.
August 2009: Announces she has recovered from thyroid cancer.
2010: Her complaint about A A Gill calling her a "dyke on a bike" in The Sunday Times is upheld by Press Complaints Commission.
August/September 2012: Wins favour for BBC's Olympics coverage, then co-hosts Channel 4's Paralympics coverage.
September 2012: Her memoir, My Animals and Other Family, is published by Penguin; Channel 4 announces she is to present its racing coverage.
Register for free to continue reading
Registration is a free and easy way to support our truly independent journalism
By registering, you will also enjoy limited access to Premium articles, exclusive newsletters, commenting, and virtual events with our leading journalists
Already have an account? sign in
Register for free to continue reading
Registration is a free and easy way to support our truly independent journalism
By registering, you will also enjoy limited access to Premium articles, exclusive newsletters, commenting, and virtual events with our leading journalists
Already have an account? sign in
Join our new commenting forum
Join thought-provoking conversations, follow other Independent readers and see their replies