Countess Albina Du Boisrouvray: 'We're dealing with people who have absolutely nothing'
The death of her son in a helicopter crash 28 years ago was a life-changing moment for Countesss Albina Du Boisrouvray. He dedicated himself to helping others, she says, and that's exactly what she has gone on to do
Chris Blackhurst
Monday 18 August 2014 17:59 Comments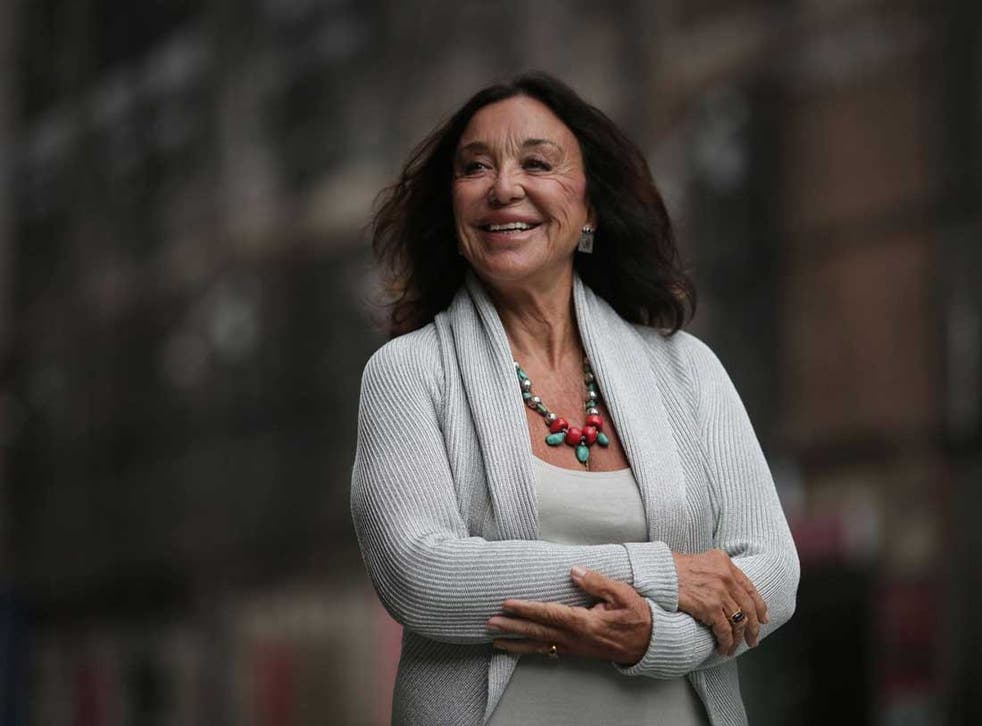 I am on time to meet Countess Albina Du Boisrouvray, but she's late. When she arrives, she's all breathless. She was stuck in the lift in her London hotel. The doors locked and nothing happened. "I felt claustrophobic, do you get claustrophobic?" asks, turning her predicament on to me. Suddenly, I find myself drawn into discussing with her similar experiences of my own.
I can tell she has that effect on people. She's warm, open, happy to talk about anything.
Then I suggest we talk about her philanthropy and she fixes me with a firm stare. "I prefer not to use the word philanthropy – that's synonymous with the British dropping food parcels in Iraq – I call it development. The former is about improving people's circumstances temporarily without changing the root causes of the disaster; the latter, for me, is about changing people's lives for good."
Du Boisrouvray, 73 or thereabouts, is one of the most remarkable people I've ever met. She's got all the glamour you'd associate with her exotic name. Her grandfather, Simon Patino, the Bolivian tin-mining tycoon, was one of the richest men in the world. She's a cousin of Prince Rainier of Monaco, godmother to Charlotte Casiraghi, daughter of Princess Caroline of Monaco, an international jetsetter in her youth who grew up in New York and hung out with the likes of Jackie Kennedy.
She's been a model, actress, journalist, French Leftist protester. She had her own film production company, producing movies, including the desert romance Fort Saga`nne starring Gérard Depardieu.
But before you think I've come over all Hello!, what elevates her and the reason I'm seeing her is what she did next. After her only child, François-Xavier Bagnoud, a helicopter rescue pilot, died in a helicopter accident in 1986, aged 24, she set up the association Francois-Xavier Bagnoud or FXB International, an NGO devoted to lifting some of the world's very poorest people out of poverty.
She sold her film production company, her jewellery and art collections (at that time the jewellery auction was the largest in Sotheby's history) and properties, and pumped the proceeds, $100m, into starting FXB.
Since then it's become one of the world's most successful development agencies, fighting extreme poverty and the ravages of Aids. A photographic exhibition of its work has just opened at London's gallery@oxo.
"Framing Hope: Celebrating 25 years of Poverty Eradication with FXB International" features 25 images shot by photographer Jillian Edelstein, and captures the stories of optimism and success of families in Burundi, China, Uganda, Colombia, India and Rwanda who have been helped by FXBVillage – a pioneering, three-year programme aimed at encouraging some of the world's most impoverished people to set up their own businesses, among other initiatives in education and housing. The display runs until the end of this month.
The exhibition has brought Du Boisrouvray to the UK. She lives in Portugal, near Lisbon, and has homes in Paris, New York and Switzerland, where FXB is based.
Summers tend to be spent in Portugal, winters in Switzerland. François is buried in Le Valais in Switzerland, and she revisits his grave, to reconnect, as she puts it, to think about the past 25 years and the work she's done, the lives she's touched, and to get re-energised to do more.
Time Magazine called her an "alchemist", who turned her "private pain into public gold". How many people has FXB helped? She shrugs and says she does not know for sure but estimates, her eyes sparkling, it must be in the order of "17 million in 20 countries". Today, FXB employs 400 staff in the field.
Her son flew helicopters for his father and her first husband, Bruno Bagnoud. Bruno operated an Alpine rescue company, Air-Glaciers, and her son, she says, had dedicated his life to assisting others. When he died in a crash in Mali, she contemplated suicide, then decided to carry on his work of rescuing people in distress, albeit at a different level.
At first, her target was Aids and the warning from Jonathan Mann, the then head of the World Health Organisation's global Aids programme, that the pandemic was creating thousands of orphans, many of whom were themselves infected by HIV.
"My father died five years before my son, at the end of 1980. François and I inherited money, collections, real estate… It didn't change our lifestyles. I was doing what I was doing and François was a rescue pilot. He was so interested in the world. I remember him saying to me, 'Do you know what one of the biggest problems with the world is? It's so dysfunctional.' We talked about it, how war is terrible, but poverty compounded by war is more permanent and worse."
She sighs. "François died and I went to work for Medicins du Monde. I learned about [non-governmental organisations] and how they worked. I'd always been a bit of a militant, interested in their activities, so it wasn't difficult. Then I put my collections and the majority of my real estate up for sale and founded my own NGO."
With the Aids orphans, "there was nobody to teach them, nobody to feed them. That's how they become child soldiers – they're taught to handle weapons by men they regard as father figures. It's the same with criminal gangs – they join them and deal in drugs because they represent the family they've lost."
In 1991, she funded the Global Aids Policy Coalition at the Harvard School of Public Health. A year later, FXB gave $20m to build the FXB Center for Health and Human Rights at Harvard. FXB broadened out, from the effects of Aids to tackling poverty generally.
"FXBVillage is a programme aimed at pulling people out from extreme poverty." It's that word, "extreme", she says, that distinguished it from other initiatives. "It was revolutionary when we launched it. Some people in the NGO, charity sector regarded it as politically incorrect. I was even victimised for it."
She was aiming at the absolute poorest, who some organisations regarded as beyond help. Her approach was to look at all the drivers of poverty, not just setting out to tackle one. So FXBVillage covered the spectrum of healthcare, education, training and finance. "It's an integrated, holistic programme lasting three years."
In the first year, FXB will fund someone to start a business 100 per cent; the second will be 75 per cent, the third 50-50, and after that, they're on their own. "I met some women on one on our programmes in the Democratic Republic of the Congo recently. They said, 'Thank you, because it lasts three years we can sleep soundly at night.' We're working with them to provide food for their children, healthcare, and they're learning how to run a business."
Along with philanthropy she hates the word charity, regarding it as too paternalistic. FXB, she stresses, is about helping people to stand on their own feet, to lead their own lives, without constant help.
Typically, one person will receive $345 over the three years – enough for a woman in Uganda, say, to buy one cow, then three more cows, some pigs, chickens. Then, as in the case of a Ugandan woman called Nite, she went on to buy a patch of land, grow pineapples and coffee. All Nite's children ended up going to school, two went to university, and one now has a job abroad.
"If you ask her how she did it, Nite will say, 'I joined FXBVillage.' Joined, not that FXB gave her some money – she joined. She became an actor of her own destiny. She gained know-how, and her courage, her resilience, her strength did the rest."
Until Du Boisrouvray came along, she says, "micro-credit was aimed at the poor, not the extreme poor. We're the stage below micro-credit. We can push people so they can qualify for micro-credit. Everyone embraced micro-credit – they thought it was the solution to poverty. It works well, if you have a little something first. We're dealing with people who have absolutely nothing."
At the World Economic Forum in Davos, Du Boisrouvray quizzed Muhammad Yunus, the micro-credit pioneer. "I said to him, 'can I ask your advice – we're not doing what you're doing, and if you say we should change, I will.' He thought for a moment, and then said, 'do what you're doing.'" It was, she says, an affirming moment, that FXB was on the right lines.
People think they can throw cash at a problem, she says, and it will go away. "All they're doing there is letting loose Pandora's Box. There's a need for education, for greater knowledge on healthcare. Money alone is not the answer. At FXB, we provide someone with a toolkit for their life, and tools they can pass on to others, which they can share."
It's not without its frustrations. Our TV screens provide graphic testament to the continuing horrors of war – and yet more displaced refugees and vicious poverty. Du Boisrouvray likes to quote her favourite tale of an old man walking on a beach where thousands of starfish are stranded. A girl is throwing them back into the water one by one. He tells her it's pointless, she can't throw them all back, what does it matter? The girl holds up one in her hand and says, "It matters to this one.''
She's less sceptical than she was, however. "We've moved, rightly, from a mono-solution to realising it requires a complex solution." So, she says, while efforts like Band Aid were good at highlighting the issue, they did not go deep enough. To be fair, they did not claim they were – although the possible wide perception was that if you gave money to Band Aid, poverty would somehow disappear.
Back in the office I see an issue of Hello! Countess Albina du Boisrouvray could be on the cover. But she isn't.
Life and and times: Countess Albina
Born: 1941 in Paris
Educated: schools in US, England and France; studied psychology and philosophy at University of Sorbonne, Paris
Family: married Swiss aviator Bruno Bagnoud; one son, François-Xavier (died in a helicopter crash in Mali during the 1986 Paris-Dakar rally); married Georges Casati, the French film producer
Career: model, actress, freelance journalist, mainly for 'Nouvel Observateur' (broke story about circumstances surrounding death of Che Guevara); founded 'Libre', the literary magazine that published the works of Gabriel Garcia Marquez; founded a movie production company; chairs and manages SEGH, a family real estate and hotel group; founded FXB, the international development agency
Framing Hope: Celebrating 25 years of Poverty Eradication with FXB International runs at gallery@oxo, SE1 9PH, until 31 August.
Register for free to continue reading
Registration is a free and easy way to support our truly independent journalism
By registering, you will also enjoy limited access to Premium articles, exclusive newsletters, commenting, and virtual events with our leading journalists
Already have an account? sign in
Join our new commenting forum
Join thought-provoking conversations, follow other Independent readers and see their replies