Daniel Day-Lewis: 'People already think I'm mad'
He's the Oscar-winning son of a poet laureate who was linked to some of the world's most beautiful women before his marriage to American literary royalty. In his first interview for three years, Daniel Day-Lewis talks to Nick Duerden about his acting methods, off-screen obsessions and his seemingly gilded life
Saturday 18 March 2006 01:00 Comments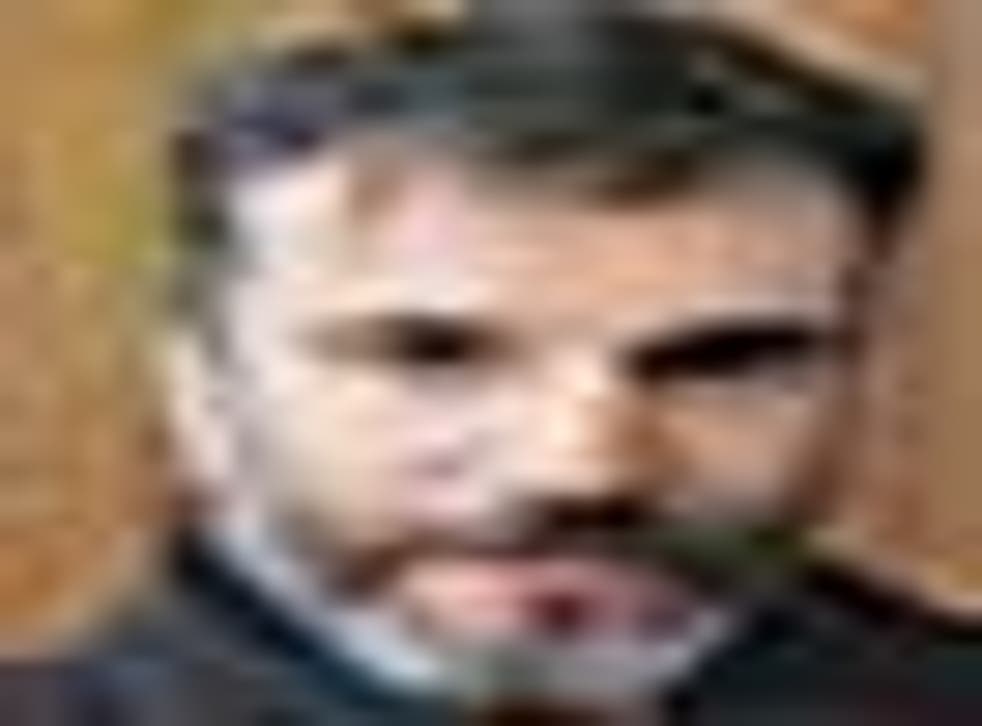 He looms up larger than life, encased very nearly head to toe in leather and rubber, and extends a bony hand in welcome. My first thought is of Jeff Goldblum in The Fly, for he is long and thin and rangy and ever so slightly insectoid. The beard is salt-and-pepper mixed with swathes of vigorous brown and, bushy though it is, it singularly fails to conceal the raffish smile that is echoed in his sparkling eyes.
"Hello! Welcome!" he booms in a rich and sonorous voice. "You'll forgive me if I don't talk just for the moment. Allow me time to recuperate." ("From what?" I want to ask, but don't.) "It'll do us both the world of good, I promise you."
He sits there beaming, and the long thin fingers of his hands meet together under his chin. Unusually for an actor, he asks me about me, and unusually for me, I tell him. A quarter of an hour later, he knows my age, where I grew up (which, it turns out, is just a few miles from where he spent his formative years, in Charlton, south London), along with the names of both my girlfriend and baby daughter. It transpires that we both attended Millwall football matches in our youth, and that neither of us particularly enjoyed them: "The fans," he says, "all that shaven-headed aggression."
While he is chiefly famous for being one of cinema's great actors, Daniel Day-Lewis is also famous for his reticence. Although ostensibly a public figure, he seeks solitude far more readily than he does celebrity. Later, he will tell me that he can spend upwards of a week, "just staring out of the window, watching the wind whip across the Wicklow hills. Some people will consider this shamefully neglectful when one considers that there are always more pressing matters at hand, but for me, I have to tell you, it is time very well spent."
Here today, however, amid the soft furnishings of a Dublin hotel room, the rain pouring outside all over his beloved motorbike (hence the leather and rubber), he is warm and chatty. He speaks with a fluid eloquence reminiscent of his late father, the poet laureate Cecil Day-Lewis, and he emits a level of charisma I have very rarely been exposed to. f It is this, you immediately sense, that must have once drawn him to some of the world's most famous women. It's all rumour and conjecture, of course, but the man has been linked in the past with Julia Roberts, Winona Ryder, Juliette Binoche and even Madonna. But, at 49 years old, he is now happily married with two boys, aged seven and three (he also has another, aged 10, by the French actress Isabelle Adjani). His wife, Rebecca Miller (daughter of playwright Arthur), has just made a film. Day-Lewis is in it.
Still steepling his fingers, and now leaning towards me, he asks if I liked it. I tell him yes, that it was poetic and touching and melancholy, and he beams as if lit from within: "Oh, I'm so glad, so glad. It seems to be dividing opinion, this picture. The people who like it love it, but those who don't hate it. They seem to think it's pretentious, which is ridiculous because Rebecca doesn't have a pretentious bone in her body."
The film is called The Ballad of Jack and Rose, and it concerns a father and daughter's struggle to maintain their solitary way of life on an abandoned island commune off the north American coast in the face of rampant 21st-century development. Day-Lewis is Jack, a self-sufficient hippie whose struggle to bring up Rose alone (his wife having long since left him to his ideals) is compounded by terminal illness.
The character's hatred of commercialism, I say to the actor, seems to echo Day-Lewis's own outlook on life (he and his family live in comparative remoteness in County Wicklow, unencumbered by mobile phones, satellite television, even neighbours). Did she write it with him in mind?
He nods his head, misleadingly: "Many have drawn the same conclusion, yes, but it isn't so. Rebecca wrote the script long before we met."
It actually dates back to 1993. Upon completion, she did send it to Day-Lewis, whom she knew was good friends with her father (the actor having recently appeared in Arthur Miller's The Crucible). But he had just come off Martin Scorsese's The Age of Innocence and, as often happens when he finishes a film, felt too depleted to even consider it.
"I did read it, though, and I liked it, liked it a lot, but I sensed the destructive forces at work within the story, and I just didn't feel strong enough at the time to commit."
Nevertheless, the script's themes struck a chord with him, as did its author. He subsequently sought out her debut movie, Angela (1995), and, he says, smiling slyly: "One thing led to another, we became acquainted, we got married. And we continued to talk about it, often at length - but it just seemed such a risk. I was worried that working together on this particular story... well, that its stresses might tear us apart at the seams."
It is difficult to know quite what he means here. While The Ballad of Jack and Rose is ultimately a bleak meditation about the death of ideals, it is, after all, only a movie. But then Daniel Day-Lewis isn't your ordinary actor, instead undertaking each role with a level of intensity that often threatens to leave permanent mental and physical damage. He admits that Jack and Rose was a breeze to film after something like Scorsese's 2003 epic, The Gangs of New York (for which he won a Bafta) but that, at its conclusion, "I was exhausted by it, fit for dog food and not much else."
He does say, however, that it proved far less of an internal struggle than he'd initially imagined.
"I enjoyed the whole process of filming it enormously, and I normally don't. Geographically, we were completely isolated [it was shot on Prince Edward Island, near Nova Scotia], which for me is perfect. Most films aren't like that. Most films one has to close off one's peripheral vision and untune the senses to all the ... the fucking inanities, the irrelevances and distractions that surround the making of a movie - the orange anoraks, the bullshit, the horrendous wastage. But this film," he says, and he pauses to root around for the appropriate word, "this film was a pleasure. Yes, that's it. A pleasure."
He may have been born to one of the country's most celebrated poets, but Daniel Day-Lewis was ultimately more inspired to follow his mother, Jill Balcon's, profession: acting. After a private education at Bedales, he entered his teenage years convinced of his true calling.
"I'd always felt very strongly in the power of vocation," he says. "And as a teenager, I felt as if I couldn't do anything but become an actor. So when I subsequently developed another passion - for furniture making - I became greatly confused. I'd even go so far as to say it depressed me. I'd seen vocation as something pure; pure and singular, but here I was now interested in other things."
Ultimately, of course, he would go on to do both acting and other things. In addition to furniture making, he'd take time out - sometimes years - to cut down trees, build houses and, so the most exquisite legend goes, move to Italy to become a cobbler (none of which, incidentally, he will either confirm or deny, citing the need for privacy).
His breakthrough film role came in 1983, with Stephen Frears's My Beautiful Launderette, and his subsequent choices would mark him out as an actor of rare talent. There was 1988's The Unbearable Lightness of Being; My Left Foot a year later, in which he played the quadriplegic artist Christy Brown (and for which he won an Oscar); The Last of the Mohicans in 1992; and In the Name of the Father, about the wrongly imprisoned Guildford Four, in 1994. But what fascinated most about these roles was the actor's preparation for each. In order to become Hawkeye in The Last of the Mohicans, for example, he purportedly spent six months alone in the wild. For In the Name of the Father, he endured time in solitary confinement, and for 1997's The Boxer, he trained in the ring with former lightweight champion Barry McGuigan for a full, and surely unnecessary, year.
"Actually, it was longer," he grins. "Eighteen months at least. I could have done it for years! But that," he adds, perhaps with deliberate mystery, "is another story."
Preparation for this latest film was relatively subdued. He had a couple of tattoos indelibly f etched on his forearms, and lost a lot of weight. All of which begs the question: why? I remind him of the infamous Laurence Olivier quote to Dustin Hoffman, another actor famous for his method, on the set of 1976's Marathon Man: "Why not try acting, dear boy? It's much easier."
At this, he erupts into laughter. "I know that quote only too well, and I've come to blows over it on more than one occasion," he booms. "It's - look, I'm loath to talk about it because I'm almost invariably misrepresented. Perhaps it's my own fault, though, because if I don't talk about it, others do so on my behalf and Chinese whispers begin. People already think I'm mad because I blew a fuse in Hamlet [in 1989, halfway through a performance, he became convinced that he was talking to the ghost of his own father and walked off stage. He has not returned to the theatre since], so maybe I should rectify that, or at least attempt to."
And this he duly does, hands pressed together in earnest.
"All right then. It is quite true that I like to take a long time to allow things to absorb before undertaking an acting role, but this is not an intellectual pursuit. It really isn't. If anything, it's messy and filthy, it's me scouring the muck in the hope of finding the right interplay between the subconscious and the imagination."
I have no idea what he's talking about, of course, but the manner in which he delivers this soliloquy is quite wonderful. I tell him it all sounds rather indulgent.
"Indulgent!" he barks, and then immediately softens. "Hmm, I suppose it is, yes, or rather I am. But I do so love the pure joy of learning something new. I'm sure I could arrive at the same effect for any given role in just two weeks, but I choose not to. People think I need to go through this in order to do what I do, perhaps because I lack confidence. That's a considerable misconception, but then it's one of many."
And these misconceptions, he tells me, are sometimes difficult to live with.
"I have a 10-year-old son at school," he says of the child he has with Isabelle Adjani, "and some of the boys in his class will download all the crap you can get on the internet - gossip about me - and sometimes they feel the need to tell him what they've read."
In 1995, while she was pregnant with his son, Day-Lewis left Adjani. Within a year, he was married to Rebecca Miller.
"I don't feel my son should pay the price for what I do. There will come a time when I will talk to him, if he wants to, about everything that has happened in his life, but that should be between the two of us, nobody else. The outright lies he has to deal with I find very ... very irksome."
Something quite palpable happens to his face now. It transforms completely. The spark in his eyes dies instantly, replaced by pure flint. His jaw becomes rigid, his expression midway between sadness and fury.
"I'm remembering one episode of ... of malice, I suppose one would have to say. An uncle of mine felt the need to give an interview a few years ago to one of the trash papers in which he took a moral stance on my actions. This was laughable in itself, because he is probably one of the most amoral people I have ever encountered. He chose to speechify what he felt about me and my life. The man has always been a joke in our family - a coward, a bully, a hypocrite and a fraud - but that day he became a really bad joke."
He goes on to say that, despite them being barely acquainted, the uncle saw fit to pass judgement on not just him, but his entire family.
"I realised the desperation of this man as he sought some kind of public attention for himself." He falls silent for several moments. When he speaks again, there is a quiver to his voice. "Unfortunately, he is an older man. If he had been younger, I'd have taken him to the market place and smacked him, quite honestly."
While Daniel Day-Lewis often takes extended periods off between films, largely for the purposes of mental recuperation, he has already signed up to star in another film later this year, Paul Thomas Anderson's There Will Be Blood, about an oil merchant at the turn of the 20th century. I comment that this is unusual for him, that his reluctance to sign up to anything without a fight is legend. Scorsese apparently had to beg the actor to say yes to The Gangs of New York, purportedly ignoring Day-Lewis's repeated counter suggestion that Scorsese "fuck off".
He smiles broadly. "That's not entirely true, but, yes, I do have an odd rhythm, I know I do, and it probably seems like downright ingratitude on my part to have the privilege of being offered such fine work and then to take so much time away from it. But here's the thing: I do what I do outside of films not because I'm rejecting the work, but simply because I need to live my life according to what I feel the need to do. I never retreat from films, as it were, I simply indulge in other interests, that's all."
But is it true that he views acting with a mixture of love and hate?
"Not hate, no, never that," he says, "but I've come to believe that it is absolutely imperative for me to maintain a constant question mark over it. It's essential to continually question the rightness of what one is doing in life, and the place one occupies within it. Films exhaust me, they do, and I often want nothing more to do with them, but I'm continually surprised at the resurgence of the impulse to come back and do it all over again."
Perhaps because of that question mark, he doesn't much like to dwell on past achievements, but instead to look forward. Consequently, he doesn't display his Oscar and Bafta statuettes at home. Seeing them every day, and being reminded of what they represent, would unsettle him. He does have one award on display, though: for Best Newcomer 2005.
"It's from my local running club."
The sparkle in his eyes reignites.
"I absolutely cherish it," he says.
'The Ballad of Jack and Rose' opens on 31 March
Register for free to continue reading
Registration is a free and easy way to support our truly independent journalism
By registering, you will also enjoy limited access to Premium articles, exclusive newsletters, commenting, and virtual events with our leading journalists
Already have an account? sign in
Join our new commenting forum
Join thought-provoking conversations, follow other Independent readers and see their replies