Dara O Briain: Can nothing stop this man's takeover of our TV screens?
The physics boffin turned stand-up doesn't care if no one watches his new show – he'll just be enjoying the equations. Emily Dugan meets Dara O Briain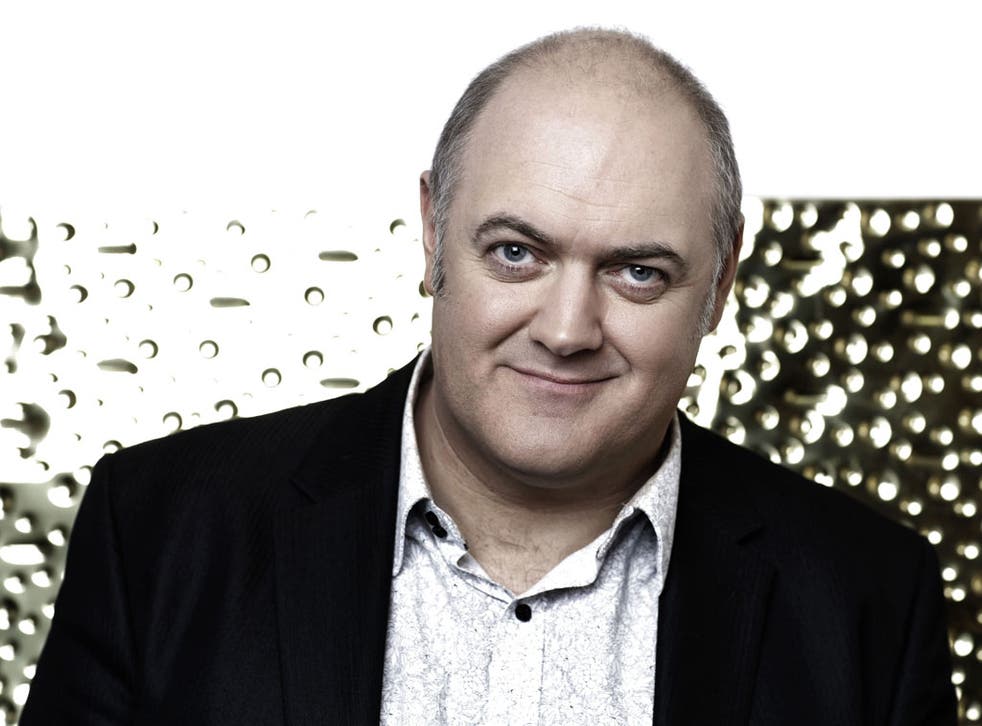 There is nothing angsty about Dara O Briain: not for him Tony Hancock's self-torture, the gloom of Jack Dee or the lugubrious mordancy of Paul Merton. No, the worst thing O Briain can think to say of himself is that he's a geek. And even that makes him happy, doubly so now that television executives have given him his dream show, all about solving fearsomely difficult brain-teasers and maths problems.
It was while studying mathematics and theoretical physics at University College Dublin, that O Briain "discovered drinking, women and performing" and abandoned the world of academia for stand-up comedy.
His new programme, Dara O Briain: School of Hard Sums, which starts tomorrow night on Dave, gives him a chance to take up where he left off and, frankly, he doesn't care if nobody watches it. "I only did it to get the problems, because I quite like doing equations. There's a bit of me that just pined for a bit of maths."
Standing in a studio alongside mathematician Marcus du Sautoy and assorted guest comedians, he solves brain-teasers, such as how to make four cricket balls equidistant from each other, with not much comedy in between. To give the show further clout, maths students sit on the sidelines checking their workings.
Not keen on dumbing down, O Briain wanted to make something for his fellow nerds. He is part of a movement of young broadcasters trying to make science hip on television, and has worked with Brian Cox on both series of the BBC's Stargazing Live, which grappled with complex astronomical concepts. The show returns next year.
"There's a tendency in science programming to overshoot the general audience while at the same time undershooting the people who are really into it. Those people tend to be underserved. Stargazing wasn't watered down in any way, but that's much easier to do with astronomy than maths."
The first thing you notice about O Briain is his sheer size. Even sitting down you can tell he is six feet and many inches tall, with the kind of fleshy broad neck and shoulders usually found on retired rugby players.
Then there's the face: it's the sort of face that frequently throws the first punch in a pub. In this case, though, that could not be more out of character: he is a jovial giant and the closest he gets to violence is struggling to reach the last level of the latest Batman video game.
All of which comes as a great relief. Interviewing comedians can often be unpleasant: as a rule, they are notoriously bad company off-stage, prone to being morose, acerbic or worse.
O Briain is none of the above, which is probably why he has successfully made the jump into the world of presenting, gently mocking but managing to resist the urge to mete out – frequently much-deserved – cruelty to the outgoing contestants on The Apprentice: You're Fired.
When I meet him he is in a dressing room, folded into a chair and hunched over the Twitter feed on his iPhone. He has just been interviewed on ITV's This Morning about the new show and is keen to see what people are saying. The reaction so far seems somewhat to have missed the point of the programme. He reads out a choice example: "Jealous of you talking to Holly Willoughby #boobs," he deadpans. "Well, that's great."
It's a minor hiccup in an apparently unstoppable invasion of our television screens that includes reruns of the panel show Mock The Week on Dave; fronting The Apprentice: You're Fired and guest starring in almost every quiz show going, from Have I Got News For You to QI. He concedes that he and his fellow comedians are in danger of overexposure. "I really can't think of where we're not," he muses. "We've been on sports shows bantering; we've been on Question Time. Crimewatch? Maybe just have a comedian sitting there offering their wry take on an armed robbery. Crimewatch: gagged. That would be something!"
O Briain is insistent that Hard Sums will not risk alienating the people who already love maths. When the advertising campaign launched earlier this month with relatively simple brain-teasers, he took to Twitter to criticise it for making them too easy. "We don't have to keep chasing after the cool kids in the hope that we'll turn them into maths geeks," he says. "It's going to find its niche audience and that's cool with me. Maybe this isn't what Dave [the channel] wants to hear, but I'm unapologetic about that."
He knows that the project is a bit self-indulgent. "This is my rock star excess," he says, before mimicking an incredulous voiceover: "'He demanded we make a show about maths: that's how much it went to his head'. Maybe, in years to come, people will trace back to this point where they'll say: 'he used to be on telly a lot, then he did this show about mathematics that nobody wanted to watch'."
There are few moments in a presenter's career when it is possible to sell the idea of importing a brow-furrowingly difficult mathematics show from Japan and putting it on prime-time television. O Briain is aware that the moment may pass quickly and is keen not to push his luck. "At one stage, they were talking about doing it in front of a live audience and I had to step in and say no, it will just bore them," he says, with trademark self-deprecation.
"I thought, I'm not having that on my conscience – that people would come along and be sat there watching the top of my head as I'm scribbling furiously. It's not that exciting. I don't know what it's like when it's edited down but it's certainly no good live; I don't think it's going to go on tour."
Maths and science are not his only claims to nerdiness. He is also an avid video gamer, presenting the Bafta Game Awards, as well as a prolific tweeter, and can often be found combining the two with incomprehensible tweets about his favourite games at five in the morning.
In The Independent's Twitter 100, a list of the most influential tweeters of all time, he came 17th, but he now wishes he could lose a few followers. "I like Twitter but I'm at some ridiculous number like 830,000 followers, which actually makes it a bit unwieldy for the sort of thing I quite enjoy using it for, like cloud-sourcing jokes or messing around."
He admits that he is "quite fond of fighting trolls" and is unafraid to hit back at Twitter critics, a trait that has occasionally got him into trouble. "After Stargazing, one guy tweeted saying, 'I enjoyed the show but I thought you ruined it'. I was at the bar at the party after three days' work, so I tweeted back something really blunt like 'I couldn't give a fuck' and then lots of people wrote and said 'I cannot believe that you sent an abusive tweet'."
Getting into his stride, he begins to rant at the random tweet abuse meted out by strangers. "It's the most puzzling thing when someone sends you abuse and then turns Victorian when you reply in character," he says, speaking at a rate of hundreds of words a minute, while swigging down Diet Coke. "Apparently, it's uniquely celebrity behaviour not to want abuse from strangers," he continues, outraged.
Despite the trolls, though, he is pretty happy with his lot right now. With a new series of Three Men In A Boat in the offing – or what he calls "getting paid to go on my holidays" – and all of his panel show projects recommissioned, he is enjoying himself. "I have lucked out. I have the weirdest career, but somehow they let me do this stuff."
And when it all comes to an end and his moment passes, the chances are he'll still be pretty chipper. "I think I'll be OK," he says, with a convincing smile. "I'll be happy sitting in a room doing maths and finishing off video games."
Born in Bray, County Wicklow, Ireland, O Briain now lives in west London with his wife, Susan, a surgeon, and two young children. He maintains an ordinary home life and is dogged in his protection of it, refusing to discuss what he regards as private matters.
Inevitably, this leads to the only gloomy-comedian, Hancock-like moment in our conversation. It comes at the end when I ask if there's anything surprising about him that the public doesn't know. "There are lots of things you don't know," he says. "But either they're not funny or they're none of your business."
Curriculum vitae: From science to stand-up and back again
1972 Born in Bray, County Wicklow, Ireland. His father was a trade union negotiator and his mother a housewife.
1983 Studies at Colaiste Eion Secondary School, a Gaelic-speaking school on Dublin's South Side.
1991 Attends University College Dublin, studying maths and theoretical physics. Founds and edits the University Observer student newspaper and is auditor of the debating society.
1994 Wins the Irish Times National Debating Championship. Starts out on the stand-up comedy circuit.
1995 Makes his television debut as a presenter of the children's show Echo Island on the Irish channel RTE.
1998 Becomes a panellist on the Irish comedy show Don't Feed The Gondolas.
2001 Begins working on Never Mind The Buzzcocks.
2003 First appears as a guest on the BBC's current affairs comedy show Have I Got News For You. Wins best headline act at the Chortle comedy awards.
2005 Begins hosting Mock The Week.
2006 Marries Susan, a surgeon. They go on to have two children together. Releases first DVD of his stand-up, Live At The Theatre Royal.
2009 Publishes Tickling The English, his take on what it means to be English.
2010 Starts as host of The Apprentice: You're Fired.
2011 Appears alongside the physicist Brian Cox in Stargazing Live.
Join our new commenting forum
Join thought-provoking conversations, follow other Independent readers and see their replies