Dave Jones: 'I'd rather have been accused of murder'
The former Stockport, Southampton, Wolves and Cardiff City manager rebuilt his life after false accusations of child abuse. He now wants another crack at the big time.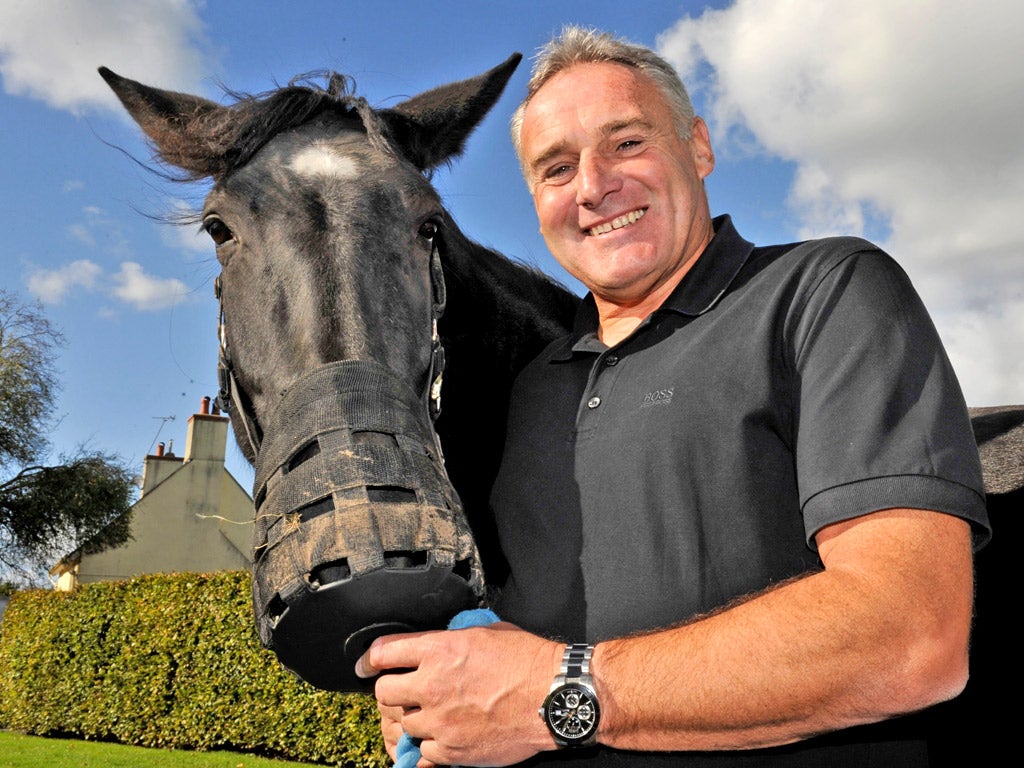 As Dave Jones shows you around his farm on a sunny autumn morning in south Wales, you could be forgiven for thinking that the former Stockport, Southampton, Wolves and Cardiff City manager must be mad to want to jump straight back on to the horse that is football management rather than on to Roxy, his coal-black filly, for a trot round the country lanes. But Jones has unfinished business with the game and the Premier League in particular.
In June 1999 the likeable Liverpudlian was manager of Southampton when he found himself charged with child abuse while a care worker at a Merseyside special school shortly after his playing career had ended.
The court case collapsed after four days in December 2000 and he was fully exonerated by the judge, who said there was "no smoke, no fire" – the title of his newly updated autobiography. But by then he had lost his job as a Premier League manager, put on gardening leave by Southampton, who eventually paid up his contract.
He briefly returned to the top flight by taking Wolverhampton Wanderers up, but that hardly counts, his prospects of staying up fatally undermined by a tiny playing budget. Last summer he left Cardiff City after six years, having led them to an FA Cup final in 2008 and the play-offs in the past two seasons, missing out on the top six by a single goal in 2009.
The itch to get back to where he was when his life was interrupted is evident. "I should never have come out of the Premier League," he said. "It was taken away from me, as the book says, and I had no control over it. Normally you can decide to turn left or right, but 12 people were going to decide my future and I've never been in that situation."
He had been falsely accused of the vilest of crimes by former school pupils, some of whom had been told by police officers "trawling" for witnesses that they could get compensation. "Of all the things you could accuse me of, this was the worst," Jones said. "I would rather have been accused of murder.
"I have been asked whether I feel I had got my day in court. Not really. I never had the opportunity to say anything because the witnesses were found to be lying in the first few days of the trial anyway. They were after money and I couldn't understand why the police couldn't see that, why it had got to that stage. But they had trawled, left calling cards.
"And they were incompetent. One person who made accusations wasn't even [at the school] when I was. Surely that's easy to find out. I'd heard so many stories about them raiding houses and taking computers. They didn't do that until Ann, my wife, wrote an article saying they hadn't been to the house – and then they did, someone must have thought 'tick a box'. They didn't even realise Ann had worked at the same place. I lost faith in the judicial system and Ann has never got over it and is still bitter. The football world cocooned me. [Everton chairman] Bill Kenwright was unbelievable, Sir Alex [Ferguson], Jim Smith. You find out who your friends are. I was still enveloped in football, but she wasn't."
Jones' proven innocence does not prevent some spectators throwing accusations at him, even now, 11 years later. "One chief executive recently said they'd love to have me but I had a bit of trouble with their crowd last year. That probably rules me out of about 95 per cent of clubs. I don't normally hear it, it's the family. And it's not the crowd, it's normally two or three, 10 maximum, and most of them don't even know what it's about, it was so long ago. If it was somebody in the family or a close friend – if any of them had believed it, that would have hurt me more than anything. It's always there, it never leaves you, but it doesn't bother me now, I still do talks about it. I had a little bit of closure when the book was done, but I got closure the day the judge said, 'No case to answer'."
If the personal scars have healed, the professional ones still require a cure. Jones' target is a Championship club with Premier League prospects, as it appears that the only way for a British manager to get a top-flight job is to lead a team there himself.
"It seems like it," he agrees. "People think British managers and coaches aren't good at what they do, but I see a British manager winning everything year in, year out. If Jose Mourinho is a fantastic manager, give him Aldershot and then see what he does. He'll improve them, but not enough to win the European Cup. Finding a player is important, building a team, rebuilding when the time is right."
He did all that and more with Cardiff, in trying circumstances. "Everybody thinks the club had money. After I signed I found they had no training ground, just a local pitch we nicknamed dogshit park, because we had to clear the dog crap up before we could train. They still owed vast amounts of money, no one would give the club credit. One reporter accused me of a 'scorched earth policy'. I had one every season because the players were only signed for one year or went back to their parent clubs. I started every season with exactly the same scenario.
"We were always firefighting. But we still got players, we still got close to promotion, got to the FA Cup final. Each year we finished higher than we had ever done. Each year we got more points than they had ever done. People didn't know that we couldn't even afford Christmas decorations."
As the season goes on, jobs will become available but whether Jones lands one worthy of his work ethic and experience will depend on a chairman seeing past the near misses at Cardiff and the chants of a few misguided fans. Reading his book, perhaps, would be a good start.
"You hope that if chairmen have built up a successful business empire, that they are astute enough to see beyond that stuff," he says. "I achieved more at Cardiff in six years than a lot of people ever do. I have a 47 per cent win record over 16 years, I've built teams, been there, seen it, done it. Someone worked it out the other day that I've sold over £113m worth of players, spent about £40m in total. My record is there."
'No Smoke No Fire' by Dave Jones with Andrew Warshaw, £9.99 Pitch Publishing
The Jones boy: Life and times
Player Started as a full-back at Everton in 1974 and represented England Under-21s. Moved to Coventry for £275,000 but picked up a bad knee injury. Went to Seiko in Hong Kong before ending his playing career at Preston.
Manager Jobs at Southport and Mossley before taking over as Stockport manager and gaining automatic promotion to what is now the Championship and reaching the League Cup semi-finals. Moved to Southampton but his time was overshadowed by child-abuse allegations. Moved to Wolves and won promotion to Premier League. Went to Cardiff in and led them to FA Cup final. Sacked in May this year.
Join our commenting forum
Join thought-provoking conversations, follow other Independent readers and see their replies