David Harrison & Lucinda Lambton: 'She came to my council flat and I nearly killed her with a leopard-skin sofa'
The duo met while Lambton was making a film in 1995 about shrines to the departed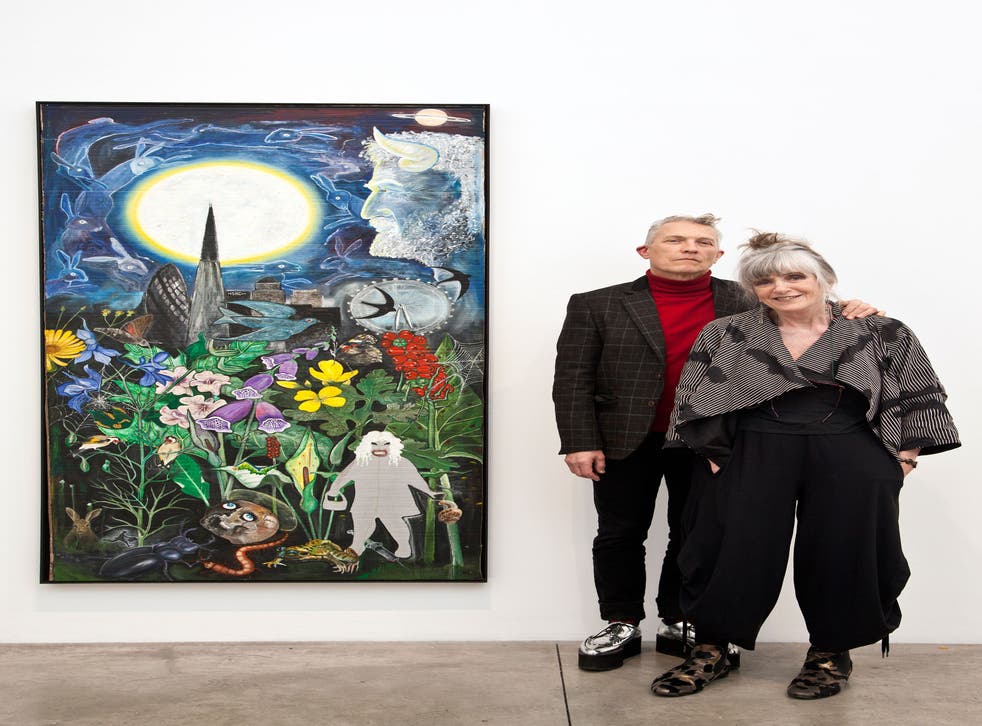 Lady Lucinda Lambton, 72
An author, photographer and broadcaster on architectural and historical subjects, Lambton has researched, written and presented more than 80 documentaries for the BBC and ITV and written or contributed to 14 books, including 'Lucinda Lambton's A-Z of Britain'. She lives in Buckinghamshire with her husband, the journalist Sir Peregrine Worsthorne
I was making a film in 1995 about shrines to the departed, and my friend Tim Knox, who runs the Fitzwilliam Museum in Cambridge, suggested a friend of his could add an intriguing element to the series: David's pink poodle Hoover had recently died and he'd made a shrine to it in his home.
He lived in a flat in this dreadful sink estate, up a grim concrete staircase stinking of pee. As I arrived he'd just thrown a sofa out of the window on to the road below! We got on like a house on fire – he was so funny. So I spent a fortnight driving from west London to east to photograph every inch of his flat. It was extraordinary: one room had 100 golden Barbie dolls hung around the walls.
The shrine was an oval picture he'd painted of his poodle, in a gold frame, which showed Hoover on high, held aloft by golden cherubs and topped with polystyrene clouds, with a picture of Jayne Mansfield's hand reaching out to it: he made her the patron saint of poodles.
So we could spend some time together, I asked him if he wanted to travel with me around the country to help with the lighting for my work on a photo book to go alongside my A-Z of Britain TV series. We had a wonderful time in Blackpool, visiting the old ballroom, with its sensational gilded ceiling. I remember he had an "encounter" with the someone there in the middle of us working on a shoot, which I chose to ignore – and I've since tried to put it out of my mind!
When we photographed a house a couple of years later, we had to set it up like a tea party, but there wasn't any food. So David went and made a chocolate cake out of mud, with flowers for icing, and it looked just like the real thing! He's so creative.
His knowledge of nature is sensational: he knows a great deal about plants and birds, which he recognises from their calls. When he still lived on that estate he was always trying to make the area better. He'd feed the birds and plant bits of wasteland with flowers. And walking back to his council flat he'd get missiles thrown at him.
He's my golden boy, my hero, though his non-stop jabbering away could be construed as a fault at times! And I don't like all his work. Last year there were some pieces with horrible giant pink penises in them – I chose to look the other way. But I like how every day and in every way David cocks a cheerful snook at the art establishment with his ethereal, magical and sometimes frightening work.
Culture news in pictures

Show all 33
David Harrison, 61
An artist working with collage, painting and sculpture, Harrison juxtaposes fantastical scenes of natural and supernatural creatures with modern figures, to comment on fractures in society and the impact of human activity on nature. He lives in north London
Like me, Lucinda's a fan of the macabre. She was doing a book about shrines and a mutual friend told her I had a shrine to my poodle. So she came to my council flat in Bow, and I nearly killed her, as I was trying to get rid of my 1950s leopard-skin three-piece suite from the fourth floor; I threw it over the balcony just as she arrived.
She was wild and excitable, and a slight lunatic, but she exuded warmth and it was love at first sight. As I never had a TV I'd never heard of her. And though she's got an elegant way of talking – she is a Lady – the rest of her is so down to earth that it's no barrier. She did the filming and the interview but afterwards she stayed in my flat for ages. She asked if I'd do her lighting for her, so I joined her going around the country taking photos of fantastic places; I got a real insider view of things.
One of my favourite places was Blackpool – we were photographing Doris Thompson, who ran Blackpool Pleasure Beach, and visiting the ballroom. I love all that trashy camp, as does Lucy.
I went with her on loads of jobs over the next few years. One was photographing fantastic country cottages for plush magazines – I'd move all the crap furniture outside and dress them so they looked nice. Then we'd be so naughty, such as doing something disgusting with one of the original ornaments.
People always think the aristocracy have money, but it's just title mostly: Lucy's had to work. We visited her family home, Lambton Castle, once. It's a dilapidated and overgrown gothic house with a big iron gate hanging off its hinges. It's got a lovely fish pond outside, but the plants are overgrown; I felt like the girl in The Secret Garden. We stayed the night there and I had a room with a four-poster bed. I asked them if I could have a candlestick. I went for a little walk down the corridors at midnight, for added spookiness.
I go to Lucy's place quite often – I stay with her and her husband in this incredibly old rectory. As she's got older, she's got louder and more outspoken. Which is quite exhausting, because she can talk and talk over you, so you can't finish what you're saying unless you talk louder than her. We're very close, but as she's away with the fairies, she's not a person to go to in a crisis.
Our biggest difference is her love for humanity – whereas mine is for animals: when something happens in the world I say, "Never mind, there's a lot of people on the planet." But when I hear that 80 million robins get shot a year, I think, "Oh my god."
David Harrison: Flowers of Evil is at the Victoria Miro Gallery, London N1 (victoria-miro.com), until 18 December
Join our new commenting forum
Join thought-provoking conversations, follow other Independent readers and see their replies