Ed Balls: 'Lib Dems should leave the Coalition and join us'
The shadow Chancellor tells Steve Richards and Andrew Grice about his plans to seize back the political initiative for Labour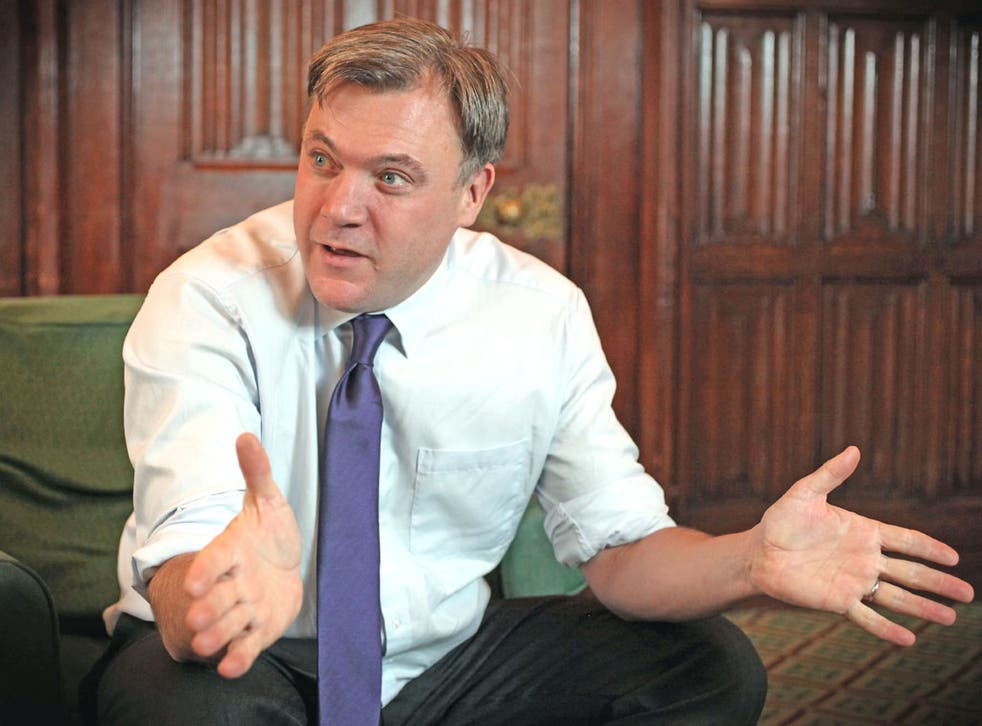 Ed Balls strides energetically into one of his offices at Westminster. It used to be occupied by the Leader of the Opposition. The last Labour occupant was Tony Blair, consistently well ahead in the polls en route to a landslide victory in 1997. Balls played a key role in that win as adviser to Gordon Brown; now he is shadow Chancellor in an unrecognisably different context. There is an economic crisis and yet the opinion polls suggest the Tories are ahead on the economy. Why is that?
"We had an election 18 months ago and Labour lost after the biggest global financial crisis for 100 years. People said, 'We are going to give the other guys a go'. During that period, people really wanted it to work, but they are really worried now. People are just starting to ask, 'Could there be a better way?' Until that moment came, it was never possible for Labour to be the answer."
His second reason takes him on to more sensitive terrain at a time when some Shadow Cabinet members and Labour MPs privately express their doubts about Balls and their leader, Ed Miliband.
"The second question is about us: do people trust Labour even if they want an alternative and know the cuts are too far, too fast and that rising unemployment makes the deficit even worse? They have got to believe Labour would have the toughness on spending to take the right long-term decisions for Britain.
"Rightly or wrongly, there is public scepticism about Labour's willingness to take tough decisions on public spending. A big part of my task is to turn that round and win that argument."
At which point he implicitly addresses his internal critics by calling for calm patience. "People in the Labour Party have got to hold their nerve and understand that one big thing is changing: for the whole of the last year the Conservatives only wanted to talk in the past. They are imprisoned in the past. I want to talk about the future. What has changed in the last few months is that for the first time the whole debate is about how we get out of this mess. The argument about the future is one we can win as long as we have discipline and credibility."
Constantly he returns to his challenge in the coming 12 months as he seeks to convince critics that he is not irrationally attached to reckless public spending. "The public have got to be persuaded for the future that we would run the economy and control public spending in a tough and disciplined way. We have got work to do to win that argument... The deficit has got to come down. There have got to be cuts".
Balls makes a wider judgement as much as an economist as a politician. "We are also facing a massive catastrophe in Europe. 2012 feels like the most dangerous year in my life. It is a very, very dangerous time...What we have seen is the inability of political leaders in the eurozone to put short-term politics aside and do what's right. This is about leadership. They have got to act and they can't. It is existential...when it happens there will probably be a crisis moment that puts things into deep freeze, making it hard to trade and hard to finance...the impact on growth and jobs is really dangerous."
In spite of his fears, he makes no commitment to stick to the cuts planned by the Coalition for two years beyond the next election but promises Labour will give more details of its tough spending decisions next year.
"There is going to be no spending spree for the next Labour Government. There is going to be no growth dividend to start allocating left, right and centre. This is going to be a very, very tough inheritance. But it doesn't have to be that way."
This points to a delicate balancing act, acknowledging how tough it could be while lacing his message with some optimism. "There are choices to be made now. There is a more optimistic future in the short term on growth and jobs and the medium term in getting to a better economy.
"We have to be the optimists – the credible optimists".
Credible optimism, a phrase likely to become a theme for Labour, takes several forms. Strategically, it leads Balls to reject the view of some senior Labour figures that he should follow the Tory path in relation to the economy.
"Some people will say to me publicly and privately, why don't we just hug the Tories close and let them make the weather? That is a complete abdication of responsibility. It is so dangerous and unnecessary.
"We have got to make the argument for the alternative – in a way that makes people believe we can deliver it... you have got to have a credible but optimistic view of a better and fairer future, but people have got to believe you will deliver. That is a firmly progressive centre ground argument."
In the search for credibility he pledges tough policies, citing welfare reform in particular.
"We will be taking a tougher approach to conditionality [for benefit claimants]. If people can work, they should work. That is one example. There will be others next year of how we will show people how we will sort this out."
Balls proceeds to make an unusual invitation, not least coming from someone regarded as a tribal Labour figure: he invites Liberal Democrat MPs to form a coalition with Labour now. "I think it would be much better now and for the future of the country if they did. It would be in the national interest. I don't think they should wait until 2015. I don't think it's possible for Nick Clegg to lead that move
"But I have known many of the senior Lib Dems well enough over 20 years...they know this isn't working, the economic consequences of carrying on with this are very dangerous for Britain."
He points out that the Coalition's law bringing in five-year fixed-term parliaments allows for a new government being formed without a general election. Wary that trust is lost when coalitions are formed and manifesto commitments are dropped, Balls would still become a keen member of such a government.
"Before or after the next election, if the parliamentary arithmetic throws up the need for a coalition of Labour and the Lib Dems, I would go into that with enthusiasm...I could serve in a Cabinet with Chris Huhne or Vince Cable tomorrow.
"They have got to decide whether they want to serve in a Lab-Lib Cabinet which is trying to protect the NHS, keep us a robust defender of the national interest in the EU and get unemployment down, or whether they are willing to go along with what they now find themselves bound into.
"As they sit there over Christmas and reflect what they are in politics for, there is a better way than this."
He is unlikely to find that most Lib Dem MPs are knocking at Miliband's door early next year, but then again there is a sense that almost anything could happen in 2012 . On that, Balls is already part of a fearfully large consensus. As for his own leadership ambitions he is evasive, focused instead on the Treasury where he held much sway when Labour last vacated the Leader of the Opposition's room.
"I lost the leadership election; I got the office. We have got a leader. I back him 100 per cent. If the final job of my political career is Chancellor of the Exchequer, I would have had a pretty good career. My one regret would be if I don't become Chancellor."
Join our new commenting forum
Join thought-provoking conversations, follow other Independent readers and see their replies