Ed Sheeran: Boy next door who made it very big
The most popular act on Spotify is a red-haired 23-year-old from Hebden Bridge who looks more like a fan than a star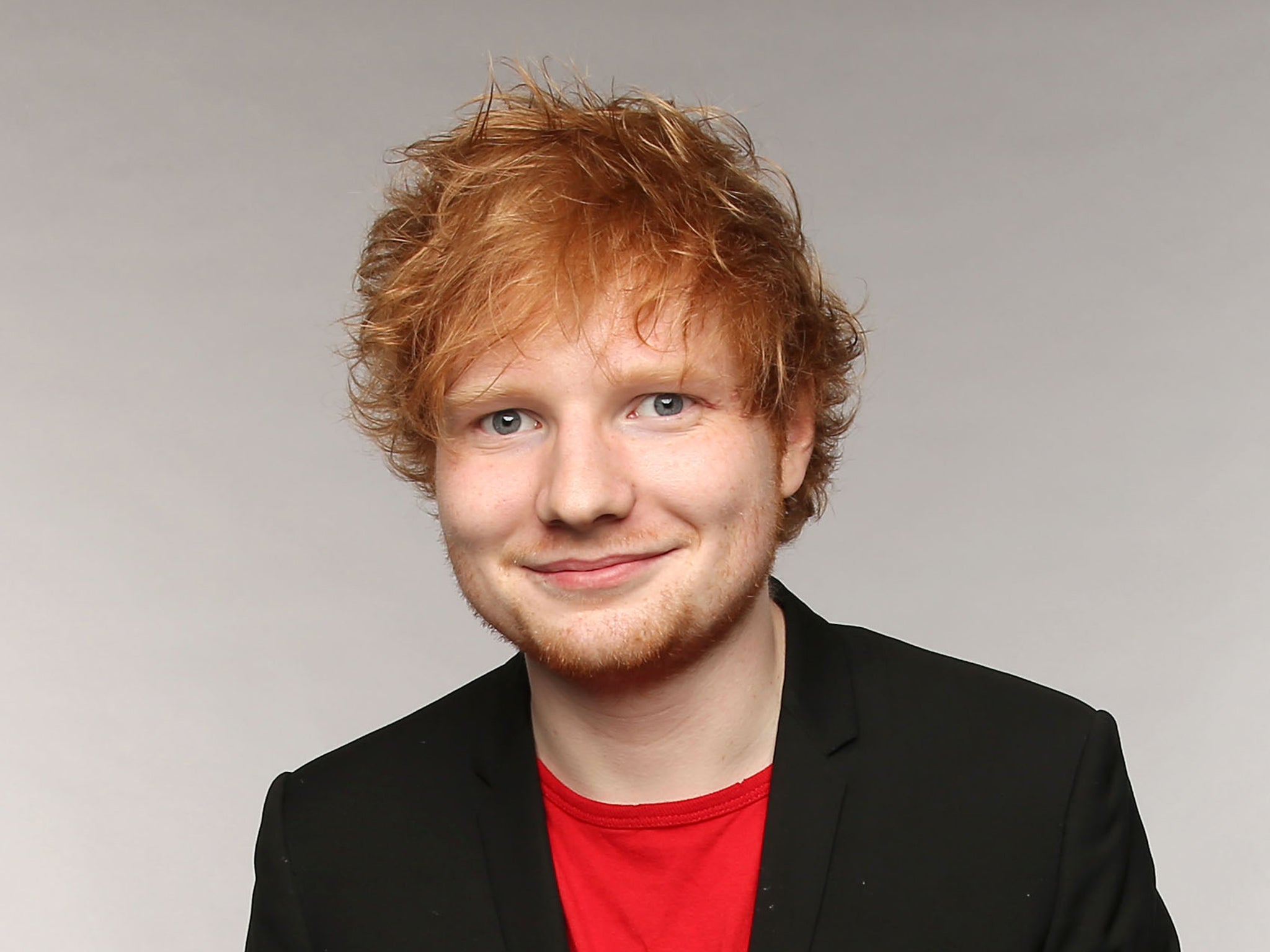 At the closing ceremony of the Olympic Games in London 2012, the climactic song was Pink Floyd's elegiac "Wish You Were Here".
Around the stadium, images of flying birds were superimposed by digital trickery on the multitudinous throng. The sound was massive. On stage, Pink Floyd's Nick Mason played drums and Mike Rutherford from Genesis played guitar, wearing a cool black suit, white shirt and rock-star shades. Only the singer seemed to have missed the memo that this was a pretty grand event.
He wore a pink hoodie, trainers and jeans, and looked like he'd just got off a No 37 bus after a day's busking on Clapham Common. Moon-faced, unshaven, pale and ginger-haired, playing a half-size guitar, he was nobody's idea of a rock hero. He was too ordinary, too inconsequential, too much your bouncy kid brother.
Millions of the global audience must have gazed at Ed Sheeran and thought: is this the best that British music has to offer? This guy? But even the doubters may have noted the ambition that shone in his bright eyes, the confidence he radiated in this terrifying arena, and the husky beauty of his voice. They probably wondered how far he'd go.
Reasons why Ed Sheeran is not boring
Show all 15
He was 21 then. Now he's 23, and they have their answer. He's the most listened-to act in the world, according to Spotify – his 860 million downloads politely shouldering Eminem and Coldplay into second and third place. He's the biggest-selling pop artist in the UK this year. This week his second album X (it's supposed to mean "multiply" rather than "X-rated") hit a million sales and has just been nominated for a Grammy. He has three singles in the top 40. And he's just announced that, as part of his tour next year, he's going to play three nights at Wembley Stadium. By himself.
Sheeran's image, his fans will tell you, is that he has no image, that he's just a nice guy, a musician first and everything else way behind. And he certainly plays up his ordinariness. On Tuesday afternoon, he tweeted his 11.3 million followers: "Doing the Victoria secrets [sic] fashion show tonight and I'm eating a Greggs sausage roll in the dressing room." After he sang on the catwalk, the tabloids gleefully recorded his repertoire of goofy grins, as a procession of statuesque models in jewel-studded Fantasy bras strode past him. But outside, speaking to journalists, he displayed an intelligent wit. Asked if he thought he was a sex symbol, he said: "I don't think a man can be sexy. I think a man can be gruff, or waxed – and I'm neither."
His philosophy is simple: "People say, 'This is my favourite song. You should write another song like that.' At the end of the day, fuck them. Be selfish. Why bother to please everyone? Please yourself. The rest will follow." But he's built a career on inclusivity. His music is a hybrid of acoustic folk, hip-hop beat and rapper-style lyrics, though his words are chatty and confessional rather than combative and sexist. His look, his clothes, his Little Taylor guitar, his one-man-band-ism all express a romantic troubadour individualism that's aching to connect with others. He accretes people like a magnet: fans, girlfriends, peer pop stars, glamorous producers like Pharrell Williams, dangerous rappers like The Game (with whom he used to smoke weed, before, of course, giving up.)
The key to his appeal is friendship. His most high-profile pal is Taylor Swift, the world-conquering pop/country singer with whom he spent half of 2013 on her US tour. Though the chemistry between them is plain, Sheeran has always said they weren't lovers, just mutually admiring friends. It's so romantic. He's friends with Harry Styles of One Direction (an ex of Swift's) for whom Ed has written songs. But away from the boy-band circuit, he's accepted by the hip-hop fraternity. And lonely teens from Wales to Wyoming look at Sheeran and think: now there's a pop star who I could go for a drink with without hating him.
Edward Christopher Sheeran was born in Hebden Bridge, West Yorkshire, in February 1991. His grandparents, Bill and Anne, came from Ireland. When Bill was training in dentistry at Guy's Hospital, he once boxed Charlie Kray, elder brother of Ronnie and Reggie, to a standstill. Ed's father John, one of eight children, was an art curator, Ed's mother Imogen a jewellery designer.Ed grew up in Framlingham, Suffolk, with one brother, now a classical composer, and showed a Mozart-like precocity in music. He sang in the Catholic church choir at four, started guitar around the same age, and wrote songs in high school. He listened avidly to Van Morrison (whose younger self he strongly resembles) and went to his first concert at 11. He recorded his first songs at 14, dropped out of school at 16 and headed for London. There, he became a guitar technician for a two-piece folk band called Nizlopi, and in due course opened their gigs with his songs. There followed a year of restless, night-by-night concerts – 312 of them in 2009 – and cautious recordings of songs on the "extended play" format.
His breakthrough year was 2010. He flew to LA to seek his fortune and played open-mic nights across the city. In Jamie Foxx's club, he was spotted by the owner, who offered him a bed and the use of his recording studio. Rather than seek a record company, Sheeran backed into the limelight, appearing on YouTube, bringing out more EPs, holding a free concert at the Barfly in Camden Town, to which 1,000 people turned up.
On Jools Holland's BBC2 show, Later, he debuted a tender rap song called "The A Team" about a junkie hooker. Released as a download, it sold 58,000 copies in a week and became the year's top debut single (and the eighth-best overall.) At the Brits in 2012, Sheeran won both the Best British Solo Male Artist and British Breakthrough Act of the year. At the Ivor Novello awards, "The A Team" eclipsed Adele's "Rolling in the Deep" and "Shake It Out" by Florence and the Machine to win "Best Song Lyrically and Musically".
Sheeran was unstoppable. That summer he didn't just close the Olympics, he also sang at the Queen's Diamond Jubilee celebrations. Meanwhile, his first album + (as in "plus") was released to mixed critical reviews but hit the top of the charts anyway. By March 2012, it had sold a million copies and charted in Australia, New Zealand, Ireland, Netherlands, Belgium and Switzerland.
After his year in the US with Swift, he returned to England to release his second album. The first single, "Sing!", was a hit, and was taken up by Marks & Spencer for a television commercial. In October, the video of a second song, "Thinking Out Loud", featured a slimmed-down, waistcoated Sheeran dancing a very creditable (and sexy) pas de deux with Brittany Cherry from the American So You Think You Can Dance talent show.
It represents a sea change in Sheeran's style. He lost 35lb for the dance video, mainly by giving up beer. He's given away most of his hoodies to charity, and now favours three-piece suits. After playing a field of female admirers, he's had a steady girlfriend, Athina Andrelos, for nine months. And he's bought a farm in his childhood town of Framlingham, waiting to be renovated as a family home.
After a hectic career as everyone's pal, he's behaving like a proper grown-up – but one who's still scheduled to play three concerts, at Wembley Stadium next July, solo, to a quarter of a million of his closest friends.
A life in brief
Born: 17 February 1991, Hebden Bridge, Yorkshire.
Family: His father, John, is an art curator; his mother, Imogen, a jewellery designer.
Education: Thomas Mills School, Framlingham, Suffolk.
Career: In 2010, 'The A Team' was the top-selling debut single. A year later, his debut album, +, was a million-seller within months. In 2012, he sang at the Olympics closing ceremony. In June 2014 he released his second album, X, which yesterday was nominated for a Grammy award.
Join our commenting forum
Join thought-provoking conversations, follow other Independent readers and see their replies