El Sistema 40th anniversary: Conductor Gustavo Dudamel says Venezuela project is "the most important thing apart from my family"
The widely-admired national programme -which was set up in 1975 by José Antonio Abreu - exposes hundreds of thousands of children to music, teaching them instruments and letting them play in orchestras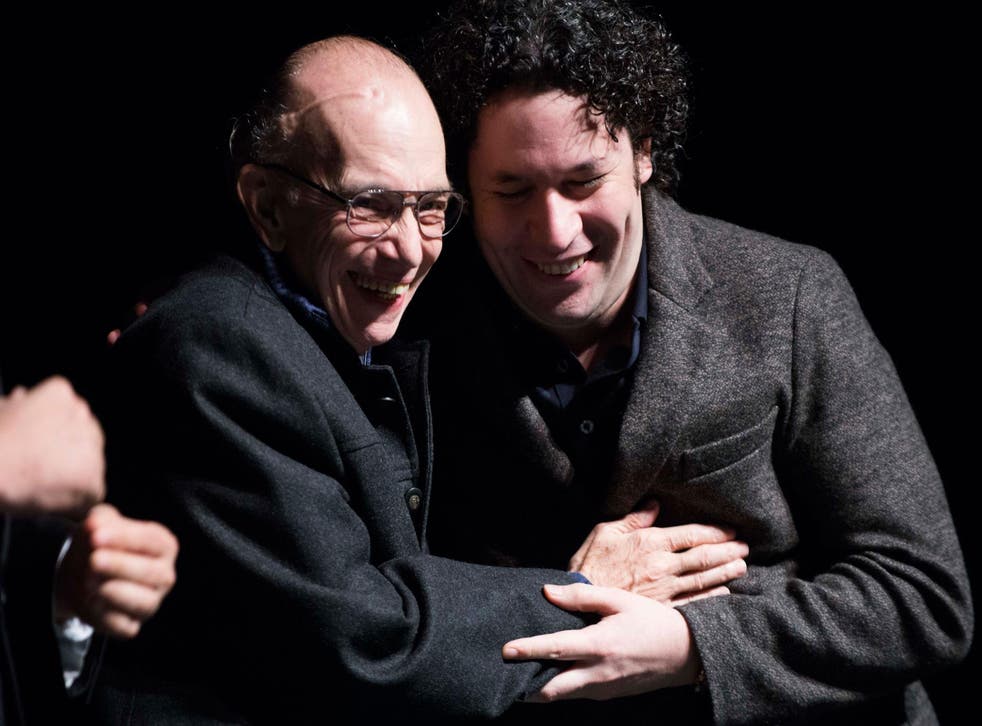 Loud explosions after dark tend to make residents of Caracas nervous, but not if they come from behind the house of Frank Di Polo, who apparently can't resist a firework display whenever he has the excuse. He is at it again tonight, sending up three rockets in a row from the small patch of grass that is his lawn.
Family, not politics, is what tonight is about. Oh, and music. While we are here to toast the 34th wedding anniversary of Mr Di Polo and his wife Betty, there is something else afoot. Venezuela this year is marking the 40th anniversary of El Sistema, the widely admired national programme to expose hundreds of thousands of its children to music, teaching them instruments and letting them play in orchestras.
Amid all that ails this country today – an imploding economy, shortages of all kinds of basic goods and harsh repression by the government of Nicolás Maduro – El Sistema may be the last national institution around which most Venezuelans still proudly unite. Above all, they revere the man they call 'Maestro', José Antonio Abreu, a musician, economist and former cabinet minister, who started it all back in 1975.
If there is a shrine to Mr Abreu and all that he has wrought, it is this modest two-storey home, not far from downtown Caracas and just around the corner from the municipal morgue, a busy place in a city that averages more than 30 murders a day. Mr Di Polo, aged 70, today President of the National Youth Orchestra, is his brother-in-law – Betty is Mr Abreu's sister – and also his landlord. This the Maestro's home, too.
No one should take offence tonight that Mr Abreu doesn't emerge from his upstairs bedroom to join the guests. "He never does," one of my hosts explains. In failing health and 75 years old, Mr Abreu, who is frequently mentioned as a possible Nobel winner, largely leads an ascetic life nowadays. Barbecue, generous quantities of wine – and fireworks – are not his speed.
Just one guest is allowed upstairs to pay his respects. Gustavo Dudamel – surely the most famous alum of Venezuela's El Sistema, as the superstar conductor of the Los Angeles Philharmonic Orchestra – has arrived a little late, but bearing gifts: a foie gras for Mr Abreu and a giant flank steak for the rest of us.
Probably there is no one who understands better than Mr Dudamel that keeping politics and music apart can be as tricky as a Paganini variation, especially if your native land is Venezuela. Even as he has ascended to international stardom, he has consistently declined to debate, let alone denounce, the records of either Mr Maduro or of the man he succeeded, Hugo Chávez, who died of cancer in 2013.
Critics fault Mr Dudamel, aged 34, for not using his celebrity to draw global attention to Venezuela's suffering. The anger reached a crescendo one year ago when he conducted a concert in Caracas on the same day that anti-government protesters were being killed by security forces on the streets outside. Some even came from fellow musical artists.
No one at this private fete is about to deny that Venezuela still faces a deep economic and political crisis, or that the risk of it spinning into violence is not real. "I am scared and I'm scared for my children," admits a leader of a large orchestra here who prefers not to give his name. But above all they are disciples of the big man upstairs and a worshipper in his church, El Sistema.
That includes Mr Dudamel. "El Sistema is the most important thing apart from my family, and my family at the same time is El Sistema," he tells me, gesturing to all the other guests and turning his steak on the flaming grill. "To me it's all about beauty and everyone here is a member of El Sistema."
The moral dilemma for everyone here is real. Their salaries depend on the state and so does the continuing existence of El Sistema. With an annual budget in excess of $120m (£80.9m), it mentors over 300,000 enrolled children at a time – many drawn from Venezuela's poorest barrios and slums – operates 280 different music centres around the country and nurtures over 500 orchestras and ensembles.
If Mr Dudamel allows himself any political comment, it is almost as a propagandist – for El Sistema and for his country, never mind the repressive record of its embattled government. "We are blessed, I think. We celebrate that we were not born in another country, that were we born here where we had this amazing vision of life," he tells me, referring to Mr Abreu's creation. "The worst thing for a person is to feel excluded. This [El Sistema] is about inclusion. And I think now that that is the spirit of our country."
There is no time to press him. Music is coming from inside, Betty is at the piano and the party must go on. Politics is for another time and another place.
Register for free to continue reading
Registration is a free and easy way to support our truly independent journalism
By registering, you will also enjoy limited access to Premium articles, exclusive newsletters, commenting, and virtual events with our leading journalists
Already have an account? sign in
Register for free to continue reading
Registration is a free and easy way to support our truly independent journalism
By registering, you will also enjoy limited access to Premium articles, exclusive newsletters, commenting, and virtual events with our leading journalists
Already have an account? sign in
Join our new commenting forum
Join thought-provoking conversations, follow other Independent readers and see their replies