Frances Ruffelle: 'Comeback? I've always been working'
The singer who made her name in the original version of Les Misérables returns to the stage in a new play about Edith Piaf. Susie Mesure meets Frances Ruffelle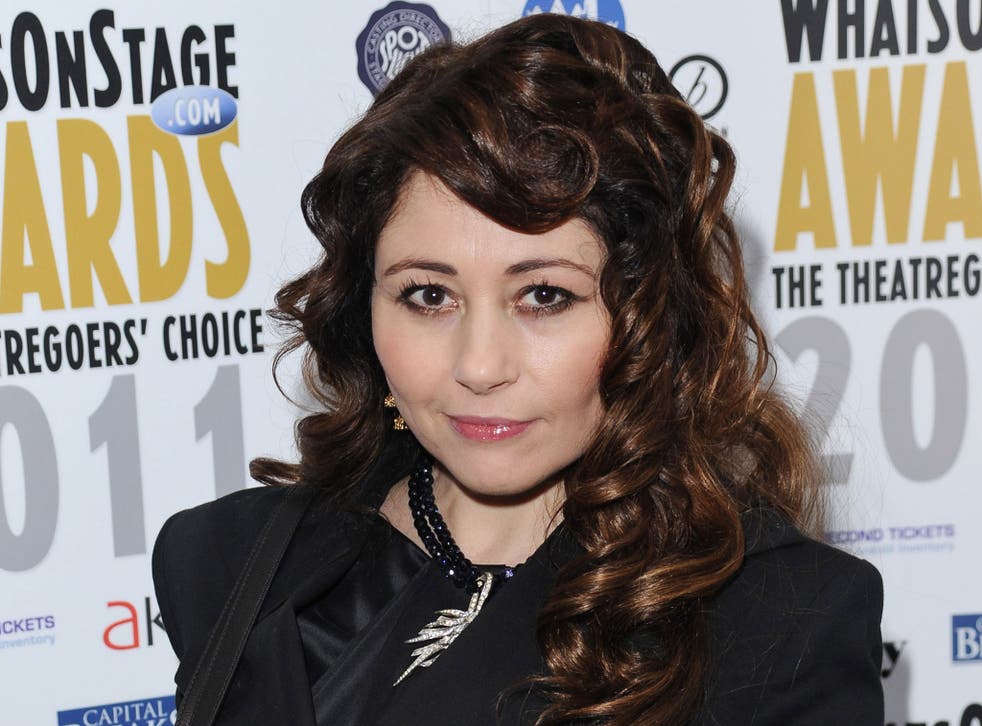 It should be a Valentine's dream: your lover crooning Edith Piaf's "Hymne à l'amour" beneath the sheets. Especially when the song has been something of an anthem for the lover in question's career. But the French sparrow is not welcome chez Ruffelle this weekend, ode to love or no ode to love. Playing Piaf, you see, has turned the actress slightly bonkers.
"I've been bringing Piaf home with me and I haven't been very nice," admits Frances Ruffelle, who is opening a new play about the French chanteuse in Leicester this week. "She was absolutely crazy. I've terrorised my boyfriend, terrorised my dog. I've got to be nicer this weekend: it's Valentine's weekend. No Piaf at home."
Ah, the boyfriend. That would be James Day, who runs the indoor golf chain Urban Golf, and who piqued my interest because, at 32, he is 15 years Ruffelle's junior. I want the gap to be 17 years, because that would make it the same as the age difference between the former Les Misérables star and her first husband, John Caird, whom she married in 1990 after becoming pregnant with their daughter, Eliza.
And I'm in the business of cyclicality because Ruffelle and Piaf go way back, right back to her original Les Mis audition in fact, where the 19-year-old ingénue sang "Hymne a l'amour" (or its English translation) for Cameron Mackintosh and Trevor Nunn. It secured her the part that, it could be said, both made and destroyed her career: Eponine. It was while doing Les Mis that she fell in love with Caird, the show's co-director. With bittersweet timing, crippling morning sickness – think Princess Kate – forced Ruffelle to flee the show just after winning a prestigious Tony award for the role on Broadway. And that was more or less that, as far as musical theatre went.
She pulls me up short, however, when I suggest that playing Piaf, which follows a cameo in the Hollywood remake of Les Mis, marks a comeback. "To be honest, I don't stop," insists the mother of three, who has recorded five albums and represented Britain at the 1994 Eurovision song contest. "I've been in the press recently because of the film, but I've always been working. It's looked upon as a comeback, but really I'm just slogging away. I just haven't always done the big things."
There's another "c" word I'm not to use about her: "cougar", that derogatory description of the older woman who preys on younger men, although she's the one who comes out with it, not me. "I hate the word cougar. I'm certainly not one because I would much rather my boyfriend was my age or older, but I can't wish his life away. I'm afraid that's his age and there's nothing I can do about it."
She particularly detests the stock reaction to the news about her younger partner, adding: "When people ask how old my boyfriend is, I'm actually quite embarrassed to say. And when they go, 'Good on you', you think, 'No, actually. That's not how I really planned it'."
I hate myself for dwelling, but I want to know if she thinks women get judged more harshly than the likes of Caird, Hugh Hefner, Rod Stewart, Ronnie Wood, Rupert Murdoch, John Humphrys ... I could go on. "Men go out with younger women and no one blinks an eye. It's getting better, though, because it [the reverse] is getting more common. Women and men are looking so much better for their age. You've just got to live for the moment. I'm not going to throw it away just because my boyfriend is young. I might as well enjoy my time with him and hope it lasts for ever, and if it doesn't, it doesn't."
At 24, her daughter Eliza, the singer-songwriter who goes by the surname Doolittle, is already older than Ruffelle was when she had her. "Luckily, she's very much more in control [of her life]," Ruffelle, who's known as Frankie Ruff, says. "The similarities are that we're both hard-working and professional. Ever since she started writing songs, aged 12, she will put time aside to write, every single day. She literally works so hard; she takes care of herself, she doesn't drink; she looks after her voice; she exercises. She really is a model, a good role model, I should say."
Doesn't drink? Really? "Occasionally, she might have a glass of wine or something, but she hardly ever finishes it. She'd rather have a Coke. She can't bear being around people who are drunk."
Mother and daughter, who look uncannily alike, all big doe eyes and glossy brown hair, have always seen plenty of each other because Eliza lives in a flat next door. That said, both places – in Primrose Hill, north London – are on the market: Ruffelle says she needs the cash. "It's time to downsize."
Theirs is something of a dramatic dynasty, although not entirely conventionally in that Ruffelle's mother, Sylvia Young, is known for teaching drama rather than acting. She recalls how today's Sylvia Young Theatre School had its origins in a fundraiser her mother did for Frances's primary school. The show, which included lots of old-time music hall numbers, was such a hit "we had kids knocking on our front door saying, 'Can we do some more, Sylvie?' So she opened a local drama club in our local church hall for 10p a class".
A clutch of today's stars owe their careers to that original production, including the ex-EastEnders actor Nick Berry and the casting director Paul De Freitas, although, bizarrely, Ruffelle herself is not really one of them. "She opened her school when I was 15 and I was such a nightmare she threw me out after one term."
Not that it hurt her: a year later, Ruffelle was getting regular work, including as a cheerleader on Top of the Pops. My ears prick up at talk of the somewhat discredited show. "I remember Jimmy Savile being there but I didn't have anything to do with him. No good stories, I'm afraid. I think I was just more interested in talking to the pop stars. What an amazing job for a 16-year-old!"
But there was angst, too. "Whenever my mum came to see me in a show, I'd always worry that I wouldn't be good enough. I think they were nervous for me. Now I think they're quite confident. But they still come quite early on [in a run] to see me."
After Piaf, she reckons she has another album in her, and then, possibly, a yoga DVD, not least because she already has the soundtrack: a Sanskrit fusion she recorded called "paTala". Plus, she's a trained yoga teacher. (Yoga is something she and her boyfriend like to do together, which shamefully has me automatically thinking of Sting and Trudie Styler.) Based on how great Ruffelle looks, I, for one, would buy it.
Then there's always the prospect of more musicals. She saw The Book of Mormon, which opens in London next week, while on holiday in San Francisco recently; it has given her hope that musical theatre can still be more than jukebox hits. I can't help thinking that Ruffelle's future could be similarly exciting.
Previews of 'Piaf' at the Leicester Curve with Frances Ruffelle start this Friday
Curriculum vitae
1965 Born 19 August in London. Has one sister, Alison. Gets the drama bug young from her mother, Sylvia Young, whose appetite for amateur dramatics results in her starting her own drama school, the Sylvia Young Theatre School.
1984 Follows her first West End play, Terence Rattigan's The Sleeping Prince, with a lead role as Dinah in Andrew Lloyd Webber's Starlight Express in the original London cast.
1985 Gets the part of Eponine in the first cast for Cameron Mackintosh and Trevor Nunn's Les Misérables. Takes the show to Broadway, where she becomes pregnant with the co-director John Caird's baby, her daughter Eliza.
1990 Marries John Caird; they have a son, Nathaniel, before divorcing three years later.
1994 Represents the UK at the Eurovision Song Contest. Meets her second husband, Rob Manley, and goes on to have another son, Felix.
2010 Appears in the 25th anniversary show of Les Misérables at the O2.
2013 Has a cameo role in the Hollywood remake of Les Misérables. Stars as Edith Piaf in Piaf at the Leicester Curve.
Register for free to continue reading
Registration is a free and easy way to support our truly independent journalism
By registering, you will also enjoy limited access to Premium articles, exclusive newsletters, commenting, and virtual events with our leading journalists
Already have an account? sign in
Register for free to continue reading
Registration is a free and easy way to support our truly independent journalism
By registering, you will also enjoy limited access to Premium articles, exclusive newsletters, commenting, and virtual events with our leading journalists
Already have an account? sign in
Join our new commenting forum
Join thought-provoking conversations, follow other Independent readers and see their replies