Frank Mugisha: 'Homophobia is not African. It's imported'
Uganda is set to become the world's least gay-friendly country. Its leading activist explains who is to blame. Sarah Morrison meets Frank Mugisha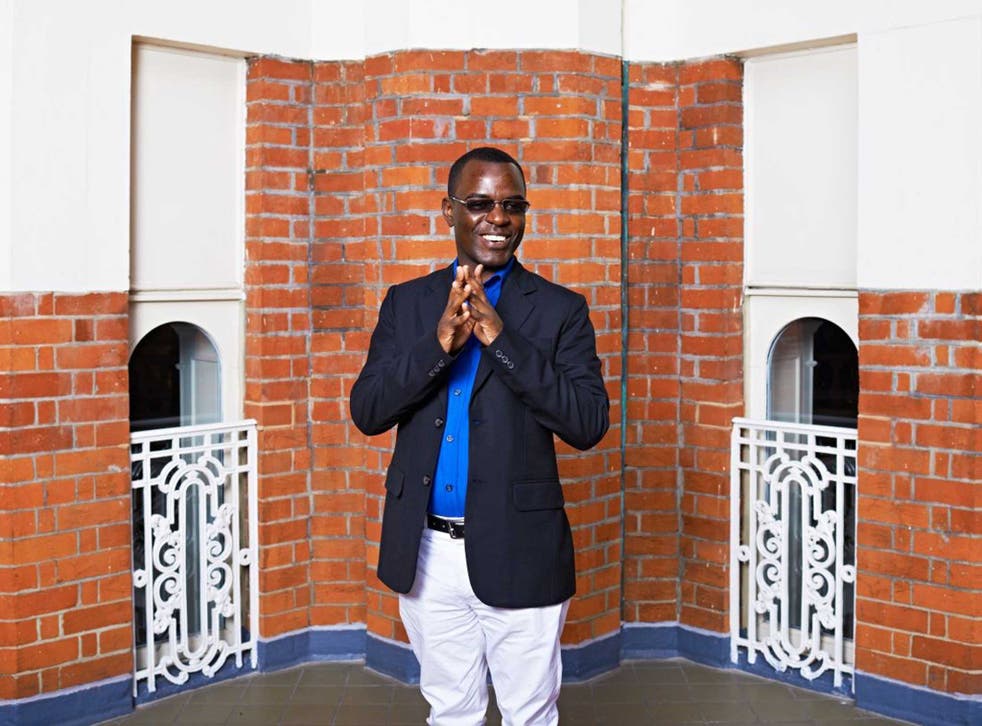 If Uganda's President decides to sign what has been dubbed the world's worst anti-gay bill this week, there will be international ructions. But for one of the globe's most prominent gay activists, the decision would have immediate implications. In all likelihood, he would not be allowed back home.
Frank Mugisha, the 32-year-old Ugandan activist who is in London to urge politicians to campaign for the rights of gay people in his country, leads something of a double life. In Uganda, where it is already a crime to be gay and where the President refers to homosexuality as an "abnormality", his LGBT-rights organisation Sexual Minorities Uganda (Smug) operates from a secret location. He is used to being beaten up in supermarkets and thrown in jail. His colleague, the gay activist David Kato, was brutally murdered three years ago.
Outside his country, he has won many plaudits, including the Robert F Kennedy Human Rights Award and the Thorolf Rafto Memorial Prize for his activism. The Roman Catholic gay activist, who has been in a relationship for seven years, has instigated the first case of its kind against a prominent evangelical pastor in the US who he says whipped up homophobia and helped to effectively criminalise the campaign for gay rights in Uganda (a claim the pastor denies), as well as in Russia and other countries. He is in talks with Russian LGBT activists about them travelling to the US to support his case.
If this sounds like a lot to rest on one man's shoulders, you would not guess it from meeting Mugisha. Sitting opposite me in a hotel in central London, he speaks carefully, sounding out every syllable. He tells me how he temporarily fled his country in 2008 when officials allegedly tried to blackmail him. He tells me how his partner had to move to the US because of the challenges he faced as a result of dating a high-profile campaigner. He tells me his neighbours in Kampala have tried to "inform" on him to his landlord twice, because of his sexuality.
Does he think he could be killed on account of his activism? "Definitely," he replies, calmly. "I'd be mad not to think that. I've seen what happened and I see what is happening. Even Ugandans ask me: 'How do you dare?' Some people I know can't tell the person next to them they're gay. I take extra precaution with everything I do in life … but I've understood I could face risk at any time."
While the world's eyes are firmly focused on the Russian Sochi Olympics and Putin's "homosexual propaganda" legislation, which bans the promotion of "non-traditional sexual relations" among minors, Mugisha believes there is a link between what is happening there and what is happening in his country. And he is clear who must be held to account. The US-based Centre for Constitutional Rights sued Scott Lively, a Massachusetts-based evangelical and self-professed expert on the "gay movement", in 2012, on behalf of Smug, alleging that his involvement in anti-gay efforts in Uganda constitutes persecution. It is Mugisha who is effectively leading the case.
The pastor, who has written a number of books including Seven Steps to Recruit-Proof Your Child: A Parent's Guide to Protecting Children from Homosexuality, conducted a three-day conference in Uganda in 2009 with other evangelicals intent on exposing the "gay agenda". Scott Lively said he spoke to thousands of church leaders, schools, colleges and parliamentarians, including Uganda's Minister of Ethics and Integrity. In his blog, he warned that the "movement" worked by "propagandizing the children behind the parents' backs." He suggested homosexuals be offered therapy.
"Everything he said was totally not Ugandan," says Mugisha. "[The idea] of a gay agenda, of recruiting people to homosexuality – that language wasn't used in Uganda pre-2009. He made my work very difficult and was conspiring with my legislators, but [to Ugandans] he was like God himself. People were worshipping him as if he was from heaven." Lively has said that his campaign was akin to a "nuclear bomb against the 'gay' agenda in Uganda".
It was months after his visit that the Uganda Anti-Homosexuality Bill was bought before parliament, originally proposing death penalty clauses. Lively told The IoS that the lawsuit against him was a "sham" that represented a "direct assault" on his "freedom of expression". He said he could not be held responsible for Uganda's legislation, and suggested that the country should follow the Russian approach and focus on the protection of children from gay "propaganda".
Yet, despite Lively's attempt to get the case thrown out, a judge ruled last year that the case – filed under the Alien Tort Statute which lets foreign victims of human rights abuse seek redress in US courts – would not be dismissed. It could reach the courts in a year's time.
Mugisha does not think the work of the evangelical movement is limited to Uganda. Lively toured Russia in 2006 and wrote an open letter calling for the country to "criminalise the public advocacy of homosexuality". He made headlines after the legislation came in, saying it was "one of the proudest achievements of [his] career". Human Rights Watch have reportedly said that he gave shape to pre-existing hatred.
For Mugisha, this isn't about headlines. Ugandan President Yoweri Museveni refused to sign the controversial bill last month – which was passed by parliament and mandates penalties up to life imprisonment for homosexual acts and criminalises the promotion of homosexuality and of not reporting on gay people – saying he had to review it. But, according to the Human Dignity Trust, Museveni has until 23 February to either sign the bill or not – otherwise it passes by default.
"The situation in Uganda has actually gotten worse since the bill was passed by parliament," Mugisha says. "Ugandan society has become more hostile towards LGBT persons. Smug has registered more than 30 cases of violence and verbal insults and attacks since 20 December. Some Ugandans think the bill is already a law. If someone is rumoured to be gay, there is a high chance they will be attacked. People are reporting homosexuals already."
Mugisha wants Lively to apologise to Uganda and retract his words. Fundamentally, he wants to challenge the notion that homosexuality is an alien concept, imported from the West.
"Most people respect the courts of the land. [If we win,] people will understand some Christians are not preaching the good Gospel. They'll be careful who they listen to when these people come to Africa and preach, and they'll know that homophobia is actually imported, not African."
Does he think they will win? "Yes," he says, smiling. "Someone is going to have to pay for this bill at some point. It might not be now, it may be in 10 years, but they'll be held to account."
Register for free to continue reading
Registration is a free and easy way to support our truly independent journalism
By registering, you will also enjoy limited access to Premium articles, exclusive newsletters, commenting, and virtual events with our leading journalists
Already have an account? sign in
Register for free to continue reading
Registration is a free and easy way to support our truly independent journalism
By registering, you will also enjoy limited access to Premium articles, exclusive newsletters, commenting, and virtual events with our leading journalists
Already have an account? sign in
Join our new commenting forum
Join thought-provoking conversations, follow other Independent readers and see their replies