Freddie Burns: Freddie and the schemers fight it out for England shirt
The Gloucester back tells Hugh Godwin how he will stake claim to be the best at managing games from fly-half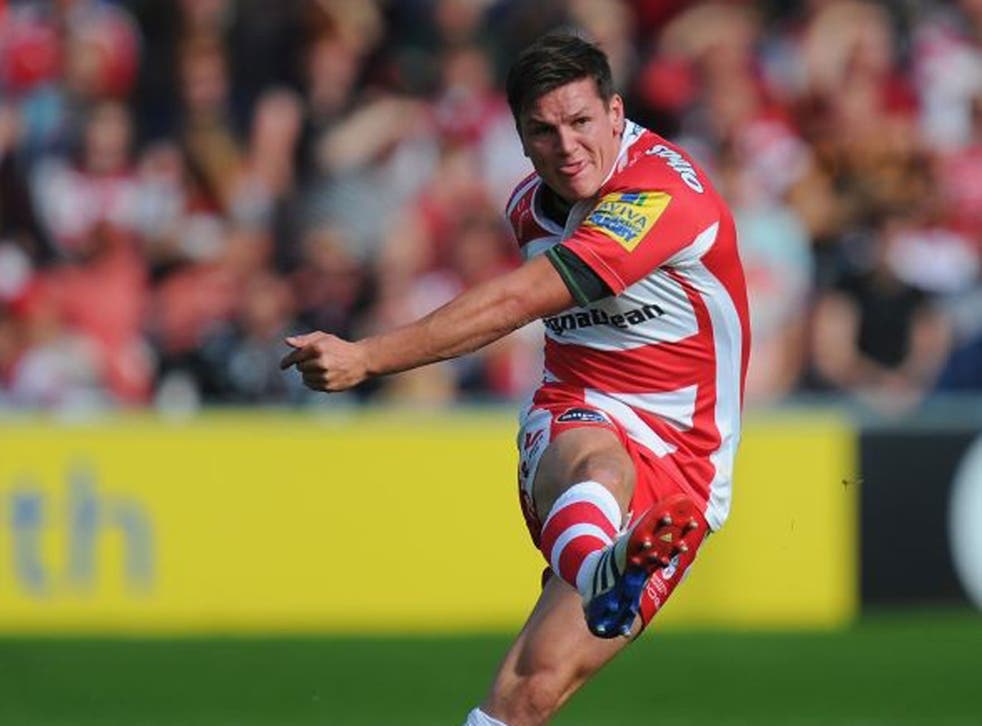 You get a little bit of everything with Freddie Burns; on the pitch and in interviews. While formulaically insisting his club must take an intensive month – that starts today in the Premiership at Newcastle and culminates with a Heineken Cup trip to their old rivals Munster – "each game as it comes", the Gloucester fly-half honestly dissects his thinking in a knife-edge decision, and how he might do things differently in an England jersey.
The revealing incident under discussion came during Gloucester's 26-24 win over Northampton eight days ago that was a big relief after losses to Sale and Saracens.
Standing over a penalty in the Northampton 22, with his team 18-17 ahead, Burns had time to think while there was an injury break. James Simpson-Daniel (aka Sinbad) was in his ear, pointing out a lightly defended short side. Burns tapped and ran and was held up, and the move petered out.
"In hindsight, if it's an autumn international and we're in that situation I probably will just take the points," says Burns, referring to the approaching November matches for which selection is between him and Owen Farrell and Toby Flood. "It's one of those things where I'll live and die by the sword – and that's the kind of player I am.
"In some aspects I could probably be a bit of a coach's nightmare. But I saw the opportunity. And in my eyes the mistake was not the quick tap. The only mistake was not passing Sinbad the ball. If I'd given it to him he'd have scored."
Burns goes on to ponder how he might "mellow out as the years go past" – but he'll try not to. "I'll always look to attack the game," he says, before claiming: "The game management side of things is somewhere I've massively improved over the last 18 months." It feels tempting to dip into Jung to sum up Burns: something about great talents being fruits that hang on the slenderest of twigs? Certainly the 23-year-old born in Bath is more thrillingly unpredictable than his positional rivals, even if he rejects the idea that the try-laden summer tour of South America, when he was England's pivot while Farrell was with the Lions and Flood rested, signalled a new unshackling of the national backs – more that last year's framework, combined with the hunger of Burns and of newbies Kyle Eastmond, Christian Wade and Marland Yarde, prospered against moderate opposition.
Whatever the case, when "game management" is mentioned, the touchstone for recent England fly-halves – Jonny Wilkinson – springs to mind. Burns, capped as a replacement against New Zealand last December before missing possible Six Nations action through injury, played opposite old Golden Oval Balls in Toulon in pre-season.
They chatted afterwards about how Burns and his Gloucester team-mate, the inside centre Billy Twelvetrees – they started for England together against the Barbarians and Argentina in the summer – might dovetail in the manner of the French club's Wilkinson and Matt Giteau.
A silky loop move between Burns and Twelvetrees made a try on the wing for Charlie Sharples last weekend and Gloucester's coach, Nigel Davies, is campaigning for the pair to carry that on in the midfield for England.
"It took me by surprise how quickly me and Bill built our relationship after he joined from Leicester last year," said Burns. "Playing week in, week out, I automatically read him and he takes a lot of pressure off me. He's very vocal, very intelligent. He's also 105kg, he can carry strong in contact and if you need someone to hoof a ball 70 metres downfield, he can do that as well."
Twelvetrees, a some-time fly-half, grabbed an instinctive try as a first receiver against Northampton, and kicked the winning points after Burns had been substituted. They aren't quite two peas in a pod, however. "He cooked me a nice pork chop and dauphinoise potatoes the other night," says Burns. "If he comes round mine, it's more likely to be a Nandos takeaway." As for the England pecking order, Farrell might be just ahead of Flood and Burns but there can't be more than a slice of pickled pepper between them.
"To see those two playing well pushes me to play well," says Burns. "Everyone talks about Owen and his kicking game. You've seen with the Lions him taking the ball a lot flatter as an attacking threat. Toby's always taken the game on, and the way he bosses a game and communicates is second to none. I think they're both quality players. I want to be involved and starting in the autumn, but I know that comes off the back of playing well for my club and I'm sure Owen and Toby have got the same mindset."
Burns could do with improving his goal-kicking rate of 61 per cent (11 from 18) this season although a head knock at Saracens and a slight twist to the knee in the Northampton match have restricted his practice.
"I won't take a kick on that I don't think I can get," says Burns, "but that does mean sometimes going from a ridiculous range." Best to forget Jung and settle for Burns's self-description from his Twitter account: "Pro Rugby player for Gloucester and England and intent on enjoying it!"
Newcastle Falcons v Gloucester is at 3pm today
Three rivals, one position
Toby Flood
Age 28. Club Leicester. Caps 57
Height 6ft 2in. Weight 14st 4lb
An extra yard of pace would make Flood devastating, but this witty and engaging realist knows his limitations and backs himself bravely in the face of opposition defenders. Started out as an inside centre alongside Jonny Wilkinson at Newcastle, now trusted by Leicester with the responsibility of captaining the English champions.
Owen Farrell
Age 22. Club Saracens. Caps 16 (+ Lions 1)
Height 6ft 2in. Weight 14st 6lb
Just turned 22, encouraging signs on Lions tour that his tendency to sit deeper than Flood or Burns was morphing into a more challenging style. More overtly spiky than Flood or Burns, Farrell makes a virtue of big hits, likes the rugby league-style grubber through the line and has great kicking stats.
Freddie Burns
Age 23. Club Gloucester. Caps 3
Height 6ft. Weight 13st 12lb
Never very far from the word "maverick" in media coverage even though no one completely off the wall would get near Gloucester or England selection. More elegant over the ground and with his hands than Farrell, and quicker than Flood – but not as reliable a goal-kicker as either.
Hugh Godwin
Register for free to continue reading
Registration is a free and easy way to support our truly independent journalism
By registering, you will also enjoy limited access to Premium articles, exclusive newsletters, commenting, and virtual events with our leading journalists
Already have an account? sign in
Register for free to continue reading
Registration is a free and easy way to support our truly independent journalism
By registering, you will also enjoy limited access to Premium articles, exclusive newsletters, commenting, and virtual events with our leading journalists
Already have an account? sign in
Join our new commenting forum
Join thought-provoking conversations, follow other Independent readers and see their replies