Gemma Cairney & Brigitte Aphrodite: 'Keanu Reeves said he'd do an interview if we found him a lighter'
The duo met on their first day at the drama school East 15, in Essex
Adam Jacques
Sunday 31 January 2016 01:14 Comments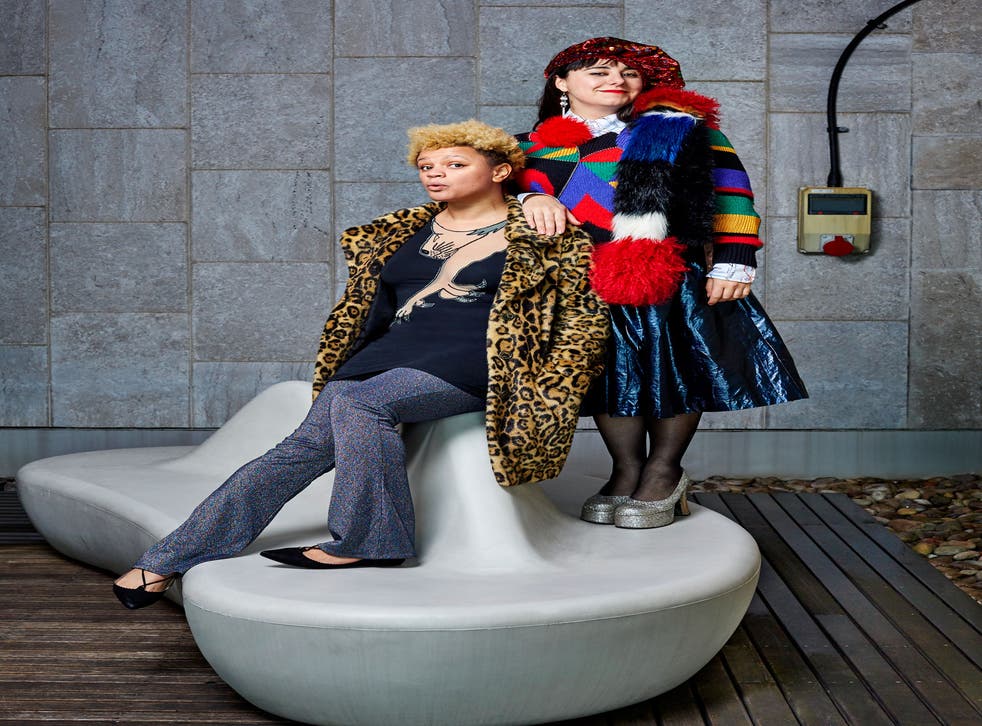 Gemma Cairney, 30
A Brit School graduate, Cairney (left in picture) was a fashion stylist, working with performers such as Florence Welch, before becoming a radio presenter for Kiss FM and 1Xtra. She now hosts Radio One's early breakfast show and co-presents evening broadcast 'The Surgery'. She lives in Margate with her boyfriend
I met Brie on my first day at the drama school East 15, in Essex. I was doing a one-year foundation course. She was wearing a prom dress and I remember being in awe. Everyone enjoyed her magical presence and everywhere she went she seemed to leave a trail of glitter behind, while a series of dreamy drama-school boys were always acting drippy around her.
She was so popular, it was hard to get her attention, and it was after my time at school that we became close, when she invited me to her mum's home in Hastings. I had no money, so I turned up with an open bottle of Chardonnay that I got from my mum's fridge. She took me to a clifftop viewpoint and we sat for hours, eating raspberries and drinking wine. I remember thinking, this is like those hazy moments you read about in books which transcend time. We were on the edge of the cliff and she was dancing away and I thought, I want to be your friend for ever. I used to describe it as the time I started falling for Brie.
In my twenties I was living in Brick Lane in rubbish flats, trying to hatch a life for myself while dancing, drinking and working as a tequila girl, selling shots on a Friday night. I recruited all my mates as tequila girls, and she was the funniest one I managed to cajole into doing it. We'd always meet in the middle to give each other a cuddle. It was a really harrowing job and a stark reminder that working in among the London nightlife often puts you in a vulnerable position.
I'd just started my production company [Boom Shakalaka Productions] when she was working on her show My Beautiful Black Dog, which is about her clinical depression. It has this poignant theme about the British culture of using booze as escapism. When I first watched it, I was in bits, as I never knew how bad it was for her, but it was such a poignant way of putting across how her mental health affected her, and I wanted to produce it. She's such a talented actor, comic and lyricist.
I'm bossy and proud – it's come with age – so now I'm happy to scream to the world about things I've done. But Brie can be more modest. She is such a perfectionist and can get wrapped up in something looking incredible, when it just needs to get done. She is so sensitive that sometimes I just want to protect her.
Culture news in pictures

Show all 33
Brigitte Aphrodite, 32
A punk poet, performance artist and singer-songwriter, Aphrodite has played at music festivals including Leeds, Reading, Bestival and Latitude, and has supported singer Kate Nash and comedian Josie Long on their UK tours. She is a mentor for youth charity Arts Emergency and has facilitated workshops for the National Youth Theatre. Her debut album is out later this year. She lives in Hastings with her boyfriend
We met at East 15, in 2005. She was brightly coloured and enthusiastically flouncing around everywhere. We both love wearing unusually bright clothes, dancing and music.
I remember the first time she invited me to one of her birthday parties. I went because I thought she was cool, living in east London, even though she was a year below me. We partied all night and I stayed over. There was a boy in her year, one of her best mates, and she spoke to me about him for hours; as I went to sleep, she kept chatting about him – it almost hypnotised me. When I woke up she was saying, "You should hang out with him." So I sent him a text and 10 years later we're still together; now we're like the three musketeers.
I helped Gemma with her first presenting foray, a slot on a small Edinburgh Fringe radio show. I was like her wingwoman. We then blagged press passes and went to cover the O2 Wireless festival. We ended up backstage, seeing Julian Casablancas from the Strokes chatting to Kate Moss, who was draped round David Walliams. They all said no to an interview as it was obvious we were cheeky blaggers, but we hit gold when we spotted Keanu Reeves, who said he'd do an interview with us if we found him a lighter.
Years later, Gemma organised an expedition to climb Mount Kenya for a charity called Trekstock. She was so funny; when people were on the edge of giving up, she'd pretend she was Kirsty Young and do Desert Island Discs interviews with whoever felt strong enough to answer her questions. I've never known someone with such stamina.
She's like a life partner who I don't have to sleep with. We've been through bad times and good times and I think her resilience when I'm feeling marshmallowy gives me a kick up the arse – she's like a warrior queen. She stops me from being too reclusive by putting me in situations and saying I'm going to be all right. In return, I can be quite maternal towards her; she knows I've always got her back.
There was a period a few years ago when I pushed her away and stopped communicating what was going on. I couldn't remember how to communicate. Writing My Beautiful Black Dog over three years was my healing process. She came to see it twice and loved it. She said, "It's got be taken further." I didn't know how; it was great to have her [with me] in meetings.
I love how wild, fun and generous with her energy she is. She makes little songs about things when we walk down the street. We were in east London once and she started singing, "I'm walking thorough Shoreditch, get your ego out of my face, out of my face…" We're going to make it into an old garage tune.
Aphrodite will perform 'My Beautiful Black Dog' as part of the Southbank Centre's Changing Minds festival (southbankcentre. co.uk/changingminds) next weekend
Register for free to continue reading
Registration is a free and easy way to support our truly independent journalism
By registering, you will also enjoy limited access to Premium articles, exclusive newsletters, commenting, and virtual events with our leading journalists
Already have an account? sign in
Join our new commenting forum
Join thought-provoking conversations, follow other Independent readers and see their replies