George Galloway: The political rebel with a cause
Indefatigable in the pursuit of his causes, formidable in taking on his many opponents, he has ridden the political roller coaster for 25 years. And now he's back as an MP after a sensational by-election victory
Andy McSmith
Saturday 31 March 2012 02:46 Comments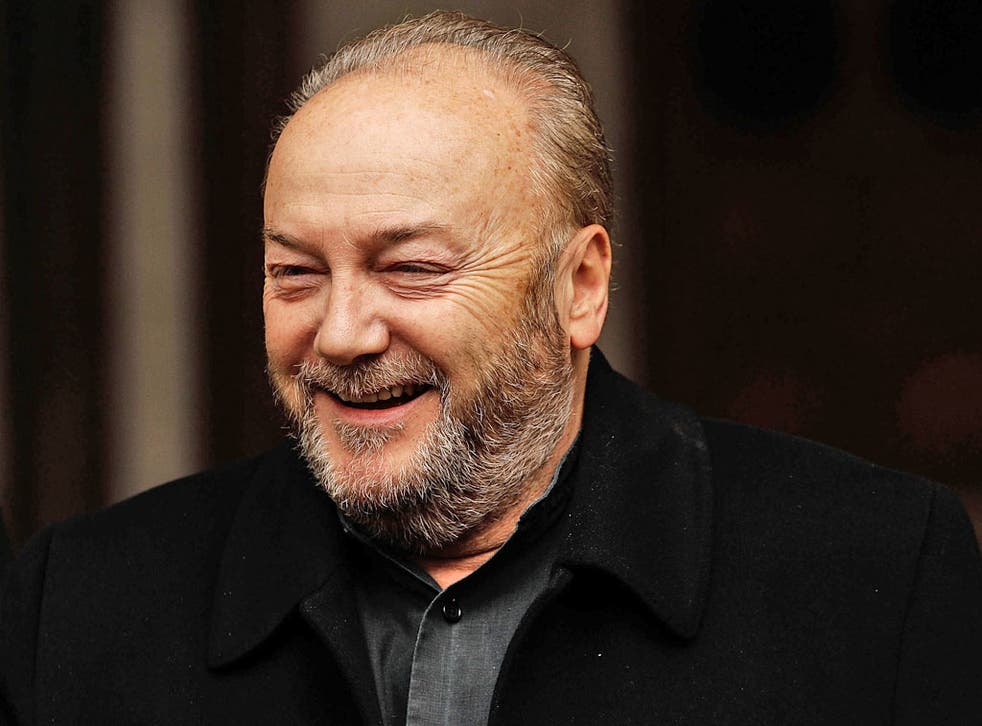 There is no one in politics who can whip up a crowd quite like George Galloway can. Nor are there many with his special talent for falling out with political allies. His is a long political biography, which had lurched from controversy to controversy, and has seen a series of setbacks any one of which would have finished off a less resilient character. Somehow whenever the world of politics thinks they have seen the last of "Gorgeous George", he bounces back.
Bradford West is now the fourth constituency to have George Galloway for its MP – itself an unusual record in modern politics. There is a cruel saying in Westminster that no one is more "ex" than an ex-MP. Galloway was expected to take on that unwanted status after being expelled from the Labour Party in 2003, but made an extraordinary comeback at the 2005 general election as MP for the hastily formed Respect party in Bethnal Green and Bow.
In 2010, Labour jubilantly saw him off when he ran against Jim Fitzpatrick in Poplar and Limehouse, and again expected him to vanish from the scene. Even on Thursday evening, after voting in Bradford West was almost over, Labour officials were quite sure that they had held the seat, though they acknowledged that Galloway had made an impact and expected him to come second.
Instead, after Easter, Galloway will return to Parliament, where he first made a mark 25 years ago. In the 1987 general election, he reclaimed Glasgow Hillhead, which the Labour Party had lost in a by-election in 1981 to Roy Jenkins, leader of the SDP. Most new MPs have to wait years before they make the front pages of the national press. Galloway achieved national fame straight away – but not in a good way.
As early as 1981, newspapers had started taking an interest in this political prodigy who described himself as having been "born in an attic in a slum tenement in the Irish quarter of Dundee, which is known as Tipperary". He had joined Labour's Young Socialists at 13, and was still in his teens when, remarkably, he was made secretary of the Dundee Labour Party. At 20, he was a member of the Scottish Labour Executive, and at 22 was Dundee's youngest councillor, despite being denounced by a local priest for "living in sin" with his future wife, Elaine. By 1981, he was one of the most articulate voices in Scotland of what was then known as the Bennite left, and before he was 30, he was general secretary of a major charity, War on Want.
At first, the charity thrived from having this dynamic, gifted, politically astute young boss. He improved its political connections and, when aid to the Horn of Africa increased dramatically in the wake of the Live Aid concert, he made War on Want the lead charity in channelling aid to the war-torn Eritrean and Tigris provinces of Ethiopia.
But towards the end of his time there, word began to spread that there was another, less attractive side to this charismatic figure. The Sunday Mirror carried damaging allegations of how Galloway had been conducting himself, written by Alastair Campbell. Just after his election to Parliament, Galloway called what was to be his last press conference as head of War on Want and, under persistent questioning from journalists, admitted that he had had sexual relations with two women during a conference in Athens in 1985 – a revelation that earned him the nickname "Gorgeous George".
"My wife won't leave me," he predicted. Actually, the relationship was soon over. Four years later, Galloway met the Palestinian-born biologist Amineh Abu-Zayyad. They married in a civil ceremony in 2000, but she divorced him in January 2009, citing his relations with other women. By then Galloway had a one-year-old son by his Lebanese researcher Rima Husseini.
Galloway's commitment to the Arab cause dates back at least 30 years, when he was instrumental in the unusual decision to "twin" Dundee with the Palestinian town of Nablus. After the first Gulf war, he began a campaign to end British sanctions against Iraq, which would bring him further attention. In 1994, he visited Baghdad and was filmed telling Saddam Hussein: "Sir, I salute your courage, your strength, your indefatigability."
Four years later, he set up the Mariam Appeal, named after a four-year-old Iraqi girl, Mariam Hamza, whom Galloway arranged to bring to Glasgow to be treated for leukaemia. The appeal, which paid for a number of Galloway's overseas trips, was never registered as a charity. Nonetheless, the Charities Commission looked into it after it was wound up in 2003, and again in 2007.
The second time around, the commission alleged that £230,000 out of the £1.4m raised by the appeal came from "improper" sources, via Iraq's food for oil programme. Galloway, who has never been coy in his own defence, described the commission's findings as "palpably false".
The Daily Telegraph thought it had Galloway bang to rights when, in the ruins of Baghdad's foreign ministry building, it found a document that referred to what were alleged to be payments to the MP, measured in barrels of oil. It has never been disputed that the document itself was genuine. However, the Telegraph read too much into its find, and ran an editorial implicitly accused Galloway of treason, for which he was later awarded £150,000 in libel damages.
Though he was by no means the only Labour MP to be opposed to the Iraq war, nor the most important, Galloway was the only one expelled from the Labour Party. With his usual love of a resounding phrase, he described George Bush and Tony Blair as "wolves" and, in Labour's views, had incited foreign armies to fight against British troops.
After his expulsion, he remained an independent MP for Glasgow Kelvin and joined forces with the Socialist Workers Party and others to create the Respect Party.
When Galloway took Bethnal Green and Bow by 823 votes, in an abrasive, bad-tempered race against Labour's Oona King, it was the first time since 1951 that a party avowedly left of the Labour Party had won a seat in the Commons. The east London seat, like Bradford West, had a high proportion of young Muslims who admired Galloway's opposition to the Iraq war.
His five years as a Respect MP were marked by two highly publicised appearances in places where British MPs are not normally to be found. In May 2005, he went to Washington to confront a Senate sub committee which had accused him of profiting from Iraqi oil. The senators were accustomed to dealing with witnesses who treated Congress with reverence, and were completely at a loss in the face of Galloway's abrasive way of using attack as the best form of defence.
In 2006, Galloway went on Celebrity Big Brother, under the illusion that it would allow him to relay his political views to the show's vast audience. Actually, most of his political remarks were cut out, and all that most viewers recalled was his bizarre impersonation of a cat.
Another high-profile appearance was his public debates with the writer Christopher Hitchens, who said of Galloway: "He looks so much like what he is: a thug and a demagogue, the type of working-class-wideboy-and-proud-of-it who is too used to the expenses account, the cars and the hotels – all cigars and back-slapping. He is a very cheap character and a short-arse." Galloway was equally insulting in return.
The Respect Party split apart when Galloway fell out with the SWP. When Galloway failed to be re-elected to the Commons in 2010, it looked as if Respect was heading for terminal decline, and that there was no future for George Galloway except as a star of the Iranian-owned Press TV and one of the last people in the UK to offer a qualified defence of the regime in Syria.
When he announced that he was running in Bradford West, it appeared to be a desperate attempt by a half-forgotten man to draw attention to himself. Almost the only people to spot what was actually happening were punters who bet so heavily on a Galloway victory that the bookies are saying the result is costing them £100,000. George Galloway is back on the scene.
A life in brief
Born: 16 August 1954, Dundee.
Family: His father was a Scottish trade unionist. Twice divorced, since 2006, Galloway has been married to Rima Husseini with whom has a son. Has a daughter from his first marriage.
Education: Harris Academy, Dundee.
Career: Elected MP for Glasgow Hillhead in 1987. Expelled from the Labour Party in 2003 over his stance on Iraq, and the following year co-founded the Respect Party. Won Bethnal Green in 2005 election, but at the 2010 election lost out in Poplar and Limehouse. This week he won Bradford West.
He says: "By the grace of God we have won the most sensational victory in British political history."
They say: "He looks so much like what he is: a thug and a demagogue." Christopher Hitchens
Register for free to continue reading
Registration is a free and easy way to support our truly independent journalism
By registering, you will also enjoy limited access to Premium articles, exclusive newsletters, commenting, and virtual events with our leading journalists
Already have an account? sign in
Join our new commenting forum
Join thought-provoking conversations, follow other Independent readers and see their replies