Goga Ashkenazi: By royal ascent
Of all the figures in the scandal enveloping Prince Andrew, few are more exotic than the Kazakh entrepreneur and dedicated socialite with whom he is said to be besotted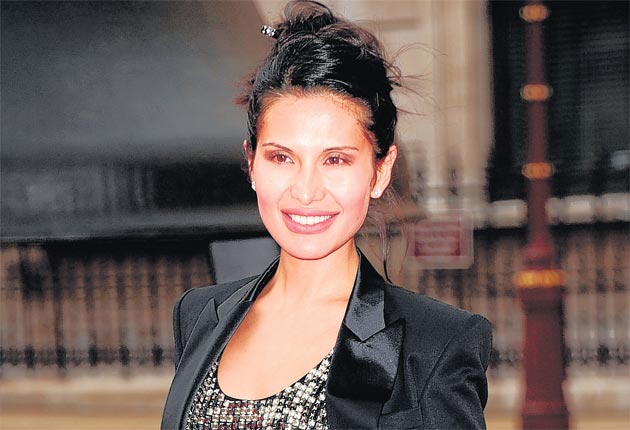 Goga Ashkenazi is a "very flirty girl", to use her own words.
"I've flirted with every single person, man or woman, whom I've encountered." And people, particularly high-society people, seem to relish her coquetry. Born Gaukhar Erkinova Berkalieva in a remote district of southern Kazakhstan, she finds herself, at the age of 31, divorced with a three-year-old son – and one of the most impressive contacts books in London.
Prince Andrew is said to be "besotted" with her and has introduced her to the Queen. When he found himself at the centre of a storm this week, as his friendship with a convicted sex offender threatened his role as British trade envoy, the Duke of York turned to Goga for support. Her other close friends include the banker Nat Rothschild, the property millionaire Nick Candy, the pop star Nick Rhodes and the aristocrat Lord Edward Spencer-Churchill. The motor racing chief Flavio Briatore is a former lover, as is the telecoms millionaire Dino Lalvani.
Goga's business associates range from the financier Robert Hanson to the Canadian mining magnate Robert Friedland, and – a rare woman in her company – the society stylist Caroline Stanbury, a former girlfriend of Prince Andrew whom she describes as her closest pal. "My character is very masculine," Goga said last year. "All my friends used to be men, but now Caroline is my best friend."
But Ms Ashkenazi does not fund her opulent lifestyle through Gift-Library.com, a business she runs with Ms Stanbury, in order to "take the hard work out of choosing the perfect gift". No, that has not paid for the Belgravia flat, the rented country home in Surrey and the £28m mansion in London's expensive Holland Park, which she bought with cash and where she is waited on by a butler, maid and nanny. Her chauffeur conveys her in a £137,000 Bentley Continental Flying Spur and her chefs prepare meals that are served to guests in a dining room with a gold-leaf ceiling.
The key to Goga's wealth is her son Adam's father, Timur Kulibayev, who is said to control 90 per cent of the Kazakh oil fields. Kulibayev is also the son-in-law of Nursultan Nazarbayev, the country's President for the last 20 years. He remained married to the President's daughter Dinara (and still is) at the time Adam was born at the Portland Hospital in London in December 2007, and when he and Goga walked into the Westminster Council office to register the child's birth six weeks later.
Though no longer lovers, Kulibayev and Goga are still intimate. "I haven't got one ex who is not a friend," she has said. So when Kulibayev was looking to invest some of his billions in this country in 2007, and Prince Andrew was looking to offload Sunninghill Park, the redbrick lodge once known as "South York", Goga was happy to help two of her favourite men. The deal went through for £15m (£3m more than the asking price), with the buying company registered in the British Virgin Islands. Shortly afterwards, Kulibayev reportedly spent £44m on a row of four houses in Belgravia, central London.
Ms Ashkenazi is now a player in the oil industry herself. She is CEO of the MunaiGaz Engineering Group, a major oil and gas company, and a director of the MMG Global Consulting Group. Her friends identify her line of work as "oil services".
Goga's prospects may have appeared limited when she was born in the isolated Zhambyl region of Kazakhstan in 1980. Her father was Erkin Berkaliev, an engineer working on irrigation systems for the Soviet Union's vast grain programmes. "How did this ordinary and not so pretty mamba [country girl] manage to get to the top of British society?" wrote a Kazakh journalist last year, quoted by The Mail on Sunday. The same British newspaper, which, along with the society magazine Tatler, has done most to chronicle the ascent of Ms Ashkenazi, observed: "In the closed world of London society, Goga appears to have risen from nowhere."
Her parents have been inspirational. Erkin Berkaliev was identified as a star performer by the Communist Party and was recruited to Moscow's Central Committee under Mikhail Gorbachev. Goga benefited from her father's success, and by the age of seven she was living in a prestigious apartment and attending a highly rated school. After communism collapsed she transferred to the elite Moskvitch Lycée. Her parents divorced when she was 13, at which point her mother seized responsibility for preparing a brilliant future for Goga and her elder sister Meruert and took them off to England. Mr Berkaliev remained in Kazakhstan, where he remains an influential political figure in the capital Astana.
Goga was enrolled at Stowe, where fellow boarders remember her using a helicopter to return from weekend breaks, laden with purchases from Armani Collezioni. She later moved on to Rugby School and achieved the grades that won her a place at Somerville College, Oxford. When she graduated in modern history and economics in 2001, it was with a third-class degree.
Her interest in men and parties had got the better of her. "I realised that what I was studying at university I was never going to use – so it didn't matter what grade I got," she said in September. "I also discovered the social life of London. We used to go to Chinawhite every Wednesday – it was like a religion. You have to do it when you're 19 or 20. I wouldn't go to a nightclub now if you paid me."
At 24, she married a Californian, Stefan Ashkenazi, but divorced him in 2007 after having started work as a personal PR for Mr Kulibayev. Within three days of her son's birth she set the gossips' tongues wagging by having a three-hour dinner with Prince Andrew, though she insists the relationship is platonic.
She still likes to party, if not in nightclubs. When she celebrated her 30th birthday, she hired the 18th-century mansion Tyringham Hall in Buckinghamshire and asked her friend Caroline Stanbury to set the scene. Guests, who included the Russian model Natalia Vodianova and the actress Holly Valance, arrived to see Goga's beaming face projected on to the classical façade of a building designed by Sir John Soane. They were entertained by the singer Sophie Ellis-Bextor, a 10-piece Kazakh band, fire-eaters, and stilt-walkers decorated in peacock feathers. Vodka was served from life-sized ice sculptures of naked torsos.
Goga herself arrived in a backless dress by one of her favourite designers, Ralph and Russo, decorated with Swarovski crystals. A follow-up party in St Tropez later last year was themed "Diamonds Are a Girl's Best Friend". Last year at a charity auction, she "accidentally" bought a £240,000 painting after waving across the room to her new friend Jennifer Lopez.
Commenting on the Duke of York's dilemma in The Times this week, the columnist David Aaronovitch said of Goga: "She is part of that odd, cosmopolitan group of oligarchs, presidents, dictators' kids and playboy financiers on to whose yachts or into whose ranches the prudent should never venture."
But there are plenty who would beg to differ. Her friends speak of a beautiful woman with a sharp intellect, natural warmth and extraordinary drive. Goga was close to the late fashion stylist Isabella Blow, whose art-dealer husband Detmar has described Goga as "kind, intelligent and very capable".
It seems she will never be short of company, though for now her focus is on Adam. "He was signed up for Eton from the age of one week," she said recently. "I want him to have a guru for martial arts from an early age, so there's a man in his life who will give him Buddhist values, and for the sport. I don't feel he is at all unfortunate."
A life in brief
Born: Gaukhar Erkinova Berkalieva on 1 February 1980, Kazakhstan.
Family: Her father, Erkin was recruited to Moscow's Central Committee under Gorbachev. In 2004 she married hotel heir Stefan Ashkenazi but divorced three years later. Has a son called Adam with the Kazakh oil billionaire Timur Kulibayev.
Education: Was sent to school in England at Stowe and Rugby School. Has a degree in modern history and economics from Oxford University.
Career: At 24 she set up a business with her sister, constructing compressor stations to service Kazakhstan's booming oil industry. Through oil services she has become a billionaire and now owns gold mines, is CEO of the MunaiGaz Engineering Group and sits on the board of the Ivanhoe Mining Group.
She says: "Prince Andrew is a good friend. We hang out together – that's the end of it."
They say: "She is the real deal. She's generous, kind and definitely not a lady who lunches. She is hard working." Rob Hersov, vice-chairman of luxury flight service NetJets Europe.
Join our commenting forum
Join thought-provoking conversations, follow other Independent readers and see their replies