Grayson Perry: A very modern artist
The Reith Lectures give the flamboyant artist his biggest platform yet to spread a unique message
Boyd Tonkin
Saturday 12 October 2013 02:50 Comments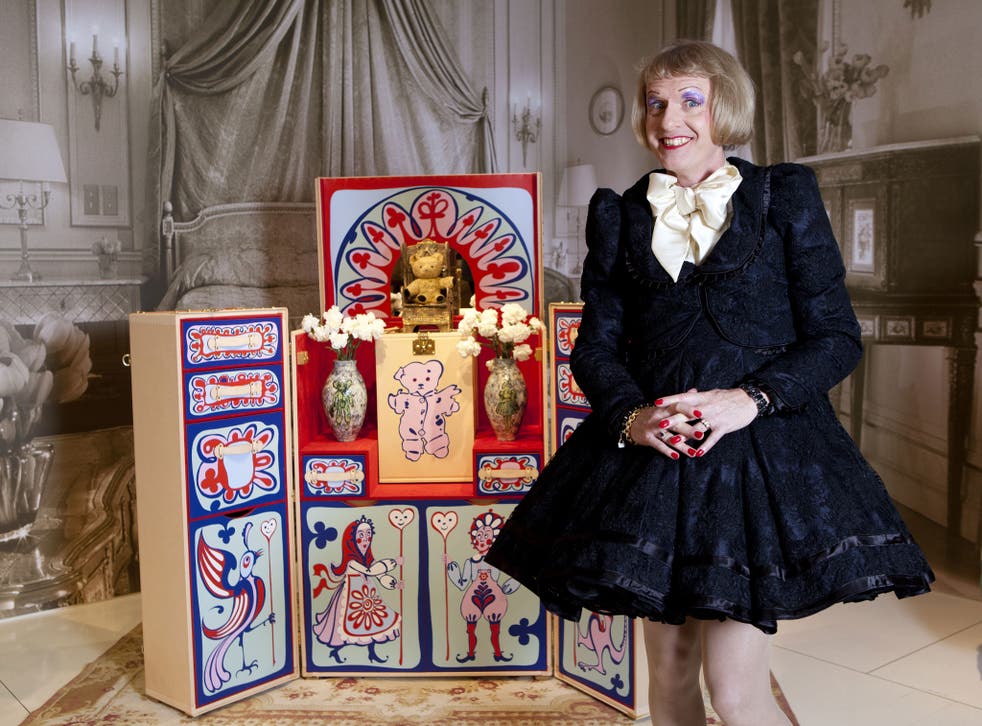 At first glance, William Morris and Grayson Perry don't appear to have that much in common. One, after all, was a bearded, rugged and earnest Victorian socialist, activist, painter and designer who died in 1896; the other is a droll, whimsical, media-friendly (and, yes, cross-dressing) post-conceptual artist in ceramics and textiles. But, as a pair, they'll always have Walthamstow. Now a fine museum, Morris's family home in Forest Road (properly in Essex in Victorian times) last year hosted the Chelmsford-born Perry's wittily satirical 15-metre "Walthamstow Tapestry". Perry has kept his studio in the area for many years.
Beyond suburban geography, the resemblances might become a bit clearer after this year's BBC Reith Lectures, which begin on Radio 4 on Tuesday. In the series, entitled Playing to the Gallery, Perry will examine the crisis of contemporary art through a lens that Morris himself might have found familiar and congenial. Formerly pampered as an eccentric prankster, the multi-media creator once automatically labelled a "transvestite potter" (though he still does make pots and still appears as frilly, girlish "Claire") has moulded himself into a maverick cultural critic of ever-growing authority. In tune with his long, loud critique of the cult of the YBAs, the artist has denounced the work of Damien Hirst ("the perfect artist for the Blairite years") as "tatty" and said that the plutocratic shark-pickler's accounts are more interesting than his installations.
His lectures will address that ever-changing mix of talent, taste, cash, class and prestige that drives art in the early 21st century as much as in the late 19th. Like Morris, Perry cherishes craft as an individual and social good: the tough discipline of making that the trendy gallery scene finds "suburban" and scorns in favour of conceptual fantasies whose execution is outsourced to faceless artisans. Like Morris, he respects popular aesthetics as a democratic force – investigated in his Channel 4 series All in the Best Possible Taste – but seeks to uplift it and so liberate consumers from the tyranny of branded uniformity.
And, like Morris, he yearns to tighten the bonds linking art and society so that our homes, possessions and lifestyles can become – in the word he and Morris both unashamedly employ, but would bring many a YBA out in hives – "beautiful". He rejoices, Morris-like, in the public debate about artistic themes, which means that even the choice of work for the Fourth Plinth in Trafalgar Square can make it into an Archers script: "I thought if Lynda Snell [the radio soap's llama-owning busybody] is a fan of modern art, then the game is won."
Perry has come a long way: from his 1960s Essex childhood, certainly, but just as much from the image of the one-trick (or maybe one-frock) pony who accepted the 2003 Turner Prize for his ceramics – the first potter so honoured – dressed as "Claire". "I led with my secret, as a way of shelving it," he has said about the trauma of his boyhood. His mother left his engineer father for the milkman and dread of this violent stepfather played a part, as he explains, in the escape and refuge that a transvestite second skin promised. However, the reach-me-down phrase "alter ego" does not really suit Claire. "It's me in a dress," Perry says, a stable part of the artist and the man, not an alternative self.
His wife Philippa, a psychotherapist and author, knew about Claire from the off after they met in 1987 at a creative-writing evening class. (Perry had therapy for several years and credits the process with pushing his work into "top gear" prior to the Turner Prize). After study at Portsmouth Polytechnic, the fledgling potter had begun to work in clay but still earned his living as (at that point) a sandwich maker. The couple's first outing together, Philippa has said, "was a choice between a private view and a tranny club". They went to the club. Their daughter, Flo, was born in 1992.
In recent years, Claire has performed two valuable public roles. Perry commissions outfits for her from fashion students at Central Saint Martins and as patron and model combined buys up to 10 each year. More intangibly, reactions to her have – in keeping with Perry's role as gadfly, mischief-maker and provocateur – served to tell us lot about the cultural establishment, not least the critics. Dazzled by her outfits, solemn art analysts start to gush about pussy bows, boxy jackets, moire silk and satin applique like any catwalk diva at the shows. You sense that Claire is helping to uncork a sense of fun, of play, of freedom, that today's gallery orthodoxy so often shuns with its cosy and, in Perry's eyes, poisonous alliance between high theory and big money.
As for Perry's work (and Claire must never enter the studio), it has often gone down into much darker and more disturbing places. Images of abuse, of loneliness, of social conflict and anomie, have adorned those meticulously crafted pots. Sexual scenarios, sometimes bizarre or frightening, covered his earliest pots (he started studying ceramics in 1983), in oblique homage to the ancient Greek vases on which classical elegance coincide with priapic mayhem.
For all his disdain for the YBAs and their hangers-on, Perry's stylised narratives of trauma, both personal and collective, do connect him directly to the work of, most obviously, Tracey Emin and Gilbert & George. Though shunning conceptualism, he remains an artist of ideas as well as stories, for instance elevating his ancient and cherished teddy bear Alan Measles into a sacred idol in order to mount "a serious look at how religions form".
More generally (yet another link with Morris), he digs deep into English styles and traditions as a source for his projects. For Perry, the rumbustious satirical sequences of William Hogarth or the poignant documentary photography of Martin Parr (a friend) offer crucial reference-points. Hogarth's "A Rake's Progress" lies behind the tapestries of taste across the social strata – The Vanity of Small Differences – that emerged from the Channel 4 series. Historian and art critic Simon Schama, Perry's shrewdest fan so far, has praised the "social storytelling" of pots, sculptures and textiles that belong to the "full English breakfast idea of English art – rich, meaty, abundant and gloriously greasy with the social fry-up". Perry told Schama that "we are missing our own brilliant contribution to world culture, which is to say, 'Oh come off it'. That's what we do, hold complex ideas and manage to be ambiguous in a humane way, to celebrate humanity while at the same time satirising it, that's what makes us English".
Like Hogarth, and indeed like the Morris whose high-end wallpaper and fabric designs still decorate thousands of expensively furnished homes, Perry has also built a very English ambiguity about wealth and status into his career. The partisan of democratic taste, whose Walthamstow Tapestry stages and subverts our brand obsessions, also collaborated with Louis Vuitton at the time of his extremely popular British Museum show in 2011, "The Tomb of the Unknown Craftsman". He likes to quote the Korean-American art-video pioneer Nam June Paik, who said that "an artist should always bite the hand that feeds him – but not too hard". For luxury marques or his own pots and cloths, Perry rates the finesse and integrity of the workmanship above all: "I think the worst behaviour of brands is when they're all brand and no quality". His own vases come embellished with variety of intricate techniques: embossing, incisions, reliefs and photographic transfers. The hard-earned mastery of their form collides with the often chaotic and cruel disorder of their subject matter.
Perry now presents a more mellow and genial face to the world. The artist who dismisses shock tactics as "such a cliché now" long ago succumbed to the journalistic kiss of death when pundits started to dub Grayson Perry CBE a "national treasure". That urge to domesticate – and so detoxify – outrage, pain and bewilderment runs deep in British life. The Reith Lectures, with their bold embrace of social themes, ought to allow us a glimpse of the steel behind the satin. In a lecture of his own, William Morris once said that "I do not want art for a few any more than education for a few, or freedom for a few". Next week, Perry will unveil his designs for new variations on that theme.
A Life In Brief
Born: 24 March 1960 in Chelmsford.
Family: Married to Philippa. They have one daughter, Flo.
Education: King Edward VI Grammar School, Chelmsford, then studied Fine Art at Portsmouth Polytechnic.
Career: Pottery lessons led to his first exhibition, in December 1983. After a number of both solo and collaborative exhibitions he was awarded the Turner Prize in 2003. He was appointed a CBE in 2013.
He says: I can't take myself too seriously
They say: I was inspired by his insight into the creative process and the deep humanity evident in his work – Gwyneth Williams, Controller of Radio 4, which broadcasts the Reith Lectures.
Register for free to continue reading
Registration is a free and easy way to support our truly independent journalism
By registering, you will also enjoy limited access to Premium articles, exclusive newsletters, commenting, and virtual events with our leading journalists
Already have an account? sign in
Join our new commenting forum
Join thought-provoking conversations, follow other Independent readers and see their replies