Harriet Lamb: Fairtrade moves to next level
Head of the Fairtrade Foundation is signing up big business to her ethical fight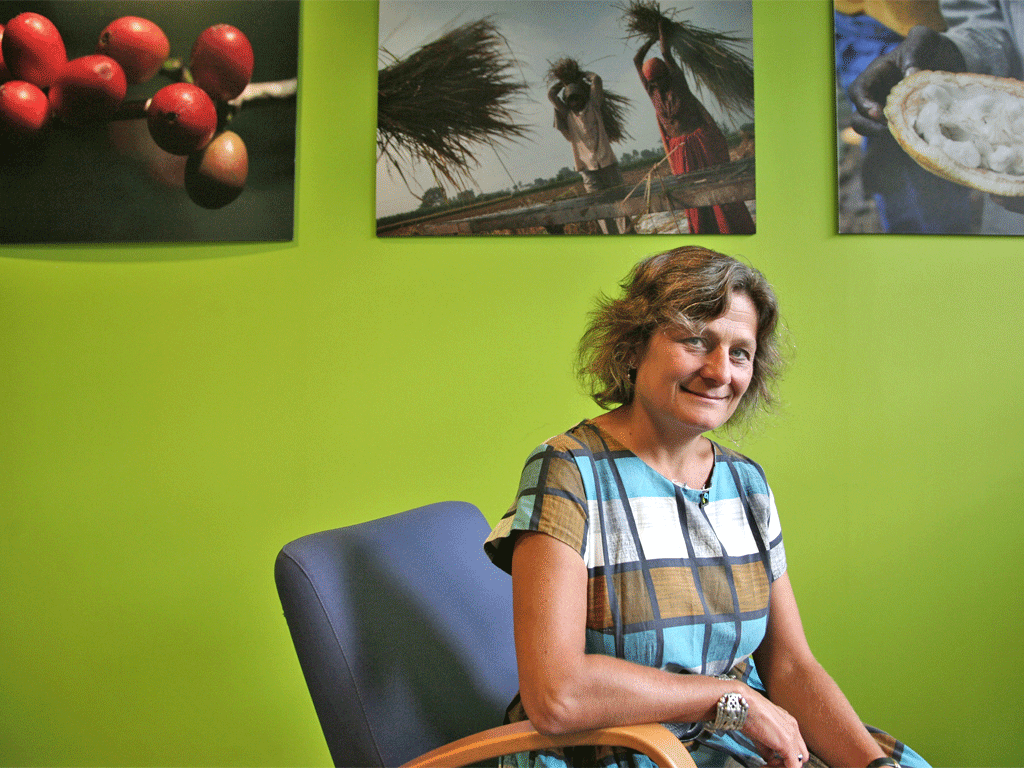 "Everyone laughed at us when we started: they thought Fairtrade was for a few yoghurt-eating vicars," says Harriet Lamb, with the biggest of smiles. Independent-reading, yoghurt-eating vicars, I suggest. "Yes, yes, exactly," she says, roaring with laughter. "No one thought for a moment the public would be willing to pay extra, or that companies would pay more so that the world's poorest farmers get a decent price for their products. But they do and they have."
No wonder Ms Lamb is so cheerful; Fairtrade is mainstream and going global. In the UK some £1.3bn worth of goods – from coffee to chocolate bars to body scrubs – were sold last year bearing the now-familiar blue-and-green symbol of a man holding up the world. It has also grown-up: later today Ms Lamb, who heads the Fairtrade Foundation, is taking part in a debate on sustainability with some of the world's biggest food and drink retailers at the British Business Embassy summit, part of the Olympian drive to promote UK plc.
On the panel with her are some big cheeses from Kraft Europe, Tesco and Coca-Cola – companies that have either given in to her or are still the target of her campaigning. "Even I have to pinch myself that we have got this far," she says. "Most companies understand they have to change their attitudes. It's the public that has driven this, made it happen."
But Ms Lamb will tell them to do more; that sales will be boosted if they do so. "My message is that the public cares deeply about what they buy; people want to know the company which has made the product pays its farmers decently; they care about human rights. Fairtrade gives them a feel-good factor."
Her energy is infectious and her arguments are compelling rather than preachy. "Companies also understand that being ethical is good for them too; staff feel proud and loyal. The financial crash and the City banking scandals have changed thinking. There is a new sense of conscience. Companies such as Sainsbury's, Tate & Lyle and Compass are great supporters and more are joining all the time."
Some campaigners don't like this collaboration. Not Ms Lamb. She makes no apologies for doing business with them, claiming that it is only by taking Fairtrade upstream that the organisation can help more producers "capture the gains of trade". She says: "Our role is to be match-makers between the producers and the companies. It's by scaling up that we will be able to challenge corporate thinking and change the structure of trade. We will be able to affect all business behaviour like this." Nor does she buy the claims by free-market critics that Fairtrade acts like a mini-cartel, excluding other farmers from negotiating. "Research shows this is not the case – farmers in Bolivia have been able to get their prices up too without being part of Fairtrade."
The turning point for Ms Lamb came when working as a banana co-ordinator for the World Development Movement. She visited farmers known as the "burnt ones" on plantations in Costa Rica – workers who suffered reproductive problems due to exposure to the chemical DBCP that they had sprayed on the bananas to stop parasites. "I met Maria, the wife of one of the workers who had been affected after spraying. She showed me pictures of their dead baby. It looked like ET, had no eyelids, was greenish in colour and had a huge head. I knew from then on there was a better way," she says, clearly still moved by the memory, and has been campaigning like fury ever since.
It has paid off: products which bear the Fairtrade mark – for which companies pay a fee of 1 per cent of sales – are growing like topsy. World sales last year shot up by 12 per cent to €5bn. There are 508 licensed companies in the UK including Morrisons, Asda, Starbucks, Unilever and Marks & Spencer, offering 4,500 products.
About six million farming families benefit from Fairtrade agreements. But this is just a fraction of the potential as the ownership of the world's most valuable crops is still so fragmented; 25 million small-holders produce 80 per cent of the coffee, six million produce 90 per cent of the cocoa and 100 million householders produce cotton. "It's an hourglass," she says. "Small-holders on top, a tiny number of wholesalers and buyers in the middle, and the public at the bottom. But it's not easy: there is a constant push and pull getting the right price."
How far can Fairtrade go? "It's time to scale this so that we can help millions more farmers; we're in our second phase now – I call it Fairtrade 2.0. We are not some goody two-shoes charity, you know – we are ambitious."
And so is Ms Lamb – in the autumn she takes up the top job running Fairtrade International in Bonn. What next? "Global trade reform – there are scandalous subsidies like those paid to US cotton farmers which have to be tackled. Many of the EU's CAP tariffs also need to be reformed – like the trade rules preventing South African bottled wines – grown by some of the poorest workers in the world – access to Europe. It's iniquitous." What about helping those closer to home, the UK's dairy farmers? She throws up her hands: "We would love to but can't as our work was set up to be in the developing world."
But they can take inspiration from this remarkable woman; more of a lion than a lamb.
The CV: Harriet Lamb
Born 3 June 1961.
Childhood India.
Education Political science, Cambridge University; MPhil, Sussex Institute of Development.
Career Worked for World Development Movement and then Fairtrade Labelling Organisations International in Bonn.
2001 to present Executive director of Fairtrade Foundation, part of the Fairtrade International charity that employs 600 people around the world. UK income last year was £10.9m. Backed by NGOs ranging from Oxfam to the National Federation of Women's Institutes.
Honours CBE, Cosmopolitan Eco-queen 2008, Orange Business Woman of the Year 2008.
Books "Fighting the Banana Wars and Other Fairtrade Battles."
Join our commenting forum
Join thought-provoking conversations, follow other Independent readers and see their replies