Haruki Murakami profile: An everyman for our times
He's a cult novelist whose austere, enigmatic writings sell by the million and have made him a global superstar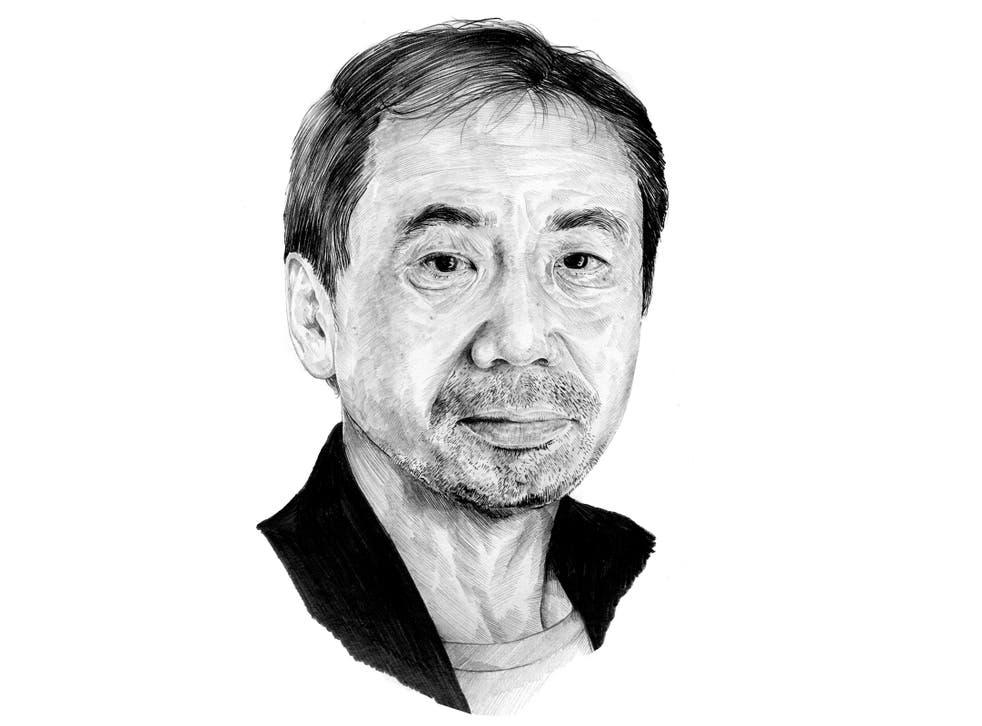 It was Harry Potter fever all over again this week. Foyles bookshop in Charing Cross Road stayed open all night to celebrate with jazz. The Royal Opera House and Tate Modern were bathed in images of the cover. Bookshops across the country happily anticipated a JK Rowling-like rush for the tills as the new Haruki Murakami novel, snappily entitled Colourless Tsukuru Tazaki and His Years of Pilgrimage, became the book to beat, having sold a million copies in Murakami's native Japan within a week of release.
But the comparisons are misleading: Murakami is nothing like JK Rowling. He may sell like Tom Clancy, yet he remains a cult. He is as big as Dan Brown, but fans share their love of him like a happy secret.
At the heart of the new book we find a Murakami hero who is very much like all the ones that came before. "It was as if he were sleepwalking through life," he writes in the first chapter, "as if he had already died but not yet noticed it. When the sun rose, so would Tsukuru – he'd brush his teeth, throw on whatever clothes were at hand… He only spoke to people when necessary, and after school he would return to his solitary apartment, sit on the floor, lean back against the wall, and ponder death and the failures of his life…"
The prose is as flat and colourless as the protagonist. Then things happen: terrible things, beautiful things. He is attacked by birds with razor-sharp beaks and his flesh somehow becomes something else. "Tsukuru couldn't fathom what this substance was. He couldn't accept or reject it. It merely settled on his body as a shadowy swarm, laying an ample amount of shadowy eggs." A vivacious, flirtatious woman takes him in hand. A challenge is presented which he forces himself to meet. Yet there is no transformation, no epiphany. Through everything he remains the same, his flat, pedestrian voice and tone of melancholy mystification as distinctive as Kafka's.
Haruki Murakami was born in Kyoto in 1949. His father was the son of a Buddhist priest, his mother the daughter of a merchant from Osaka. Both parents taught Japanese literature. He moved to Tokyo to study drama at Waseda, one of Japan's top universities. But he is on record as saying that he reads only Western novels. He rejected his own literary heritage, and Japan's academic literary establishment has repaid the compliment.
As a young man, Murakami's immersion in popular youth culture was reminiscent of Nick Hornby's. After university his first job was working in a record shop. With his wife Yoko, whom he had met at Waseda, he then opened a jazz-cum-coffee bar which they ran together for several years. Then he started writing, eventually doing it full time. "One night," he explained to an interviewer, "looking down the bar of [my] club, I saw some black American soldiers crying because they missed America so much… I realised that, no matter how much I loved this Western culture, it meant more to these soldiers than it ever could for me. That was really why I began to write."
His novels were successful from the start, but it was with the third one, A Wild Sheep Chase (1982), that he found the tone for which he is beloved and familiar: sad, disconnected young mass man, living in a contemporary urban Japan which has nothing Japanese about it, meets bizarre circumstances which suggest weighty, symbolic significance or fanciful absurdity or both. Belying the mournful, pedestrian narrative voice, the results were beguiling and quickly captured readers in their snares.
The influences were overwhelmingly American: Kurt Vonnegut's cocktail of science fiction fantasy and drily rendered, prosy reality; the capricious, feather-light whimsy of Richard Brautigan; touches of Raymond Carver and the JD Salinger of The Catcher in the Rye, which Murakami has translated. His break-out book was Norwegian Wood, published in 1987, which sold millions to young Japanese and made him a household name. Averse to most of the paraphernalia of fame, he beat a retreat to the US, writing several more novels while a fellow at American universities including Harvard.
His absence from Japan reflected the absence of Japan – in any outwardly recognisable form – from his work. This changed abruptly after the 1995 twin traumas of the Kobe earthquake and the deadly sarin gas attacks on the Tokyo underground by the Aum Shinrikyo cult. Murukami returned home, and for the first time wrote books concretely related to real events – a non-fiction work consisting of interviews with survivors of the gas attacks, and a book of stories tapping into the collective emotion generated by the earthquake.
But if these works suggested that Murakami was moving into more mainstream "social" fiction, he has since returned to the enigmatic and surreal domains which are his favoured territory. And his fame has continued to multiply, with his three-volume doorstopper 1Q84 (2011) selling out its first Japanese edition in a single day and selling a million within a month.
Murakami's productivity can be at least partly traced to his disciplined and methodical approach: he works every morning, aims to sleep by 9pm every night, and allows few of the fripperies of fame to get in the way of his work. This recalls the equally disciplined approach of the otherwise wildly different Yukio Mishima, who set aside specific days each year to write specific works. Murakami has also run more than 30 marathons, musing on his obsession in What I Talk About When I Talk About Running.
But what is the secret of his worldwide success? His first translator, Alfred Birnbaum, responsible for the English version of A Wild Sheep Chase, says: "Part of his popularity is that his novels are dislocated from Japan in a globalised nowhere. I tend to think of him as an American writer who happens to write in Japanese – sort of a reverse Kazuo Ishiguro. He is a poor man's Vonnegut, whose dry off-hand style and admixture of absurd SF and routine everyday reality he copied so many years ago – albeit without the political depth."
But others find something hauntingly Japanese in the very absence of any overt Japanese culture in his work – reflecting the fact that in urban Japan, Western culture's triumph is now complete: the last gasp of resistance to it from the literary world was Yukio Mishima's grotesque act of seppuku in 1970.
Murakami knows that Japanese culture is now beyond rescue, but he also knows that something's gone missing. "Something has vanished in these 25 years," he said in 1990, "some kind of idealism. It has vanished, and we became rich." The result is the emptiness shared by all his protagonists. As the critic Celeste Loughman puts it: "Neither materialism itself nor the preference for Western popular culture is the problem. The problem is that's all there is."
Or is that really a problem, or an insight disguised as a problem? The Buddhist tradition to which Murakami is connected via his father describes emptiness – "shunyata" in Sanskrit – as indistinguishable from form. And that is not a source of woe, because the self, too, is an illusion. These are the insights glimmering through Murakami's texts which explain why they are not terminally depressing but, on the contrary, exhilarating – and intensely Japanese.
A life in brief
Born: 12 January 1949, in Kyoto, Japan.
Family: His father was Chiaki Murakami and his mother Miyuki Murakami. Both taught Japanese literature. His grandfather was a Buddhist monk.
Education: Attended Waseda University in Tokyo, where he studied drama and met his wife, Yoko Takahashi.
Career: Since his first novel in 1979, Murakami has published more than 20 books including Norwegian Wood, The Wind-Up Bird Chronicle and Kafka on the Shore.
Join our new commenting forum
Join thought-provoking conversations, follow other Independent readers and see their replies