How We Met: Aidan McArdle & Olivia Colman
'I ended up spending Valentine's with them. It was a good evening, if not terribly romantic'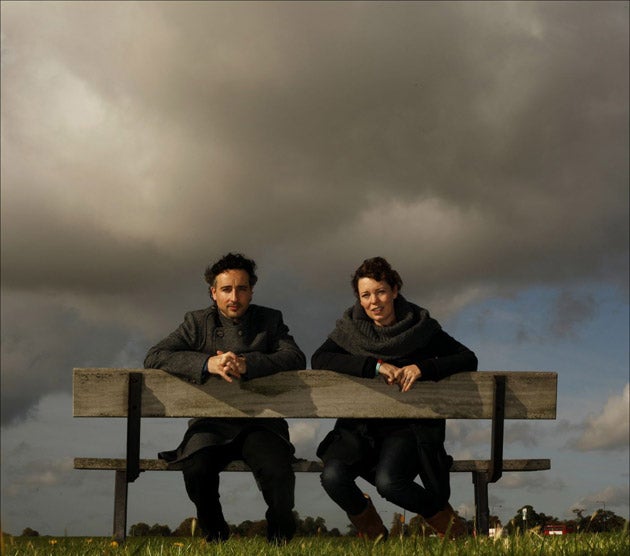 Aidan McArdle, 38, is an actor best known for his role as Dudley Moore in the Bafta-nominated TV biopic 'Not Only But Also'. He has also starred in the BBC's most recent adaptation of 'Jane Eyre' and the award-winning comedy 'Beautiful People'. He lives in London with his wife, the actress Aislin McGuckin, and their daughter
The first time I met Colly was when I walked into the read-through for the original series of Beautiful People. I'd just been watching her in Peep Show and had no idea she was going to be playing my wife, but quietly I was thrilled because I thought she was really good.
We started going through scenes and immediately started corpsing each other. It's not necessarily a good sign; you can get carried away thinking something's hilarious when it's not funny to anyone else. But straight away we had fun, and that isn't always the case with comedy. You laugh your head off when you're doing tragedy, but comedy is so timing-based that if you're not getting it right, it's incredibly frustrating.
Once we discovered we had kids around the same age and lived around the corner from one another, we decided to hook up. When you have children you lose a lot of friends, because you can't go out as much and it's a drag to have kids around for people who just want a good time. We hadn't got our daughter into a nursery, so didn't have a huge network of friends with kids, and it was amazing to find someone with the same sense of humour and interests.
It helps that I get on really well with Ed, Colly's husband. We end up getting into debates about all sorts of things, although he always ends up being right. Usually my wife and Colly chip in in a subversive manner and undermine our pomposity.
Rather bizarrely, I ended up spending Valentine's Day with them. My wife was away working and Ed was having a lads' night in because Colly was working too. I turned up and Colly was there – the dates got mixed up and she didn't have to work at all, so she spent the evening with her husband and a gang of blokes. It was a very good evening, if not terribly romantic.
Colly is really bashful. When we were all on holiday in Suffolk, and her dad asked how the series was going, I said that if it did as well as I hoped, she'd become a national treasure within the next few years; she looked like I'd burnt her with a hot iron. She thinks it makes her sound like an urn in the British Museum.
She's also one of the kindest people I know. Because she is so grateful for what she has, she has a philosophy of trying to do one generous thing a day for other people. She's no pushover – I wouldn't ever want to be in an argument with her – but she has a strong sense of moral fair play.
Olivia Colman, 35, is an actress best known for her roles in TV comedy series 'Peep Show', 'Green Wing' and 'Beautiful People'. She is a regular on Radio 4 comedy shows and was recently in Shane Meadows' film 'Le Donk & Scor-zay-zee'. She lives in London with her husband, the writer Ed Sinclair, and their children
The first thing I remember thinking about Aidan was that he was quite dishy. It was at an audition for Beautiful People. I'd heard that he'd played Richard III with the RSC, which made me nervous because it meant he was a "proper" actor.
It was easy from the beginning. We're both jokers and don't take it too seriously. It's really quite basic – we just giggle a lot. Anyone who says acting is hard work is out for sympathy. Even though it can be long hours, it is so much fun and that's why it's nice to work with someone like Aidan, who throws himself in with gusto.
Quite early on we all went for lunch and I met his wife, and thought, "We all get on, this is all good." In acting you meet a lot of new people with each job and might take one along as a chum if you're lucky. This is a relatively new friendship, only a couple of years, but we've spent so much time together because of work and living near one another and the fact that we all get on.
They came over once for a Sunday during the summer and we didn't want the day to end because the kids were playing in the garden and we'd all been laughing lots, so we said "Let's have a sleepover!" Another couple would have probably politely said, "That's very sweet but we live round the corner, so no thanks," but Aidan and his wife looked at each other for 30 seconds and said "OK, great!", so they slept in our spare room and their little girl had a mattress on the floor in my son's room.
Aidan is very optimistic. He thinks I'm much nicer than I am. His wife and I were giggling about it, saying he was going to have a terrible shock when he hears me telling off the kids or something.
This summer, Aidan and his daughter came on holiday with us while his wife was working. We went to Suffolk and there was one day where they had this festival that ended with a candle-lit parade. All the kids stayed up late and we were all on the beach where they let off hundreds of Chinese lanterns into the sky. The kids were in their pyjamas, my husband and Aidan were there with their beers, and it was a real "Ah, this is lovely" moment. Hopefully, we'll be friends for a very long time and the kids will grow up together and be friends too.
Aidan McArdle is currently in costume-drama series 'Garrow's Law: Tales From the Old Bailey', Sundays on BBC1; and, from Friday, opposite Olivia Colman in the second series of 'Beautiful People' on BBC2. He will also appear in the film 'Me and Orson Welles', which opens at the end of the month
Join our commenting forum
Join thought-provoking conversations, follow other Independent readers and see their replies