How We Met: André Rieu & Sir Anthony Hopkins
'I didn't know it, but my wife had sent him my score'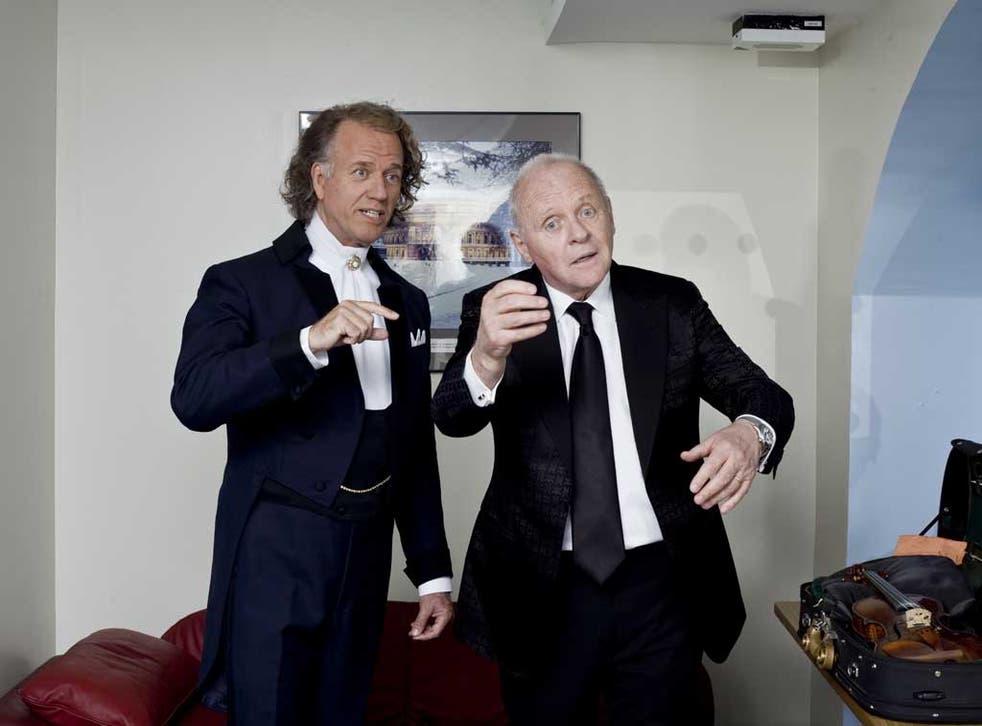 Sir Anthony Hopkins, 74
After graduating from Rada in the early 1960s, the acclaimed stage and screen actor has since appeared in more than 100 films, including 'Silence of the Lambs', for which he won an Oscar, 'Remains of the Day' and 'Nixon'. He lives in Los Angeles with his wife
I have been writing music and composing for many years, but I never did anything with it – I'd wanted to be a musician when I was younger, but I wasn't a good student as a kid, so I just dabbled around and wrote this piece, "And the Waltz Goes On", in 1964.
I was watching one of André's concerts on TV, years later, and said to my wife, "I'd love to have that waltz played in Vienna." Some time later I got a call from André and he said, "I got your waltz." I said, "What?" He said, "I've just performed it with my orchestra in rehearsal." I didn't know it, but my wife had sent him the score.
So in April 2011 I flew to Maastricht and went to his house, where he played the recording – I thought it was beautiful. He named his album after it, too. I was honoured when we took it to play in Vienna, in one of the palaces there, and took my bow afterwards. Did I cry? I don't emotionally respond to things like that. People may cry at the drop of a hat in Hollywood, but I'm not like that.
André has all the most unfashionable characteristics: you mention charisma or glamour these days and people's lips curl up cynically, but I like his boundless enthusiasm. He's a showman – he drives 100mph down side-streets, and at his house he has a castle tower in the garden.
He has a great rapport with his audiences and plays to huge stadiums of more than 10,000 people around the world, where he gets up on stage with his long hair and he cuts this romantic figure. Purists will say, "Yes, but it's showing-off music." He said one day to me, "The critics, they really attack me." And I said to him, "You ever saw a monument to a dead critic?" He's got waltz back in fashion.
I may come from a tough working-class background in Wales but I think we both have a romance in us – I'm drawn to the waltz and to him. I have few sentimental attachments in my life but with André – well, I think we've become quite good friends
André Rieu, 63
The Dutch violinist and conductor is best known for creating the waltz-playing Johann Strauss Orchestra, performing with up to 150 musicians worldwide. He lives in Maastricht, Holland, with his wife
A lot of people send me their waltzes – every week, in fact. But when I got a call from my office early last year, I was surprised when they said Sir Anthony Hopkins was sending me one, as I didn't know he had a musical side. But I figured a man like him wouldn't send me a bad waltz. I can imagine it must have been a struggle for him thinking, "Shall I give it to the world?"
Afterwards I went home and filled my iPad with all his movies – except Silence of the Lambs; I will not watch that.
The next day I had the orchestra in the studio and we played his waltz through for the first time. I thought it was fantastic and I sent the performance to him immediately. He phoned me up as soon as he heard it and, to me, it sounded like he was welling up [with emotion].
We met finally when he came to visit me in my studio at Maastricht, with the orchestra. Everyone was so excited – and nervous. But he was so gentle and kind; he embraced everyone, and gave them all autographs, too. After we played it to him live, he was like, "I love it, I love it, and I have tears in my eyes!"
Playing his waltz for the first time in one of the most beautiful halls in Vienna was like a dream for both of us.
He's given me a lot of gifts but the most memorable for me was the two teacups he bought for me and my wife, so when we drink tea together we think of Anthony and his wife.
Lately he's been working on a film [playing Alfred Hitchcock, in Hitchcock] and he closes himself off from everyone – there's no contact as he's the sort of actor who goes completely into their role – but I understand and respect that.
I loved his performance in Remains of the Day, how he played this English butler with all that repressed emotion. Then there was The Mask of Zorro, which I actually liked. Though he tells me that when journalists interview him they say, "Why did you accept the role in Zorro?" and he says, "For the money – of course!"
Both our hearts are like boys – they're open. He is a romantic person and I think I am, too, though in all other senses we are completely different. But there are not many people from whom I feel such openness and warmth without any shit. I hope what we have will last for ever.
André Rieu's new album, 'Magic of the Movies', is out now on Decca. Rieu & his Johann Strauss Orchestra are touring the UK from 7 to 20 December (andrerieu.com). 'Hitchcock' is out next February
Join our new commenting forum
Join thought-provoking conversations, follow other Independent readers and see their replies