How We Met: Angela Flowers & Victoria Glendinning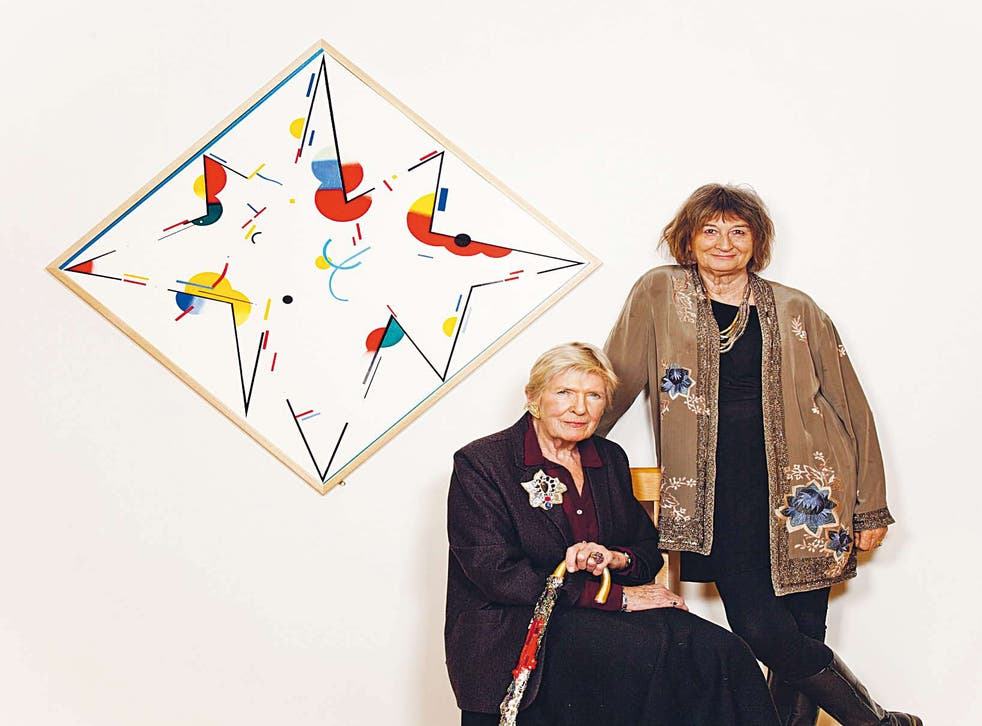 Victoria Glendinning, CBE 75
A critic, broadcaster, novelist and biographer of fellow writers including Anthony Trollope and Leonard Woolf, Glendinning (standing, right) lives in Bruton, Somerset, with her husband
I was in West Cork, Ireland, in 1990 and I heard of this incredibly glamorous person called Angela Flowers who held amazing parties at her house. One day, in August 1994, a mutual friend took me to one. She had this beautiful house full of art and a view down to the sea. I couldn't help noticing her glamour and huge hospitality, and [after that] I'd dip in and out, whenever I was over in Cork.
There were lots of parties to go to: every August, every Easter Sunday, and New Year's Day lunches. I remember this big farmhouse table that she had, around which people would burst into song – she's very good herself – and she always looked amazing. I'm the sort of person that, if I try to look glamorous, I just put on a shiny jacket over what I'm wearing. But she'd wear robes and kaftans and jewellery made by a distinguished friend.
She was no ordinary gallery owner. She had a deep connection with her artists. She was always opening exhibitions for them and for one she made me go out with her to buy this silver-lamé trouser suit. I'm not a good shopper but with her sense of style and energy, she made it a lot of fun.
She and Bob [the late writer and business journalist Robert Heller] had lived together for ever before they got married [in 2003], and until then there was always this feeling of would they, or would they not? Sometimes it got a bit edgy [between them]. So it was wonderful when they finally did it.
But there is also a sad topping and tailing of our friendship. In 1994, just before we met, my [second] husband [Terence de Vere White] had died and I was out of my mind. And now Angela's husband has died from Parkinson's, too, three months ago. But in between this sorrow, there's been a lot of happiness.
We're quite different. I'm a writer by trade, so I'm more solitary. She gets out a lot, running her galleries and endlessly nurturing her artists. Her impact on the art [scene] has been huge. In the 1980s she showed that women could be businesswomen and make an impact on things they were passionate about.
Angela Flowers, 80
One of the UK's most prominent contemporary-art dealers, Flowers has exhibited many of Britain's most distinguished artists. She has galleries in London's Shoreditch and Mayfair, and one in New York. She lives in Oxfordshire
I loved her from first sight. I'd already heard about her as a great writer before we met, shortly after her [second] husband had died. I was putting on an annual exhibition in the back of my cottage, and people came out from England and all over, and a mutual friend brought her. She was much taller then I'd imagined, willowy and very smiley.
She lived only 14 miles away from me, and after her first few visits she asked me and my daughter [the artist] Rachel [Heller] to lunch at her place. There was something about Victoria's personality that was so delightful and open – she wasn't pompous like some. She gets on well with Rachel, too – and when Rachel became a recognised artist, Victoria actually went on to buy the biggest nude figure-painting my daughter had ever painted, which was a great honour.
She invited me to her wedding [to the businessman Kevin O'Sullivan] in 1996 – a wonderful party at the National Gallery – and it was a joy for me to see her happy again after losing her second husband. And through it all there was I, living in the hope that I'd get married myself, too, which I eventually did.
I knew that her second husband had died of Parkinson's disease, so when mine was diagnosed with it, we met up several times and she told me what was likely to happen. It drew us closer at the time, but then we started losing touch after that; I wanted to talk to her about it, but frankly I was Robert's main carer night and day, and I felt as if there wasn't much I could ask her.
When Robert and I moved down to Oxfordshire in 2009, I found the garden shed was so big I couldn't resist making it into a little art gallery, so I invited her to come over and open it. During the official opening Victoria spent the afternoon there with my husband in the summer house, chatting. She sent me a lovely letter afterwards telling me how dignified he was with Parkinson's, which was very touching.
I wish I could write like she does, but I've always dealt in pictures. She's such a good biographer, I think, because as well as doing her homework she has this humanity and humour. Yet what I love about her is how she wears her distinction very lightly.
Angela Flowers at 80 is at Flowers Gallery, London E2, until 9 February. For more: flowersgallery.com
Join our new commenting forum
Join thought-provoking conversations, follow other Independent readers and see their replies