How We Met: Chris Frantz & Tina Weymouth
'I had thought Chris was gay because of the company he kept'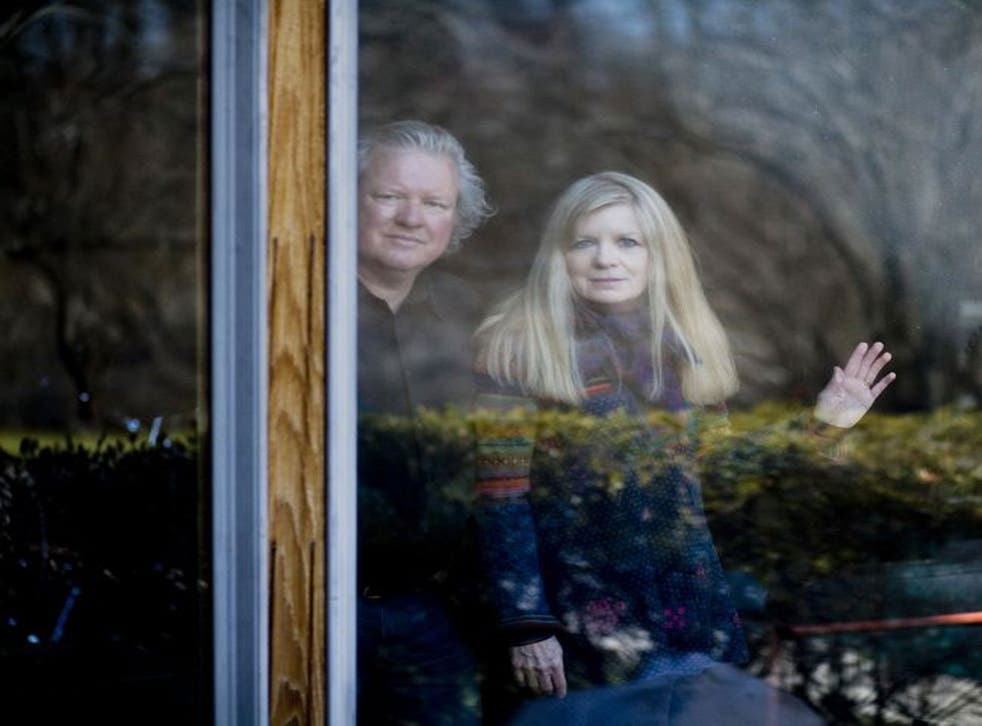 Chris Frantz, 61
A lyricist and drummer, Frantz was a founding member of US art-pop group Talking Heads, along with singer-songwriter David Byrne and bassist Tina Weymouth. He married Weymouth in 1977 and, with her, formed the band Tom Tom Club in 1981. He now lives with Weymouth in Connecticut.
Tina and I were both students at the Rhode Island School of Design [RISD], and we met at a figure-painting class in September 1972. I was looking around the room at the other students and there was one really attractive girl in the corner. My roommate was also in the class and at the end he went over, looked at the painting and said to her, "You don't know what you're doing." It gave me the perfect excuse to introduce myself and apologise for his behaviour.
She had a boyfriend at the time but I was happy to be her friend and bide my time. And when they broke up, I was able to console her and woo her.
During that time I'd formed a band called the Artistics, with [fellow RISD student] David Byrne, in the winter of 1974. Tina and I were sharing a painting studio when one day David came in to say he had a song he was working on, and he needed help to finish it. It was about a psychopath and he wanted the bridge to be written in French – and he knew Tina was fluent as her mother was French. So Tina wrote the bridge for the song and I wrote a couple of verses for what was to become [Talking Heads hit] "Psycho Killer", and I realised the three of us worked well together.
We'd moved to New York when "Psycho Killer" came out, and Tina had boys throwing themselves at her. I can remember Dee Dee Ramone and other musicians at the time who were very attracted to her, but I was never worried.
Tom Tom Club came about when Talking Heads took a hiatus [in 1981]. David went off to do solo projects – I'm still miffed about that 30 years on. Tina and I made a conscious effort to sound different with the new band, so people didn't think we were riding on David's coat-tails – and we've sold more records than Talking Heads ever did.
We're now in our golden years, but instead of buying a nice boat to sail off in, we have created a new studio, because we enjoy working together. There's nothing more thrilling than hearing a new song we've created, and I think it's something we will be chasing together for the rest of our lives.
Tina Weymouth, 62
A California native, Weymouth joined Talking Heads as bass guitarist at the request of her then-boyfriend, Chris Frantz. She and Frantz have been married for more than 35 years and have two sons.
I was trying to paint this model in a class at Rhode Island School of Design, and at the end a young man came up and rather cattily said, "Eugh, you really don't know what you're doing." As I was leaving, another young man came up to me and said, "Don't mind my roommate!" He was dressed in a blue denim jacket and black engineer boots, like a Hell's Angel, with this cool rock'n'roll haircut.
I had thought Chris was gay because of the company he kept, but when I broke up with my boyfriend, he took me to a bar for a drink and showed me a little TLC, and I soon discovered he was not. There was so much we shared, and he could go from funky to chic in a heartbeat. I remember being high with him one day, walking around town for four hours having this intense experience, deeply bonding and plotting out our lives. I was in love.
Chris was more than a drummer for Talking Heads. He co-wrote many of the songs, came up with the style and the rhythm ideas. Initially I was just a fan, helping to drive him and David to gigs. David made me audition three times, so I know he had his doubts. When I finally joined, the dynamic changed between Chris and me and we had to learn to separate out our working lives.
Chris is much more social than me, and in the early days he'd go out to [New York club] CBGB every night. But I needed my time out – I still need solitude to ruminate – and if I didn't get it I'd become piss-and-vinegar Weymouth.
Working with David [Byrne] wasn't easy – he's a passive-aggressive type, and it had a toxic effect on the whole band. I saw everyone, including Chris, turning to drugs as their hearts were breaking inside. I said to Chris, "If you want to live with me and our son, you have to go to this clinic and do rehab and not allow these other egos to push you around." We did a lot of counselling together.
Tom Tom Club was a breath of fresh air musically and for us personally. We injected the dance element from Talking Heads and lightened it up. We still adore Tom Tom Club, particularly working on the new album, but now we want to fool around and do other things too.
'Downtown Rockers' by Tom Tom Club is released on Monday (tomtomclub.net)
Register for free to continue reading
Registration is a free and easy way to support our truly independent journalism
By registering, you will also enjoy limited access to Premium articles, exclusive newsletters, commenting, and virtual events with our leading journalists
Already have an account? sign in
Register for free to continue reading
Registration is a free and easy way to support our truly independent journalism
By registering, you will also enjoy limited access to Premium articles, exclusive newsletters, commenting, and virtual events with our leading journalists
Already have an account? sign in
Join our new commenting forum
Join thought-provoking conversations, follow other Independent readers and see their replies