How We Met: Christopher Luscombe & Griff Rhys Jones
'We tried to write a sitcom together – I was hopeless, but we had the jolliest of times'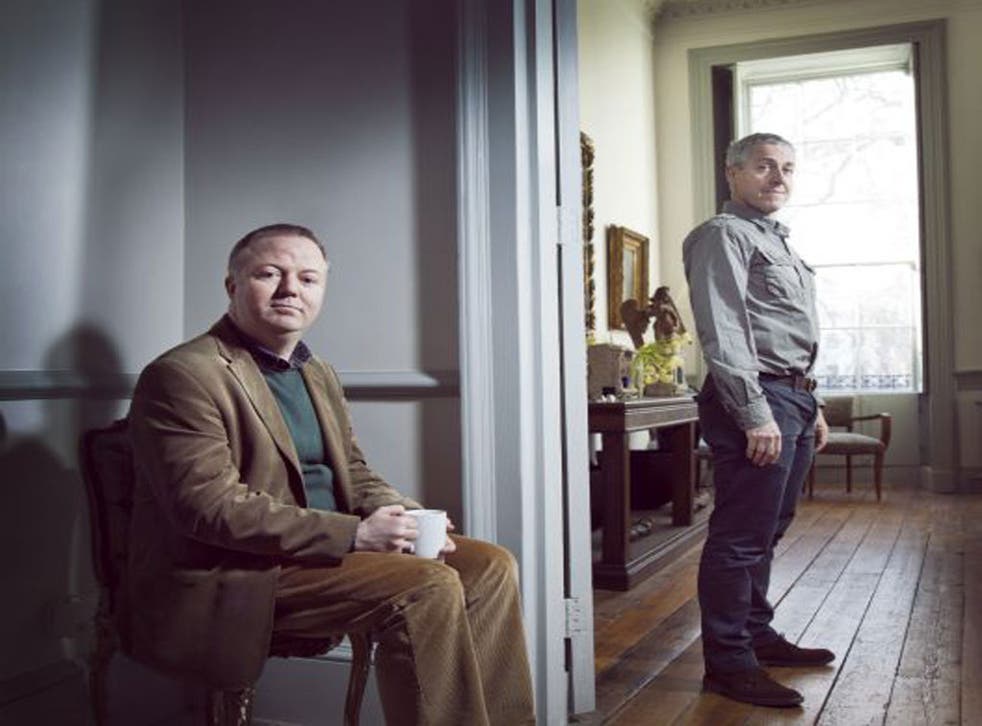 Christopher Luscombe, 48
Luscombe began his theatre career as an actor, first in Cambridge University drama club Footlights and later in rep, at the National Theatre and in the RSC. As a director, his credits include successful productions of Alan Bennett's 'Enjoy' for the 2008 Peter Hall Season, 'The History Boys' and 'The Merry Wives of Windsor' at London's Globe, and the 'Spamalot' UK tour. He lives in London.
I was doing a weekly slot on local radio in 1984 and, as I was playing the dame in the annual Footlights pantomime that year, I asked if I could do something about the club's drag tradition. So I went all over the country interviewing famous people who had played in drag in the revue. Griff was an obvious candidate as he'd done the dame 10 years earlier and was then at the height of his fame, after Not the Nine O'Clock News.
He invited me to meet him backstage at the Phoenix Theatre in the West End, where he was starring in a Dario Fo play, and was fantastically helpful. He was such a big star and there we were in his dressing-room. I was passionate about acting and it all seemed very glamorous.
Griff told me to keep in touch, so I sent him the odd postcard. Then, a few years later, I auditioned for the RSC. Griff was directing Twelfth Night and offered me a small part. It was famously unsuccessful – a box-office hit but savaged by the critics – and agony for Griff, I think. When the reviews came out, he quite seriously suggested to his assistant director that they should buy up all the copies of the papers in Stratford so the cast wouldn't see them. He took it on the chin and was wonderfully supportive of the company.
We played it for a year in Stratford and that's when we really became friends. I'd spend weekends at Griff's house in the country. He and his wife are very generous at inviting people down for parties. He's a very social animal and a great foodie. And though he doesn't drink, he has a huge wine cellar for the benefit of his friends.
There is a sort of club of people who gravitate around Griff; he's a major figure in all our lives because he's an incredible personality. He has such energy and drive and is maddeningly multi-talented, but unlike many comedians he's also a very good audience. He's always ready to laugh at your jokes.
Griff Rhys Jones, 58
A comedian, writer, actor and presenter, Jones found fame in the early 1980s on 'Not the Nine O'Clock News' and 'Alas Smith and Jones'. On stage, meanwhile, he earnt two Olivier Awards. More recently, his TV work has focused on his passion for conservation and architecture. He lives in London and Suffolk.
I'm shameless about my love of Footlights and the brotherhood it produces. Many of my close friends went through similar experiences to the one I had at Cambridge. I still think of them as being boys, partly because they've all come up to me at some early stage in their career and said, "You were in Footlights" – and they're now people like Tom Hollander, Hugh Bonneville, Sam Mendes and, of course, Chris. What's similar about all of them is their affability.
Chris has always been a charming companion and the world's best theatre gossip. I've no doubt he regales people with stories about me. When we get together, we eat, drink, take walks in the cold, watch a film. But I'll also sit him down and gobble up his stories. His descriptions of the shenanigans between two leading players in an RSC production of The Merry Wives of Windsor were particularly hilarious.
Chris would never get involved in that kind of thing himself: he's not passionate in that sense. He always takes the role of disinterested onlooker. He's not a luvvie, but he delights in actors and is an astute observer of the theatrical condition. I think that's probably what has made him such a fantastic theatre director.
Just for the pleasure of their company I once locked Chris and Hugh Bonneville in a room with me, back in the days when they were less employed, to try to write a sitcom. They were very good but I was hopeless, so it all came to nothing, but we had the jolliest of times. We would stop and break while Chris gave us two-and-a-half hours on female actresses between the ages of 40 and 45.
Chris is not the egotistical, control-freak director figure – that was me. I remember on Twelfth Night – a worrying time, during which he was a great solace to me – I was trying to run through something with the cast and I had a large stick of some sort in my hand. Chris came in, looked at the stick for quite a longtime and then whispered to me, "You're directing with a stick!" His own style is to get to know people and be sympathetic to all their concerns and neuroses. You find yourself confiding in him and, no doubt, supplying him with lots more gossip.
Christopher Luscombe directs 'The Madness of George III' at the Apollo Theatre, London W1 (tel: 0844 412 4658, nimaxtheatres.com), from 19 January
Join our new commenting forum
Join thought-provoking conversations, follow other Independent readers and see their replies