How we met: Colin Firth & Julian Mitchell - 'Rupert Everett was a complete b*****d to me'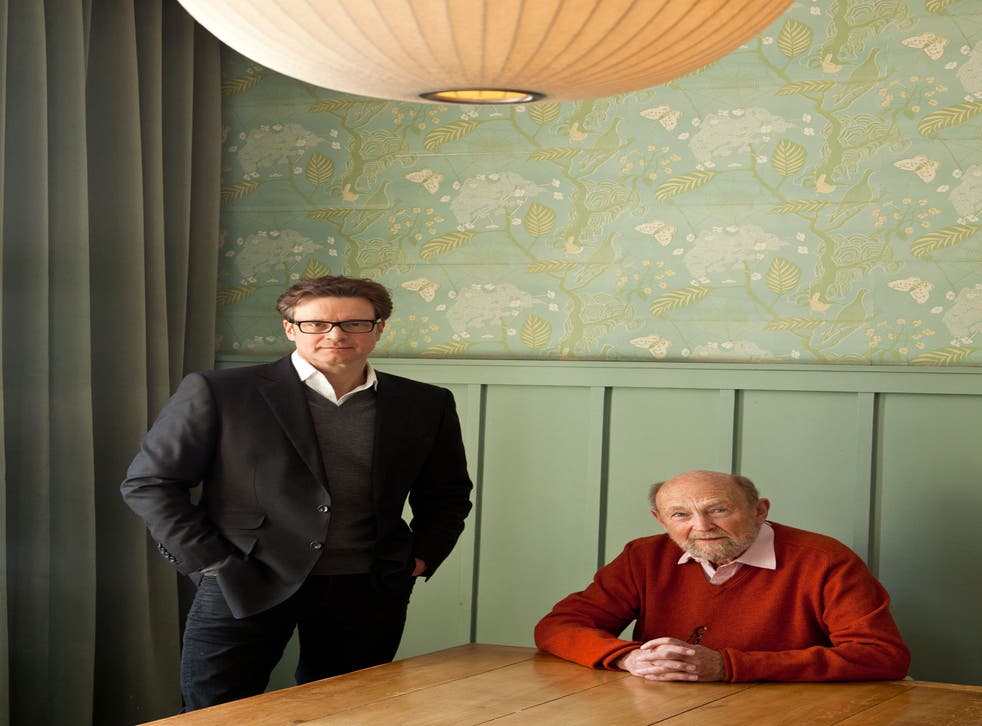 Julian Mitchell, 78
Mitchell is a screenwriter and playwright, whose work includes the award-winning 1981 production, 'Another Country', which was subsequently adapted into a film starring Colin Firth. He lives in west London
Another Country had been running for more than a year when Colin started in it. It was set in a 1930s boarding school [loosely based on the early life of Cambridge spy Guy Burgess] and we were recasting the play for a third time. I was looking for the two main characters: a flamboyant gay pupil, Guy Bennett [based on Burgess] and a dour Communist one, Tommy Judd. The part of the gay character was played by Rupert Everett initially, then Daniel Day-Lewis – a hard act to follow.
Colin had been playing Hamlet at the London Drama School when he came to audition. He was quite reserved, quiet in himself, though I liked him at once. We cast him as Bennett, and though he was not obviously flamboyant, you don't have to be the part you're playing. He gave a fantastic performance and I felt he could be one of the most talented actors one of his generation.
When it came to making the [1983] film version, Kenneth Branagh, who had played the part of Judd in the stage production, had gone off to Australia to do TV, so I decided to give the part to Colin – he was the only actor ever to play both roles. As a naturally reserved person, I think Colin had less difficulty playing that role, while Rupert returned to play Bennett. At that time, Rupert could be very difficult, and he was not friendly to Colin, so it was not easy for Colin. Though actually, not long ago over lunch [while Firth was filming the comedy St Trinian's co-starring Everett], Colin said to me, "Rupert and I: I think we're supposed to be best friends now!"
After Another Country, Colin went quite quickly into movies, so we lost contact for a while, though I do remember going to see him in [the Russian play] Chatsky. I wish Colin was on stage more now, as he has a good stage presence; he has a calmness about him.
When something like [the 1995 TV adaptation of] Pride and Prejudice comes along, you can get typecast. But it's true that while he has enormous range, he is very good at performing that very English thing: the restraint under which you see terrible passions only occasionally lurk out. With The King's Speech, I felt he did quiet agonising to such perfection that I even wrote to him to tell him how good I thought he was. I moved to west London recently [where Firth lives] and now we meet for lunch, though it's hard with Colin, because people come up and stare, or want autographs, so we've found a little French restaurant that's great for privacy.
I'm markedly different from Colin: he doesn't like being questioned about personal things and he doesn't like to let his feelings show, while I'm bad at hiding my feelings. But I like how he's very much his own man, secure in his own personality. That's not true of most actors.
Colin Firth, 53
Firth's big break came in the 1983 West End production of 'Another Country'. He has since won 48 awards, including a Best Actor Academy Award for 'The King's Speech'. He lives in west London with his wife
I was at drama school when Another Country was on in the West End, and it was one of those shows that was talked about. I didn't see Rupert Everett in the role [as Guy Bennett] but my fellow students were saying the dialogue was dazzling, and the reviews were fantastic.
When it came to the point of recasting it for the third time, I got my foot in the door for a cattle-market audition. Julian was the first writer I ever met: it was for my second audition, at his home in Chelsea, and it felt like meeting the Wizard of Oz. I wondered whether he'd come in like a tortured maestro – I've met those – but I found him delightful; he wasn't imperious, he twinkled, and he tried to put me at my ease. He probably thought I was awfully serious, because I was just terrified of a living-room audition.
The rehearsal period was haphazard, as the director only showed up twice a week, so the [producers] got Julian to direct us the other days. As the creator, he was able to give us his own experiences, as it was partly based on his time at Winchester College. I was in awe of him but I liked how he was happy to engage about the play. I once disagreed with him about what a moment was about, and flippantly said "I don't think you understand the play!" He laughed. Being in the role felt meteoric – the play was showered with awards – but they were such wonderfully conceived characters that they flattered any actor.
I always thought after [playing Bennett] that if I was going to be typecast, it would be as a loquacious, outrageous character. But then Julian cast me as Tommy in the film, with Rupert playing Bennett.
Until I ran into Rupert – who was a complete b*****d to me on set – I had rather fancied myself as the debonair, witty, subversive sort. But I couldn't compete with his outrageous [persona], and the role I stepped into in the film, as his priggish, judgemental sidekick, stuck to my skin and after that, when we all went for a screening of the film in Cannes, I gave the impression to Julian – and others – of a rather earnest reserve.
It didn't take long, then, for people to burst out laughing if I tried to do anything other than upper-class Brit, and I've become associated with patrician public-school roles ever since; it's ironic, as I didn't even have a private education. I've not agonised over it, though; there's plenty of stories for me to do about people who speak and sound that way.
'Another Country' is at London's Trafalgar Studios, London SW1 (0844 871 7632), from Wednesday to 21 June
Register for free to continue reading
Registration is a free and easy way to support our truly independent journalism
By registering, you will also enjoy limited access to Premium articles, exclusive newsletters, commenting, and virtual events with our leading journalists
Already have an account? sign in
Register for free to continue reading
Registration is a free and easy way to support our truly independent journalism
By registering, you will also enjoy limited access to Premium articles, exclusive newsletters, commenting, and virtual events with our leading journalists
Already have an account? sign in
Join our new commenting forum
Join thought-provoking conversations, follow other Independent readers and see their replies