How We Met: David Haye & Ben Anderson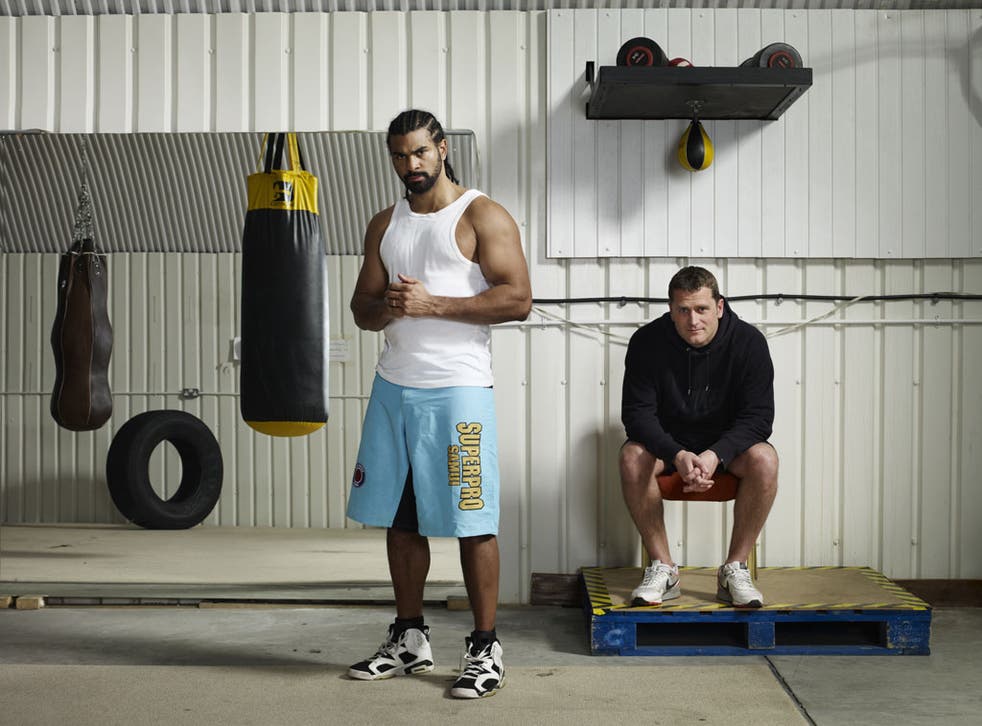 Ben Anderson, 36
An investigative journalist, Anderson (right in picture) has spent the past decade travelling to some of the world's most fearsome hotspots for television documentaries including 'Holidays in the Axis of Evil'. He lives in south-east London.
I grew up in Bedford. It's not quite inner-city ghetto, but it was pretty rough, especially on Saturday nights. I took up boxing as a hobby, and one time I came across this big bully in the ring. I smashed his nose in, and he never bothered anyone again. I thought I was pretty good after that, and my trainer said I was OK. "But let me take you to a real boxing club to show you what it's all about," he said.
He took me to a place in Lambeth, south London, and there was David: 16, skinny, and with this ridiculous ponytail. I was four years older than him, and convinced I could take him. I was wrong.
Even though he knocked me off my feet, we became proper friends. I saw less of him as my career was taking off – I was an undercover journalist for Donal MacIntyre for five years, and that took me around the world – but at David's fourth or fifth fight, I was sitting next to his girlfriend [now wife] ringside, and we were talking about house-hunting. I'd just bought a place in Clapham, and it turned out we were neighbours. Literally: I'd bought the place right next to them. We've hung out a lot more ever since.
Fame has never really changed David, although he is on his BlackBerry a lot more now. But ever since he was 16 he walked around like a champion. As he says, the only thing that has changed since is that the world now realises it.
In truth, he is one of the most selfish people I have ever met, and he makes no bones about it. It's how he has managed to achieve everything he has.
It was a shock to see him brawl with Dereck Chisora after the Vitali Klitschko fight. You forget how comfortable boxers are around violence. He went too far, and I criticised him for it, but it was very much out of character. He shouldn't lower himself to that level; he doesn't need to.
He'll probably get to fight Vitali now, though, and people will forget about the press conference. Will I go? I go to all his fights, even though it's almost always a horrible experience. It's difficult to watch your friend get hit, but I know that he can beat Vitali. He knows it too...
David Haye, 32
One of the UK's most successful boxers, Haye is the former WBA heavyweight champion. He announced his retirement in 2011 after losing to Wladimir Klitschko, but looks set for a comeback. He lives in Kent with his wife and son.
Years back, Ben used to come down to the Fitzroy Lodge Amateur Boxing Club in Lambeth, and we'd spar. He was a tough guy, and he took a beating pretty well.
He never wanted to turn pro; he just enjoyed the sport. A lot of people go to boxing gyms just to train, to lift weights, to punch bags, but Ben always got into the ring and faced anyone. He was never scared. I think that says a lot about him.
I don't have a lot of friends, but my true friends are the ones that have been around for a long time, not those who jumped on board late doors. All my friends are successful in their own right; I don't associate with anyone who isn't doing something positive in their lives, and that's why we bounce off each other so well. If you associate yourself with people who do good things, it rubs off.
Whenever I used to fight, a whole bunch of us would take a private jet out to wherever it was taking place, and eat and hang out together, and I'd have them ringside on the night itself. That's important to any fighter: to have friends and family there to offer support.
What I admire most about Ben is that he does exactly what he wants to do. I wouldn't personally advise anybody to go to Afghanistan or the Congo, but that is what he has chosen to do, and he is one of the very best at it. I've seen all his documentaries, and a lot of the stuff that never made it on to TV. He has been in some real life-and-death situations: landmines; shot up by the Taliban. I would never voluntarily put myself in that position, and I'd say that nine out of 10 soldiers would rather be somewhere else. But not Ben. He did Holidays in the Axis of Evil; I'm much more Miami, Los Angeles, Las Vegas...
In an ideal world, that recent brawl [with Dereck Chisora] should never have happened. I've never even seen, let alone been involved in [anything] like that [before]. But I know with Ben [the support] is there, because he knows I'm not a thug, and would never start trouble.
I do want a life outside boxing as well, and Ben and I have already worked together [on a boxing-themed chatshow for Sky 1], and it would definitely be good to work together again. But if he's going somewhere like Afghanistan, he's going alone. I'll stay here.
'No Worse Enemy: The Inside Story of the Chaotic Struggle for Afghanistan' by Ben Anderson is published by Oneworld Publications, priced £16.99
Join our new commenting forum
Join thought-provoking conversations, follow other Independent readers and see their replies