How We Met: Gavin Turk & Anda Winters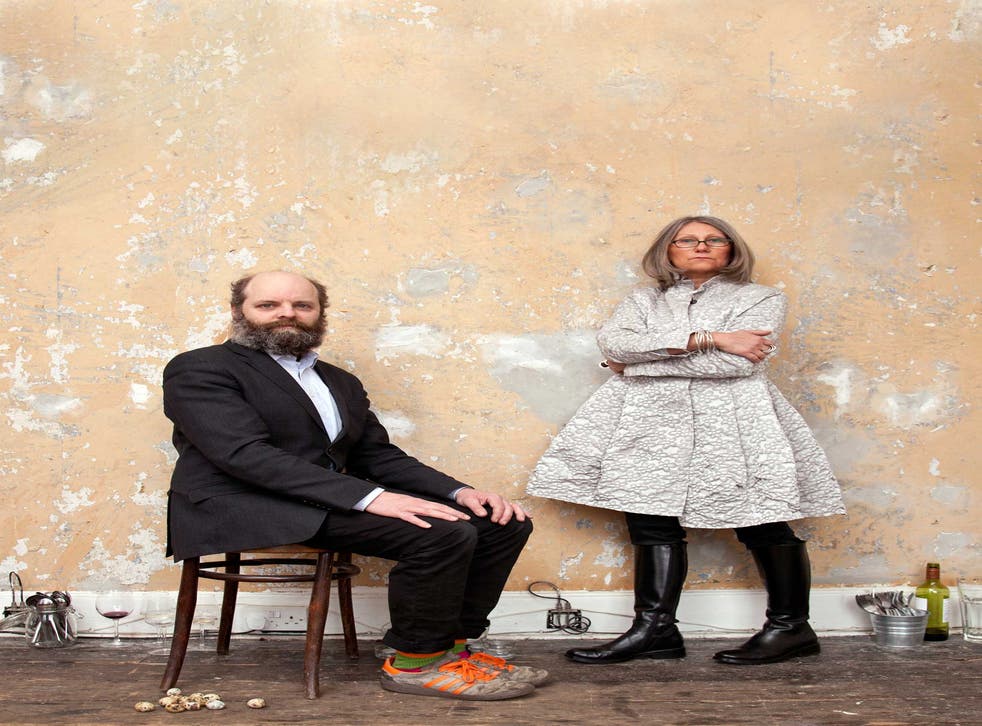 Gavin Turk
One of the Young British Artists who emerged during the early 1990s, Turk is an avant-gardist whose work deals with issues of authorship, authenticity and the identity of the artist. He has pioneered forms of sculpture including the recycled art-historical icon, and is known for his surreal, self-referential pieces. He lives with his wife in east London
We met at a friend's barbecue five years ago. Anda had just acquired the space that was to became [the fringe venue] the Print Room and I was working on [the children's theatre-group charity] House of Fairy Tales with my wife. So I got speaking to her about the possibility of doing a theatrical event there.
She had a very personable manner, and would call everyone "baby", which was quite endearing. I remember thinking that she was incredibly passionate about art and creative spaces and seemed to feel this responsibility to make art happen. But although she's a creative person, she not an artist; she's more like a gallerist who curates people.
I've been to a whole variety of performances at her venue: some are quite experimental, home-made productions; others are bigger classics. We've talked about the idea that you need the odd blockbuster, yet in some ways the idea of a "blockbuster" is almost mind-numbing to me: there is often a complacency in the audience about it, that you don't have to look any more, while with [experimental pieces], an audience is more likely to be engaged, as they are seeing something different.
Anda loves organising events and putting people together. And as I got to know her, I've discovered all these interesting characters who surround her – she has an entourage from all walks of life: concert pianists, singers, songwriters, theatre directors.
We were both at the [contemporary arts event] Venice Biennale recently, though I never actually saw her. She can be quite hyper, always darting about, so I kept bumping into various members of her entourage who were looking for her; on land, on the water, on different islands. But I never got to see her as she was always organising a party or an event; I don't know many people like that.
It's great that she comes along to so many of my shows. We met in Monte Carlo recently, where I had a project. It means that I can have a very direct conversation with her, as she's so aware of my work.
In the five years I've known Anda, she's moved on a long way in her understanding of art, improving her ability to spot good ideas or works. With Triptych [Turk's upcoming show at the Print Room with experimental company Opera Erratica], she pushed me and [artistic director] Patrick [Young] together as a blind date. And now I'm making this holographic set for them. I hope to make something that stands alone as an art work, which can be taken out of the theatre and set up in a gallery afterwards.
Anda Winters
After setting up experimental west London arts space the Print Room in 2010, the Croatian-born artistic director has hosted productions including Tennessee Williams' 'Kingdom of Earth' and Harold Pinter's 'One for the Road'. She lives in west London
I was at a friend's Christmas-tree burning party in Hackney about five years ago, just after New Year's. There were lots of artists dancing and drinking in the garden, and Gavin was in charge of incinerating the trees; there was something very funny about how seriously he was taking his job. I recognised him from his Elvis Presley work [a life-size waxwork self-portrait entitled Pop] so I went over and we started chatting about what he was doing now.
At the time he'd just set up House of Fairy Tales. It's a charitable project which he runs with his wife, which works with lots of artists and musicians to create magical worlds for children – and I suggested he use the Print Room. It started with an exhibition by artists he knew, and it was a lovely way to christen my new space. After that, we started spending a lot more time together.
I love how he finds laughter in everything – he doesn't look at things through a dark glass: he arrived at my venue once, carrying a can of paint, which he dropped and it broke open all over his new shoes and he just started laughing.
We're both quite family-oriented: Gavin has three children and I have two, and we had a crazy week when his family stayed at my place in France one Easter. Gavin had the idea of an Easter-egg hunt and hid all these eggs around the garden and the house for the kids to find. But it was a warm afternoon and he didn't think about how the sun might melt them. By the time I got back in the house there were thousands of little chocolate fingerprints over the walls, the floors and on all my lovely white furniture; you can imagine the horror. But instead of feeling guilty, he was laughing his head off at what the kids had done.
Gavin is an extremely curious man, who finds meaning in any object. He'll see a half-eaten apple on the floor and while I wouldn't see art in it, he'll talk about how it was once alive and ripe; how there was a whole history behind it, but now it's dead and discarded.
He has his own vision and doesn't like people telling him how to do it. We were together in Monte Carlo recently when I suggested trying to create fluorescent light installations [for Triptych], and he immediately said, "No, Anda, I don't want to do that." He's gentle, but firm.
Sometimes when I go to a gallery and look at a [conceptual] piece, I don't understand it. But with Gavin's work, though it's often quite surreal, you do find answers; he's one of the most important artists of his generation.
Opera Erratica's 'Triptych', a new opera designed by Gavin Turk, will be at the Print Room, London W2, from 17 May (the-print-room.org)
Join our new commenting forum
Join thought-provoking conversations, follow other Independent readers and see their replies