How We Met: John Torode & Gregg Wallace
'Do we gossip about contestants behind their backs? Of course we do'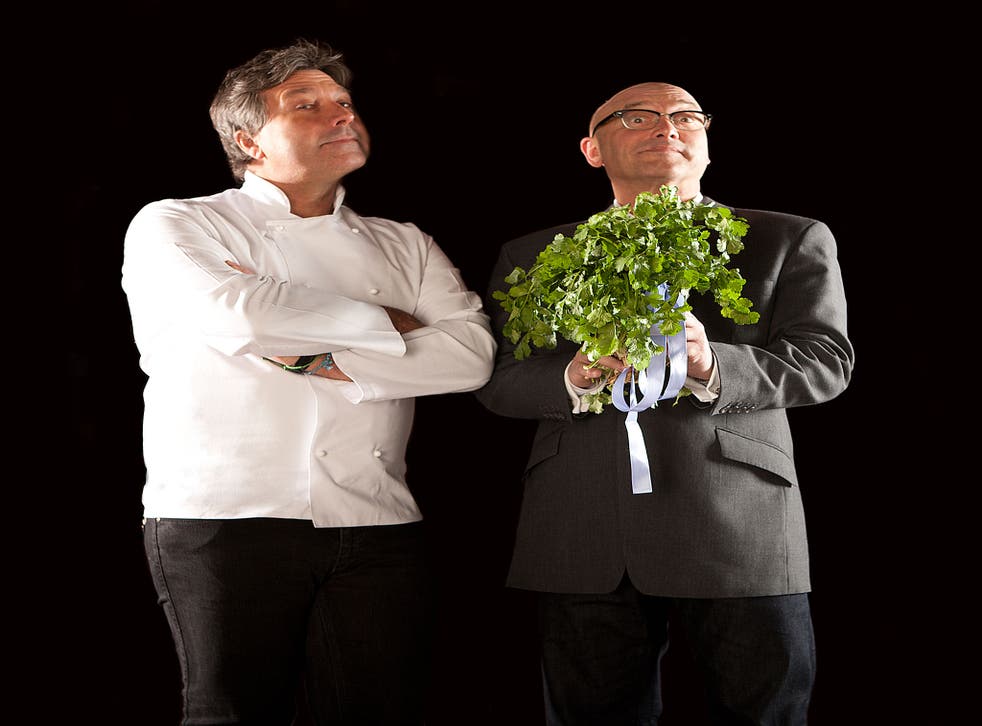 John Torode, 47
After moving to the UK in the 1990s, the Australian celebrity chef (left in picture) opened up his first restaurant, Smiths of Smithfield, in London in 2000. He has cooked on TV shows including ITV1's 'This Morning', and has co-presented 'MasterChef' on BBC One since 2005.
I was new to this country, a 25-year-old Aussie boy cook working at a restaurant in Chelsea. Gregg was unabashed at what he wanted: to sell vegetables to us. But it was refreshing to meet someone with a can-do attitude; we were looking for some Asian produce and he came through. He was my supplier and that relationship lasted for a very long time.
In 2005 I was asked to go to an interview about some cooking show and Karen Ross, the boss at Shine, the production company involved, said: "I'd love you to do it, but I need to audition people to partner you with." So I had everyone from AA Gill to Oliver Peyton. One day she asked, "Do you know a guy called Gregg Wallace?" I had misgivings, as Gregg was big, brash and loud. Actually, nothing has changed, except no one expected the success the show has had.
We started off as two experts: he narrated and articulated the flavours of the dish and I narrated its technical style. Spending 200 days a year filming together, we got a lot closer, but any relationship where you spend that much time together inevitably gets strained. We used to fight about stuff, as we're both so opinionated. In the first series it was over [eventual winner] Thomasina Miers, as Gregg had said, "There's no way I want her." Then in the second round he said, "I want her." And I said, "You git, how can you hate someone vehemently one day then like them?"
Gregg has rules in the dressing-room that are pretty easy to understand as they are vocalised quite often. Things like, "Don't put anything on my table, don't touch my stuff and stay on the left-hand side of the room until lunch."
I know that, with his OCD, if I went to his house, say, I'd have to sit in a certain place. It's frustrating, as I'm open [to expanding the friendship], but I don't feel Gregg is. But he's also given me so much: he's taught me the importance of being self-deprecating and he's made me laugh at myself. He's fun and very funny.
Gregg Wallace, 48
After founding George Allan's Greengrocers in 1989, Wallace built up a business that served some of the capital's most prestigious restaurants. He began co-presenting the revamped 'MasterChef' in 2005. He lives in London.
I first saw John in the early 1990s, in the kitchen of a restaurant on the Fulham Road in Chelsea, which I supplied with fruit and vegetables. It was a hot day and the kitchen door was open into the alleyway and I saw this young brash Aussie chef with his trousers rolled up around his knees, a tartan baseball cap, and a voice that was as loud as his attire.
What he really needed was coriander with its root still attached, which is useful for Thai cuisine, but it's not easy to get. But I got him some and a good working relationship went from there.
Eventually he became senior sous chef at [West End restaurant] Quaglino's, and he wanted me to supply it with fruit and vegetables. John would phone me up all hours of the day; I once emptied two supermarkets of vanilla pods for him.
The big change for both of us came in 2005, when Shine TV's Karen Ross asked me if I wanted to present a remake of MasterChef. She added, "You may never have heard of him, but the other person we had in mind was John Torode…"
MasterChef was previously a middle-class programme, but it had found two obviously blue-collar, working-class boys. It was a brave call. Do we gossip about contestants and their cooking behind their backs? Of course we do.
John is aware I'm slightly OCD. In the dressing-room I must have everything in place. He leaves his clothes everywhere.
I can't think of anyone apart from my mum than I'm closer to. The man know everything about me: I share my worries about everything. John is good to turn to, as he'll say, "Shut up, what's wrong with you? You've got a nice girlfriend, plenty of money and a nice car!"
I can taste food with him, or share a bottle of wine over dinner, but going to his home would feel weird: it's not what we do. Our performance on TV feels like we're going through a series of rehearsed dances, like we're jamming together. But we nearly messed up our relationship when we first did the BBC Good Food Show together: we'd never done it live before and the [uncertainty] grated. So when I think of him coming to my house, I think the uncertainty of it is too scary for me; I wouldn't want to upset this delicate balance by changing it.
The current series of 'MasterChef' continues from Wednesday to Friday on BBC One. The BBC Good Food Show Summer is at the NEC Birmingham from 12 to 16 June (bbcgoodfoodshow.com)
Register for free to continue reading
Registration is a free and easy way to support our truly independent journalism
By registering, you will also enjoy limited access to Premium articles, exclusive newsletters, commenting, and virtual events with our leading journalists
Already have an account? sign in
Register for free to continue reading
Registration is a free and easy way to support our truly independent journalism
By registering, you will also enjoy limited access to Premium articles, exclusive newsletters, commenting, and virtual events with our leading journalists
Already have an account? sign in
Join our new commenting forum
Join thought-provoking conversations, follow other Independent readers and see their replies