How We Met: Julia Donaldson & Axel Scheffler
'Sometimes he'll say things like, "I don't want to draw any more trees!"'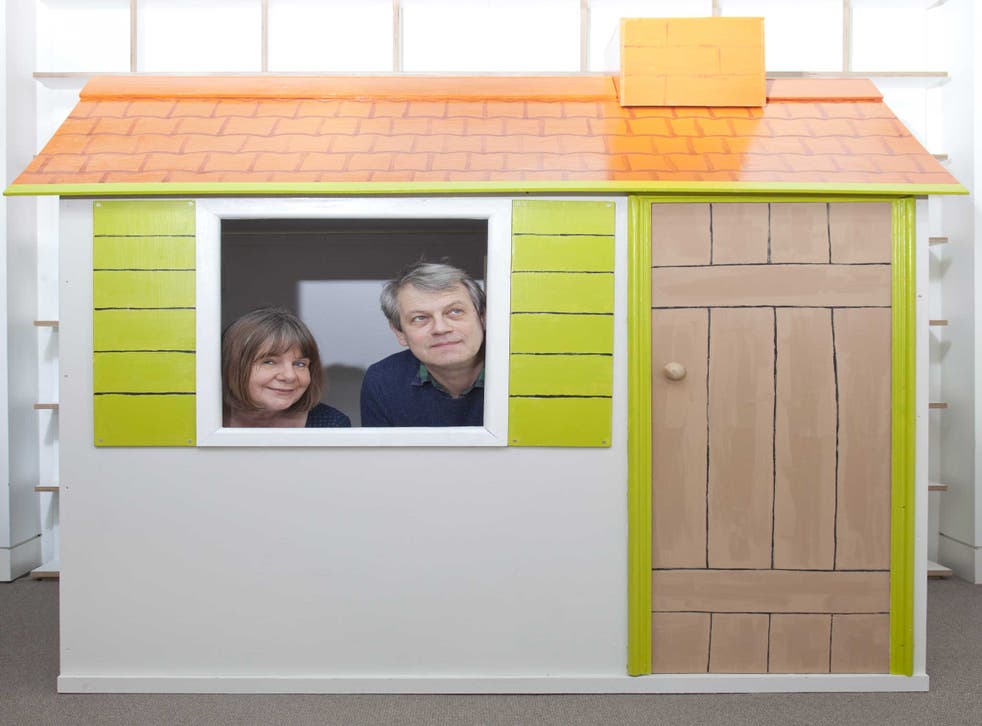 Axel Scheffler, 54
Scheffler has illustrated 15 books for children's author Julia Donaldson over the course of 20 years of collaboration, including 'The Snail and the Whale' and the award-winning 'The Gruffalo'. He lives in south London with his partner.
I'd only done one or two picture books when I was approached by a publisher to illustrate Julia's first story [A Squash and a Squeeze], in 1992. Other illustrators had already turned it down – possibly because it was in rhyme, which was unpopular at the time. But at college I'd always been taught not to turn things down, and I liked the philosophy behind it, which was based on an Eastern European Jewish folk tale.
With that first book, I remember drawing the main character, an old lady with a pointy nose and chin and looking wrinkly, as it was how I imagined her. But our publisher wanted her to look rounder and friendlier; it was my first big compromise in a career of compromises. Each illustrator has to decide if they want to do that, but ultimately compromise is the nature of collaboration.
We didn't actually meet until the book-launch party; it was a good first encounter and there was a great connection. Since then we've gone walking together and even done stage shows [of the books] in Germany. But like most illustrators, I'm shy and introverted; we do drawings at home. If I'd wanted to be on stage, I would have chosen another profession!
I think when we first started working together Julia quite often thought, "That's not what I had in mind for the character!" But the thing about Julia is that she never said anything. It's the deal we have: Julia accepts my illustrations and I accept her text.
We've been [creative] partners for 20 years now. While I liked the text of The Gruffalo, I didn't realise its potential initially. But librarians championed it and it took off: it was a validation of our pairing and has led to so many other books. With the [Gruffalo] design, I started with a scarier Gruffalo, with bigger teeth and claws but our editor said, "Make him more friendly." When I show kids my other version now, they always prefer the scary one. Kids like to be confronted with injury and death.
Julia Donaldson MBE, 64
The current Children's Laureate is a publishing sensation, penning more than 150 works since her debut in 1993. She lives in Glasgow.
A Squash and a Squeeze was a song for 15 years before it became a book, in 1993. Publishers told me about this German illustrator living in London who could illustrate the book. I don't think I had much of a say at the time, but I'm so glad now that the other two illustrators they asked first declined. My first impression of Axel was of a quiet and serious man. But now, as we've got to know one another, I've discovered his wonderful dry humour; he's always coming out with witty one-liners.
There's a wonderful humour to his drawings, too. With our first book, for example, I loved how he illustrated the story [about an elderly lady unhappy with the size of her farmhouse] from the animals' point of view, with funny touches such as a picture of a cow dumping [a pat] on the [kitchen] table. I don't like some European artists as they can be pretentious, but Axel's not a vain illustrator and he won't say things like, "My colour palette is beige with a touch of red." He's always responsive to the [needs of the] story.
But in my early books, such as Room on the Broom [about a kindly witch and her cat travelling by broomstick], I do remember thinking things such as, "Does [the witch] have to look so old? And look at her [huge] nose!" Now I know his style so well I don't get huge surprises any more. Though sometimes he'll say things like, "I don't want to draw any more trees!"
So much has been said about The Gruffalo, and now there are even Gruffalo-themed weddings. But Axel is [still] telling the story about how, when he shows kids the original Gruffalo drawings, they prefer the scarier one.
Initially, it was through him sending me pictures for fun that I got to know him personally. He started sending letters and postcards – he still does – and he would decorate the envelopes with paintings, or incorporate a stamp of the Queen and turn it into one of the Queen mounted on a Gruffalo. And when my eldest son died [committing suicide following a long battle with mental illness, aged 25], shortly before Christmas [2003], Axel sent me this lovely picture of a Gruffalo holding a candle with the message, "A little light in the darkness." It was so thoughtful; Axel's a kind man.
The 20th anniversary edition of 'A Squash and a Squeeze' is out now (Macmillan, £6.99, juliadonaldson. co.uk/picturebooks.htm)
Join our new commenting forum
Join thought-provoking conversations, follow other Independent readers and see their replies