How We Met: Karl Pilkington & Ricky Gervais
'Sometimes it all gets too much: two hours in a room with Ricky can seem a long time'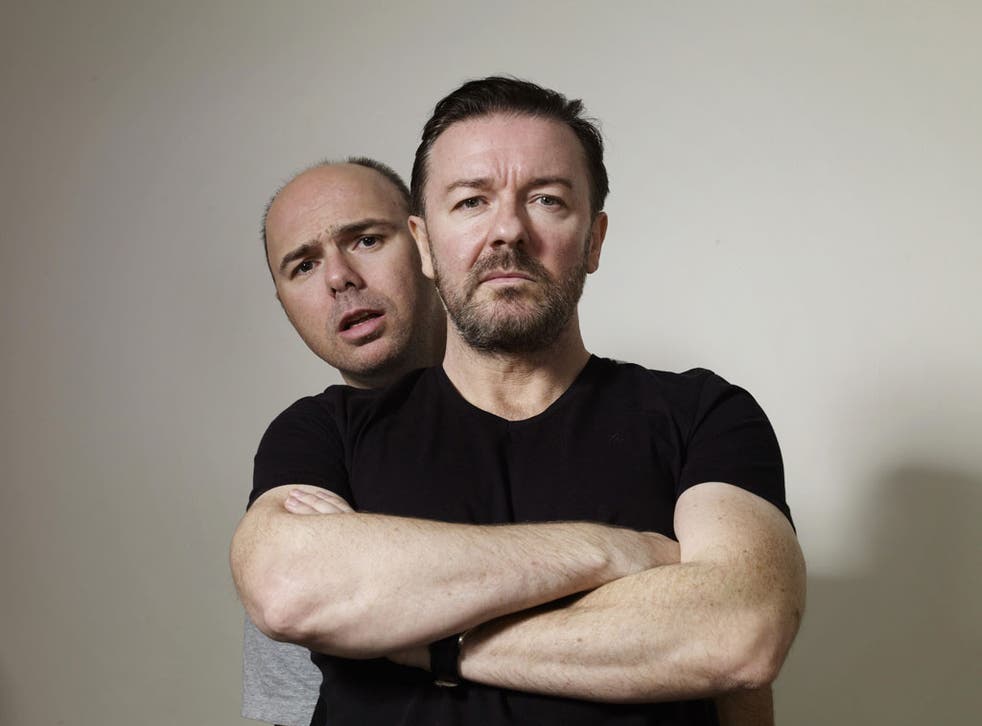 Ricky Gervais, 50
A writer, director and comic, Gervais (to the fore in picture) was catapulted into the limelight by the BBC mockumentary 'The Office' in 2001. Acclaimed TV series 'Extras', several stand-up tours, a record-breaking podcast and a starring role in a slew of Hollywood films have followed. He lives in London with his partner
Being friends with Karl has been a nice experiment; he's a cross between my best mate, a lab chimp and a pupil. Steve [Merchant] and I had left XFM to do The Office and returned in 2002 to this tiny little radio station – where Karl worked – as conquering heroes.
I liked him instantly, as he wasn't impressed by who I was. I think the first words I said to him were, "Why have you got a round head?" and he replied, "What shape's a head meant to be?"I laughed straight away, as he didn't go, "How insulting!" So I asked if I could hit it with my phone and he said, "OK," and afterwards he asked, "Did it make a normal noise?" As humans, we use humour to see if someone's on our wavelength and I felt Karl was the funniest man I'd ever met.
Karl will do anything for you. When I got stressed with moving out, he helped me move offices – though he moaned all the way. Now I call him every day; he's the first person I call in the morning.
I like the way he sees the world differently. We might be listening to the radio about the Nativity and the Three Wise Men bringing presents for the baby Jesus, and all Karl could say would be, "Were those presents for Christmas or his birthday?" He's not trying to be funny, he just thinks stuff and says it out loud. When I write, I'm consciously trying to be funny, constructing a punchline, but Karl does it in conversation.
Most things in the world are a bit shit, which is why An Idiot Aboard [presented by Pilkington] is such an important travel documentary. On Wish You Were Here, Judith Chalmers doesn't go to poor areas where there's degradation and starvation or try food and go, "That tastes like snot!" He's a reluctant man outside his comfort zone; just like my greatest comedy characters, and we're best mates. Though I remember someone asking him, "Is Ricky your best mate?" and he went, "Yeah, Ricky is my besty mate. But I haven't got many mates."
Karl Pilkington, 39
After earning cult status for his oddball contributions to the weekly podcast 'The Ricky Gervais Show', Pilkington cemented his fame by presenting Sky 1 TV series 'An Idiot Abroad'. He lives in London
Before I joined XFM, Ricky and Steve used to have a show playing music, with a bit of chat and swearing, and phoning up his mum. I remember thinking, how are they getting away with this? I got a job there after they left, in production, and a few years later, in 2002, my boss told me that these two blokes were back and it was my turn to produce them. The Office had been on, but I'd never watched it, so I was pretty nonplussed about it.
He came into the office on the day of the first show – I was just there to hit the buttons – and while we were in the station kitchen he got out his mobile phone and hit me over the head with it. I said, "What you do that for?" And he said, "Just wanted to see what sound it made." And I was like, OK this is going to be a nightmare: Terry Wogan wouldn't have done that. But I felt I had to go with it.
By week three Ricky and Steve had started to involve me in the shows: he said, "Let's just chat like we do off air," and I started chipping in all the time. Once he started getting to know me, he started to see how far he could push me; he'd put bin lids on my head just to see what happened. That's how he is, he annoys everyone and you either go along and have a laugh or say, "Don't do that, it's annoying me." And when that happened he'd stop and give me some facts, something like, "Did you know ants never sleep?" And that would interest me, as I love finding out about that sort of stuff, and once he knew I was all right with him again, he'd start wrestling with me. Sometimes it would all get too much and I'd have to leave the room: two hours spent with Ricky can seem a long time.
With Ricky, when you say "no" to something, that makes him push you more; he doesn't let anything go, which can be pretty tiring. But in a way he knows what's best for me: he pushed me to do the second series of An Idiot Abroad even though I'd hated the first one, being in India and ill. And I enjoyed the second season. He's like my careers adviser.
Now he's my best mate, but in the early years he became obsessed with finding out where I lived. I remember after one recording session, he was like, "Where are you going now?" And I was like, "I'm going home." I didn't want him to come round whenever he wanted, ringing the buzzer, so I legged it. But every time I turned round, there was Ricky, following me through London, laughing his head off, which was really weird.
'An Idiot Abroad: 2' is out now on DVD
Join our new commenting forum
Join thought-provoking conversations, follow other Independent readers and see their replies