How We Met: Katie Hillier & Patrick Grant
'We stayed out till 6am – when Patrick suddenly disappeared to get his flight home'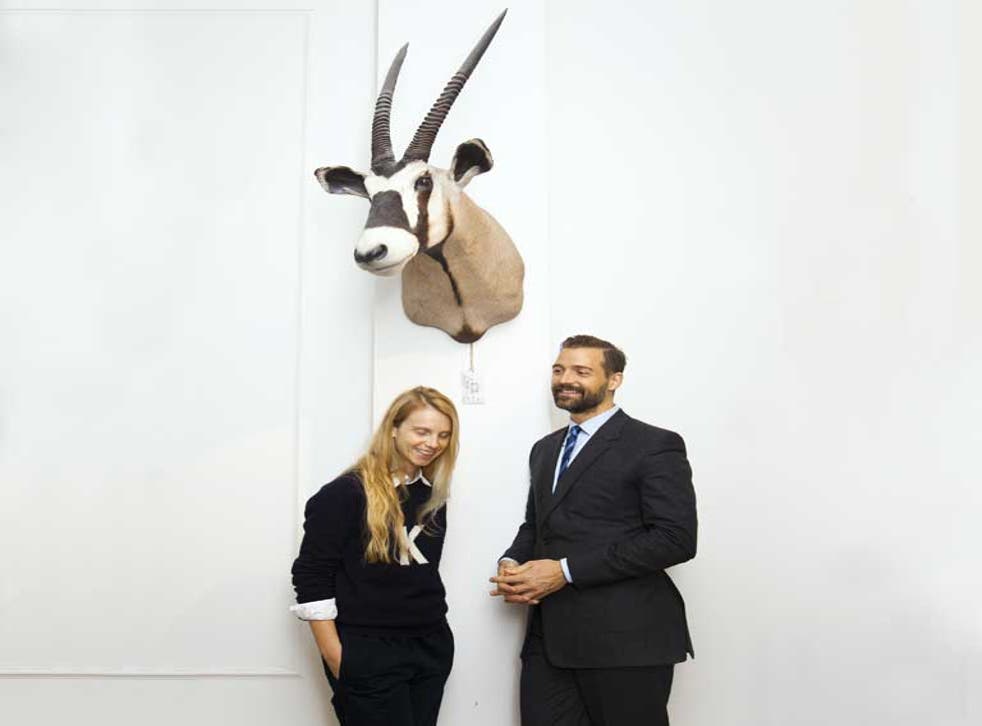 Patrick Grant, 40
The director of bespoke tailor Norton & Sons of Savile Row and its ready-to-wear label E Tautz & Sons, Grant won the menswear designer award at the British Fashion Awards in 2010. He lives in east London.
I first met Katie in New York a few years ago. I was working with [menswear designer] Kim Jones and I'd gone there to see his show. Kim had an after-party at the B Bar, a big sit-down dinner that descended into general drinking and not an awful lot of eating. I met Katie at some point during the chaos that followed.
When we got back to London we hooked up pretty much straight away. We just seemed to have a tremendous amount in common. We are both fascinated by fashion, history, Britain, the arts, weird crafts, making stuff, dogs, wildlife programmes and bird-watching. Neither of us were as busy as we are now, so we just went out and had fun.
She used to be fairly wild. She had this amazing, long blonde hair, was incredibly bubbly and just had a brilliant energy about her. She seemed to know everyone in fashion and everyone seemed to love her. I remember hanging out with her and Courtney Love at the Mercer Hotel in New York, drinking and playing guitar. People are drawn to her.
Even though that was only about five years ago, fashion has completely changed since then. These days it's much more vacuous, and all about celebrities being papped holding a handbag. Back then it was a lot more interesting and fun.
Recently she cajoled me into doing some women's shirts. It started with her favourite old men's shirt that she has lying in her wardrobe. She loves all those old English men's fabrics, which is brilliant, because that's what I do. Working with her was so easy because we get excited about the same things.
Katie is incredibly modest. If you look at what she has done at Marc by Marc Jacobs, she does everything – jewellery, bags, sunglasses, watches, but she hates taking credit for pieces she has worked on as she believes it's a team effort. And because she doesn't go on about it, people don't appreciate how much she does. She works constantly. I try to help her step out a bit and relax: she is the best person to share a country walk and a spot of bird-watching with.
Katie Hillier, 38
An accessories designer, Hillier has created bags, jewellery and other accessories for Marc Jacobs, Loewe, Asprey, Victoria Beckham and others. In 2010 she launched Hillier, her own jewellery label. She lives in east London with the designer Markus Lupfer.
I was in New York for Fashion Week, working for Marc Jacobs. When Kim Jones's show came around, I'd been out the night before and had had only two hours' sleep so was keen on going home and not going to the show. But my friends made me feel bad about it and told me I had to go. So I had a couple of glasses of champagne and dragged myself there.
After the show we all went to the B Bar for a big New York gay night called Beige. Everyone got very drunk and out of the mist of it all a guy emerged, wearing a three-piece suit with a flower in his pocket and a hat. We asked him to come talk to us and that's how we met. We ended up staying out till 6am, when Patrick suddenly disappeared off to get his flight back to London.
He's actually very different to me. He's Scottish, he'd been to Oxford. He is super switched on and knows a lot of stuff I don't know about. We talk incessantly and argue a lot as well. He's feisty and always has a really strong point of view. But he's also one of those people who can make fun happen out of nothing.
Our birthdays are one day apart. One year we were both in New York for them and he presented me with a big card he'd made. It was the front of a newspaper and he'd Tipp-Ex'd out all of the print apart from the letters that spelt "happy birthday Katie". I framed it. For another birthday he found a shell on a beach that was the perfect size for a ring. It's simple things that mean a lot.
Even though his background is in engineering, he is really creative. He'll see something in the street and be inspired by it. Right from the beginning we started working on projects together. We did a small range of bags and jewellery for Norton & Sons and for the past two years I have been pestering him to do more. I'm quite a tomboy and I thought if he produced some of his beautiful tailoring just a bit smaller then every girl would want it. He was very practical and said it's not in the business plan yet, but finally I managed to break him and we have just done a range of shirts for girls.
Working with him has been so easy. We just sat around the kitchen table discussing what works and what doesn't. He knows so much about fabrics and what works with what. Now I'm hoping to get him to expand into girls' trousers, coats and suits.
For more: hillierlondon.com
Register for free to continue reading
Registration is a free and easy way to support our truly independent journalism
By registering, you will also enjoy limited access to Premium articles, exclusive newsletters, commenting, and virtual events with our leading journalists
Already have an account? sign in
Register for free to continue reading
Registration is a free and easy way to support our truly independent journalism
By registering, you will also enjoy limited access to Premium articles, exclusive newsletters, commenting, and virtual events with our leading journalists
Already have an account? sign in
Join our new commenting forum
Join thought-provoking conversations, follow other Independent readers and see their replies