How We Met: Martin Bell & Mark Cook
'He was using the News for an outrageous plug while I was under anaesthetic being operated on'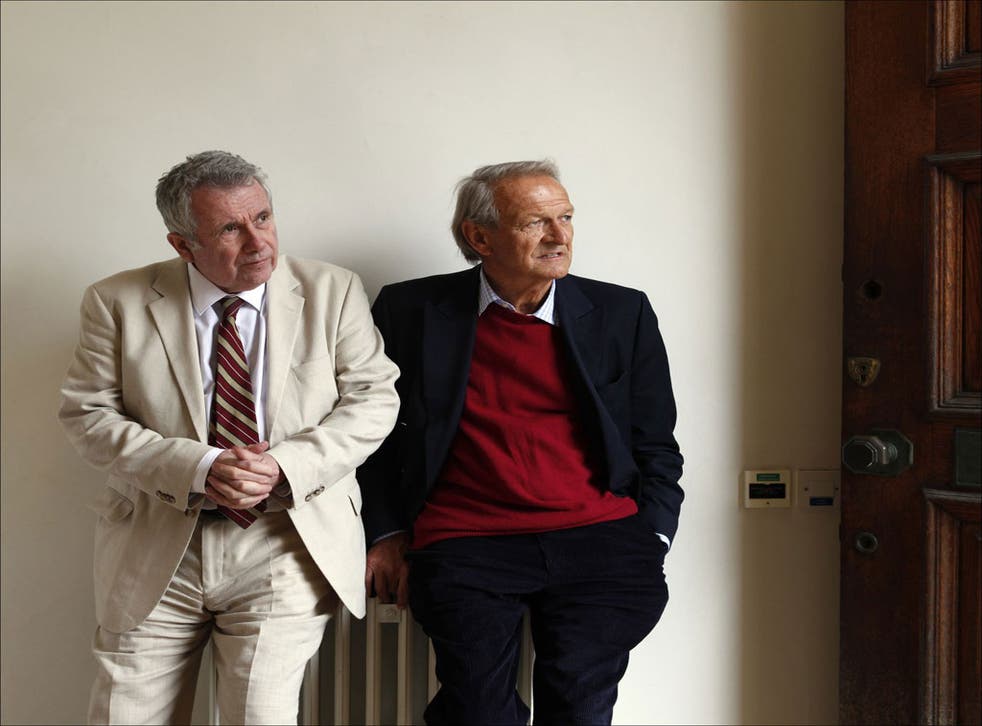 Mark Cook, 69
After joining the Army to become a Gurkha in 1962, Cook (right in picture) served in the forces around the world. He is founder and president of the charity Hope and Homes for Children. He lives in Wiltshire.
We were at the same school, Leys, in Cambridge, though he was older then me by about four years. The next time I met him, in 1992, I was the commander of the British contingent for the UN protection force for Bosnia at the beginning of the Balkans war. The third day I was there, I found out about an orphanage that had been destroyed in Lipik, Croatia, and I made a rash promise to the children there that I would rebuild it. I thought, who do I know who might be able help?
Martin was one of the most respected reporters in the world and was covering the developing conflict in Sarajevo. I flew there and found him holed up in an old garage. I introduced myself and my old school tie and asked him to do a report on the orphanage. He said, "I can't do that; it's just over the border in Croatia and my masters won't let me swan across."
Suddenly, someone ran in, saying there was a battle downtown. His soundman, cameraman, he and I jumped into his car and drove straight to where the noise was at its loudest. We got out, bullets over-head. My instincts said I shouldn't be standing out there, without cover. But I was meant to be a brave soldier of more than 30 years, so I stood with him. He was trying to work out what was going on when a stick of mortar bombs landed in front of us. The next thing I knew, he's rolling on the ground, his stomach full of shrapnel. As I ran to him he sat up, saying, "I've been hit, I'm alive, I'll survive." And we drove him to the field hospital.
It was coming up for the One O'Clock News; the others rang the studio and said, "There's no Martin but we've got Colonel Mark Cook." It was surreal, talking live on air about how Martin had been shot. I said, "He was hit, he'll survive. Actually, I came down here to talk to him about a project to rebuild an orphanage..."
Two weeks later I received a letter from Martin, in hospital in England, saying, "Thanks for all your help, I'm enclosing a cheque for £500." It was the first income I received for the charity – and he's spread the message ever since, as I left the Army to complete this promise to raise the £1m needed to rebuild the orphanage.
Martin Bell, 73
After joining the BBC in 1962, Bell covered conflicts around the world for 30 years. He has since served as an Independent MP following the 1997 election, and has been a British Unicef ambassador since 2001. He lives in Lancashire.
Mark is crazy, clearly a dangerous man to know. I was quite unscathed until I went out with him that day in Sarajevo. He was the first commander of British forces in the former Yugoslavia, there to monitor a ceasefire in Croatia, when suddenly they found themselves in the middle of the start of the Bosnian war.
At the same time, Mark had come upon a destroyed orphanage in Lipik that he wanted to rebuild. So he came to Sarajevo to see how things were there, while also coming to see me, imagining I could help him raise money for the orphanage.
While he was talking to me in our bunker I got word that there was a gun-fight down the road, so I said, "Since you're also here to assess the security situation, why don't you come with me?"
We drove out to a raised loading bay, near Marshall Tito Barracks, and stumbled into a fire-fight. We were shielded by a block of flats, so I knew we should be protected from sniper fire, but that we could get hit by indirect fire. I probably stayed out of cover for too long and I got hit by a mortar. All soldiers carry a field-dressing kit with them – and it was the only time Mark had to use his.
He got me back to a field hospital then went on the BBC news, to explain what had happened. He used the opportunity to put in an outrageous plug for his orphanage, while I was under anaesthetic being operated on. Rebuilding the orphanage would cost £1m, but this gave him the publicity it needed, and that's how our friendship began.
That was 20 years ago. Now we talk about the old days; how it wasn't just a small war of no consequence. It shaped both the willingness – or lack – [of Europe] to intervene in a humanitarian crisis, and there was the connection to jihad. With so many mosques destroyed, and tens of thousands of refugees it had an impact on the Arab world; 2,000 mujahideen fought inside Bosnia.
What we do now is quite similar. I'm a Unicef ambassador, and deal with the same issues – destitute victims, victims of war. People find Mark inspiring as he's done a lot of good. I've been struck by how he started by rebuilding orphanages, but now he's closing them down. The secret of his success in Rwanda, for example, has been finding extended families, where small groups of children can be treated with love rather then institutions. He's a remarkable man.
For more information: hopeandhomes.org
Register for free to continue reading
Registration is a free and easy way to support our truly independent journalism
By registering, you will also enjoy limited access to Premium articles, exclusive newsletters, commenting, and virtual events with our leading journalists
Already have an account? sign in
Register for free to continue reading
Registration is a free and easy way to support our truly independent journalism
By registering, you will also enjoy limited access to Premium articles, exclusive newsletters, commenting, and virtual events with our leading journalists
Already have an account? sign in
Join our new commenting forum
Join thought-provoking conversations, follow other Independent readers and see their replies