How we met: Matthew Wright & Dave Brock - 'They had their honeymoon at our festival; Matt and his wife stayed in a tepee'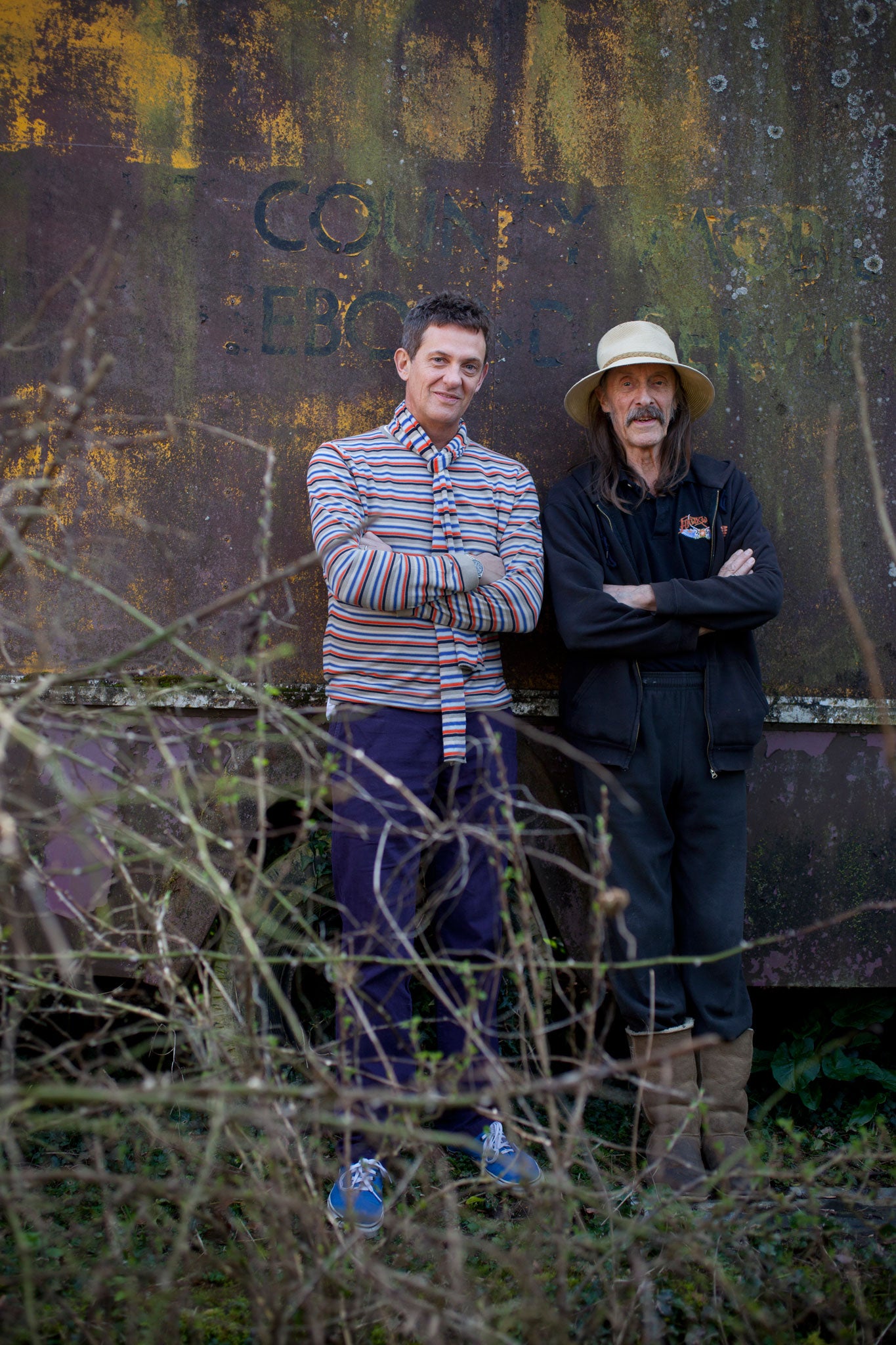 Matthew Wright, 48
After working as a tabloid entertainment reporter and gossip columnist, Wright (left in picture) has hosted Channel Five chat-show 'The Wright Stuff' since 2000. He has also presented a number of radio shows on LBC and Radio 2. He lives in London with his wife
I got into Hawkwind in the 1970s, after a schoolfriend played me [their compilation album] Masters of the Universe. After that, I'd turn up to any London gig they were doing, and I went to three of their festivals at Stonehenge; they were counterculture revolutionaries, heroes – and I still think of Dave that way.
In 2001, LBC radio gave me a Saturday-morning radio show, a sort of "Matt meets old-school musical heroes". So I asked Dave to come on the show, to review various Hawkwind records with me. He and his now wife, Kris, came in early, before the show went live, and it was my first opportunity to actually meet the king of psychedelic rock. He arrived smelling strongly of marijuana, and I was impressed; I thought, this man still rocks! We played excerpts from his songs and I sang along and David was impressed. He said, "You know the words better than me; do you want to come on stage and sing with us at our next gig?" I thought maybe he'd blown a fuse.
A few weeks later, I was at the Astoria on Tottenham Court Road in front of 2,000 people, singing "Spirit of the Age". My singing voice is barely adequate, so it was the scariest moment of my career, but I got into it and felt like a rock star. At the after-party he discovered I was obsessed with British counterculture, the Stonehenge thing, and we connected.
I stay over at his farm in Devon three to four times a year and we also do the Levellers' festival together, where we camp together, talking about those days of sticking it to the man and his run-ins with the law.
We're quite different people, though. Dave is a hard man. Even at his age you'd be foolish to pick a fight with him; he runs a small farm, he's still chopping wood, and in his mid-seventies he has a far more impressive body than I have, as he never fails to remind me!
The saddest moment of our friendship was the death of Jason [Stuart], Hawkwind's keyboard player [from a brain haemorrhage, in 2008]. More than 1,000 people turned out for the funeral, and it was all very close to the bone for Dave. I remember standing next to him, this hard man trying to suppress tears.
I've been on tour with Dave and I have to say [being on the road] is challenging; I wouldn't want to swap places. There's a Spinal Tap bizarreness being with a band like Hawkwind. I remember hanging out in a hotel during one alcohol-sodden evening with the whole band, their wives, girlfriends and roadies; to say they don't look conventional is an understatement: you've got band members wearing black leather and metal piercings , another looking like an old-school traveller. It was madness, with people drinking, smoking funny cigarettes, singing, others in tears and it's Dave, who looks like a complete stoner, who is always in the middle of it all.
Dave Brock, 74
A founder member of space-rockers Hawkwind, the electric guitarist and songwriter is the only original member of the group still with the band. He lives on a farm in Devon with his wife
I met Matt after I was invited to come on his LBC show. I went to the studio and his first words were, "I'm a Hawkwind fan!" Now, lots of people say it, so I said, "I'm sure you are." And he said, "I really am, I was at Stonehenge in 1984." And I replied, "Well, in that case you must know the words to 'Spirit of the Age'" –and he did, and he recited it in full. That was it for me; I liked him.
I invited him to perform with us at a gig in the Astoria. On the day I noticed he was quite nervous. The performance itself was OK, though [fortunately] "Spirit of the Age" is like a rap – you don't sing it.
Matt is an admirer of Bob Calvert, our vocalist and poet in the band, and he has since told me he bases lot of the ideas for the poetry he writes on Calvert.
I'm much more cynical than he is. In this business you need to be streetwise, what with all the nonsense in the music industry, and it's made me quite suspicious over the years. Matthew is a lot more easy-going than me.
We love having great political conversations about how the world should be run; he's very knowledgeable and smart, though our discussions can descend into arguments. I do watch The Wright Stuff sometimes; he's sharp and connects well with people and I tell you, when he's not there and it's a stand-in, you notice the difference.
Music is what connects us most: we've been to a number of festivals together – in fact, I got married to my wife at our own [Hawkfest] festival, with Matthew up there on stage with us, taking questions from the audience and doing his Wright Stuff thing. Both of us went to Matt's wedding, too: I loved how at the reception each table was named after a different festival; we were on the top table and it was called Hawkfest, which was great. Their honeymoon was at our festival, too; Matt and Amelia stayed in a tepee.
Like any friends, we've shared good times and bad. Matthew was very close with our Jason [Stuart], so after he died, he came to the funeral, which meant a lot; we all miss him greatly now. Last summer, I was given a lifetime achievement award, which Matt came on stage to present. But instead of just presenting it, he had this whole speech prepared; he covered lot of things I've done and been involved in, then when my time came to respond, I couldn't say much: that was a jolly nice moment. Matt tells people I had tears in my eyes, but that's nonsense; I don't cry.
The Hawkeaster festival, in Seaton, Devon, runs from 19 to 20 April (hawkwind.com)
Join our commenting forum
Join thought-provoking conversations, follow other Independent readers and see their replies