The Independent's journalism is supported by our readers. When you purchase through links on our site, we may earn commission.
How We Met: Mitch Tonks & Tom Parker Bowles
Nick Duerden
Thursday 12 July 2012 23:19 Comments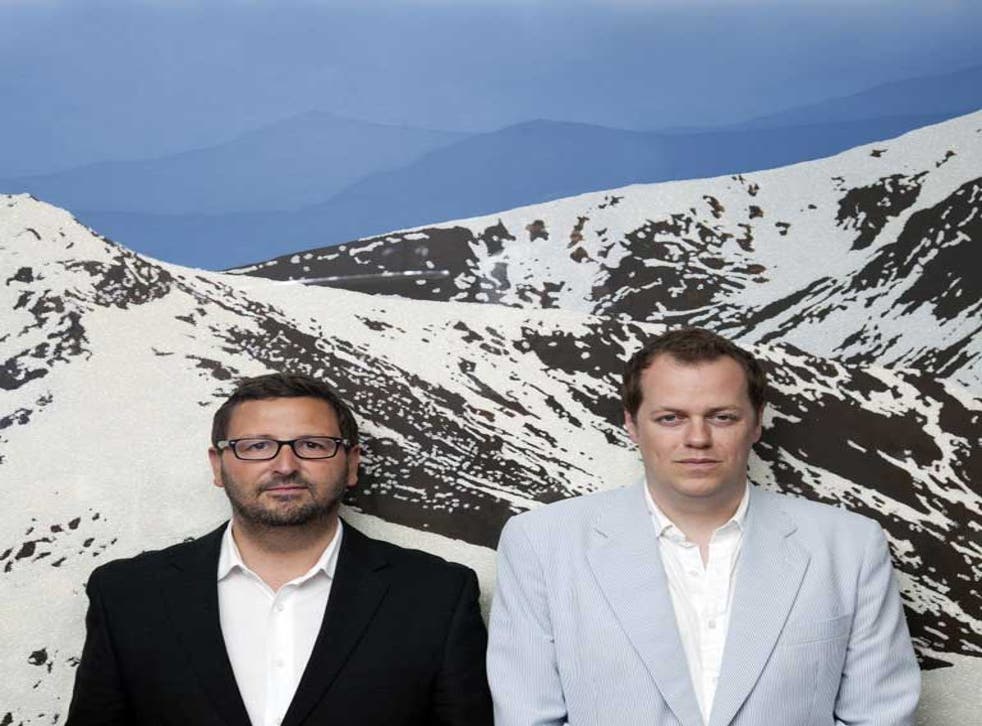 Tom Parker Bowles, 37
The son of Camilla, Duchess of Cornwall, Tom Parker Bowles (right in picture) is a food writer. Published in newspapers and magazines, he has also written three food books. He lives in London with his wife and two children.
I first met Mitch a few years ago in the Groucho Club [in Soho, London] with a few mates, and another chef friend, Mark Hix. We had a few drinks, one thing led to another, and we became friends.
My first impressions of him were of this incredibly funny, massively generous person who wanted to pay everybody's bill. I have to say that my opinion of him hasn't changed since: he really is terribly generous.
Mitch is a terrific chef and a fantastic restaurateur, and he really knows his fish. It's nice, as a food writer, to have a friend you can turn to for a professional opinion. I had to ask him recently, for example, the best way to barbecue fish, and his advice was, of course, brilliant. There is no chef-y nonsense to him. He simply talks practical good sense.
We went on a trip to Norway recently, cod-fishing. There's this whole idea that cod-fishing is unsustainable, the stocks are deteriorating; but what we learnt, right up by the Arctic Circle, is that it is, in fact, entirely sustainable. We had a fantastic time. It was such a thrill to be able to catch our own fish, take it ashore and cook it. It was also great fun to go to the bar afterwards, drink the local liquor and then start singing karaoke. He's a big Paul Weller fan, Mitch.
What I like most about him as a chef is that he isn't arty-farty, he isn't into all those smears, all that Michelin palaver. He does his fish with as few ingredients as possible, because the fish itself is the main attraction. He treats it with the respect it deserves. I was in his restaurant in Dartmouth recently, and his 11-year-old daughter came in with a bucket of prawns she'd just fished from the sea. He gave her £5 for them, threw them into the fryer and served them with minimum fuss. And they were perfect.
He has become, over the years, a proper friend. We can talk stone-cold sober, we can have sensible meetings, and we can have great nights propping up the bar in a members' club. He doesn't bore you with his opinions; he isn't a lecturer, a bully. He does have his own views, but he isn't confrontational at all, and I like that in him.
Mitch Tonks, 45
A highly acclaimed restaurateur, Tonks owns three fish restaurants, located in Devon and Bristol. He co-presented the TV series 'Mitch and Matt's Big Fish' with the former rugby player Matt Dawson, and writes regularly about food for magazines and newspapers.
For a long time, Tom and I shared the same circle of friends without ever actually meeting. When we eventually did, one night at a bar, it felt like we'd known each other all along, like the circle of friends just extended a little.
I had no preconceived ideas of him, but then I don't with anyone – you take people as you find them – and I found Tom to be a really good, fun guy. He has come down to the Dartmouth Food Festival a few times now, and he is always great fun. He gets a great crowd, and he always comes into the kitchen with us.
Tom loves his food and he's a great cook – even when he's trying to make Welsh rarebit for 40 people, only to neglect it on the stove because he is too busy chatting with everyone.
We had a real bonding experience recently when we went cod fishing in Norway. It was -30°, a terrible blizzard, and we were wearing these survival kits, but the scenery was beautiful.
You know when you meet up with Tom that you're going to have a great time. Why? He's a damn good laugh. I like to think I live for the moment and in the moment, and Tom does too.
I have read his books. He is very real and knowledgeable, and there is no bullshit with him at all. His new book is just a wonderful collection of recipes, but then he is a hugely natural cook. I think we share the same sensibilities: we like good, honest simplicity, and we enjoy the table and the camaraderie, rather than the showmanship of cooking.
We also share the same opinion on the whole food miles thing. It drives me crazy. I'm quite happy to import cheeses from the rest of Europe simply because they do it better than we do here. Where's the problem? If people are happy to drink a bottle of wine that comes from abroad, or buy their washing machines from outside the UK, why do they have such a hard time doing likewise with food?
Something else I like about him is that he has a lot of endurance. When we meet up, we can often do 10-, 15-hour lunches. We met up recently at Jamie Oliver's new place, Union Jacks. There were a bunch of us there, Jamie as well, for an early dinner, six o'clock. At midnight, the drink was still flowing. It was a long night.
Mitch Tonks is an ambassador for Norwegian Seafood (facebook.com/seafoodfromnorway). His new book, 'Fish Easy', and Tom Parker Bowles' latest, 'Let's Eat', are both published by Pavilion
Register for free to continue reading
Registration is a free and easy way to support our truly independent journalism
By registering, you will also enjoy limited access to Premium articles, exclusive newsletters, commenting, and virtual events with our leading journalists
Already have an account? sign in
Join our new commenting forum
Join thought-provoking conversations, follow other Independent readers and see their replies