How We Met: Roger Saul & Mary Portas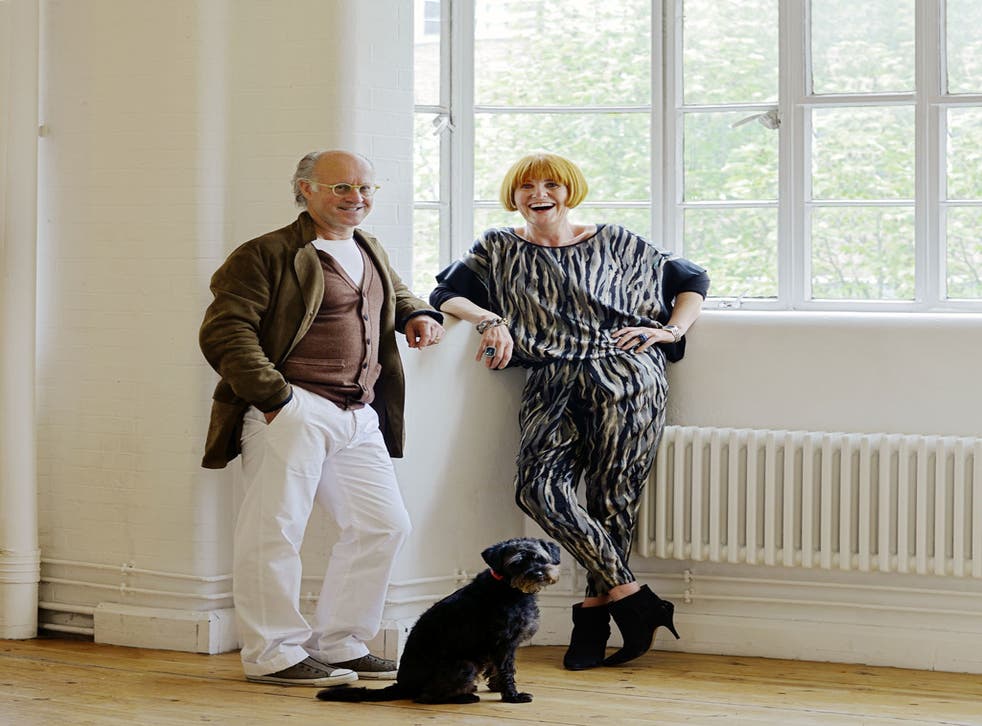 Roger Saul, 61
After founding the fashion label Mulberry in 1971, Saul turned the small start-up into a multimillion-dollar luxury brand before being ousted in 2002. He went on to form the organic-food label Sharpham Park, though has recently returned to fashion with discount designer shopping village Kilver Court. He lives in Somerset.
I had an idea for a Mulberry home collection in 1990. It was a new concept, as no other designer brands had done one before, so we approached Harvey Nichols to take over the entire fourth floor [of its London department store]. In the meeting I was struggling to get them to accept the concept, then Mary came in like an Exocet missile, saying, "How are we going to make it happen?" She wasn't scared to make a decision, which was so refreshing.
Working with Mary over the years was an exciting ride; whenever I had a concept that was evolutionary – such as our all-weather collection made from Nasa spacesuit materials – I'd go to her.
When I left Mulberry, I left the fashion industry entirely. In a sense it was almost like a divorce [from the industry]. But I got into farming, and started again, and Mary and I lost touch.
It was my food brand Sharpham Park that reconnected us – as her partner Mel loves our granola products – so in the past couple of years we drifted back together. Mary is fascinated by that [organic-food] side and Mel is even more interested, as she is having a baby soon. Mary also loves Somerset and often comes down here.
Recently she came to see my new designer fashion village Kilver Court [outside Shepton Mallet], which is based around the idea of regeneration: farming has taught me we have to respect and look after our resources.
I look at Mary and I love to think she's a female version of me. Yes, I'm slightly more reticent, while she likes to stick her feet straight in, but we're both trying to achieve the same thing: creating something from nothing. When she first did Mary Queen of Shops, I wondered whether it'd work, but she pulled it off and it's been a springboard for her. She's been given a huge task now with Portas Pilots [a Government scheme led by Portas to regenerate 12 high streets] and I think it's a bit of a poisoned chalice. But she's the sort of person who can do it.
Mary Portas, 52
Best known as the force behind the BBC TV series 'Mary Queen of Shops', Portas began her career as a display manager in Harrods before moving on to Harvey Nichols. She subsequently co-founded the marketing agency Yellow Door. She was recently appointed by David Cameron to lead a review into the future of troubled British high streets. She lives in London.
Mulberry during the time of Roger was what every great British brand should be about: quality, beautiful craftsmanship and a quintessential style. I was a huge fan of Mulberry's belts, so when he came to us in 1990 and suggested the new home range I thought, wow, that's ground-breaking, why not?
Not everyone was on board with it initially, but I like breaking new ground in business. I think one's fall-back position in life is to keep to the status quo, but we'd never grow if we did that, so it's much better to go in fighting [for change], and Roger feels the same; he's a great person to go into battle with. We're quite different, though: he's calm and gentle, exuding all this warmth, while I'm seen as more brittle. Underneath, though, he has this steely determination to get things done and we connected.
I really believe that Roger was at Mulberry's heart, like a wonderful, colourful peacock, and when he left I remember him telling me what a sense of loss he felt. Often, when you get rid of a visionary boss such as Roger, you end up with design by consensus, and I think it took a long while – a really long while – for Mulberry to find its feet again. It's very different now [to Roger's vision]; I wouldn't call it bling, but it is opulent.
I always knew he'd go on to do something else important: how many men are still blazing a trail in their sixties? That [trait] is another thing we have in common: we never say no to a new challenge. Roger branched out into food with his Sharpham Park brand and [my civil partner] Mel has become obsessive about it. I'm a porridge girl but she became so obsessed with his granola range that we used to have to go around finding the right Waitrose, as not all the shops stock his whole range. I thought, I'll have to ask him to send it to us direct.
My heart is in Somerset, as I've been going down to the West Country since I was a child. And now if I want to free my head I travel over there: it's one of the most beautiful places in the world and it really balances the other side of my personality. I might seem hard on the outside but I'm soft on the inside and Roger is a part of that [process of balancing me] – he's a ray of sunshine.
For more information: kilvercourt.com, sharphampark.com
Register for free to continue reading
Registration is a free and easy way to support our truly independent journalism
By registering, you will also enjoy limited access to Premium articles, exclusive newsletters, commenting, and virtual events with our leading journalists
Already have an account? sign in
Register for free to continue reading
Registration is a free and easy way to support our truly independent journalism
By registering, you will also enjoy limited access to Premium articles, exclusive newsletters, commenting, and virtual events with our leading journalists
Already have an account? sign in
Join our new commenting forum
Join thought-provoking conversations, follow other Independent readers and see their replies