How We Met: Ron Arad & Steven Isserlis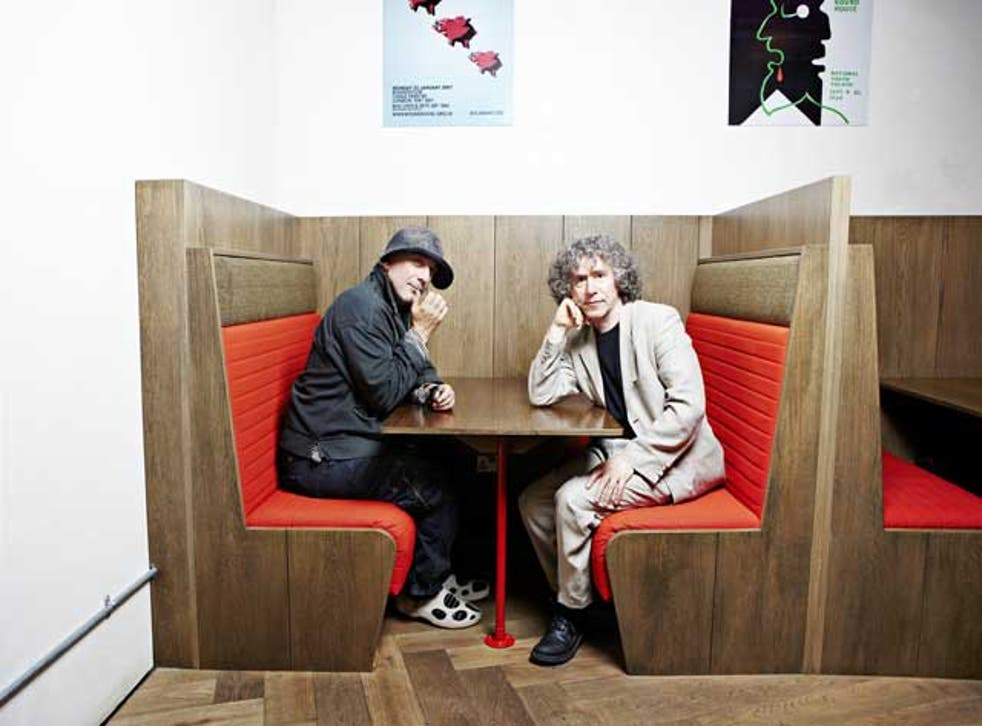 Ron Arad, 59
An Israeli architect and industrial designer, Arad was catapulted to design stardom with his Rover Chair in the early 1980s. He has since collaborated with a number of iconic furniture companies, including Vitra. He lives with his wife in London
I met Steven through Pauline, his late wife. He was a young musical prodigy and initially we did lots of competitive wisecracking, but over time the relationship evolved into something else, and the conversations deepened.
We were part of a group living in north London, all outsiders to a degree, so we were like family. There were Sunday lunches at each other's homes, dinners out and lots of [parlour] games. And we all went to Steve's concerts. He's a fantastic cellist, and it's amazing to watch him play. He adds another layer to a piece he's playing with a delivery that's special to him – he's just so expressive. And then of course there's his long hair.
We've only ever collaborated twice. Eight years ago he asked me to do a record cover for him, using an image of Camden's Roundhouse arts venue, and now it feels appropriate that our next collaboration is here. It's a series of performances and 360-degree images, made by people I've invited to create work for it, projected on to a 20-metre curtain made of silicon rods. I thought it would be fantastic to have Steve performing in the middle of it.
Steven's social skills are rather good, but everything he knows is limited to his world of interest: literature and of course his music. So many things that are common knowledge to everyone else, he is completely unaware of. I think my area of visual arts has not penetrated his attention at all.
Pauline's illness [she died last year following a long battle with cancer] was a time of great bonding for us. She became ill a few years ago, then she started doing a lot better, but then there was a relapse, and it was hell. I dealt with it by being there with them as much as I could, alongside Alma, my wife, and several others in our group.
It was important for Pauline that Steven went on performing, that he didn't miss concerts, so we all did everything we could to help him do that. A few weeks ago a four-hour memorial concert was held at the Wigmore Hall, and Steven played in it. There were lots of our friends group in the audience. His performance was fantastic and I felt incredibly emotional. He's been through a lot. But he is strong.
Steven Isserlis, 52
One of Britain's best known cellists, Isserlis travels throughout the world performing with the likes of the Berlin Philharmonic and the Orchestre des Champs-Elysées, as well as giving solo and chamber concerts. He lives in north London.
Ron was very cross with me when we first met, about 30 years ago. He was part of this tight group of friends living around Belsize Park who were like family to my late wife, Pauline. Ron's brother was going to a festival that I was also attending, and Ron had given Pauline a package for me to pass on to him, but I lost it – I've still no idea what happened to it. When we met at a party a few days later, he wasn't pleased with me at all.
It took me some time to fit into the group, and get to know Ron, but after a while we all became very close. We would celebrate birthdays together and gather around each other in moments of crisis.
Over the years, he's tried to teach me a bit about design, as I'm a complete heathen. The first thing I thought about the Rover Chair was that he's great at taking very simple ideas and making something brilliant out of them, which appeals to me because in music, I'm always going after simplicity. And he's a very witty designer.
He gets on well with my son, Gabriel, who I took round to his for brunch recently. We both enjoy hanging out there; it's an amazing space with lots of exciting objects. Gabriel loves his designs, and at one stage he wanted to be a designer, because of Ronnie.
On the surface Ron may seem brusque – he's not the sort of person to say thanks, he likes to wink his approval instead – but with Pauline, particularly in her final year, I saw how kind he and his wife are; they were there for us. I suppose going through things like that brings you very close.
When Ron asked me to take part in his new Roundhouse project, Curtain Call, I thought: "I don't think Bach needs visuals." I don't normally do anything outside normal music recitals, but I know that Ronnie won't make it look ridiculous. He has taste, intelligence and an understanding of how to make it complementary to the music, but most exciting is how he's got my son involved. It will be Gabriel who will be controlling the film projection when I'm playing, which will be very interesting.
Ron Arad's Curtain Call' is part of Bloomberg Summer at the Roundhouse, London NW1 (roundhouse.org.uk), until 29 August
Register for free to continue reading
Registration is a free and easy way to support our truly independent journalism
By registering, you will also enjoy limited access to Premium articles, exclusive newsletters, commenting, and virtual events with our leading journalists
Already have an account? sign in
Register for free to continue reading
Registration is a free and easy way to support our truly independent journalism
By registering, you will also enjoy limited access to Premium articles, exclusive newsletters, commenting, and virtual events with our leading journalists
Already have an account? sign in
Join our new commenting forum
Join thought-provoking conversations, follow other Independent readers and see their replies