How we met: Sami Tamimi & Yotam Ottolenghi
'We shared an incomprehension of traditional English food: what's a mince pie? Why does it sit under the bed for a year?'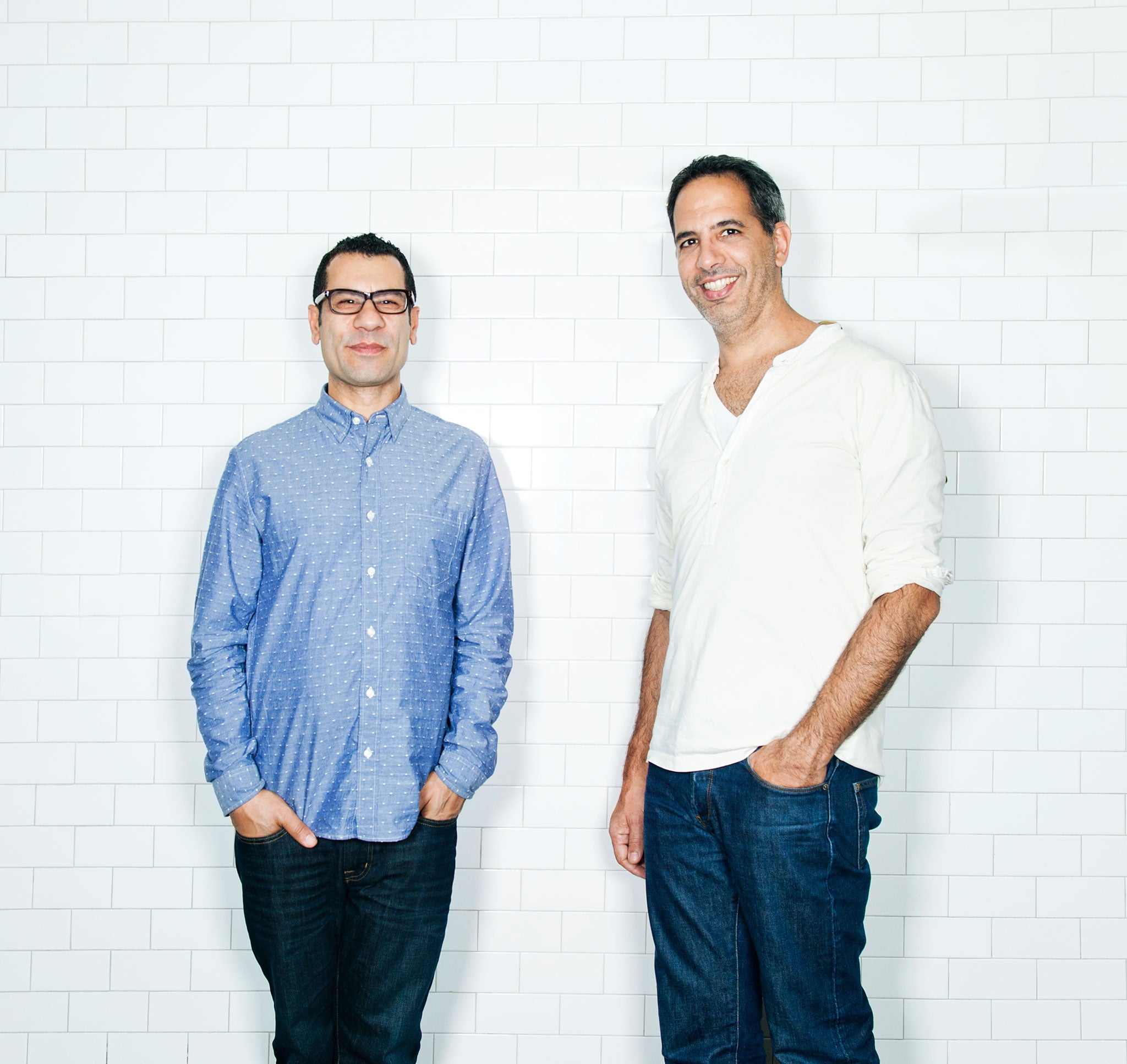 Sami Tamimi, 44
Moving to London to work as a chef in 1997, Tamimi (left in picture) ran the kitchen at the bakery Baker & Spice before joining Yotam Ottolenghi as a partner at the latter's deli chain. He has co-authored several books with Ottolenghi, including 'Plenty' and 'Jerusalem'
We were born in the same year; we grew up in the same city, Jerusalem; and as adults we moved on to Tel Aviv at about the same time, even frequenting the same restaurants. But we never met until we'd both moved to London.
I was working at [west London deli] Bakers & Spice when he walked in – he was looking for a job as a pastry chef. We got talking in English and when he asked where I was from, I said Israel – and we switched to Hebrew. Initially he thought I was Israeli-Jewish [Tamimi is an Arab-Israeli], as I had no accent. I gave his number to the manager and he got the job.
We worked in separate departments, as I was in charge of savoury things, but slowly we became good friends, spending time together. Coming from the same place and having the same language gave us a bond, but we also shared an incomprehension of traditional English food: what's a mince pie? Why does it sit under the bed for a whole year, and why do they call it a mince pie when it's sweet?
We hung out a lot, went to the countryside with friends and we used to do pilates together [Ottolenghi is a qualified pilates instructor]. But it was the food that really connected us.
After three years, Yotam started talking about opening his own place. When he found a location at Ledbury Road [in west London], he asked me to join him. I hesitated at first because we were close friends and I was worried about how it might affect that, but eventually I agreed; I did savoury, Yotam did pastries and cakes. Did I want it to be called Ottolenghi-Tamimi? Well, initially I felt a bit unsure about the name, but then I didn't have any money to put behind it at the time like he did. Of course I'm fine with it now.
People thought we were a flower shop at first, as we this had this big arrangement in the window. But we did well through word of mouth: we brought new flavours of the Middle East to London, using ingredients such as rosewater and pistachio syrup in our cakes.
We only argue about the small things; for example, I like my food a little simpler than Yotam. I'll suggest a tomato-and-cheese salad for the savoury section and Yotam will be like, "That's boring, it will just bring the vegetarians in." But we do have the same tastebuds, ultimately.
These days, I'm in charge of the four kitchens [three Ottolenghi branches and the Soho restaurant Nopi] and running the business, while Yotam does the other side: the recipe books and the promoting. I prefer cooking than chit-chat and interviews, as I'm so private. But we still chat every day, and we're still close: it's like a marriage.
Yotam Ottolenghi, 44
After moving to London in 1997 to train at Le Cordon Bleu, the Israeli set up his first eponymous deli in Notting Hill in 2002. He has since opened up two further shops and his restaurant, Nopi, in Soho
I went into Baker & Spice in Knightsbridge to apply for a job and I got talking with this guy who was working there, called Sami. It took a while, but I realised he grew up in Jerusalem, too, and then we realised that we also moved to London at the same time.
I got the job, and for the first few years we worked together side by side. Sami ran the main kitchen while I was working in the pastry department. After work, we'd go do stuff together; visit the parks in the summer, or go to cafés in Soho to watch the world go round.
In Israel, every conversation ends in politics, but Sami's not a political person and at that point I was depressed about what was happening [with the peace process] and I became less interested in Israeli politics. Having this ability, living in London, to disengage from the conflict and live a normal life without being labelled a Jewish Israeli, or Sami a Palestinian Arab, was great.
After a few years I had my first thoughts about opening a patisserie. As a friend, Sami was supportive, and once the location was sorted, he agreed to join me and my other business partners. In the beginning, because he joined us later, I was more like the boss – calling the shots, while he ran the kitchen. So we had to reach a new equilibrium on how to work together, which took us a few years.
Our friendship is never separate from work now. When we used to go out to restaurants together, it was to taste food and discuss ideas. There are small differences in what we like: I always look for a bit more complexity in a dish; a hint of spice or an extra herb, while Sami is always happy with one herb less.
Though I'm more comfortable about being the front for Ottolenghi, there have been many times in the past where I have felt Sami has not been recognised creatively, as I would always do promotion. But Sami is an equal creative partner. Should I have called it, say, Ottolenghi-Tamimi? I always feel guilty about it and seek to justify the name. I actually didn't want to call it Ottolenghi at first, but [my business partner] Noam thought it sounded mysterious and exotic, and I was happy to be in the limelight.
Nowadays, I'm a more political person than Sami; he's more private. So when I hear about Selfridges suspending an employee for refusing to serve a friend of the English Defence League leader, say, I get wound up. I wouldn't have. Sami doesn't see the world like that – he has a different temperament.
But he has given me something else: a sense of freedom, which he applies to the way he lives. It translates to the food he makes, which is free from convention. Many chefs cook according to clear traditions, such as using French cooking techniques; always making a stock every time you cook meat for a sauce. But Sami is more off the cuff, and leaves those rules behind. I love that about him.
For more: ottolenghi.co.uk
Join our commenting forum
Join thought-provoking conversations, follow other Independent readers and see their replies