How We Met: Simon King & Dave Myers
Adam Jacques
Thursday 26 July 2012 18:44 Comments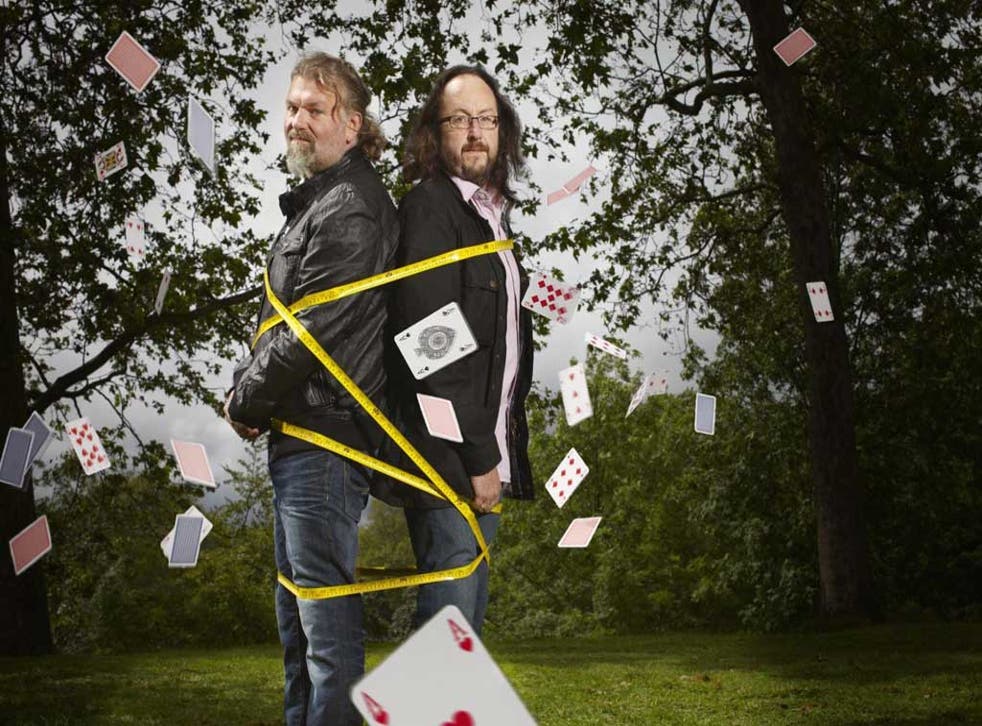 Simon King, 45
King (left in picture) worked in TV and film production before he joined up with Dave Myers for 'The Hairy Bikers' Cookbook' eight years ago. The show has since had a string of follow-ups. He lives in Tyne and Wear with his wife and children.
We met on the set of a Catherine Cookson TV drama, The Gambling Man. I was the second assistant director and Dave was head of prosthetics, hair and make-up. At lunch most of the crew were ordering salads and mineral water at the local pub, while I was having a curry and two pints of larger. When Dave came in he took one look at my lunch and went, "I'll have what he's having!" Pretty quickly we discovered that we both loved eating, drinking and motorcycling.
We worked quite closely together and we started cooking together one New Year's Eve party at my place in Huntly [Aberdeenshire]. I assumed I'd cook and Dave thought he was going to do it, as he'd always been the chef in his family. So we made it together, spiced roast pork with sticky rice, and it was really good.
When we were both off work, normally in winter, we'd freeze our cojones off riding around the west of Scotland, and we had a brilliant time. I sold him a pristine Japanese motorcycle I'd restored, but it broke down a few days after he got it and he was on the phone to me: "I want my money back, you bastard!" I went, "Well, listen, I've just spent it on my children's shoes, so I'll come up in a van and pick it up, and give you half the money back then." He's still waiting for the other half.
We hadn't had a pay rise in the film industry for 15 years, so we decided to do something different, together. We had all sorts of mad ideas, such as farming lobsters, but then we thought, we're good at riding motorcycles, we have a good knowledge of food and talking rubbish, put that all together and here we are. Now we spend more time together than with our own families.
We have this saying when doing The Hairy Bikers, "It'll be right," which it normally is, but we've had some hairy times, such as riding through a landslide in the Carpathian mountains; or having the crap beaten out of us by two Turkish blokes when we where filming in Mardin [in south-east Turkey]. After that Dave was like, "I don't know about you, but that wasn't top of my pops." He had me poleaxed from laughing for minutes.
Dave Myer, 54
A former make-up artist, Myers co-created successful food-travelogue series 'The Hairy Bikers' with King. He lives in Barrow-in-Furness with his partner Lili.
Back in 1992 I joined this Catherine Cookson series starring Robson Green, which Si had been working on for a while, and we got chatting over lunch.
Si was restoring these classic Japanese motorcycles and I bought one for £1,000. I loved how it looked, orange and shiny – but it was dreadful; it broke down after just two days. He said, "I can only give half back now as I've spent the other half." So he drove up to see me in Scotland in a mini-bus, to take the bike back, and he ended up staying for a week.
We started cooking together one New Year's Eve party for 12 of us, flambéing bananas in Southern Comfort in front of everyone and having a laugh.
We became good mates and I got to know his family during Christmases. I'd bring seafood for the starters, Si's mum would do the turkey and Si's mother-in-law would do a Snow Queen meringue for the dessert – and they all became like family to me.
Simon and me are quite different. I'm dead fussy; I like everything ironed and sorted, while until I had a crash on motorbike [on the Isle of Wight in 2006] Si hadn't picked up an iron in his life. I'd bust my shoulder and broke my wrist, so he ironed all my laundry for me – it was bloody awful, but he had a go. And then I had a shower – arms in plastic bags, so I couldn't wash my own armpits –and said to Si, "I can wash my bits but not that area." So he started washing my armpits for me and I started singing, "Je t'aime". He said, "If there's any movement downstairs, I'm off!"
It made us laugh when one newspaper said we were obviously drama-school boys put together by a production firm: we've been in so many situations and always been there for each other.
If you love cooking, dieting is hard – you can lose your hobby. But when we found out that we were both on the same blood-pressure tablets for no reason other than being overweight, we decided to do something about it – which was how [new series] Hairy Dieters came about. Si now looks great; he's lost weight in his face and lost his potbelly and now we're able to buy the good jeans rather than fat blokes' jeans at the bottom of the pile.
'Hairy Dieters' starts on Thursday at 8pm on BBC2. The Hairy Bikers' live stage tour starts this autumn (hairybikers.com)
Register for free to continue reading
Registration is a free and easy way to support our truly independent journalism
By registering, you will also enjoy limited access to Premium articles, exclusive newsletters, commenting, and virtual events with our leading journalists
Already have an account? sign in
Join our new commenting forum
Join thought-provoking conversations, follow other Independent readers and see their replies