Hugh Laurie: Because he's worth it
Actor, musician and now 'ambassador' for L'Oreal, he's the embodiment of crumpled modern manhood whose crucial attribute may be his appeal to both sexes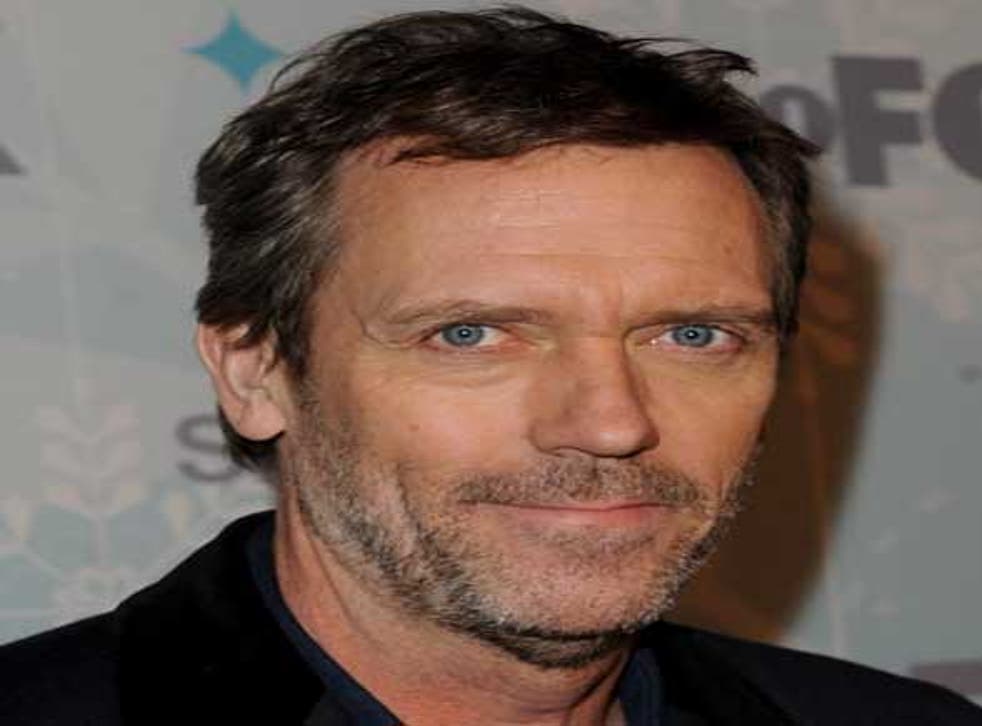 Cyril Chapuy, global bigshot of L'Oreal Paris, explained Hugh Laurie's essential virtues to the world last week: he is, he said, "the perfect example of a modern man: genuine, uninhibited, strong and willing to pursue his passions to the end." M. Chapuy was introducing Laurie as L'Oreal's new ambassador for its range of male cosmetics.
He joins a roster of actors and sportsmen – they include Gerald Butler and Eric Cantona – who supposedly occupy a niche of glamour and heroism in the public consciousness.
Laurie, however, is not a man who fits that niche very snugly. He is not glamorous. In his early career, he specialised in upper-class-twit roles, all flared nostrils and goggling eyes; later, playing the titular Dr Gregory House in the Fox TV series House, his characteristic look was dishevelled and woebegone, his face a rictus of glowering dislike. Laurie's character is a hero – a master diagnostician who uncovers the truth about the human condition in every episode – but always a hero against the grain, contra mundum, in the teeth of medical orthodoxy. Those who remember the dashing, romantic idealism of Dr Kildare and Dr Finlay will recognise Dr House as their polar opposite.
James Hugh Calum Laurie OBE, the man, comes across as even more conflicted than his cantankerous alter ego. He is a stratospherically high achiever, a transatlantic star, a multi-talented artist and sportsman who seems to have spent years playing down his achievements and worrying about failure. One of the young Turks who flourished at the Cambridge Footlights and on prime-time TV at the start of the 1980s (they included Stephen Fry, Emma Thompson, Ben Elton, Robbie Coltrane and Tony Slattery), he has emerged as their starriest member, eclipsing even Fry, his best friend since Cambridge.
"People sometimes call me a Renaissance man, but I'm not and Hugh is," Fry once said. "He's a natural athlete. He's a gifted musician. He is clever, perceptive, has natural charisma. Sometimes it is thought that I'm the loudmouth and the dominant one, but we have been an equal partnership." Yet Laurie has never shared Fry's confidence, his seraphic certainty that what he is doing is worthwhile.
If ever he could afford to pat himself on the back, this is the year. Last autumn, it was revealed that he's the highest-paid actor in any television drama, pulling in over $400,000 (£250,000) an episode. In May he released his first record, Let Them Talk (the title carrying a hint of sod-the-begrudgers.) It was an astonishingly accomplished collection of classic blues songs, with Laurie playing guitar and boogie-woogie piano. A tie-in TV documentary showed him performing in concert in New Orleans, the camera lingering on the impressed grin of Alain Toussaint, the horn-section supremo. The album roared up the charts.
Now Laurie is the face (and of course the glowing, wrinkle-free skin) of L'Oreal. But, as he keeps asking himself, is he really worth it? Friends and fellow actors constantly bring up his doubts and insecurities ("When I looked at him through the camera," said Ben Elton about an early collaboration, "the vulnerability was heartbreaking") and he himself can be relied on, in interviews, to strike a note of existential despair. "Perhaps that's my problem – where is the struggle?" he agonised to the Guardian. "There has been no struggle. Where's the passion of my life? Where is its purpose?"
One can find clues in his childhood, which was confusing and unhappy. He was born in Blackbird Leys, Oxfordshire, a council estate built to house British Leyland workers at the Cowley car factory. His father, William whom he adored, was the local GP. He won a gold medal rowing in the coxless pairs at the London Olympics in 1948. His mother, Patricia, suffered from mood swings and had high expectations of Hugh, which he always disappointed. He cheated in French tests, told lies chronically, smoked in the school loos and refused to work hard. When ordered to have piano lessons, he went on hunger strike for three days (and got his own way.) The youngest of four siblings, six years younger than the nearest in age, he grew up "sort of alone".
At Eton, he took up rowing like his father and represented Britain at the 1977 Junior World Rowing Championships. At Selwyn College, Cambridge, he read archeology and social anthropology, rowed in the Boat Race and was introduced to Stephen Fry by his girlfriend, Emma Thompson. They and their Footlights peers co-wrote The Cellar Tapes, which won the Perrier Award at the Edinburgh Fringe, and televised in May 1982. A meeting with Ben Elton landed him the part of the idiotic Prince Ludwig (and later, the Prince Regent) in Blackadder; he played Bertie Wooster to Stephen Fry's Jeeves; in their two-man show, A Bit of Fry and Laurie, he nonchalantly played cocktail-bar piano in occasional sketches, for no reason except that he could.
In 1989, his mother died of motor-neurone disease after two years of what her son called "painful plodding paralysis", and he married Jo Green, a theatre administrator. They moved into a house in Belsize Park, north London, and have three children, Charles, William and Rebecca, two of whom have been given bit-parts in their father's TV shows. The Footlights set reappeared en masse in the 1992 film Peter's Friends, directed by Kenneth Branagh, about a group of pals from Cambridge who meet 10 years later to compare lives. Branagh's character was a Hollywood scriptwriter; Laurie played an unhappily married writer of jingles.
While critics were unanimous in thinking the film a vanity project by a bunch of conceited Oxbridge toffs, one might wonder how the stars felt about their real-life achievements. Did Laurie wonder if his career would stall, leaving him dabbling unsuccessfully in music? Did he look at his university chums and wonder if he'd ever stand out? Did he look at Branagh's character and think: "Hollywood!"?
As careerist pushiness goes, he wasn't very pushy. It took him 12 years to get to Hollywood. He auditioned for the part while filming in Namibia; he recorded his audition tape in his hotel bathroom, the only room in which he could get any light. It worked. His abrasive, sardonic rasp of an American accent turned him into a character virtually unrecognisable from his Prince Regent fop or Woosterish ass. With one bound, he reinvented himself as a dramatic actor, an homme serieux – and an honorary American.
Audiences loved his crotchety, limping, Vicodin-popping misanthropy. Women longed to penetrate his carapace and find a heart inside. He was nominated for an Emmy in 2005, won a Golden Globe in 2006 and 2007 and a Screen Actors' Guild Award in 2007 and 2009. In the last four years of the People's Choice Awards he's won Favourite Male TV Star or Favourite TV Dramatic Actor every year. The downside of his success was the requirement that he spend nine months of the year filming, holed up in Hollywood hotels and seldom seeing his wife and family. In 2008, he and Jo planned to relocate the family from London to Los Angeles, but finally decided against it.
The current series of House may be the last, enabling him to come home. He has, at 52, done enough to feel his mother's burdensome expectations of him have been fulfilled at last. His achievement isn't the money, the transatlantic fame or the awards. It's that he has come to embody the quality of integrity – not just in playing Gregory House, but in his musical obsession, his self-questioning, his restless intelligence, his battle against feeling a failure. And he finally managed to supply an answer to his early question. "What's my purpose? Having children, that's my purpose. I am eternally in my children's debt. They stop me thinking about other stuff."
A life in brief
Born: James Hugh Calum Laurie, 11 June 1959, Oxford
Family: The son of William, a GP, and Patricia, Laurie is the youngest of four children. He married theatre administrator Jo Green in 1989. They have three children.
Education: Attended Eton before doing a degree in archaeology and social anthropology at Selwyn College, Cambridge, where he was president of Footlights, the university dramatic club.
Career: His Footlights' annual revue, The Cellar Tapes, was taken to the Edinburgh Festival, then televised. He starred in various TV sketch shows until Blackadder and A Bit of Fry & Laurie gave him greater exposure. Film credits include Sense and Sensibility, Stuart Little and Maybe Baby but it is as the misanthropic Dr Gregory House in House that he is best known. This year he released his first blues album, Let Them Talk. Awarded OBE in 2007.
He says: "I suppose I am drawn to people who worry, who are tortured. I find I am always faintly suspicious of happy people."
They say: "I bow to Hugh in almost everything" – former comedy partner, Stephen Fry.
Register for free to continue reading
Registration is a free and easy way to support our truly independent journalism
By registering, you will also enjoy limited access to Premium articles, exclusive newsletters, commenting, and virtual events with our leading journalists
Already have an account? sign in
Register for free to continue reading
Registration is a free and easy way to support our truly independent journalism
By registering, you will also enjoy limited access to Premium articles, exclusive newsletters, commenting, and virtual events with our leading journalists
Already have an account? sign in
Join our new commenting forum
Join thought-provoking conversations, follow other Independent readers and see their replies