Hugo Weaving & Nicholas Harding: 'I've learnt how he shapes his physical being - now I can almost draw him in my sleep'
The actor and the artist met at their children's school in Sydney
Adam Jacques
Thursday 28 May 2015 17:41 Comments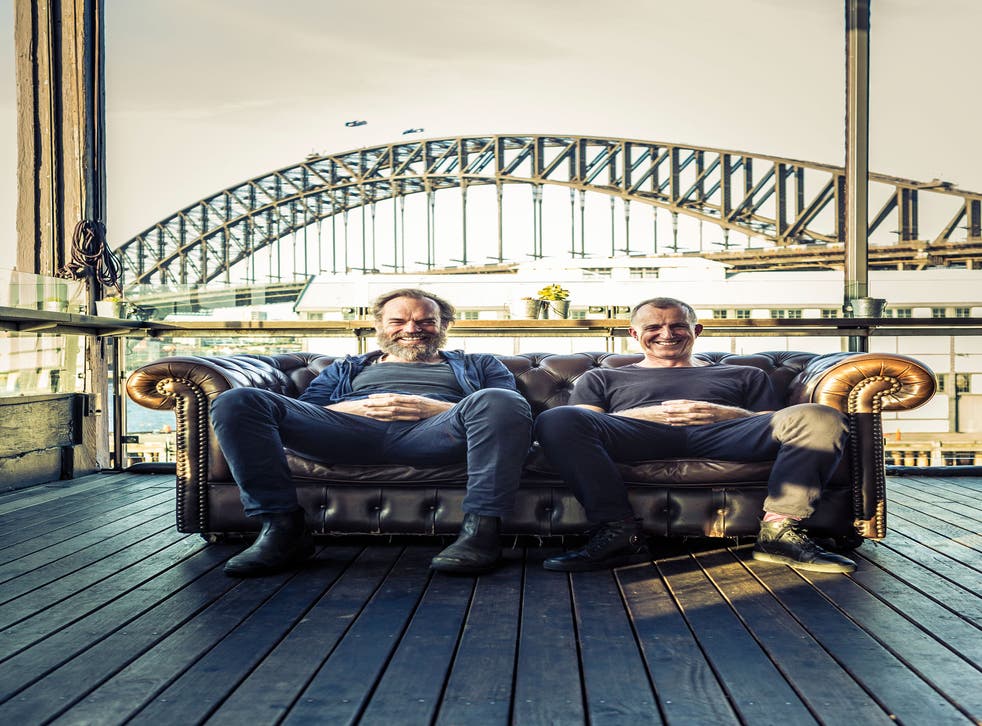 Hugo Weaving, 55
A prolific actor on stage ('Les Liaisons Dangereuses, 'Uncle Vanya', 'Macbeth') and screen ('The Matrix', 'The Lord of the Rings' trilogy, 'Captain America'), Weaving (left in picture) lives in Sydney with his partner of 20 years, the artist Katrina Greenwood, with whom he has two children
My daughter, Holly, and Nicholas's son, Sam, were at the same school, and Nicholas and my partner, Kat, were helping paint a mural outside a classroom. I went along too, and found him shy, quiet, engaged in what he was doing. But slowly, over time, I got to spend more time with him, doing things like picking up the kids, and I got to know him better.
Both Sam and Holly had Spanish exchange students over. They arrived at Sydney Airport on the same day, and we all did the Sydney Harbour Bridge climb, chatting as we went, about insecurities and shyness. Nicholas doesn't push himself on you, and his quietness of thought resonates with me. Because I'm an actor, people say that I'm more outgoing, but I don't think that I naturally am.
Some of our other friends' kids were at the same school and we started a cook club: really an excuse to get together at one house or other to drink, talk and laugh, with everyone bringing something: Nicholas is the sweet man. And during one drunken club meeting, we decided to go to Sicily together.
I've had a lot of good times holidaying with Nicholas. I remember in particular one beautiful day we had on a nature reserve in Vendicari, in south-east Sicily, where I found a little al fresco restaurant. We spent the whole day there, having good food and wine.
His interest in theatre and film is extraordinary. When Nicholas went to Paris a couple of years ago [for an art residency], he was staying in a flat overlooking a square where a travelling theatre company had set up. Through his window he started drawing the rehearsals – actors in Shakespearean costume in the middle of winter – which he put on Instagram. I saw these wonderful drawings, so I invited him to come do something similar at the Sydney Theatre Company's productions of Waiting for Godot and Macbeth, and it became this wonderful melding of our practices. I loved talking to him about his work, and he got a lot from seeing us rehearse, and we compared notes on process.
His paintings are luscious, with thickly applied paint; they're almost edible. He's best known for his Australian beach scenes – people sitting there, lost in their own worlds. Nicholas knows I'm a big admirer of his work – I own quite a few of his pieces. And similarly he's now seen a lot of my stage and film work. I think he's not particularly keen on some of it, though he's far too diplomatic to mention which.
Nicholas Harding, 59
An Australian portrait and landscape artist, Harding has been a finalist in Australia's most important portraiture award, the Archibald Prize, 13 years in a row. He lives in Sydney with his wife, with whom he has a son
The power of Hugo's voice is his great strength: it comes from deep within the diaphragm and projects out into the audience. My wife and I go to the theatre in Sydney all the time, and we saw Hugo in a lot of plays long before we met: the first was [Ben Jonson's] The Alchemist, in the 1990s.
Our kids were in the same year at school and we parents went in to help paint a mural there, in about 2000. I knew Hugo was a private person so I didn't want to intrude by gushing, "I love your work!" Instead, we steadily got to know one another through school stage productions and a Spanish exchange programme we all took part in.
One of the first times that we went out for dinner together, he mentioned to me that he was shy. I said, "Wow, but you put yourself up on camera and stage – how do you manage that?" He said, "Well, it's not me! I'm shy until I start to interact on stage, with an audience." It's a remarkable transformation to watch.
I admire how he doesn't play the star game, as he doesn't like attention drawn to him. We're both private people, and when it came to friendship, we discovered that we both enjoyed the slow, quiet reveal of things.
About five years ago, with another couple, we started a cook club, taking it in turns to pick a national cuisine. And one Christmas Day, at his farm outside Sydney, we decided to do a cook club abroad, in Sicily.
We charged around the place, discovering restaurants and wandering around old sites: it was great to see him experiencing a sense of moment at the magnificent ancient Greek theatre in Taormina. He has a real sense of wonder about the world: each day he would go off into the wilderness and pick wild flowers, then come back and arrange them in vases.
Hugo's an actor's actor: he totally inhabits a character. I'm not a particular fan of The Hobbit or The Lord of The Rings [in which he played the half-elven Lord of Rivendell] but I always thought the first Matrix film was great, as was his performance in V for Vendetta.
I have exhibitions in Sydney every year and he's brought some of my pieces; it's nice to know we're mutual fans – though the first time I painted him, he was reluctant. I went to rehearsals held by the Sydney Theatre Company and, from the gantry, I drew him in Macbeth, Endgame and Waiting for Godot. He has a fantastic face to draw: its shape, the intelligence and humour animating it. From watching him rehearse, I've learnt how he shapes his physical being: now I can almost draw him in my sleep.
The Sydney Theatre Company's 'Waiting for Godot', starring Hugo Weaving, is at the Barbican, London EC2 (barbican.org.uk), from Thursday to 13 June
Register for free to continue reading
Registration is a free and easy way to support our truly independent journalism
By registering, you will also enjoy limited access to Premium articles, exclusive newsletters, commenting, and virtual events with our leading journalists
Already have an account? sign in
Join our new commenting forum
Join thought-provoking conversations, follow other Independent readers and see their replies