Iggy Pop was a punk before punk was invented but now the master revivalist is set to take a regular BBC Radio 6Music slot
The wildest of rock's wild men, the drug fiend's drug fiend is to be a DJ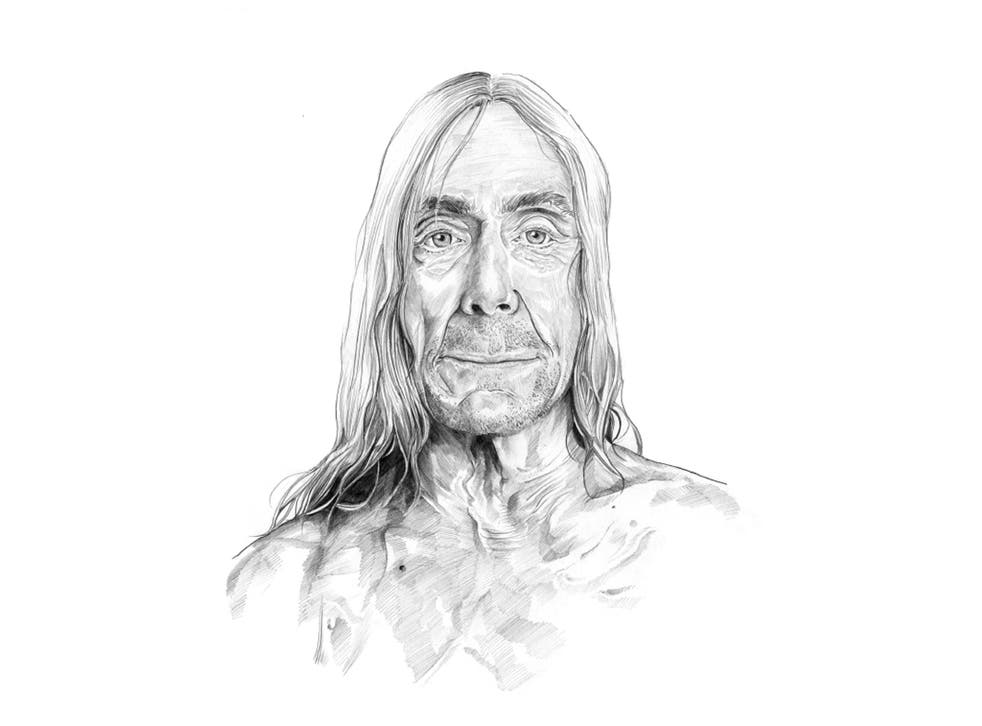 This weekend, BBC 6Music launches a festival. A score of artists, including Jake Bugg, Franz Ferdinand and the National, perform live tonight at the Victoria Warehouse in Manchester. It's a public celebration of a radio station that came close to being axed in 2010 but was saved after an outcry. But 6Music likes to punch above its weight. It was UK station of the Year at the Sony Awards in 2012. Its presenters are eclectic and informed music lovers – and now Radio 6 has signed up Iggy Pop to front a weekly programme, delving into his vast record collection to play.
Iggy Pop! The wildest of rock's wild men, the drug fiend's drug fiend, the chap who looks as if, after staying up without sleep for 12 nights, he's been dragged face-down across a field of nettles, the deranged, greasy-blond exhibitionist who cavorts half-naked on stage in tight, transparent pants, is to be a BBC DJ?
It won't be his first appearance on the station. Last Christmas Day he hosted a 6Music special on "Rockin' Rebels" and, on New Year's Day, two hours on "Heartbreak & Heartaches". Listeners liked his enthusiasm for veteran rockers such as Bukka White and Duane Eddy, and his rendition of "White Christmas" in a sub-Leonard Cohen basso profundo growl. When Jarvis Cocker announced that he was taking a year-long sabbatical from the Sunday show, the bosses signed up Iggy to present it from 16 March to the end of the year.
It's not unknown for a veteran Sixties rocker to be invited on a radio show to play thematic tracks from his record collection – see Bob Dylan and Ronnie Wood – but the air of uncontrollable wildness that hangs around Iggy Pop must have drawn awkward whispers in the BBC. Evidence exists that he actually isn't like that. That he's a thoughtful, sensitive chap with a sophisticated literary intelligence.
Two weeks ago he was on Radio 4's sedate Archive on 4, presenting Burroughs at 100, an hour-long investigation into William Burroughs' literary output and life of druggy excess, with contributions by John Waters and Will Self. And Iggy isn't a Johnny-come-lately Burroughs fan. He threw a reference to The Ticket That Exploded ("Here comes Johnny Yen again, with the liquor and the drugs, and the Flesh Machine") into his song "Lust for Life," co-written with David Bowie in 1977. Fans of the historian Edward Gibbon were probably surprised in 1995 to read Iggy's article about Decline and Fall of the Roman Empire in a learned journal of classical scholarship.
His career has proceeded in fits and starts, bust-ups and reconciliations, drug hell and vivid bursts of creativity and collaboration. Iggy has always displayed a self-destructive urge alongside a passion to get an audience's attention at any price. His public behaviour has often seemed driven less by an impulse to make music so much as to present himself as a piece of performance art. "There's a Dionysiac element to my art which might make some people afraid to be me," he told a puzzled US talk show host in the late 1970s. "But I'm quite happy to be me."
He was born James Newell Osterberg Jnr, in Muskegon, Michigan, in April 1947 and grew up in a trailer park in Ypsilanti. His mother, Louella Christensen, was of Danish and Nordic ancestry, which accounts for his long, Viking features. His father, James Snr, a high-school teacher and baseball coach in Dearborn, Michigan, was of British and Irish descent, but his parents gave him up for adoption and he took his adoptive parents' name, Osterberg.
James Jnr went to school in Ann Arbor, Michigan. His academic record is unknown but school photographs show a handsome, rather intense 18-year-old with a penetrating gaze and a determined mouth. On graduation he was voted by classmates "Young Man Most Likely to Run for President of the United States".
He played drums in high-school blues bands, including the Prime Movers and the Iguanas. He took his later stage name from the latter, but was James Osterberg when he dropped out of the University of Michigan and moved to Chicago to pursue his obsession with blues music. An introduction to Sam Lay, who had played drums for Muddy Waters, Howlin' Wolf and Bob Dylan, opened doors. In 1967, Osterberg formed the Psychedelic Stooges with the Asheton brothers, Ron on guitar and Scott on drums, and Dave Alexander on bass. The three named James "Pop" after a local character he resembled, and soon he was "Iggy Pop".
The Stooges' first live concerts were hard on the audience's ears and patience. The drummer would bash oil drums with a hammer. Ron Asheton played adjustable guitar feedback through a funnel, increasing the cacophony with a blender and vacuum cleaner. Iggy established his wild-frontman persona early, cutting his bared flesh, smearing himself with burgers and flashing his penis at audiences. They got a record deal, launched a self-titled album, produced by John Cale of Velvet Underground; it was a critical and commercial flop. By the time their second, Fun House, came out in 1970 and also flopped, the band were heavily into heroin, their label dropped them and they split, but re-formed when David Bowie took an interest in Iggy and produced Raw Power, the band's best work, in 1972.
Iggy was out of control on drink and drugs, however, and their early career as a live band ended at a concert when a biker gang whom Iggy had taunted on the radio attended a concert, pelting the stage with bottles, coins, beer cans, even ice cubes. Iggy, drunk and reckless, jumped into the crowd to confront them. On the live album, Metallic KO, you can hear the crowd responding to the spectacle of Iggy Pop being beaten senseless.
The band broke up again, and Iggy, the godfather of punk, missed the actual punk explosion in 1976. But he'd given the movement a standard to live up to. "The Stooges were a fundamental cornerstone of punk," says the rock journalist and author Mark Ellen, former editor of Smash Hits and The Word. "The white-hot molten core of a racket they made, the cheap theatre, the ripped clothes, the brutal art-rock of their lyrics. And Iggy was a mesmerising performer – his hairy legs, torn stockings and stilettos were a country mile more threatening than anything the Sex Pistols ever managed."
But the rest of Iggy's career was a series of echoes of his early, dazzling berserk-o-drama. In the Eighties and Nineties, he'd occasionally surface from his drugged sleep to collaborate with Bowie or Lou Reed, contribute some music to a film soundtrack, or make guest appearances on TV shows including Star Trek.
In 2003, Iggy linked up with the two surviving Stooges. They played Glastonbury in 2007 and were inducted into the Rock 'n' Roll Hall of Fame in 2010. His gravelly voice has been heard on Grand Theft Auto IV and other console games. But his highest profile appearance recently was on a TV commercial for Swiftcover insurance (tagline: "Get a Life!"). The advert featured a sensible Iggy Pop and an out-of-control Iggy doll which drove recklessly. The Advertising Standards Authority banned the ad because it implied Iggy was insured by Swiftcover when, at the time, it didn't insure musicians.
But who would have risked good money betting on Iggy Pop – self-created monster of rock excess turned ageing charmer and music archivist – staying alive until 40? He'll be 67 next month.
Life In Brief
Born: James Newell Osterberg Jr, Muskegon, Michigan, 21 April 1947
Family: His father is James Newell Osterberg Sr, a former English teacher and baseball coach, his mother is Louella Osterberg (née Christensen). Iggy has been married three times: to Wendy Weissberg (for a few weeks in 1968), to Suchi Asano (1984–1999), and Nina Alu (2008-present). He has a son, Eric Benson, born in 1970.
Education: Pioneer High School, University of Michigan (but dropped out)
Career: Moved to Chicago and formed the The Stooges (later Iggy and the Stooges), with whom he still performs. Released five albums with them, as well as 16 solo albums. The band was inducted into the Rock'n'Roll Hall of Fame in 2010.
He says: "I stare at myself in the mirror and I think, 'Wow, I'm really great-looking.'... I think I'm the greatest, anyway."
They say: "There was something in Jimmy that I hadn't seen in rock'n'roll, which was kind of a method poetry – it was an unleashing of the animalistic side of rock that you never really see." David Bowie
Register for free to continue reading
Registration is a free and easy way to support our truly independent journalism
By registering, you will also enjoy limited access to Premium articles, exclusive newsletters, commenting, and virtual events with our leading journalists
Already have an account? sign in
Register for free to continue reading
Registration is a free and easy way to support our truly independent journalism
By registering, you will also enjoy limited access to Premium articles, exclusive newsletters, commenting, and virtual events with our leading journalists
Already have an account? sign in
Join our new commenting forum
Join thought-provoking conversations, follow other Independent readers and see their replies