Inga Bejer Engh: Norway's truth-seeker in Anders Breivik case
The lead prosecutor in the case against Anders Breivik is calmly setting out to prove that the man who killed 77 people must be insane
Tony Paterson
Saturday 21 April 2012 02:01 Comments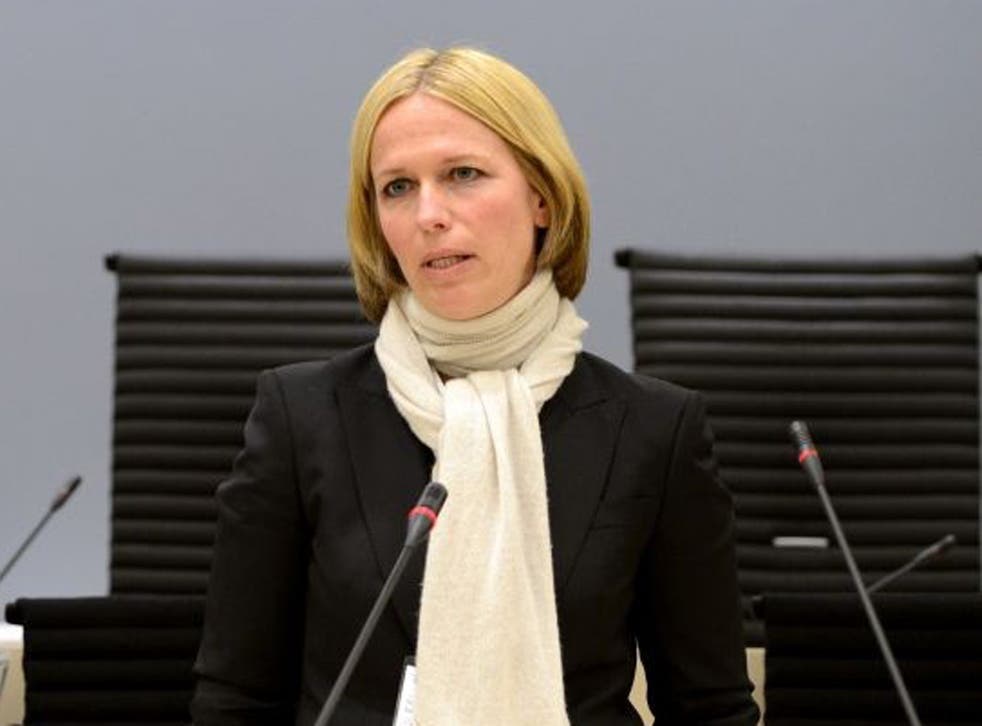 When Norway's biggest ever murder trial opened in Oslo last Monday, Anders Behring Breivik marched into the courtroom and shot his right arm out in a disturbing yet rather pathetic clenched-fist Nazi-style salute.
Inga Bejer Engh's reaction was typical: her blond hair swinging above the white necktie and black gown worn by prosecution lawyers, she stood up, walked forward and in an utterly disarming gesture, shook hands with the killer. He responded with a weak smile.
Blue-eyed and doll-like, Bejer Engh looks almost too unworldly to be leading the prosecution case against the man who carried out one of Europe's worst acts of violence since the Second World War. It is an appearance that deceives. Behind the state prosecutor's cool facade there is clearly a woman driven by an iron conviction in the Scandinavian approach to crime and punishment so often derided by outsiders as "too lenient".
In comments before the trial, Bejer Engh let it be known that she was proud to be part of the prosecution team. "It will give me an opportunity to show our humane system of justice to the rest of the world," she told reporters.
This week, her masterful courtroom tactics in the trial of Breivik, who blew up and shot dead 77 people in twin attacks in July last year, have put to rest fears that he would easily manipulate proceedings to disseminate his racist creed. She exudes a deadpan civility that would be hard to find among the aggressive, impatient, prosecuting QCs of the British system. And it is a reserved and untheatrical legal style that is a far cry from the confrontational courtroom antics we have come to expect from US murder trials, real or dramatised.
It would not perhaps, be far-fetched however, to imagine the low-key Bejer Engh as a character drawn from the dark Scandinavian crime fiction genre made popular by Stieg Larsson, Henning Mankell or Norway's Jo Nesbo. The plot of Nesbo's thriller The Redbreast in dealing with the Norwegian far right has been repeatedly evoked in the debate about Breivik.
In the real world of a Norway still coming to terms with the pain and horror of the Utoya atrocity, Bejer Engh is now winning praise for a remarkable performance which may well determine the outcome of the 10-week trial. Could she also help navigate her nation to "closure" without compromising its fabled tolerance or resorting to a more retributive form of justice?
There is, of course, no doubt that this trial will end with Breivik's conviction. The mass murderer has admitted to blowing up eight people with the bomb he detonated in Oslo's government quarter on 22 July 2011. He has also confessed to slaughtering 69 mostly teenage members of the governing Labour Party at a political summer camp on the fjord island of Utoya hours after the bomb blast. Disguised as a police officer, Breivik arrived on the island and spent more than an hour systematically tracking down and killing teenagers with an automatic pistol and hunting rifle equipped with a telescopic sight. Many people were shot down in cold blood while strolling along the island's idyllic "love path". Others were hit by Breivik's bullets while in the water as, panic stricken, they tried to swim away from the island.
The killer told the court that his actions were "cruel but necessary" because they were an integral part of a war against "Marxist multiculturalism" and its Labour party adherents who were allowing a "Muslim tide" to flood Europe. He claimed that his campaign was based on "goodness not evil" because it was designed to save the existence of the white Europeans. It was organised, his insists, by a clandestine group of far-right crusaders known as the "Knights Templar".
The key question is whether Breivik will be deemed insane or fully responsible for his actions. Psychiatrists are divided over the question and the court has been left to reach a final conclusion. In the eyes of the fanatical far right, a verdict of sane would lend some legitimacy to Breivik's murderous actions. He would be imprisoned and it is clear from Breivik's pronouncements that he would claim to be Europe's far-right martyr. However, should the killer be ruled insane, he would not only spend the rest of his life in psychiatric care but also find the credibility of his cause among potential followers gravely undermined.
Within the space of two hours this week, Bejer Engh managed to edge the case against Breivik significantly towards a verdict of insane. Quietly cross- examining the accused while remaining seated, she told him that the prosecution had no evidence to show that the "Knights Templar" existed. Instead she exposed the organisation as something which looked very much like a figment of fantasy created by a school dropout and failed businessman who was addicted to the computer game World of Warcraft.
Breivik had earlier claimed that he was ordained by the so-called "Knights Templar" at a meeting in London in the spring of 2002 where nine of the "most brilliant political strategists in Europe" were sworn in at a founding ceremony where white gloves and uniforms were worn. Its members included his English mentor codenamed "Richard the Lionheart". "Were uniforms and white gloves really worn?" asked Bejer Engh. "No, I expressed that rather pompously," admitted the mass murderer. "What is actually left over, if you remove the pomposity?" demanded Bejer Engh. "Have you ever been to London?" she added. Under her questioning Breivik was forced to concede that his brilliant strategists were more like "sofa generals" and "keyboard warriors" than latter-day crusaders. His fantasy world was unravelling fast. Breivik reddened, grew visibly angry and could only respond with the words "No comment".
At 41, Inga Bejer Engh has achieved her position as one of Norway's top criminal lawyers early on in her career. After she studied international law, her first job began in 1997 when she was recruited as a legal adviser to the United Nations in New York. "This was the steepest learning curve of my career," she has admitted. For the past decade, she has worked as a state prosecutor in Norway, notching up a series of key successes in some of her country's most unsavoury criminal cases. In 2002, she was part of the prosecution team that convicted a gang of bootleggers who swamped the Norwegian drinks market with gallons of poisonous methanol-based alcohol. Eight drinkers died as a result. Soon afterwards she put a man behind bars for throwing acid into his wife's face. Bejer Engh was also instrumental in the jailing of Norwegian neo-Nazi Tore Tvedt, who was sentenced for his anti-Semitic outbursts in which he demanded that the Jews should be "wiped out".
The mother of two small boys, Bejer Engh lives in one of Oslo's leafy suburbs. Every weekday morning she drops her sons off at kindergarten before driving to Universitetsgata Street where the red and grey building of the capital's state prosecutor's office is located.
When Breivik's devastating fertiliser bomb exploded in the centre of Oslo, Bejer Engh was sitting in her car with her children in the back seat. A friend called her on her mobile to ask if she had heard the explosion. Her first thought was: "How can I stop my sons hearing this terrible news?"
During her relentless questioning of Breivik on Wednesday, she cross-examined him about the two military training courses he claims he attended in the Baltic states in 2004. "Cell commanders" from throughout Europe were supposedly present. "On the first occasion you were in the country for 25 hours, on the second for 19 hours. What could you do on these training courses in such a short time?" she asked him. A flustered Breivik again replied: "No comment." At the end of the day's proceedings, it was not only the psychiatrists watching the case who were knitting their brows in disbelief. "I think," said Christian Bjelland of the survivors' support group, "what we are watching is the revelation of some sort of fantasy or dream."
Inga Bejer Engh's work has begun.
A Life In Brief
Born: 31 December 1970 in Drammen, near Oslo.
Family: Married with two young sons.
Career: After taking her law degree she practised international law at the United Nations in New York. On her return she worked at the Drammen and Oslo District Courts before becoming a public prosecutor in 2002.
She says: "I didn't have to think twice about taking this case."
"I speak in a friendly tone, as with all defendants. My experience is that I get more out of them that way."
"In order to make the right decisions, you need to have some distance from these terrible events."
They say: "As a prosecutor she is energetic and dedicated, and also as a person. She is extremely social and personable." Jorn Maraud, Oslo's district attorney who chose her as the prosecutor in the Breivik trial.
Register for free to continue reading
Registration is a free and easy way to support our truly independent journalism
By registering, you will also enjoy limited access to Premium articles, exclusive newsletters, commenting, and virtual events with our leading journalists
Already have an account? sign in
Join our new commenting forum
Join thought-provoking conversations, follow other Independent readers and see their replies