Inside the comic world of Peter Serafinowicz: The spoof video master is heading to Hollywood
From the BBC to Hollywood, Peter Serafinowicz is conquering the comedy world. But nothing's so much fun for him as posting spoof videos online, he tells Alice Jones
Alice Jones Comments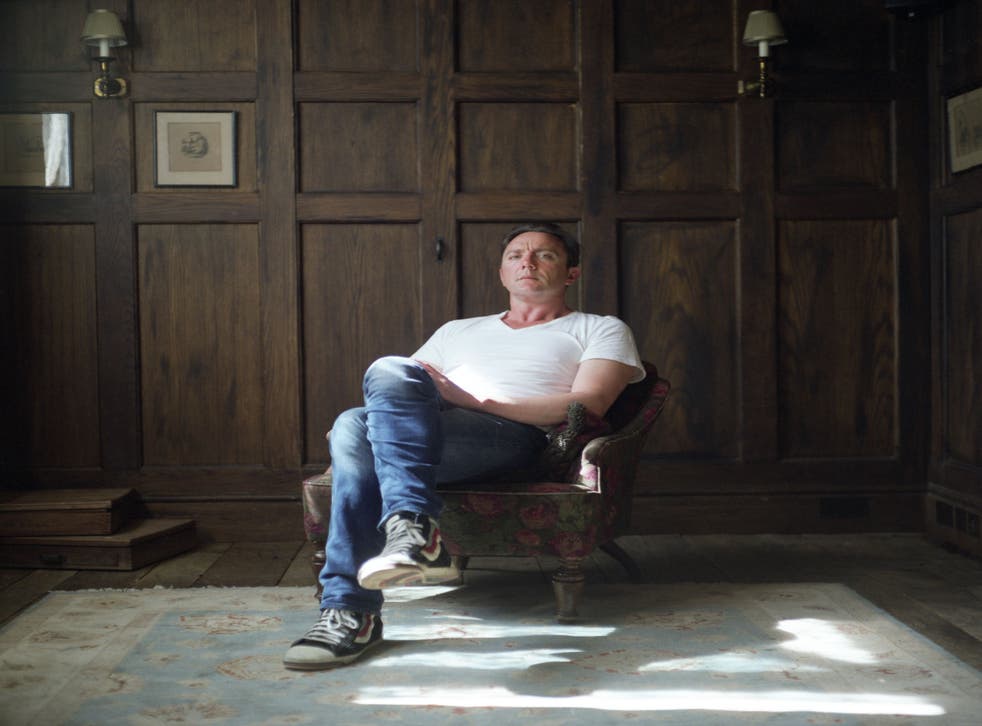 Peter Serafinowicz is telling me about his "expensive hobby". It's not yachting, or flying, wine-tasting, or watch-buying. It is putting funny videos on the internet. Chances are, you will have seen one of them. There was the spoof video he made for Daft Punk's "Get Lucky", in which he transformed himself into a suave, three-headed monster and mimed and dad-danced to the track. Or there was the one where he quiffed up his hair and sang the first page of Morrissey's autobiography as if it were a Smiths song.
"It's fun, so much fun, to do those little, pointless, silly things," he says. "But I have to stop myself, because then I don't get the important stuff done. They take a lot of time and effort, and I don't ever make anything from them." The fact is, he can't stop himself. "Yeah, it's a compulsion, I suppose. But hearing it described like that, it sounds so silly..."
He is being a little hard on himself. Serafinowicz is a comedian – comedy actor/writer/director/voiceover artist – after all. One who, in the nicest possible way, has made a career out of being silly. Look back at his credits. They span endless Britcoms – from Spaced to I'm Alan Partridge – and American comedies including Running Wilde and Parks and Recreation. Among his films are Shaun of the Dead and Guardians of the Galaxy. His voice can be heard in South Park and Star Wars (he dubbed Darth Maul in The Phantom Menace). Exaggerated accents, daft impressions and ill-fitting wigs are a recurring theme. His latest role, in SPY, the new James Bond spoof from Bridesmaids director, Paul Feig, conforms to type. He plays an Italian secret agent with a what-a-mistake-a-to-make-a accent, bouffant hair and an eye-poppingly tight shirt.
Silly or not, Serafinowicz has messing about on the internet to thank for his big breaks. In 2006, he was in LA to audition for the NBC comedy-drama series Studio 60 on the Sunset Strip and had some time to kill. So he filmed "O! News", a parody of E! News, in which he played both the fictional host – Kennedy St King – and his guests, who included Al Pacino (with a drawn-on goatee), Alan Alda, Paul McCartney, and "Keyhole", the designer of a "controversial" new Oscar statue (it had a penis). He then uploaded it to YouTube.
Going viral at a time when that was still quite unusual, it landed him his own BBC series, The Peter Serafinowicz Show. A decade on and he has just won a new commission for an American sitcom, co-written by Robert Popper (Friday Night Dinner, Peep Show), based on something that started as a private online joke.
"We sort of invented a religion about six years ago," says Serafinowicz, as if this is totally normal behaviour. "Tarvuism. The religion pre-dates all the major religions on Earth, it goes back, like, 5,000 years." He directs me to tarvu.com, another of his expensive hobbies. It is an extraordinarily detailed spoof website which outlines the religion's history, the origins of Tarvu (he came to Earth in a tiny egg), its beliefs ("Tarvu is our Lord God"; "There are two universes"; "We should all 'be nice'"), parables, prayers, modern-day Tarvuists (Rihanna, Martin Amis and Dawn French, apparently) and rifts in the church. "All this stuff that Robert and I just did for weeks and weeks, purely to entertain each other. I'd get an email from Robert saying, 'I've updated the Wiki, have a look.'" He bursts out laughing, delighted.
The HBO channel has now hired the pair to write a sitcom off the back of it. Their previous collaboration, Look Around You, a pitch-perfect parody of 1980s educational television, was nominated for a Bafta in 2003. This new one sounds like it might rattle the Scientologists. "It's a satire on religion, without pinpointing any particular thing," demurs Serafinowicz. "Robert's Jewish, he was brought up going to synagogue, and I went to a Catholic school in Liverpool and was an altar boy… At the heart of it is the silliness of religion, and how seriously people take it."
When we met – in a cafe near his home in west London – Serafinowicz was just back from holiday. "My brain today is like a sponge," he says, ordering a strong black Americano. "But a dry, empty sponge." He looks quite comical – a hulking 6ft 5in with clownishly big features and heavy hooded eyes – but like many comedians, he suffers from performance anxiety. "God I wish I was being funnier in this interview," he sighs, more than once. "GOD. Sorry. Woooh. I'm just going to change the way I'm sitting. Awful. I wish we could just start again…"
The holiday was with his wife, the brilliant comic actress Sarah Alexander, and their two children, Sam, eight, and Phoebe, five. They do not compete to be the funnier parent, he says. Still, dinner at the Serafinowiczes must be quite a blast. Serafinowicz's younger brother, James, is a comedy writer and producer (his credits include the notorious paedophilia episode of Brass Eye), and his sister, Helen, is married to Graham Linehan of Father Ted fame. "Out of the three of us, Helen is the funniest. She's married to Graham and that would be daunting for anybody – but now she's developing a few things and she writes a column about going to car-boot sales for Sarah Millican's magazine and it's hilarious." (I checked and it is; search for "Booty!" on standardissuemagazine.com).
Serafinowicz, who is 42, grew up in Liverpool, the oldest child of Szymon Serafinowicz, a scaffolder, and Catherine, a post-office worker. The name is Belarussian and it carries with it some history. In 2007, Serafinowicz's grandfather, also Szymon, was revealed to be the first man in Britain to be charged under the 1991 War Crimes Act. He was tried at the Old Bailey in 1997 for his alleged role in the killing of three Jewish people in Mir, near Minsk, in 1941, but the jury ruled that he was not fit to stand trial because of his dementia; he died later that year, aged 85.
Serafinowicz went to St Francis Xavier Secondary School but renounced his Catholic faith when he was 13. "I just thought, this really doesn't make sense. And we're spending hours on this every week. When I was a kid, I remember being told that if I was naughty I would go to Hell. And I remember a teacher describing Hell to us as this infinity of flames and torture and pain and horror. That's not a nice thing to say to a five-year-old."
Home was a happier place – a "comedy household" with a daily diet of re-runs of Whose Line Is It Anyway? and Monty Python. When he was 15, his father gave him John Lennon's nonsensical books, In His Own Write and A Spaniard in the Works. "I'd sort of resisted football – you're so bombarded by it in Liverpool, but it's this missing Top Gear gene that I lack. The other thing you were supposed to love in Liverpool was The Beatles and I didn't get them either." He preferred Eric Idle's parody band The Rutles, but the books became a family favourite.
"I have this memory of sitting round the dining table, reading it out, just being unable to continue because we were laughing so forcefully. That silent laughter where you're just quivering, not making any sound, and all of your muscles are tensed. Something just snaps, you know, and you think, 'Wow, you can do that joke? He's made that observation?' That's what I love – when someone does a new joke."
His comedy career started when his teenage band – they did heavy metal covers mainly – disbanded. He spent £20 buying the four-track tape recorder off the rest of the group and recorded a sitcom in his bedroom. He sent it off to Radio 4, and Gareth Edwards, the comedy producer who gave Mitchell and Webb their break, offered him a gig on The Knowledge, a spoof documentary about the music industry that went out on Radio 1. "On the strength of that one episode, I thought, 'Right, I'm moving to London. This is what I'm going to do.'" He was 19 years old.
He started appearing on comedy shows on Radio 4, paying his way with a day job at BT, where he dealt with customers' bill enquiries. "I worked out this thing where I could, if people were nice, suspend their bill infinitely… If they sounded desperate. On the other hand, if people were not nice to me, I would be rude back and they'd get all indignant and ask to speak to the manager. So I'd put them on hold and come back on with a different voice…" He eventually put that talent to lucrative use as a voiceover artist on adverts for everything from Knorr stock cubes to Go Compare.
It has been a funny old career since then, dotting around television, film and directing the occasional disturbing music video for Hot Chip. There isn't a comedy name in Britain who Serafinowicz hasn't worked with – but he hasn't had his own name in the title since his sketch show in 2007. Its stand-out character was Brian Butterfield, an elderly, overweight, failed entrepreneur with a talent for mangling language, who reappeared on CBBC's comedy sketch show Fit a couple of years ago.
In fact, Serafinowicz and his brother have written a whole sitcom for Brian and are certain that it would be a hit, if only someone would give it the greenlight. "Our joke is that by the time we get it commissioned, it will be so far in the future, I won't need any prosthetics to play Brian. Perhaps that's what the BBC are thinking. They're playing the long game…" He did have some interest recently: "But they said, 'Could we make Brian 30 years younger?'" he laughs, a little bitter. "I don't think that particular version is something we'd want to do."
Is that why he persists in putting videos online, to catch a commissioner's eye, like he did in 2006? "It's not like I can walk into the BBC and say, 'I've written this new series, and I want it on BBC1 in four months' time'. It's hard to get stuff on television – for anyone. People are a lot more cautious these days. And you're talking about actually committing a lot of money. When Robert and I have done stuff online, what's nice is that we don't have anybody saying, 'Well they won't like this joke on BBC1…'"
He has been working in America more and more. He recently wrote on two episodes of South Park. "Incredible. Like being on the best writing course in the world." With several blockbuster bit-parts under his belt, he must be doing rather well for himself. "Working in film is not as lucrative as you'd imagine," he says. "No, no no." SPY might be his most high-profile Hollywood outing yet. He stars alongside Melissa McCarthy, as well as Jude Law, Jason Statham, Rose Byrne and Miranda Hart. He is anxious about how it will be received. "Often you do something and you think, 'This is just great, I'm having such fun, the crew are laughing, the director is laughing, I think I'm being funny...' And often, often, it disappoints."
That isn't the case with SPY, which is very funny – and has some properly thrilling action scenes. Serafinowicz spent his first three days on set locked in a cell in Budapest, handcuffed to a pipe and grappling intimately with McCarthy on a rubberised "concrete" floor. "We both injured ourselves. And I was thinking, 'God, what's this going to be like?' and then Paul [Feig] showed me the scene and I thought, 'Wow, great! I don't think this is going to be shit, you know?'"
Serafinowicz is now writing a children's fantasy novel. He started it as a film script but his friend (and bestselling children's author) David Walliams told him to make it into a book as it would be cheaper. He has been writing for a year, but keeps getting distracted by other things – like those Morrissey videos. "I was working on my book and I was stuck and I thought, I must just do this. It's more fun to make this really quick thing that ends up taking half a day. I like doing so many things, I get into a situation where I can't concentrate on one thing solely."
Inventing religions, starring in his own pop videos, occasionally popping over to Hollywood: it must be strange to be Peter Serafinowicz. "Yeah, I do have a strange life. I do," he grins. "I love it though."
'SPY' goes on general release on Friday
Register for free to continue reading
Registration is a free and easy way to support our truly independent journalism
By registering, you will also enjoy limited access to Premium articles, exclusive newsletters, commenting, and virtual events with our leading journalists
Already have an account? sign in
Join our new commenting forum
Join thought-provoking conversations, follow other Independent readers and see their replies