Jack Wilshere: 'If you get in their faces, Barça seem to ease off in the second half'
The Arsenal midfielder knows from experience how to beat Barça. He tells Sam Wallace how to go about it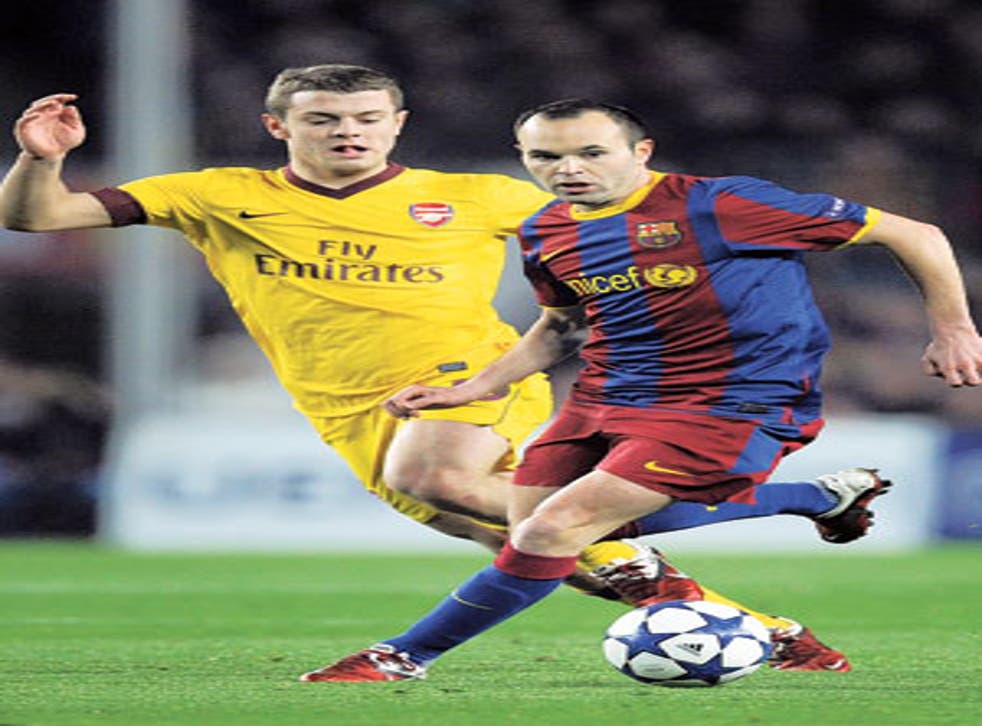 The greatest praise you could accord Jack Wilshere on the night Arsenal beat Barcelona 2-1 at the Emirates in the first leg of their Champions League last 16 tie in February was thus: if there was one man in the home team who looked like he was good enough to play for the opposition then it was the 19-year-old.
Wilshere was in the team that played 34 minutes with 10 men at the Nou Camp 20 days later, and lost the game 3-1. This week, Wilshere gave his insight into playing – and beating – Barcelona:
Pick the right team
United have a better chance than we have. They have players like [Darren] Fletcher, Park [Ji-sung], [Antonio] Valencia. They are all "runners" and they can stop players. I would play Fletcher, just doing what he normally does – running everywhere – and then [Michael] Carrick and [Ryan] Giggs.
[In attack] we played with just Robin van Persie and [in United's case] I would play with just [Wayne] Rooney, with Valencia and Park helping when they get the chance to get forward. For most of it they will be defending because that is what Barcelona do to you.
Get tight on them
Three passes – bang, bang, bang – and they are through. You have to get in their faces. I have said it before: you really have to hold your shape. United will be good because they have the players like Fletcher who will get after Barça. You have to stop players like Xavi, [Lionel] Messi and [Andres] Iniesta or they will kill you.
Barça change in the second half
If you can get in their faces they seem to ease off in the second half. We did that in the second half [of the first leg]. I don't think they get tired but [something changes] and you really have to go for them. We beat them at home. Obviously the away leg was a different game. After we went down to 10 men we had no chance.
Watch them pressuring the referee
We saw it against Real Madrid. Like Man U they are good at getting round the referee and convincing him to be on their side. I don't really think they are divers, they are just good at getting round the referee and helping him change his decision.
When people say Barça keep the ball well, they're not exaggerating
I'd watched them play against us the year before at the Emirates and everyone kept saying you have to defend or you're not going to get near them. I thought: "It can't be that bad." But for that first 20 minutes I don't think I've ever run so far in my life. We got the ball and they had three closing us down every time and just got it back. We couldn't keep the ball.
You cannot afford to man-mark Messi
We knew we had to stop him playing but if you try to stop him too much there are other players who can hurt you like Iniesta and Xavi. For me, Messi is the best player in the world and you have to stay tight to him. But there are other players you have to deal with as well.
You have to talk to each other. Messi likes to drop off and if he does you have to go with him because if you give him that time to turn and run at you he can kill you.
The first goal he scored against us wasn't bad
It wasn't until afterwards on the bus [that I saw a proper replay of it]. I thought [Manuel] Almunia had flicked it up but afterwards I saw it was Messi who had done it. There's probably only him who could – in that split-second – just flick it up and over the goalkeeper and put it in. I always have Messi in my team on Fifa 11. He's the best on there as well.
You've got to win the ball high up
A couple of days before the game we worked on our shape defensively and worked out what we were going to do when we didn't have the ball. When we had the ball, the idea was to keep it, and when we didn't, the idea was to get around them with three men and press them quite high. They like to play it and if you can nick it in their half you've more of a chance.
I couldn't bring myself to go into their dressing room afterwards
I swapped with Xavi and then I asked Cesc to get me Messi's shirt. I was a bit embarrassed to be honest. I didn't want to walk into their dressing room and ask for it.
I'm backing Barça on the night
I think it will be Barcelona because of the way they play. It's the way Arsenal play and the football I like. So if anyone deserves to win, it's Barcelona.
Register for free to continue reading
Registration is a free and easy way to support our truly independent journalism
By registering, you will also enjoy limited access to Premium articles, exclusive newsletters, commenting, and virtual events with our leading journalists
Already have an account? sign in
Register for free to continue reading
Registration is a free and easy way to support our truly independent journalism
By registering, you will also enjoy limited access to Premium articles, exclusive newsletters, commenting, and virtual events with our leading journalists
Already have an account? sign in
Join our new commenting forum
Join thought-provoking conversations, follow other Independent readers and see their replies