Jacob Zuma: Deadly serious
A disgrace to the nation or a populist leader – is Jacob Zuma the best man to lead South Africa on that long walk to freedom?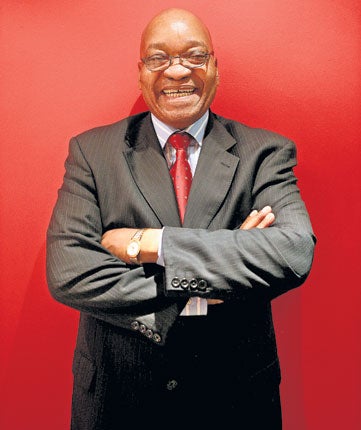 It would be easy to caricature Jacob Zuma, the man who looks certain to win the South African elections later this month and take over as leader of the continent's most powerful economy. His enemies see him as a corrupt and sinister buffoon and at times it seems he has gone out of his way to provide them with the ammunition they need.
Zuma is the man who, at his trial for rape, announced: "In Zulu culture you cannot leave a woman if she is ready. To deny her sex, that would have been tantamount to rape." He claimed that the woman involved had signalled her sexual desire by turning up in a short skirt. He then revealed that, though the woman was HIV positive, he had not contracted Aids because he had had a "vigorous" shower afterwards to guard against possible infection.
The jury acquitted him but Zuma became the butt of a wave of ridicule. One satirical cartoon listed Jacob Zuma's 101 uses for a condom, including "keeping spectacles used to see short skirts better, court summons holder, to keep your lost marbles (if ever found)" and "as a shower cap for having an Aids prevention shower".
Then there are the corruption charges. In 1999 the South African government announced its largest-ever post-apartheid arms deal, signing contracts totalling £2.5bn to modernise its national defence force. Zuma's financial adviser, Schabir Shaik, was later found guilty of trying to solicit a bribe for Zuma from a French weapons company but Zuma himself has never appeared in court to answer the charge.
Legal proceedings, which have been on, then off, then on again, were dropped again last week on the eve of the presidential elections, though political opponents are now threatening a private prosecution. Zuma has kept protesting his innocence and declared he wants to clear his name in court, but his lawyers have kept their client out of the witness box.
Then there is Zuma's high-octane populism. At rallies he habitually bursts into song with the apartheid-era anthem "Umshini wami" (Bring Me My Machine-Gun). He wants to reintroduce the death penalty and deny legal aid to those accused of serious crimes. He opposes same-sex partnerships as "a disgrace to the nation" and has said that in his youth he would have knocked out any ungqingili (Zulu for "queer") who had stood in front of him. In the run-up to his election as president of the ruling African National Congress in 2007, South Africa's influential Mail & Guardian called him "a populist rabble-rouser" who was not fit to be the country's first citizen. Archbishop Desmond Tutu appealed to the ANC not to elect someone of whom "the country would be ashamed".
So much for the case against. But the ANC did elect him as party leader, chucking out the incumbent who was also the country's elected president, Thabo Mbeki. So there is clearly a powerful case in favour of the 66-year-old Zuma. It is impossible to understand the deep attraction Jacob Zuma has for half the population of South Africa – the nation is deeply polarised – without understanding something of his personal history. Jacob Zuma was born in Zululand in 1942. His policeman father died when he was young and his mother, a domestic servant in the suburbs of Durban, was so poor that Zuma never had the chance to go to school.
Dressed in the white calico shorts of colonial servants, he would rise at dawn to polish floors or clean windows. He learned to read and write only when he was imprisoned on Robben Island, alongside Nelson Mandela, where he spent 10 years after being arrested aged 16 while trying to leave the country. He had just joined the ANC's armed wing, Umkhonto we Sizwe, and was on his way abroad for military training.
On his release he left South Africa; he rose through the ANC ranks to become a member of the party's national executive and its chief representative in Mozambique. Later he moved to Zambia and became the ANC's head of intelligence and the deputy director of NAT, its feared security department where acts of torture were as routine as they were bizarre. Prisoners were made to crawl through colonies of red ants with pig fat rubbed into their skin. Others were beaten with barbed wire or were locked up in goods containers. Some simply disappeared. It is hard to know, with Zuma's predilection for secrecy, what part he played in all this. But there are many ANC supporters for whom such times constitute a badge of honour for Jacob Zuma rather than the sources of political disadvantage.
In 1990, on Mandela's release from jail, Zuma returned to South Africa. He was given one of the most difficult tasks facing the party, bringing peace to the district of KwaZulu-Natal which was riven by bloody fighting between the ANC and the Inkatha party of the Zulu chief, Mangosuthu Buthelezi. It was a dark period in which more people were killed than under apartheid. But Zuma as the chief deal-maker brought peace to the region, persuading Buthelezi and his party to join in elections with just four days to go before polling day.
A combination of factors brought about Zuma's success: his reputation for toughness, his political shrewdness, his recognition of the importance of Zulu ethnic identity, his personal charm, and the unerring populist sense which enables him to lock on to the concerns of ordinary people and speak directly to them in language that gives them hope. It is a combination which has brought Jacob Zuma to the point where, as ANC candidate, he looks unbeatable in the elections on 22 April.
Over the years, Zuma has honed his image as a champion of the poor and oppressed and built a constituency among those who felt they were not really benefiting from the government of Nelson Mandela's successor, Thabo Mbeki. He built his support among trade unionists, the Communist Party and the ANC Youth League. Mbeki, a quiet, conservative, intellectual economist, ill at ease with large crowds, presided over significant economic growth, a move from a budget deficit to a surplus and a stable economy that lifted millions of black South Africans out of poverty. But for many who expected swift changes after the fall of apartheid, progress was not quick enough, and failed to focus sufficiently on the need of the poorest in the huge shanty towns and rural areas.
Zuma may have had no formal schooling, but the man popularly known as "JZ" had the charisma and flamboyance that Mbeki lacked. Where Mbeki talked about "working towards the elimination of school fees for the population's lowest quintile", Zuma spoke of "free education for all". When Mbeki sacked Zuma as the country's deputy president in 2005, when corruption charges were laid against him, Zuma began the internal manoeuvring which two years later saw him oust Mbeki as party leader, and then last year forced his resignation as president, with an ally of Zuma taking over as caretaker.
What all this suggests for the future of Africa's most powerful nation is hard to say because Zuma has a tendency to address different groups and say to them whatever he thinks they want to hear. He speaks Zulu to his supporters and talks of the need for greater government intervention in the economy to combat poverty. He speaks English to the international business community and reassures them that there will be no changes that will threaten their interests or undermine wealth creation. "He's very fluent in Davos-speak," said someone after Zuma addressed a business breakfast in London recently.
But juggling competing pressures is easy in opposition. Government is a different matter. Zuma has already begun to trim. For years he took a harder line against the behaviour of Robert Mugabe in neighbouring Zimbabwe than President Mbeki did, but since Zuma became ANC president he has noticeably softened his line.
Zuma's opponents fear a number of the signals he has already sent out. His playing of the ethnic card has caused considerable alarm in the ANC, where tribalism has long been taboo. His attitude to the legal system is disturbing. His critics insist he has brought political pressure to bear to get the corruption charges against him dropped. His aide, Schabir Shaik, has been paroled after just two years of his 15 sentence. And Zuma, who will soon be able to appoint the country's next chief justice, last week launched an extraordinary attack on the judiciary.
So is South Africa's constitutional and political settlement under threat? It may not be long before we know the answer.
A life in brief
Born: 12 April 1942 in Zululand.
Family: His father was a policeman who died when Zuma was young. His mother was a domestic servant. He is a self-proclaimed polygamist and has been married at least five times, has three fiancées, and reportedly 18 children.
Early life: Did not receive any formal schooling after primary school when he became a cattle herder and then a kitchen boy in the Durban suburbs.
Career: Joined the African National Congress, became a member of Umkhonto we Sizwe. In 1963 he was imprisoned on Robben Island. On his release in 1974 he worked in the ANC underground before going into exile. Had military training in the Soviet Union and led the ANC's intelligence unit. Returning in 1990, he was elected chair of the ANC for the Southern Natal region and executive deputy president of South Africa in June 1999. Despite a rape charge he was elected President of the ANC in 2007. The ANC "recalled" Thabo Mbeki from the presidency in 2008 and in the preceding 2009 elections Zuma became president.
He says: "My person has been subjected to all types of allegations and innuendo, paraded through the media without these allegations having being tested. I have thereby been denied my constitutional right to reply and defend myself."
They say: "You may have power now but you are not God, Remember you are not God. And one day you will get your comeuppance." Archbishop Desmond Tutu
Join our commenting forum
Join thought-provoking conversations, follow other Independent readers and see their replies