James Cameron: 'Don't get high on your own supply'
The 'Titanic' and 'Avatar' director has always had a healthy ego, but with a new humility, he now wants to make films that deal with social concerns. Jonathan Owen meets James Cameron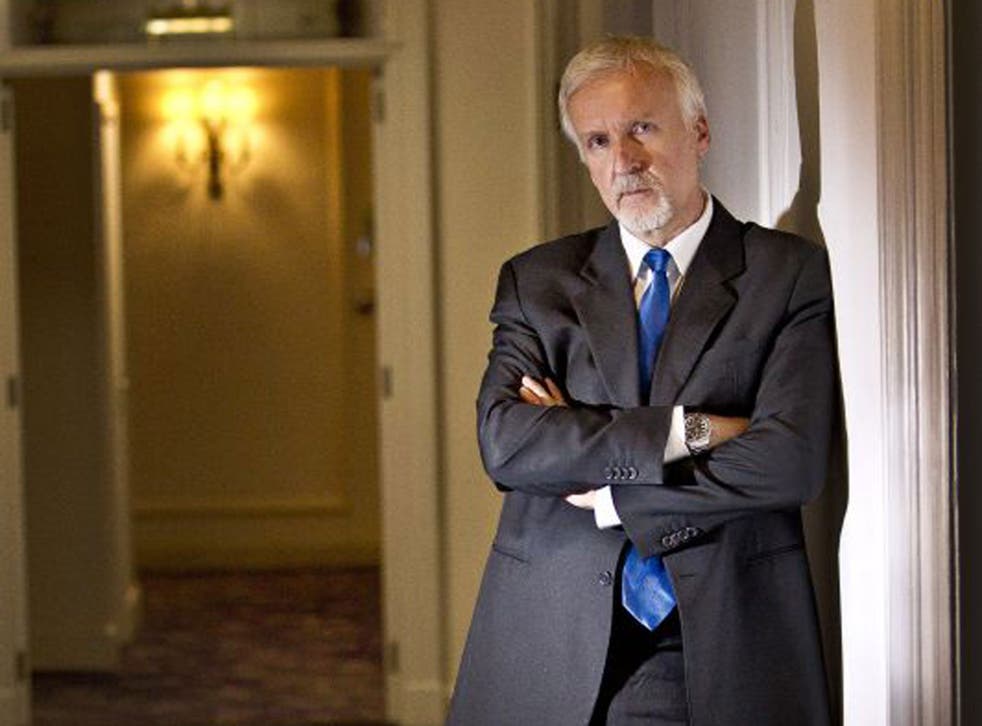 Opinions are like assholes – everyone has one." The gruff sentiment is not what you expect from one of the world's most powerful film-makers, well versed in Hollywood etiquette. But then James Cameron is no ordinary director. He is the man behind the two biggest box-office hits in film history – Avatar and Titanic.
Yet the scale of his success with a series of big-budget blockbusters is matched by the size of his reputation – with Cameron bringing new meaning to the phrase "hard taskmaster". Kate Winslet found filming Titanic an "ordeal", accusing Cameron of "a temper like you wouldn't believe". Sam Worthington said of filming Avatar, "if a mobile phone goes off he'd nail it to the wall with a nail gun". And at this year's Golden Globes, the comedienne Amy Poehler joked that Kathryn Bigelow, the director of Zero Dark Thirty, understood torture after spending "three years married to James Cameron".
It's not without a sense of trepidation that I bring up the issue during an audience with the man himself. Sensing what I am getting at, he says: "Am I really an asshole?" The director is playing it straight.
Sitting opposite me, wearing the jeans-and-blazer combo favoured by some middle-aged men, he adds: "Would I nail a cellphone to the wall with a nailgun? Absolutely, if it went off in the middle of a take ... but it doesn't mean I would be emotionally enraged. I would do it in a calculated theatrical way. But when the story gets told later it sounds like somebody who's constantly off at the deep end."
We are talking at the London Film Museum, where he has been the star speaker at ad agency SapientNitro's conference. His eyes glitter darkly as he continues: "The reality is passion for the work, the reality is that I have people who are very loyal to me and come back project after project ... so I can't be that bad."
The relentless pursuit of realising his imagination on the big screen has come at a personal cost. The 58-year-old father of five is currently on his fifth marriage, to Suzy Amis. The director admits he used to play up to the "image of what a film-maker was supposed to be". And he confesses: "There was supposed to be a certain flamboyance, theatricality and commitment, and I think when you couple that with the short temper that I had because of the short budgets that I had in my earlier productions, I might have been difficult to live with."
Now he's older and, as the saying goes, wiser. His character has "evolved" – arising from expeditions "where you are stuck on a boat for two or three months with people at sea a thousand miles from shore, and there's no room for that kind of behaviour". He has learned to be "much more constructive, to bring humour to it, but keep that sense of commitment and passion and focus".
And for all the technological special effects poured into his films, the success of films which are the "lower common denominator" is down to gut instinct. "I pursue the things that I like, that excite me visually. I guess I just make this assumption that my tastes have always been pretty blue-collar. I never went through film-study classes, I went to the drive-in. So I figure if I like it, somebody else is going to like it."
That's an understatement. The quietly spoken Canadian wanted to be a scientist, not a director. He studied physics and astronomy at college but realised that he wasn't good enough at advanced mathematics and so he followed his other passion – writing.
The huge success of Star Wars in 1977 inspired him to plunge into film. Fame came in 1984 with the success of The Terminator, a film he co-wrote and directed. And by 1998 Cameron declared himself "king of the world" when awarded the best picture Oscar for Titanic – one of 11 the film won.
He abandoned blockbusters to work on a series of personal projects – from working with Nasa on ideas for future missions to Mars, to going on deep-ocean expeditions.
It was not until 2005 that Cameron embarked on Avatar – a film conceived a decade earlier. With millions invested in developing digital 3D cameras and motion-capture technology, it was a huge gamble. "We were three years and $150m in before I saw the first shot that convinced me that we actually had a movie."
Cameron does not take future success for granted. "I always feel like I carry an audience around in my mind and I can hear them arguing with each other about whether it's good or not." He adds: "You've got to be merciless on yourself, and don't get seduced by your own stuff. Don't get high on your own supply ... But on the other hand when you get it right you've got to know it, and you've got to defend it. You just get it the way that you want it and then the studio wants to tear it apart and 'fix it'."
What about people watching films on handheld devices that cannot do justice to them? "At first I was very concerned that there would be this kind of mass migration to small screens," the director says.
He cites a shot of the Ural mountains in Dr Zhivago where there is a tiny funeral procession in one corner to emphasise the scale. "You watch that on an iPad and there's no funeral procession so you don't know why you are looking at the shot. So there is a loss but you can't get all shirty about the loss, you have to just accept it ... and let people make their own choices."
Cameron believes in "the sanctity of the movie experience" and claims there are "big visual films, like Avengers and Iron Man 3, and comedies like the The Hangover Part III, that film fans will still want to see in the cinema, at least for the first time."
Giving his take on British cinema, he cites Ridley Scott as a "perfect example" of someone making "mainstream" films for a global audience. And Tom Hooper's The King's Speech "harvests the best of what English cinema has always been – perfect acting, very clever lighting, and no reliance on big visual effects and all of that commercial mainstream stuff."
Cameron concedes that his "very mainstream" films may be "somewhat more lowest common denominator than a film like The King's Speech", but insists both are "valid, not only artistically but as a piece of business".
I wonder, for all his achievements, which film has meant the most to him personally. "I'm as proud of little documentaries that I've made, such as Aliens of the Deep, as I am of some of the biggest features ... I think that might surprise people."
For now, though, he is in "big picture" mode. "My first opportunity to do something that's not a blockbuster will be after Avatar 3." Future plans include Battle Angel, a film about a female cyborg, which is "the unmade film that I still want to make." Yet his Hollywood movies remain the means to a wider end. They "replenish the treasury", allowing him to risk his life on dangerous expeditions. In the most recent last year he became the first person to pilot a one-man craft to the bottom of the Mariana Trench – nearly seven miles below the surface of the Pacific Ocean – in a submarine he co-designed.
Science remains a big passion. We live in "an age of magic", according to the director. "We don't really know how things work. We just say the right incantation and they work, and that's how kids are growing up." He adds: "I think that's unhealthy to a certain extent and the science disconnect is like that – somehow it's turned into a distrust of science and a lack of understanding of the scientific method."
Climate change is a case in point. It has been "hijacked politically" and become "opinion or position". But science doesn't work that way, he argues. "It's a fact or it's an accepted theory or it's not. It's not an opinion ... opinions are like assholes, everyone has one."
He wants to change things. "It's incumbent on me to use my storytelling and film-making to deal with some social concerns that I have, specifically around climate and environment in general, and indigenous rights, things that are all inter-related in terms of where we are heading as a civilisation."
Our conversation concludes as he picks up on the anxious looks from a PR peering around the door and chuckles: "I guess we'd better wrap this up." Cameron stands and nods, murmuring "good questions, by the way" and, as we part, gives me the "Hollywood handshake"' – moving swiftly past as he does so – without a backward glance.
Curriculum vitae
1954 Born in Kapuskasing, Ontario, the eldest of five children. His father, Philip, is an engineer, and his mother, Shirley, a nurse.
1971 Moves to Brea, California, and studies physics at college before switching to English.
1978 Quits job as trucker for film industry; by 1980, he's working for B-movie king Roger Corman.
1983 Writes scripts for Rambo: First Blood Part 2, Aliens and The Terminator.
1984 Directs his first hit movie, The Terminator, catapulting Arnold Schwarzenegger to global fame.
1995 Does a dozen dives to the wreck of RMS Titanic.
1998 Titanic (starring Kate Winslett and Leonardo DiCaprio) wins 11 Oscars.
1999 Begins developing a digital 3D camera system with Vince Pace.
2000 Marries actress Suzy Amis – his fifth wife.
2009 Avatar becomes the highest grossing film ever at the box office. But The Hurt Locker, directed by his ex-wife Kathryn Bigelow, wins best film and director at the 2010 Oscars.
2011 Appointed a National Geographic Explorer in Residence.
2012 Becomes the first human to journey alone to the bottom of the Mariana Trench, in a submarine he co-designed – the Deepsea Challenger.
2013 Writes scripts for Avatar 2 and 3, with production to begin this year.
Register for free to continue reading
Registration is a free and easy way to support our truly independent journalism
By registering, you will also enjoy limited access to Premium articles, exclusive newsletters, commenting, and virtual events with our leading journalists
Already have an account? sign in
Register for free to continue reading
Registration is a free and easy way to support our truly independent journalism
By registering, you will also enjoy limited access to Premium articles, exclusive newsletters, commenting, and virtual events with our leading journalists
Already have an account? sign in
Join our new commenting forum
Join thought-provoking conversations, follow other Independent readers and see their replies